There's much to admire in Sean Mathias's production of the famous horror flick – if you have the stomach for both the gore and the misogyny
Words Greg Taylor
Photography Pamela Raith
William Friedkin's 1973 film of The Exorcist is one of the most successful and controversial movies of all time. It was lauded, reviled, Oscar-nominated, censored, and even banned in the UK until 1999. Now the shocking tale of a young girl, an aged priest, and a pervy and murderous ancient evil with a talent for theatrical nastiness has shuffled its way onto the West End stage, just in time for the dark and spooky winter months. And isn't it fun.
Regan O'Neill (Claire Louise Connelly) is a 12-year-old girl frequently left alone to potter around her large, Washington DC home while her movie-star mother Chris (Jenny Seagrove) films her latest clunky picture. Film director Burke (Trystam Burke), brash and permanently bladdered, often visits but is no replacement for an absent father. And so it's no surprise that Regan's head is turned by the gentle, melodious voice that emerges from the Stygian gloom of the house – cooing to Regan, flattering her, and coaxing her to increasingly disturbing actions.
Meanwhile, neighbourhood psychologist and Jesuit priest Fr Karras (Adam Garcia) is struggling with his faith and guilt over the death of his mother, while a spate of creepy vandalism is targeting local churches. Regan's succumbing to the noxious presence at the heart of all this tomfoolery unites these increasingly perplexed and disbelieving characters – alongside the legendary exorcist Fr Merrin (Peter Bowles) – for an epic, gruesome and foul-mouthed supernatural showdown that you won't find in Les Miserables or The Cursed Child. (Although, of course, it's nothing that Charing Cross Road itself hasn't seen on multiple Saturday nights.)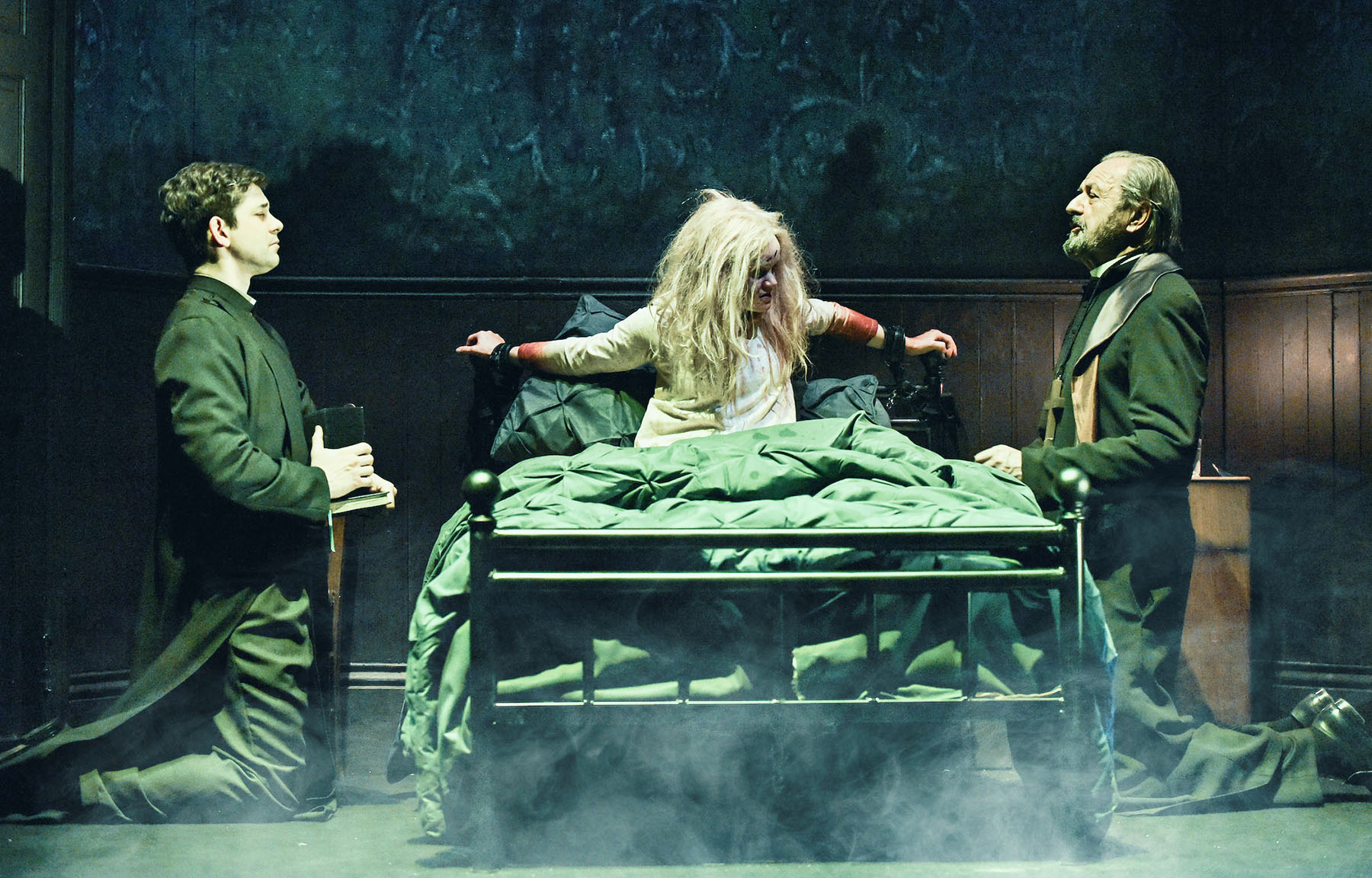 Adam Garcia as Father Karras, Clare Louise Connolly as Regan, and Peter Bowles as Father Merrin
The Exorcist makes effective and creative use of its stage and special effects. The house where most of the play takes place has the angular weirdness of an Escher painting, allowing plenty of murky corners for nasty things to hide. The limited space effectively conveys a world outside the home too – from a gym where the guilt-ridden Karras exercises himself to a bloody ruin, to a tent in Iraq where Fr Merrin realises his old enemy is back and up to his old tricks.
The film of The Exorcist is renowned for its horrifying special effects and make-up, and show director Sean Mattis is no slouch when it comes to replicating and expanding on those terrifying and legendary spectacles. Heads spin, spectres writhe, furniture convulses and rats swarm with pulse-pounding intensity. Punters looking for vulgar displays of theatrical power are not going to be disappointed.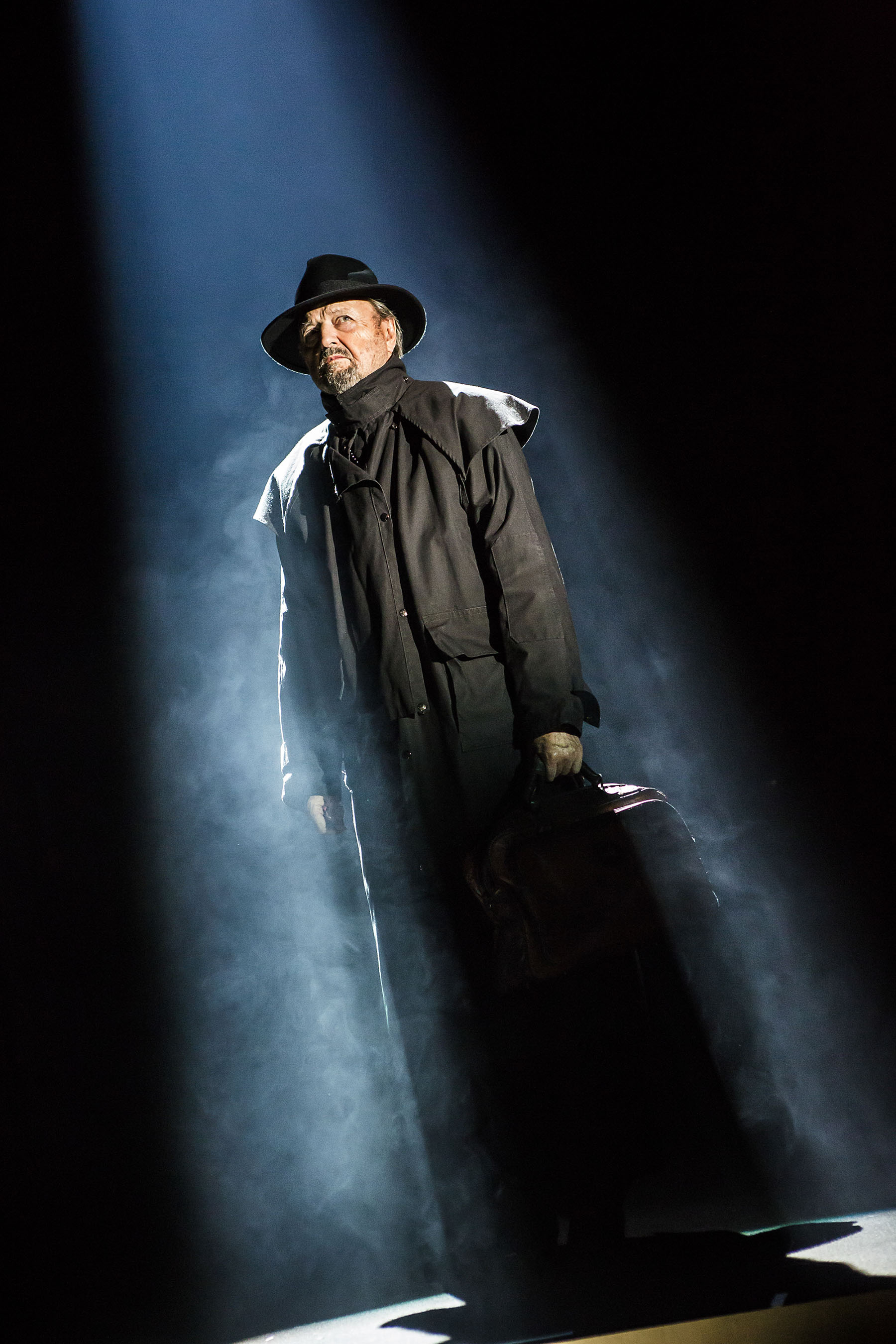 Peter Bowles as Father Merrin 
Pleasingly, the play isn't just a scene-for-scene retread of the movie. In introducing the voice of the demon at an early stage (played with sonorous and tricksy decorum by Sir Ian McKellen), the show neatly externalises the inner struggle between Regan and her sweet-talking possessor, making the girl's ordeal even more disturbing and relatable. The play also jettisons some of the minor characters of the film, bringing the acerbic and entertaining Burke to the centre and making his own clash with the evil upstairs even more resonant.
The performances are mostly strong, with the full cast taking the pulpy shenanigans with the utmost seriousness and selling it with all their souls. Perhaps the weakest link is Peter Bowles as Fr Merrin, played with such intimidating gravitas by Max Von Sydow in the film. Here he shambles into the final act like Willy Loman after a day on the road, and makes very limited impression on a play that is top-heavy with terrors.
That's a small criticism, though, for what is an entertaining, rollicking, frightening and thoroughly reprehensible night at the theatre. The Exorcist is a vomit-covered, blood-drenched, giddy supernatural spectacle of the type we just don't see enough on stage any more. Sean Mattis throws everything at his audience, and much of the gloop sticks. It's a devilishly good time.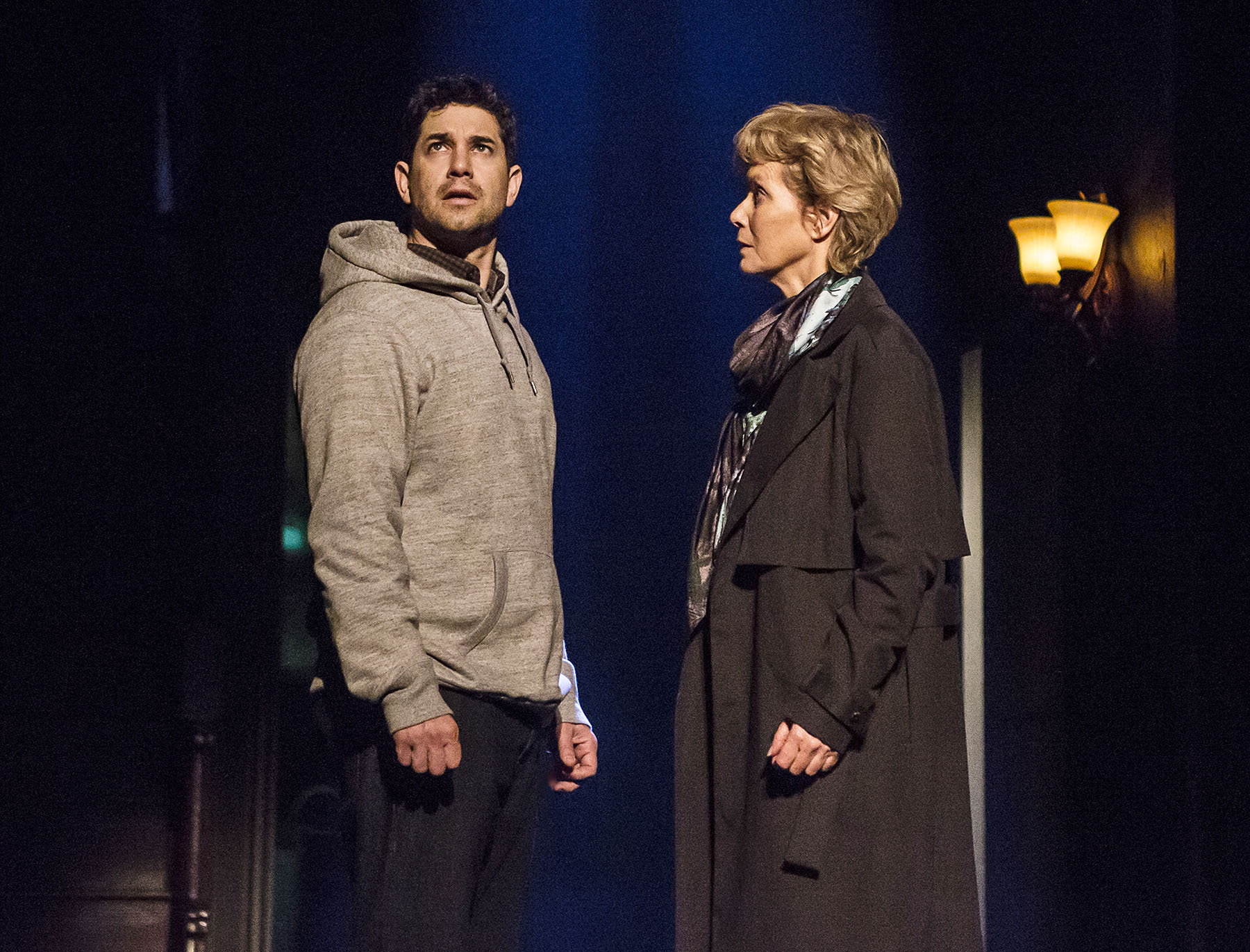 Adam Garcia as Father Karras and Jenny Seagrove as Chris MacNeil
A pause for thought, though. The crux of the show – two blokes and an ancient male demon battling for control over the body of a prone 12-year-old girl who has been forced into obscene sexual perversions – is supremely, and purposefully, disturbing. This show takes that abject sexuality to depths even the film doesn't plumb. There are questions to be asked about the normalised portrayal of the teenage female body as a site of entertainment and spectacle, and a magnet for (physical and emotional) possession.
Whether The Exorcist devilishly revels in that exploitation, or works to expose and question it, is a matter for debate. You may, of course, be too spooked to care…
The Exorcist possesses the Phoenix Theatre, Charing Cross Rd, London, until March 10th 2018.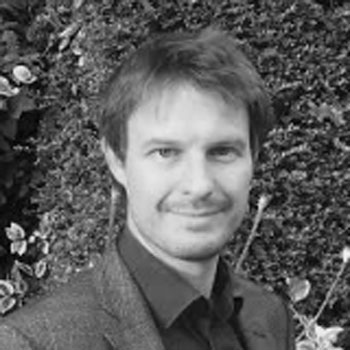 GREG TAYLOR
Film Editor
Greg spends a socially-unacceptable amount of time in darkened rooms with strangers waiting for the next film that excites him as much as "Jurassic Park" did when he was 12. As well as reading too many books, watching too many strange and unusual films and listening to loud and obnoxious music he found time to advise two Mayors of London and a host of MPs, helping to change legislation and give more power to people and neighbourhoods. If he's not writing, watching, listening or reading, Greg is almost certainly planning his next trip overseas – all recommendations greatly received.
The artist has gone from busking the streets of Brighton to over half a billion global streams to date, sold…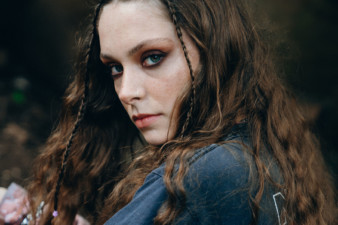 With the latest track 'The Walls Are Way too Thin' climbing up the charts, a new EP tantalisingly close, and…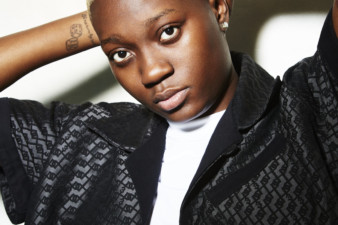 The genre-blurring rapper-singer wants world domination.