Don your trench, moderate your champs consumption, and don't be afraid of a cheeky guest list blag
1. The hottest ticket in town
Any fellow stationery freaks will be wise to the fact that Fashion Week's my-tribe-can-out-cool-your-tribe competition starts hotting up with the invites. Seriously, the stakes here are high. Who can produce the most fabulous, unnecessarily elaborate show ticket imaginable? In our time we've witnessed monochrome Rubik's cubes (KTZ), paper planes (Christopher Raeburn) and even invisible ink (our memory fails us here, but trust us, it happened). Sometimes you'll receive a hard copy summons so fly you'll want to hang it over your bed for all eternity (we're looking at you, Dilara Findikoglu) – so please, spare us your cookie-cutter e-vites. Oh, and while we're on the topic of tickets, they tend to come in rather handy for things like getting into the shows, so have them ready. Holding up the queue with whimpers of "I have it here somewhere, honestly…" is not a good look.
2. What to wear
Unless you're one of the big cheeses being ferried between shows in an Addison Lee E-class Merc, you're going to be doing a lot of walking. Venues are scattered across London, from Soho to Holborn to Clerkenwell, so wear your most fashun flats (see Rogue Matilda or Charlotte Olympia for inspiration) and don't forget the Compeed.
Style-wise, invest in a longline, transseasonal coat, and if you're on a modest budget, the tiniest details make the biggest difference: a wool fedora, some statement earrings and a slick of lipstick will elevate any outfit in an instant. When in doubt, resort to default Editor style in textured layers of black; kooky granny-chic is strictly for the bloggers. For a more detailed guide to LFW essentials (a sturdy brolly, portable charger and power bank come highly recommended) check out the contents of fashion designer Kyle De Volle's Lulu Guiness backpack in this month's issue.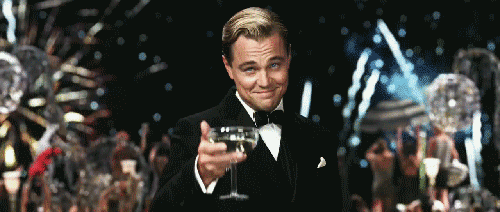 3. Fed and Watered
Fashion Week, it will come as no surprise to anyone to hear, comes with copious amounts of free booze. You could very well be sipping on the hard stuff from 11am, so unless you want to find yourself being unceremoniously ejected from a David Koma show after up-chucking your half-digested complimentary gourmet popcorn over Tony Glenville's shoes, you're going to have to pace yourself. Stick to one drink per show, and line your stomach with the delicious spread put on by the Rosewood Hotel – dinky micro-burgers and piles of sushi, anyone?
4. The curiously dressed
Honestly, one of the best things about Fashion Week is the people watching. From the modern day dandies with pocket watches dribbling out of their crisp tailoring to the pierced and hooded Skrillex look-a-likes via middle-aged camo-clad protestors wielding their shouty homemade signs, the streets of London are awash with punks, peacocks and purists from all walks of life. Take some time out between shows to take a seat and drink it all in.
5. The FROW
Bagging a spot on the FROW when you're a junior staffer gives you all the air-punch feels, and sometimes occurs thanks to hand-me-downs from an Editor with bigger and better shows to go to. For a few spectacular moments, you'll feel more Anna Wintour than assistant-to-the-editorial-assistant's-dog. Just remember to keep your cool behind your cat-eye shades.
6. Goody bag etiquette
We're not talking party poppers and Parma Violets here – LFW's gift game is off the chain and you may well find yourself journeying home with armfuls of Bumble and Bumble pre-style primers, embossed leather card holders and baby soft makeup brushes. Stay classy though, kids – there's nothing worse than the vultures who loiter around the FROW as the crowds disperse, waiting to pocket goodies intended for the Editors-in-Chief.
7. Ain't no party like a fashion party
The fash pack know how to party, and over the course of the week there'll be opportunities to rub shoulders with big name designers, celebs and media mavens, but be realistic: if you're a newbie, you're unlikely to worm your way onto the same guest list as Mossy Moss. That said, if you've got the smarts (and the balls to match) it is possible to blag an invite. A certain staff member who shall remain nameless once blagged her way into a prestigious industry knees-up by claiming to be the Editor of Jewish Vogue. Mazel tov!
8. The bigger picture
Intelligent and frivolous, elegant and trashy, sublime and ridiculous, money-driven and anti-establishment: London Fashion Week is all this and more. ­­­The shows themselves are mini pieces of theatre, and for every all-froth-no-substance disappointment there'll be a masterpiece that leaves you reeling. For six blustery days, the city heaves with an extra helping of creative self-expression and downright weirdness. Belt up your trench, bring your energy A-game, and enjoy the ride.