Choose black, textural layers – and swap your comfy flats for a statement heel when the sun goes down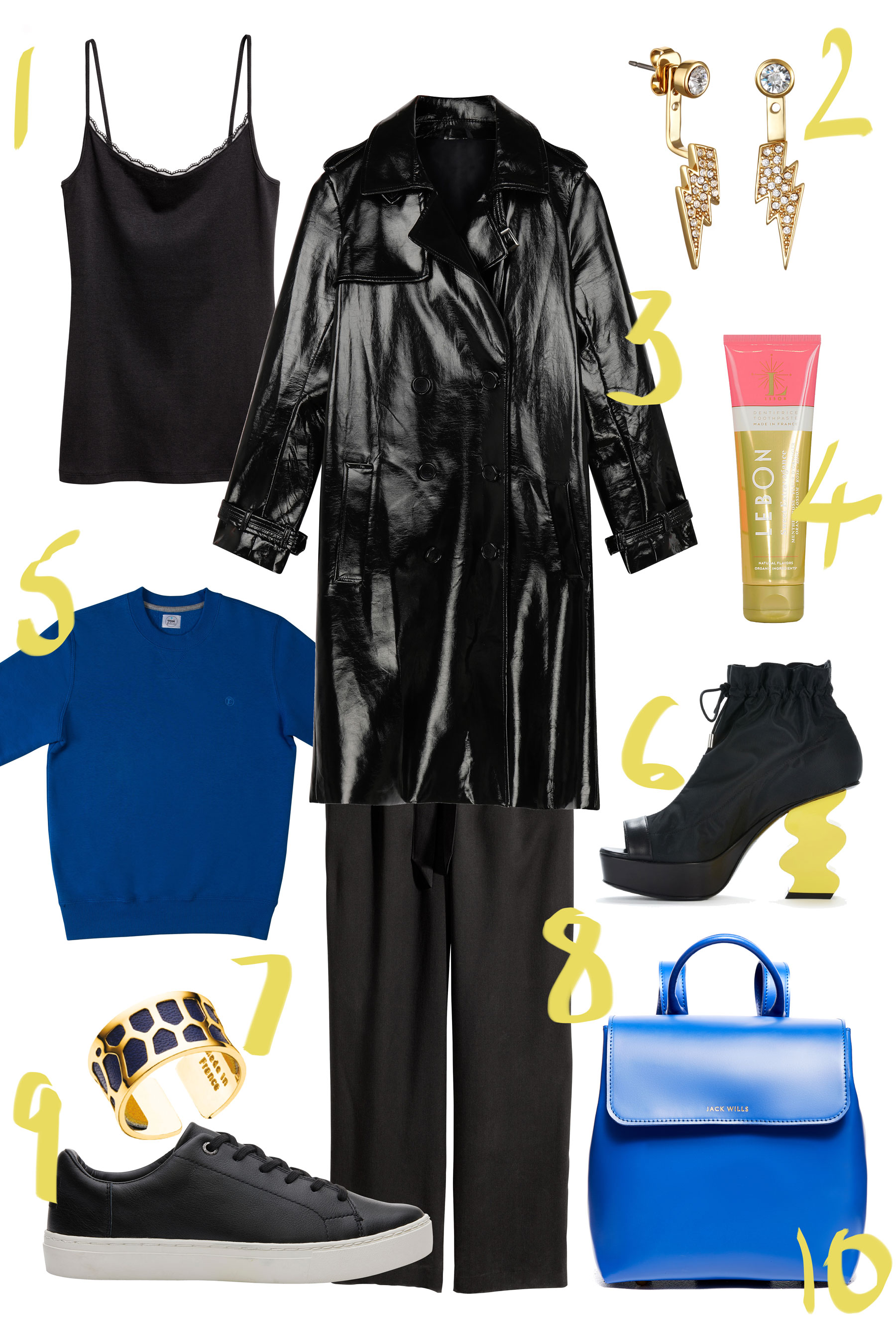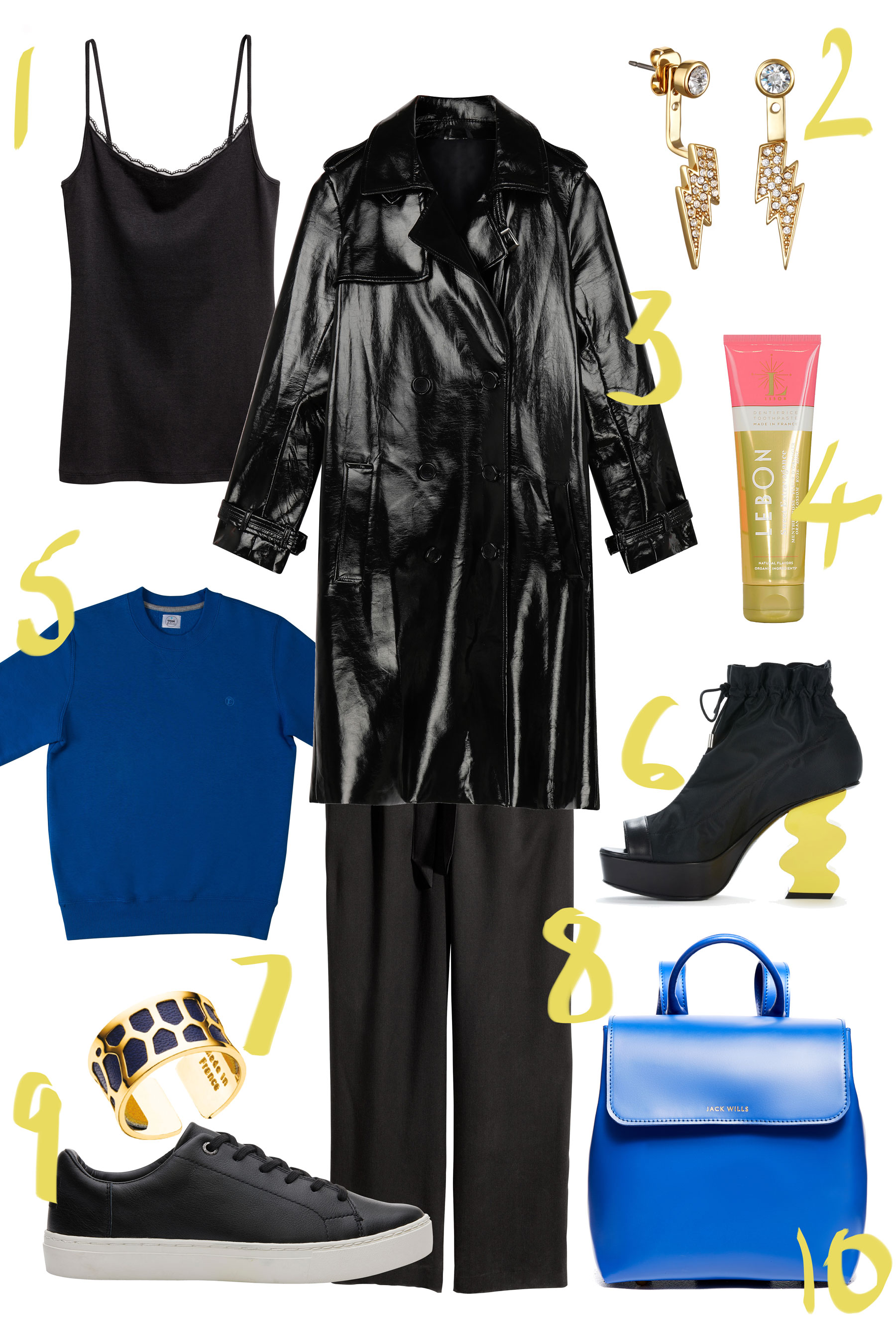 1. Top, H&M, £29.99 
2. Earrings, KARL.COM, £59
3. Coat, ASOS, £90 
4 Le White Toothpaste, LEBON at FENWICK AT BOND STREET, £17.99
5. Sweatshirt,TOM CRIDLAND, £199
6. Boots, IRI at WOLF & BADGER, £308
7. Ring, LES GEORGETTES, £35
8. Trousers, H&M, £29.99
10. Sneakers, TOMS, £69.99 
11. Backpack, JACK WILLS, £199
September is Fashion Month, which starts in New York on the 7th September, calling by London, and Milan before ending in Paris on the 3rd October. Covering the shows requires stamina, and every Editor worth their gold-starred front row ticket knows that you need to maintain a level of comfort and practicality for day. Layering different textures of black keeps things chic, and this PVC trench coat by ASOS adds an urban edge while ensuring I won't look a mug if caught in the inevitable showers between the London shows. For evening events I'll add a quirky heel, like these by iRi at Wolf and Badger, a one-stop-shop for the best independent designers.
I try to practice what I preach when it comes to working sustainability into my wardrobe, a brilliant example is the unisex 30 year sweatshirt by British entrepreneur Tom Cridland which does exactly what is says on the tin: it's designed to have a lifespan of 30 years' repeated washing and wearing. Even the high streets are wising up to ecologically sound practices – this absurdly cheap vest by H&M is made from organic cotton. TOMS, who make these trainers, is known for its various global philanthropic projects such as giving shoes to children in need (over 75 million pairs and counting), providing sight to over half a million people and safe birth services to 150,000 mothers, not to mention providing 450,000 weeks' worth of clean water to people. Impressive stuff for a clothing brand. Even the luxury toothpaste from Lebon is organic, and the Sweet Extravagance flavour has a uniquely delicate taste of rose, orange blossom and mint they describe as "definitively haute couture and sexy".
The Les Georgettes ring with its changeable leather insert is an ingenious design, meaning you can mix-and-match every day to compliment your look. As it's fashwan (sic) darling, I'll add a nod to King Karl with the rock-and-roll lightening bolt earrings. Finally the cobalt blue bag – would you have guessed it's by Jack Wills? I popped into their eclectically decorated Carnaby Street flagship store the other day and discovered this gorgeous Wells backpack is made in Somerset by world class leather goods manufacturer Pittards, established 1826, who produce bags in the same factory for one of London Fashion Week's biggest catwalk stars (who I shall not name), which retail at a considerably higher price point. Let the fashion games begin!