Jenny McFarlane helps us plan a New Year escape to this little-known Mediterranean jewel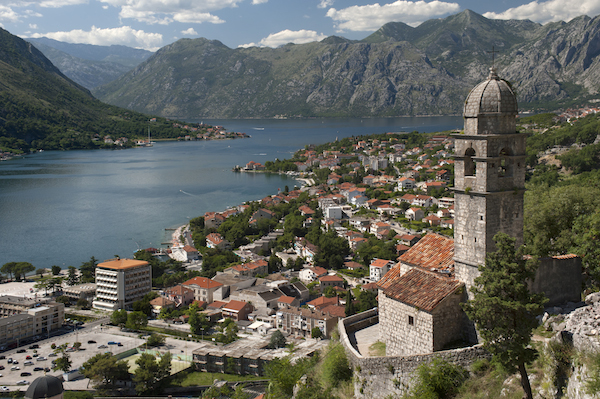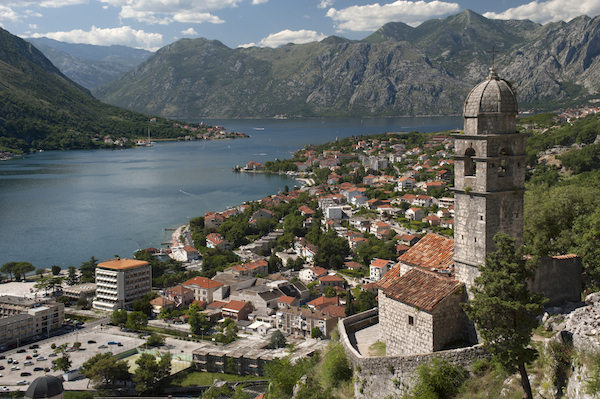 It can be hard to get through winter without the prospect of some sun on the horizon. This is the ideal time to book a spring break, and we're in the mood for somewhere sophisticated, unusual and not overly long-haul. Exhausting and environmentally damaging slogs to tourist clichés is definitely not the way we want to holiday in 2014. Montenegro, however, is.
The English translation 'Black Mountain' doesn't quite do this jewel of a country justice, with a landscape exploding with colour and beauty. Nestled between Northern Albania and Croatia, Montenegro is blessed with sunshine and temperate weather, and offers the best of both Balkan and southern Mediterranean characteristics – part of the reason it is fast becoming one of the most exclusive places to holiday. Celebs such as Brangelina, Michael Douglas and Catherine Zeta Jones routinely visit for short breaks and some of the world's most impressive super-yachts can regularly be found moored along the scenic coastline.
This is a true haven for nature lovers. Montenegro is blanketed with blooms for much of the year, with epic peaks dappled with dark green trees, and streams which rush down the mountains towards an azure blue sea. The coastline is dotted from border to border with pristine beaches of both gold and volcanic grey, lapped by clear Adriatic waters and clusters of picturesque, orange-roofed houses.
How to travel
The easiest and most accessible way to travel to Montenegro is to fly to Croatia using British Airways, JAT Airlines or Adria Airlines. Croatia offers a decent selection of budget flights, and there are also buses along the coast from Dubrovnik – recommended if you have the time as the coastline journey is one of the most breathtaking bus trips you'll take.
Trundling down the coast, you'll first hit magnificent Kotor – without doubt the most picturesque town in the land. South of Kotor, the land swings out to the beaches of Budva, the party capital during the summer. Make these two locations the pillars of your journey, and you'll be sure to capture both the peaceful and glamorous aspects of the country.
Kotor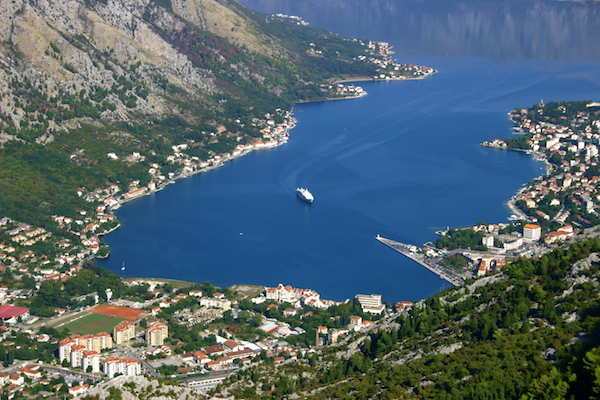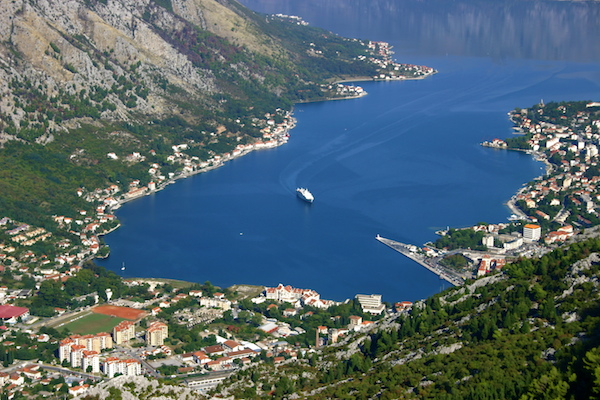 Situated in front of an astonishing composition of rock and sea, Kotor is located along one of Montenegro's most beautiful bays. Kotor's old city, or Stari Grad, is a gorgeously well preserved settlement from between the 12th and 14th century. Its mix of Medieval architecture and numerous monuments of cultural heritage have made Kotor a UNESCO world heritage site, and the entire town is a criss-cross of historically interesting buildings, narrow streets and squares where annual carnivals and festivals add to the charm. Outside the walls there are plenty of patches of sandy beach where you can relax and catch some rays while taking in the awesome views of the surrounding black mountains.
With its unique blend of the ancient and stylish, the old town has an abundance of boutiques, cafes, bars and restaurants. You'll feel like you have discovered something brand new every time you venture through the winding cobbled streets. There are plenty of sumptuous eateries to choose from, but I recommend a little place called Restaurant Stari Grad – head straight through to the stone-walled courtyard, grab a seat under the vines and prepare to get absolutely stuffed – the portions are huge. You can either point out the fish that takes your fancy or order from the regular à la carte menu, which offers an array of aromatic delights. Or if you prefer taking in the ocean views in an achingly romantic setting, the extremely upmarket Galion gazes directly at the Old Town across the millionaire yachts in the marina. Fresh fish is the focus, served traditionally grilled.
If you fancy witnessing Mediterranean glamour at close quarters, PuroBeach's water's edge complex offers amateur anthropologists ample opportunities for people-watching. The beautifully designed infinity pool is tiled in a modern design to visually blend with the bay. DJs mix chilled beats throughout the day and as the sun sets over the bay, patrons slink from their day beds and into the attached restaurants and bars. This is relaxation at its most chic. And there's no need to feel jealous of the reclining millionaire on his superyacht. You too can get a taste of the good life – book a day- sail on Monty B, a 44-ft yacht owned by British ex-pats Katie and Tim (and their two pups) which doubles as their home.
Still within the Stari Grad walls, you will find the boutique Hotel Astoria, my recommended stay in Kotor due to its modern yet traditional Montenegrin aesthetic and top notch service – not to mention its awesome roof top dining terrace, which offers intimate candle-lit views across the Adriatic and old town-fronted tables for prime A-list spotting.
Looming above Kotor is St John's Hill, one of the lower peaks of the Lovćen mountain ridge, where the town's fortification snakes to the sky. If you feel exceptionally energetic and in need of a bit of a work out, you can make the 1200m ascent up the fortifications via 1350 steps to a height of 260m above sea level. Unforgettable views plus a huge sense of achievement means you won't regret the effort, although try and avoid the heat of midday and bring a hefty stash of water in your backpack.
If you can bear to leave Kotor (and it would be very easy to stay put for a full two weeks), keep travelling south – it's party time.
Budva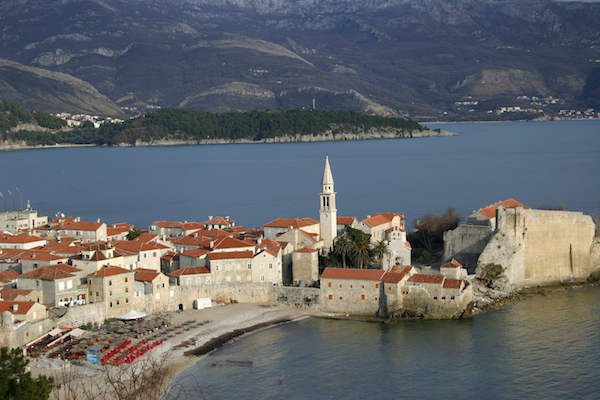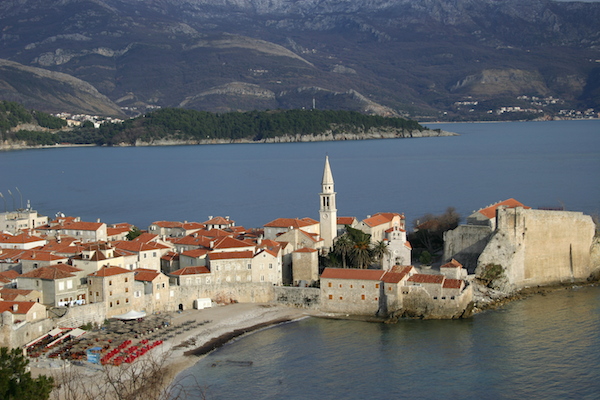 Budva, the capital of Montenegrin leisure industry, is where modernity and history truly intertwine. Filled to the brim with exciting shops and high-end cocktail bars, you can spend whole days moving between the likes of the glamorous Hacienda bar, situated in the old part of the town, and dangerously tempting boutiques – popping into numerous excellent restaurants nestled amongst the limestone houses along the way.
Budva's focal point is the Stari Grad. It's just as beautiful as Kotor, but more of a place to take a leisurely stroll and sip cocktails than sightsee with historical guide book in hand. Most travelers are here for the beaches, and there are plenty to choose from – complete with pop-up seafront bars, and water activities to boot.
The most notable beach is situated a step through a gateway from the old town – you just need to kick off your heels! On this lively beach, you'll find my recommended hotel, the Avala Resort. A new development, sympathetically built to blend with Budva's Stari Grad charm, the Avala boasts high spec design and a rooftop pool, plus an unbroken view of the Adriatic, looking out across the beach and old town below.
Good food is not hard to find but there is one joint that's worth a particular mention: Porto. From the waterfront promenade, a little bridge arches over a pond full of fish and into the romantic restaurant, where frivolous bow-tie-wearing waiters flit about with plates filled with fresh seafood. Divine. As for post-prandial entertainment, in the summer you might be lucky enough to come across a festival or street party with DJs playing in the Stari Grad squares. But Budva is the perennial place for a party so never fear – there will always be ample opportunity to flip your hair back and forth.
A trip to Budva wouldn't be complete without a long gaze down at the exceptionally picturesque Sveti Stefan, a tiny island slightly south of Budva connected to the mainland by a narrow causeway, which provides the biggest wow factor on the entire coast. Sadly, gazing is all most of us will be able to do – the cluster of terracotta-roofed stone abodes form the ultra-exclusive and luxurious Aman Resort, which is off limits to all but the lucky paying (through their nose) guests.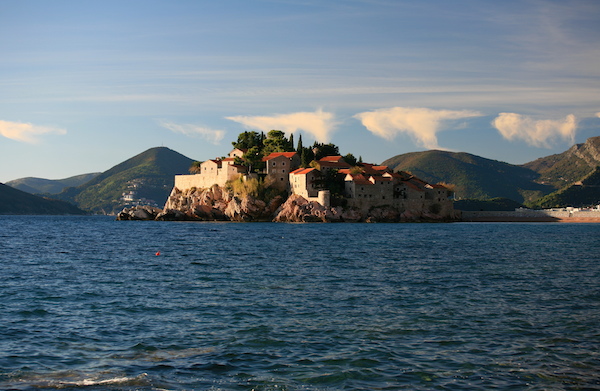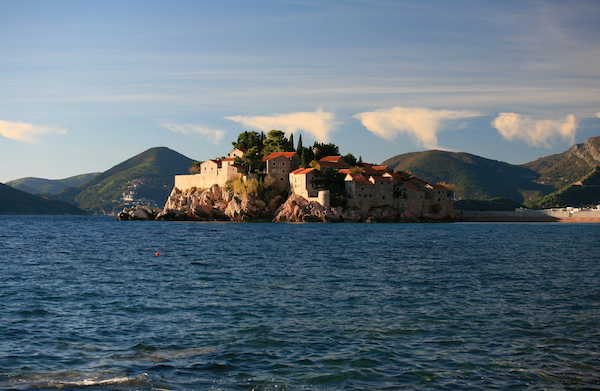 With spontaneous diversions from your coastal drive and the odd afternoon spent lounging unashamedly on the beach, that's more than enough for a ten day visit – but definitely not all Montenegro has to offer. For information about venturing further afield, check out the National Tourism Organisation of Montenegro's website.
Words: Jenny McFarlane | Blog | Twitter 
Images: MontenegroPHOTO.com