Cut your wash-and-dry time in half
It's not that often that something genuinely interesting happens in the world of shampooing and conditioning, but 'Flawless' – Macadamia Natural Oil's revolutionary new one-step cleansing solution – caught my eye when it promised to shampoo, condition, detangle, volumise, smooth out unruly frizz AND cut my blow-dry time in half, to leave me with beautiful, shiny, healthy looking hair. If you're not familiar with the range, it combines the ingredients of macadamia nut oil and the luxury of argan seed oil, and is perfect for slightly unruly hair.
I banished 2-in-1s when I was about three years old – thick, curly hair simply needs more care – but this product really delivered on its promise. Granted, it's a bit weird at first: the product is a thick, creamy foam, which doesn't lather, so massaging it into my roots was a bit disconcerting, as I wasn't sure it was actually cleaning, let alone conditioning. However, I was out of my shower in about a quarter of the time it usually takes. I managed to brush my usually matted hair in under a minute, and with a quick blast from the hairdryer – voila! Perfectly soft, shiny, beautifully scented hair. How do they do it?!
I'm not sure I'd use this every day, but for those mornings when you're in a rush or at the gym, it's bloody genius. 90ml: £8.75 or 250ml: £25.75 from www.macadamiahair.co.uk.

Help fight breast cancer (and look good while doing it)
As October is Breast Cancer Awareness month, there are a wealth of products on the market which are donating cash to this very worthy cause. Among the most desirable are these drop-dead gorgeous limited edition ghd pink and coral stylers. In the last 11 years, more than £8million has been raised for breast cancer charities worldwide through sales of ghd pink stylers, and this year you can do your bit too. For every ghd V coral styler sold £10 will be donated to Breakthrough Breast Cancer.*
With vibrant hues and graduated colours of tropical corals toned with plumage pink, the stylers have a rounded barrel designed create curls, waves, flicks and the perfect straight with ease. Each styler is packed with handy features such as a professional-length cord to allow for flexible styling, automatic sleep mode after 30 minutes and a coordinated heat resistant mat.
If you're more au naturel, these would make the perfect Christmas gift for the girly girl or sophisticated teen in your life. Buy yours here.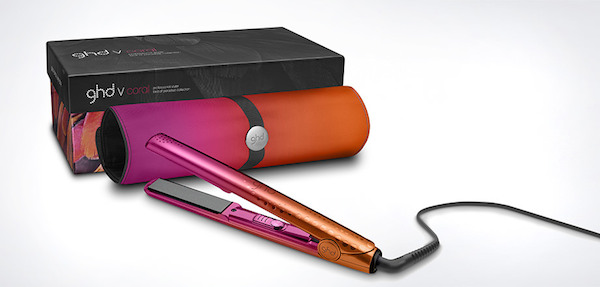 Drink to better skin
If you've not heard of Skinade, it's a skin-enhancing drink, which works from the inside out to rebuild and strengthen the collagen matrix below the skin's surface, boost natural levels of hydration and reduce fine lines and wrinkles. The high-grade collagen is sourced from fresh-water fish (don't worry – it's flavoured with peach and mangosteen). The makers claim that you'd have to take twenty large vitamin pills per day to get the same amount of ingredients, and that you wouldn't be able to absorb the nutrients if you did.
Intrigued? After using Skinade for a month solid, the most notable change that occurred was just how dewy and young my skin looked – but with a massive 7000mg of collagen in each tiny bottle, this came as no surprise. The addition of B & C vitamins, plus essential amino and fatty acids, boosts the scientific effects of the collagen, and leaves skin noticeably evened and blemishes soothed. A fringe benefit is that my nails got stronger as well! The taste, unfortunately, grows worse with time – but, as a wise (or unwise) woman once said, you have to suffer to be beautiful.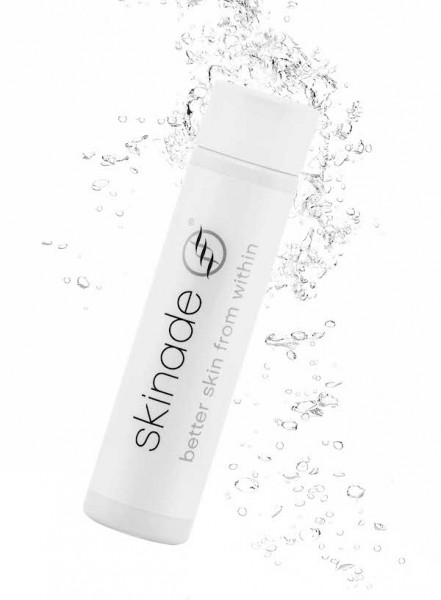 Jessica Luper