Tom Hunter pops his mixology cherry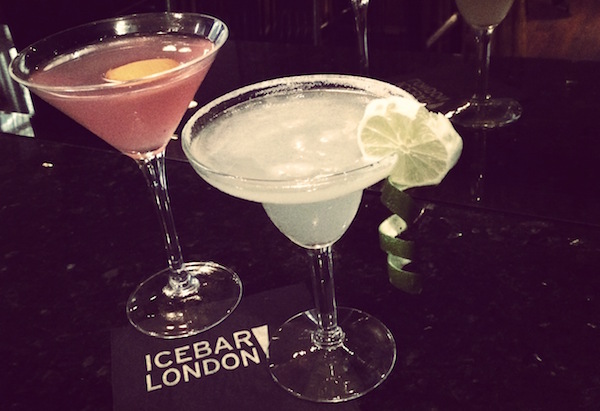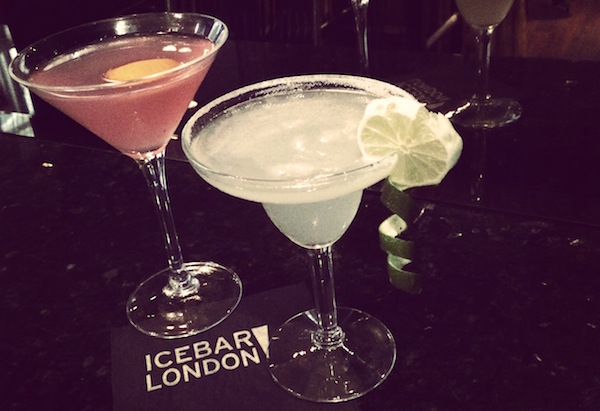 The life of a cocktail mixologist is one of inestimable glamour and sophistication.
Sadly, although I work for ICEBAR LONDON, I'm in marketing, so the closest I get to said glamour and sophistication is trying to pass a round or two of vodka martinis off on expenses and then staring into the bottom of them with a stern look, pretending I'm Don Draper.
However, I am well aware the ability to make at least a handful of spot-on cocktails is a requisite for the 2014 Renaissance Man, so this is something I aim to correct, starting now. I don't have time to get into work hours before service to finely chop dozens of limes, handpick fresh mint leaves and practise recipes dozens of times before they reach the discerning customer, but I do have ready access to Giovanni Cozzolino, brilliant mixologist.
So here are Giovanni's recipes for creating two world-famous classics – The Cosmopolitan and the Margarita – plus three top tips for avoiding the most common cocktail mistakes.
I promise you: if I managed to mix them (and they actually tasted fantastic), you have no excuse.
Classic Cosmopolitan
Absolut Citron Vodka, Cointreau or Triple Sec, lemon juice, cranberry juice and orange bitters
Grab yourself a Boston glass for mixing then add 40mls of the citron vodka followed by 20mls of Cointreau or triple sec. Cointreau for preference, but if you have limited resources in your home bar, maybe invest in triple sec first so you have a more versatile range of options when starting out.
Follow this with a dash of lemon juice and 30mls cranberry juice. Top the Boston glass with ice, add a last dash of orange bitters then shake vigorously (but not too vigorously) before straining into a martini glass.
For a final flourish take a small circle of fresh orange peel (no pith) and squeeze gently while heating with a lighter then garnish. If you want to get showy, squeeze some oils into the flame for a nice flash of theatre.
Masterful Margarita
Tequila, Cointreau or Triple Sec, freshly squeezed lime juice (and salt)
You start with the glass for this one, preferably a margarita glass though a martini glass will do in a pinch. Take your glass and gently rub one side with a wedge of fresh lime then dip into salt. It helps to have some on standby on a plate or similar.
With that done, add 40mls of the best Tequila you can find/afford to a Boston mixing glass, followed by 20mls of Cointreau or Triple Sec (same point as above on which to choose here) and then add 25mls of freshly squeezed lime juice. Top your glass with ice, shake, then strain into the margarita glass. Finally, top with another lime wedge or thinly slice and coil a strip of peel if you have time / knife skills.
3 top tips from behind the bar
1. There's no secret method for shaking your cocktails, no matter what some people will tell you, although it does help to make sure your thumbs are over the top of the shaker so you don't end up wearing your cocktail rather than drinking it. About 10 – 15 secs is good to chill the cocktail down without diluting it.
2. Garnishes are hard. A simple fresh lime wedge can look more sophisticated than a butchered piece of peel, especially if you have guests waiting, so it's worth taking the time outside of service if you want to get this bit right before hand.
3. Balance of flavour is key. Cosmopolitans may look pink and pretty, but a good one is supposed to have an edge  of citrusy bitterness too, so don't be shy when adding those last drops of orange oil. Likewise the image of Margaritas is often spoilt by approaching them as tequila shots in a glass; in fact, that half-rim of salt on the edge of the glass is a subtle way of balancing the taste to different palettes.
Words: Tom Hunter