ICEBAR's Tom Hunter gets to grips with rum
My New Year's resolution for 2015 is to try new things and have fun breaking the rules every now and again.
With cocktail-making there's over a century of classic recipe rules and mixing methods to choose from, but at the end of the day / cocktail hour it shouldn't matter what you do so long as the end result looks half-decent and tastes damn good.
While crafting a cocktail concept from scratch can be great fun, I reserve a special fondness for taking a time-tested formula and giving it a personal twist; and no, I'm not just talking about doubling all the measures.
January is an especially great time for experimenting, as lots of us end up with collections of spirits we wouldn't normally buy across the year, thanks to well-intentioned gift-giving or forgetful party guests.
For me this year it was a bottle of Ron Zacapa premium rum that stood out in the drinks cupboard, which leads me neatly to this New Year's reimagining of one of the all time, and oldest, greats of the cocktail world: the Old Fashioned.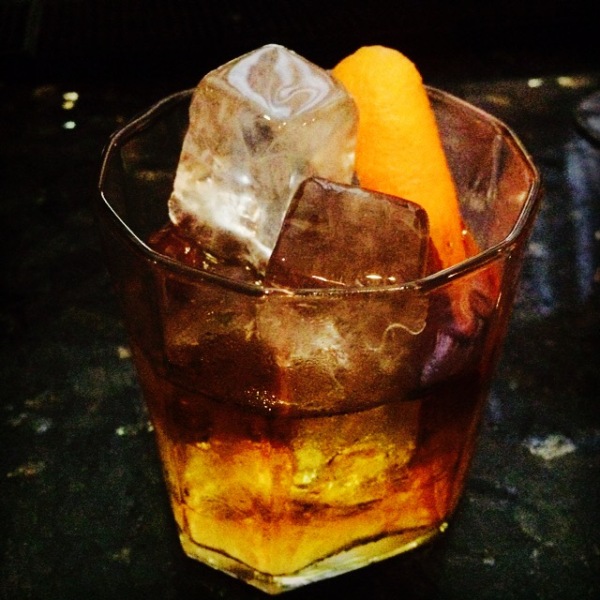 Rum Refashioned
20mls Rum + 20mls Rum + 20mls Rum (see notes below)
10mls sugar syrup
2 dashes angostura bitters
A very small dash of orange bitters
Orange peel to garnish
Lots of big ice cubes!
Rather than mix this one in a shaker or similar, you build this drink up slowly, bit by bit, in the glass, so the secret extra ingredient in the recipe above is time. This is how it's done.
Take a classic whiskey glass and add the angostura bitters, orange bitters and sugar syrup. I'm recommending 10mls sugar syrup for a refined taste that won't overpower the flavours, but feel free to lower or raise this by 5mls either way to suit your own taste or that of your guests.
Add enough ice cubes to fill the glass then pour in the first 20mls of rum and stir for one minute. I'm using my Ron Zacapa rum, which is about £50 per bottle, but you can vary it up with any good golden rum that has a bit of age to it. Havana Club 7 and Barcardi 8 are both good alternatives.
We're building this drink bit by bit with the idea of softly blending the ingredients with the slowly melting ice to release as much of the rum flavour as possible.
After one minute, top up the ice and add the second 20mls of rum then stir again for another minute. Repeat these steps one last time with the final 20mls of rum.
For a final touch, take a carefully cut slice of fresh orange peel, squeeze to release the oils then rub the rim of your glass with the peel before garnishing the drink.
At this point you should have a beautifully blended drink served over fresh ice with just the right hint of orange oils to excite the palate.
Enjoy at the same cool and measured pace with which you prepared your drink.
 Words: Tom Hunter