From Buckingham Palace to your own front room – resident interiors guru Helen Spencer of evespencer.com examines how we can all bring a sense of distinction to our lives
My Dad, receiving his MBE from Wills.
This month I was given the privilege of an invitation to Buckingham Palace. It was a chance to explore one of the most elaborate and celebrated interiors in the world – and to ponder what, creatively, a sense of 'distinction' really means.
The Palace is quite magical; I find it difficult to imagine how the most severe of royal sceptics wouldn't be charmed. The British knack for pomp and ceremony is easy to satirise, but it can also be a very beautiful thing. Guided into the East Gallery, you encounter statuesque Guards and Yeomen in flamboyant ceremonial garb. Enormous vases, towering at implausible heights, reflect the power, wealth and craftsmanship of countless other nations. Huge portraits of distinguished subjects and royals, painted by esteemed artists, flank the corridors. The ballroom, designed by Nash's student Sir James Pennethorne, is a Belle Epoque dream with a cream and gold colour scheme, gilt accents and red regency striped satin upholstery.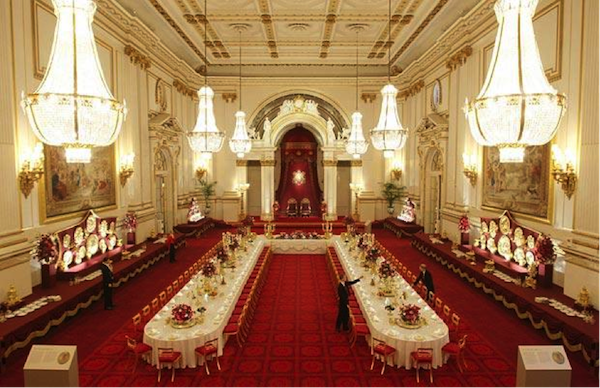 The Ballroom interior, Buckingham Palace
The majesty of the ballroom is intoxicating: every detail meticulous. As a whole, it exudes excellence; a self-aware beauty with a cut-glass accent and an ermine trim. Rose emblems on the endless claret carpet reflect chandeliers, dripping from dizzy heights; mushrooming lights climb the walls aside monumental tapestries. It's impossible not to breathe the history. These interiors have greeted the great, the good and the very, very bad of high society for almost two hundred years.
If you love this opulent, regal look, check out the exquisite Cole & Son Historical Royal Palaces collection archive, or The Royal Collection, Fabrics and Wallpapers by the Designers Guild, inspired by the interiors of Buckingham Palace and Art in the Royal Collection. But even if it wouldn't sit quite right in your one-bedroom flat in Haggerston, we can all learn from the Royal approach to design.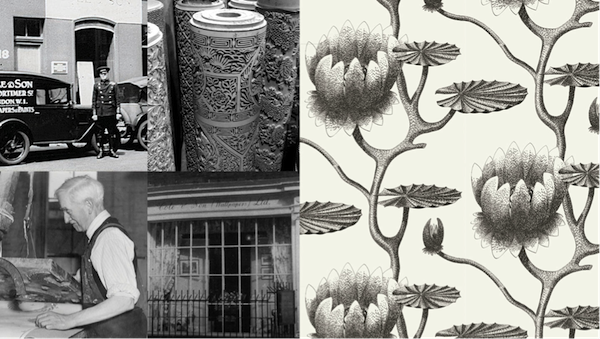 Cole & Son "Lily" from the "new contemporary collection"
Distinction, you see, embodies confidence. The confidence of the creator, the confidence of the buyer – however that confidence manifests itself. Look at the  innovative collections of Cole & Son (since 1875), whose long history of furnishing palaces is supported by a continued investment in contemporary design, or Sanderson who by royal warrant (1923) supply the Queen with fabrics to this day – but are anything but old-fashioned. Consider the ground-breaking approach of William Morris & Co – founder of the Arts and Crafts movement and the single most influential designer of the 19th century – or the quirky contemporary curiosities of Timorous Beasties. And don't forget Liberty's of London: an emporium for innovative and eclectic design since 1875 ("the chosen resort of the artistic shopper," according to  Oscar Wilde) which still produces cutting-edge collaborations and surfaces bold new labels.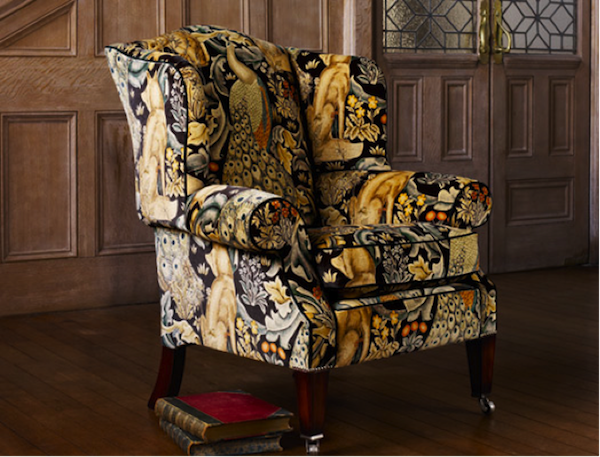 William Morris & Co "Forest" Velvet (2013)
In Travels with Charley, Steinbeck suggested that personality "seeps into walls and is slowly released". I love this notion. It's sometimes a challenge to step back from your own home and acknowledge just how unique a self-expression it is.
We spend so much time in our homes – we eat, relax, play, and increasingly work in them. Our interiors come to reflect our personalities more than any other space we use. And in turn, our physical surroundings affect our psychology.
Interior design is a visual and atmospheric extension of our unique culture, belief, passion and personality. To all intents and purposes, the Royal family are just another group of human beings. But try feeling that when standing in their palace. You'll never feel their 'difference', nor their confidence, so strongly.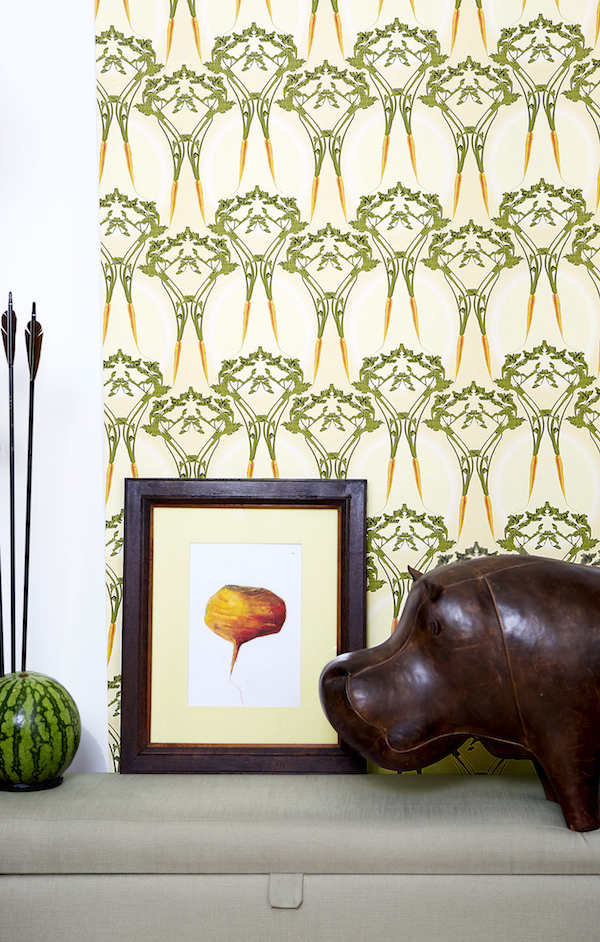 eve spencer "Jasper" from the "Quintessential" collection
I use distinction as a key ethos in my own work, as a reminder to express creative confidence. Because fundamentally, good design doesn't impose an aesthetic. It gives people another piece to their own story; a way for their homes and their personalities to meet.
Words: Helen Spencer