Would you like a shot of existentialism with that?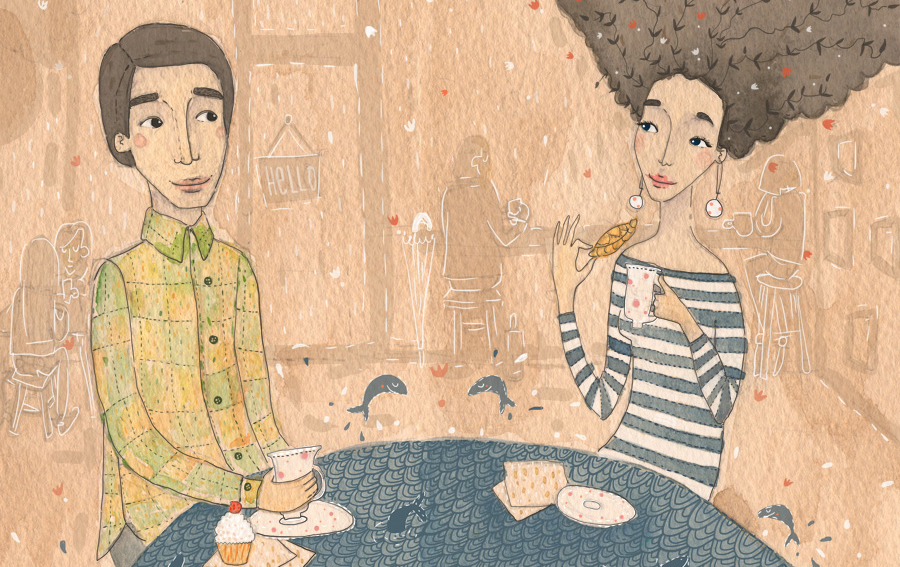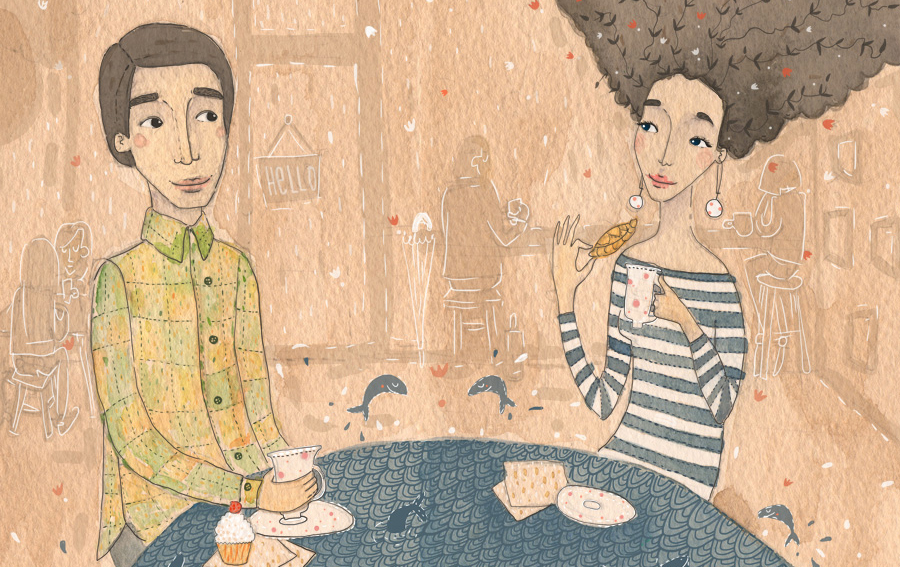 Illustration by Viktorija Semjanova 
Buying a cup of coffee should be an average and boring transaction. But New Yorkers are neither average nor boring. Ordering an espresso at one of our coffeehouses requires gruelling training and rigorous practise but, ironically, success depends on being disarmingly casual and finessed.
Approach the counter with an air of disinterested nonchalance, with the slouching cool of Brando, as if still unsure whether you even want to be there. If the barista manages to appear more knowledgeable than you, the game is lost. Ditto if you get confused by confusing drink names and fancy terminology. Deliver your request with the breezy, smirking confidence of a bullfighter and the measured, unshakeable hand of a gunslinger. But slurp that White Mocha too eagerly (as is man's God-given right), and you risk the raised eyebrow and polite disgust that befits a philistine.
It's all a clever ruse, of course. In truth, coffee is the least important part of a New York coffeehouse. It's all about atmosphere and audience. Be too cool for the room, because the room is most definitely too cool for you. That convoluted ordering ritual with the snobby barista purely exists to test what cats can groove with these guys and dolls, like knowing the secret password at a speakeasy. An education (real or feigned) in espresso is merely a ticket into the company of the shop's elite.
From Chelsea to the West Village, from Flatiron to the Lower East Side, from Harlem to Union Square and from Brooklyn to the Bowery, the hippest New York coffeehouses are littered with characters straight from a Woody Allen movie. The players are perfectly cast, and the scenes are set to a soundtrack of avant-garde free jazz and obscure indie folk. The gang's all here: writers, poets, actors, musicians, models, photographers, artists of every kind, or just the broke plebs struggling to become them.
There's the loner, silently nursing his tepid cappuccino at a back table. There's the bookworm, glued to her stack of trendy tomes, passionately arguing the genius of Infinite Jest with a friend. There's the couple, jointly dragging on a frothy chai whilst leaning over the table, fingers entwined, whispering in hushed tones. There's the study group, hunched over laptops, pecking away at term papers and complaining about the wi-fi. There are the beautiful people, wrapped in scarves like Greek deities on the plush furniture, present for no particular purpose except to be admired, as they were intended by nature – and by nature they encourage.
The beverages of the coffeehouse, and their consumption thereof, is secondary; merely the backdrop to a larger social and cultural zeitgeist, the props to a grander drama. True coffee lovers buy coffee without fanfare and make it at home for the simple personal pleasure, in the privacy and leisure of their own kitchen. In New York, where style rules, the aesthetic and experience of the bean is every bit as important as its substance. If you want a coffee, go to Dunkin' Donuts. If you want a state of mind, go to a coffeehouse. The amount of creativity per square foot in a coffeehouse is dazzling. We mingle at bars, we scream at concerts, we jog at parks, we cheer at stadiums, we learn in classrooms, we work in skyscrapers and dine in restaurants –– but in coffeehouses, we create.
The concept of the coffeehouse as a gathering place of artists and intellectuals has a long, illustrious tradition in Western society, from the Parisian salonnières of Picasso, Proust, and Gertrude Stein, to Hemingway sipping a single espresso at Madrid's Cafe Gijon, to Dylan and Ginsberg tearing up Greenwich Village at the subterranean Gaslight on MacDougal. As would-be artists and intellectuals of modern-day New York, we relish taking a place in that folklore. We talk politics, current affairs, philosophy, religion, music, film, art, fashion, and feel quite enlightened and superior. But chiefly, we talk about ourselves and what we shall do and who we shall be, because we are an infinitely more interesting topic.
Of course, this coffeeshop archetype is not unique to New York, but as Jimmy Breslin once said, "True New Yorkers do not really seek information about the outside world. They feel that if anything is not in New York it is not likely to be interesting." America's big city elites presume to think that noteworthy cultural scenes only exist in the hallowed auspices of our metropolis, but of course good art can (and frequently does) happen anywhere: in farmhouses in rural Kansas, in cabins in bleak Wisconsin, on street corners in Cleveland, and in the bedrooms and garages and basements and attics of the houses in any suburban sprawl.
But there's something about New York that compresses and super-charges that phenomenon into a force; a pulsating energy, a reckless pursuit of like minds and shining lights. New York is a city of new dreams and old dreamers. New Yorkers are oftentimes wannabes, but here more than any other city in the world, we can become somebodys. To quote the great Groucho Mark, "Practically everybody in New York has half a mind to write a book –– and does." We are just delusional and egotistic and brave enough to believe that we can be a Hemingway or Picasso or Dylan, and if there's one place it can happen, it's New York.
It all starts at the counter.
Words: Matthew Bryan Beck