Matthew Bryan Beck pays tribute to the quintessential Brooklyn deli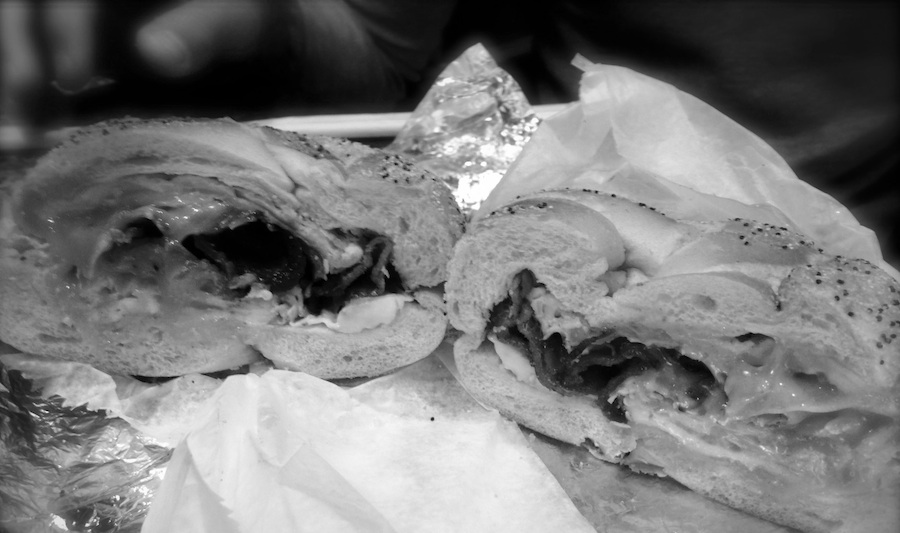 Nestled nondescriptly on Avenue S and E. 35th Street in the southeast Brooklyn neighborhood of Marine Park is Jackie's Delicatessen. Down the street is Marine Park itself, a 798-acre public park abutting the marshy western inlet of Jamaica Bay with serene bike paths, jogging trails, ballfields and West Indian cricketers proudly costumed in crisp white linen.
Marine Park is one of the few remaining blue-collar Brooklyn neighborhoods containing predominantly Irish and Italian working class Catholic families (firefighters, cops, sanitation workers, retired city employees who resisted 'white flight'), with an increasing presence of Orthodox Jews and a smattering of Asian residents. Until the 1920's, the Marine Park neighborhood was part of Flatlands (itself an independent township until it was annexed by the City of Brooklyn in 1896), and many old-timers still refer to any areas from Canarsie to Gravesend as the Flatlands.
Jackie's is the epitome of old-school Brooklyn, and the antithesis of the gentrification of the more bohemian enclaves of the borough such as Williamsburg, Park Slope, Cobble Hill, Brooklyn Heights, Greenpoint et al. Isolated by absence of easy subway access, Marine Park nurtures a proud separatism; this isn't the cultural mecca of Manhattan and it doesn't want to be. The Marine Park Civic Association's motto is "Improve, Don't Move". The people here are native New Yorkers whose world starts and ends between Flatbush Avenue and Nostrand. They pray to St. Anthony, but worship Joe Torre.
Jackie's isn't one of those overhyped touristy Manhattan delis like Katz's or Artie's or Carnegie, where being an old-fashioned New York deli is their thing and you'll need to take out a second mortgage to buy a pastrami on rye. Nor is it one of those dimly-lit Bronx bodegas where English is the second language and the business is only backdrop for gang shootings. Jackie's specialty sandwiches have names like The Iron Mike (fried chicken cutlet and cheddar cheese with bacon and blue cheese dressing), The Messiah (fried chicken cutlet and melted monterey jack cheese with lettuce, tomato and honey mustard), and The F-Bomb (sausalito turkey, buffalo chicken, pepperoni and muenster cheese with lettuce, tomato and mayo), and their everything flagel with cream cheese is like holding a piece of Brooklyn history in your hands. (A 'flagel' is a bagel that's been boiled, then flattened before it's baked in the oven.) Jackie's grown sons man the counter and run the store. Like the mythical Wizard of Oz, I've never actually seen Jackie herself  but in my imagination she looks like a more congenial Big Maude from The Andy Griffith Show.
Jackie's is like a community center. Everyone knows everyone. Waiting to order their pound of Boar's Head, picking up a gallon of milk in sandals and tube socks, or buying a lotto ticket and the morning Post, the locals chat. How's your mother doing after her surgery? God bless her. How'd your son's Little League game go yesterday? How's your daughter doing in law school? God bless her. I am fascinated. I love to just listen and soak in the character. Old faded posters and cards of old faded NY Rangers hockey players are taped to the wall above the dairy section and cold beer cases. It's like visiting a museum, a frozen time-capsule of what Brooklyn used to be before it was hip to be Brooklyn. Once you become a regular face at Jackie's, you feel part of the family. When I order my usual $4 bacon-egg-and-cheese-on-a-roll, the big guy behind the counter, wearing an ever-present soiled apron, uneven goatee and Yankees cap, calls me "buddy" and says "don't worry about it" if I ashamedly find I only have three bucks and change. 
I also love Jackie's Delicatessen because it's so aesthetically boring. It's everywhere, and nowhere: an establishment blessedly lacking pretense. They aren't trying to impress. The coffee on the unsightly twin-burners isn't artisanal or single-origin, but it's hot and always fresh. The food is greasy and fattening and ugly, and you know what, sometimes I want to be greasy and fat and ugly. Places like Jackie's are a palette cleanse from the haute cuisine of ostentatious Manhattan eateries to which I've sold my birthright. Jackie's Delicatessen is authentic, and in a processed digital world of augmented reality, we strive for authenticity and true realness in our environments––even if the emotion itself is a pose. Unwrapping the aluminum foil that swaddles my bacon-egg-and-cheese-on-a-roll like a newborn, I feel like a real Brooklynite. I'm from the neighborhood.
Words: Matthew Bryan Beck