Award-winning British wine expert Jane Parkinson is giving her industry a much-needed facelift. Forget the pretentiousness and elitism you might associate with the wine trade; as one of a savvy new breed of young wine writers, Jane's goal is to show the public that you don't need to be of a certain age, gender or income bracket to suss out and enjoy wine. Her debut book 'Wine & Food' is out now, published by Ryland Peters. We'll cheers to that…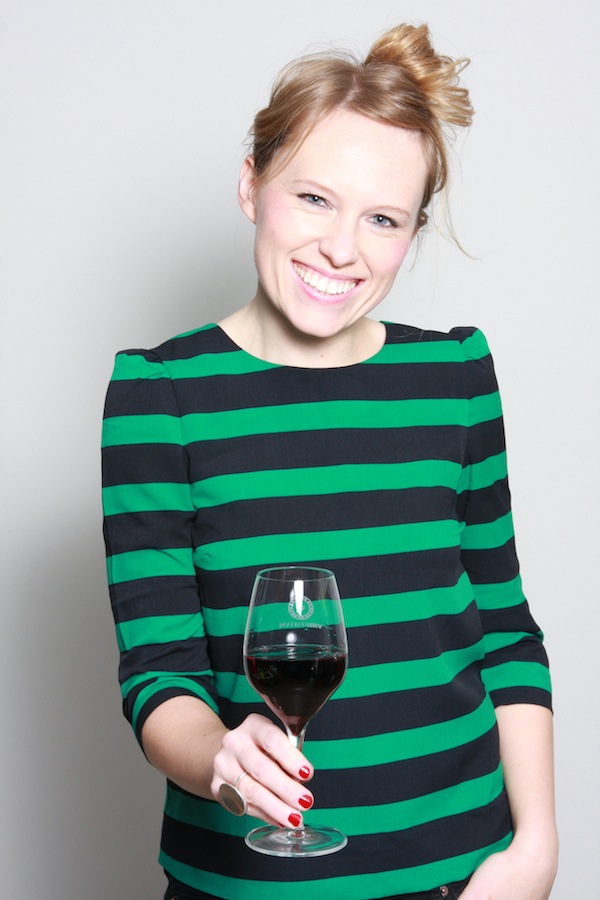 We can definitely think of worse jobs than writing about delicious wines. Was this always your dream career? 
Yes and no. My dream job was a journalist but I was given advice in school that led me down a different path and then I found wine during university. At first I wanted to work with wine itself but the writing bug was still niggling away at me, so I combined the two.
If you hadn't found wine writing, what would you be doing right now?
Very good question! I love making things, even if I'm not very good at it, so a jewellery designer, an artist or a potter would have been cool. That said, I'm not bad at making food so maybe I'd have become a chef.
Time for us to get all Proustian and ask you to describe your first memory of wine…
When I was a kid, Sundays were the only days my parents used to drink wine (it's a lot more often these days!) and I remember trying this white wine in a tall thin bottle when I was about 9 or 10, I thought it was disgusting and couldn't understand why my parents would choose to drink it over Schloer (my Sunday lunch drink).
In order to avoid substituting a sub-standard wine for Schloer this Sunday, give us your three top tips when it comes to choosing wine?
1. Opt for something versatile that you know won't go to waste, like a wine made from grapes that are known for being versatile with food. For white wines, that usually means Sauvignon Blanc or Pinot Gris, and for red wines, Pinot Noir or Syrah.
2. Avoid anything that's described as 'interesting'!
3. Don't be fooled by appearances. A heavy bottle doesn't necessarily mean it will be a better tasting wine.
Tell us about the process of writing your book, 'Wine & Food'?
Well, without my knowing it at the time, it started many years ago with all the notes I'd been writing down of wines I'd drunk and meals I'd eaten. As well as delving back into all my notebooks I had to delve back into my memory bank of meals, and the questions I'd been asked about what wine. I then tried to put all those notes and memories into some kind of order and as soon as I did that, the book was as good as written, but it took a fair amount of time!
The top tier of the wine market is, for most people, inaccessible. What's the best wine on a budget at the moment?
There's no point being a snob about it, Aldi has some great-priced wines. The Cremant de Jura (sparkling) Chardonnay is bonkers value at £7.29 a bottle and as for reds, the Aldi Exquisite Collection New Zealand Pinot Noir is a steal at £6.99.
Any courses you'd recommend for those wanting to sharpen their palate?
The Wine & Spirit Education Trust runs different levels of courses and is the wine educational body recognised by the wine trade. It now runs its programmes all over the world.
You can only drink one more glass of wine before a zombie apocalypse destroys the world as we know it – what would you choose? 
There's no time for messing around when the world's about to end, so it can only be a cool and crisp glass of Blanc de Blancs Champagne.
You won International Wine & Spirit Competition Communicator of the Year 2014, what's in store for 2015?
At the moment I'm concentrating on the next few weeks as I'm lucky enough to have two really fantastic work trips coming up. In February I'm judging in the Sydney Royal Wine Show and then visiting some of Australia's wine regions. After that I'm off to Yamanashi, Japan's wine-making district. I've never been to Japan before, let alone visited its wine region, so that's seriously exciting!
What advice would you give to other young aspiring wine writers?
There's no magic formula, it's about practice, both with wine and writing. So get out to as many wine tastings as possible to build up a healthy bank of wine knowledge, read as much as possible on the subject, and not just from UK writers but from the international ones too, so you can get a balanced perspective on what's going on around the world. And then practice writing about wine too, naturally, so you can find your 'style'.
 Catch Jane tweeting here.
Interview: Mary-Jane Wiltsher