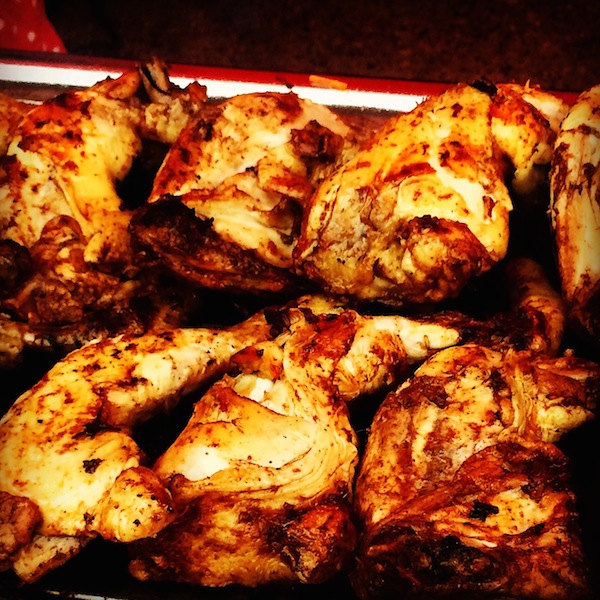 Reminiscing about the weekend? We certainly are. Although we're still not feeling 100%. Whether your optimal Carnival hangover cure is a coconut bath and home spa treatment, or a detox juice and bracing run along the canal before work (you powerhouse), recovery by way of a homecooked meal is always a good idea after 36 hours of rum punch and reggae. If you're missing the mouth-watering explosion of west London's street vendors that took place a few days ago, fear not. Mamma's Jerk Station, specialists in all things jerk and delicious, have shared their culinary secrets with us to help you recover with grace and a full stomach. Let's feed our party nostalgia a little.
Ingredients:
1 whole Free Range Chicken Cut into Pieces
6  sliced Scotch Bonnet Peppers
½ bunch of chopped fresh thyme
6 cloves of chopped garlic
2 bunches of scallion (spring onion)
2-3 tbsp of ground allspice or ground pimento
2 tbsp of salt
2 tsp of ground black pepper
2 tbsp natural honey
½ Cup of oil
½ Cup of water
Juice of 1 Lime
Method:
Roughly Chop the scallion, garlic, peppers and thyme, then blend all the other ingredients (except the chicken) using a hand blender or mixer until it forms a thick paste. This mixture is your delicious Jerk Marinade.
Lightly score the cut chicken with a sharp knife to allow the marinade to soak deep into the meat, then rub the meat with the Jerk Marinade. Remember to leave a little marinade to one side for basting. Refrigerate your marinated meat for 24 hours so that it begins to tenderise and the infusion process can begin.
Grill the meat slowly over a grill, preferably a carnival-ready charcoal BBQ grill, but your oven will do the trick. Turn the meat every 5 minutes and baste it with the remaining  marinade sauce.
This should take around 20-25 minutes. You want all the pieces to be fully cooked until they have a crisp golden brown skin. Great Jerk Chicken is all about the flavour, not the appearance, so don't be afraid to char each piece a little and really nail that crispiness.
Mamma's Jerk Station's serving tip:
Serve with Rice 'n' Peas, Coleslaw, BBQ Corn on the Cob, Fried Plantain and Salad or stick it in a wrap. If you can't wait, just eat it straight off the grill. The recipe Serves 4 so double up on everything if you need to, get your friends and family over and relive Carnival (or recover from it) together. Easy on the rum this time. Pass us that sauce.
Find Mamma's Jerk Station serving up sweet Caribbean family food at pop ups all over London at Street Feast every Friday, at London Fields, Camden Town and The Truman Breweries and at Hackney Downs Studios. www.mamasjerkstation.com