If Willy Wonka did London Fashion Week…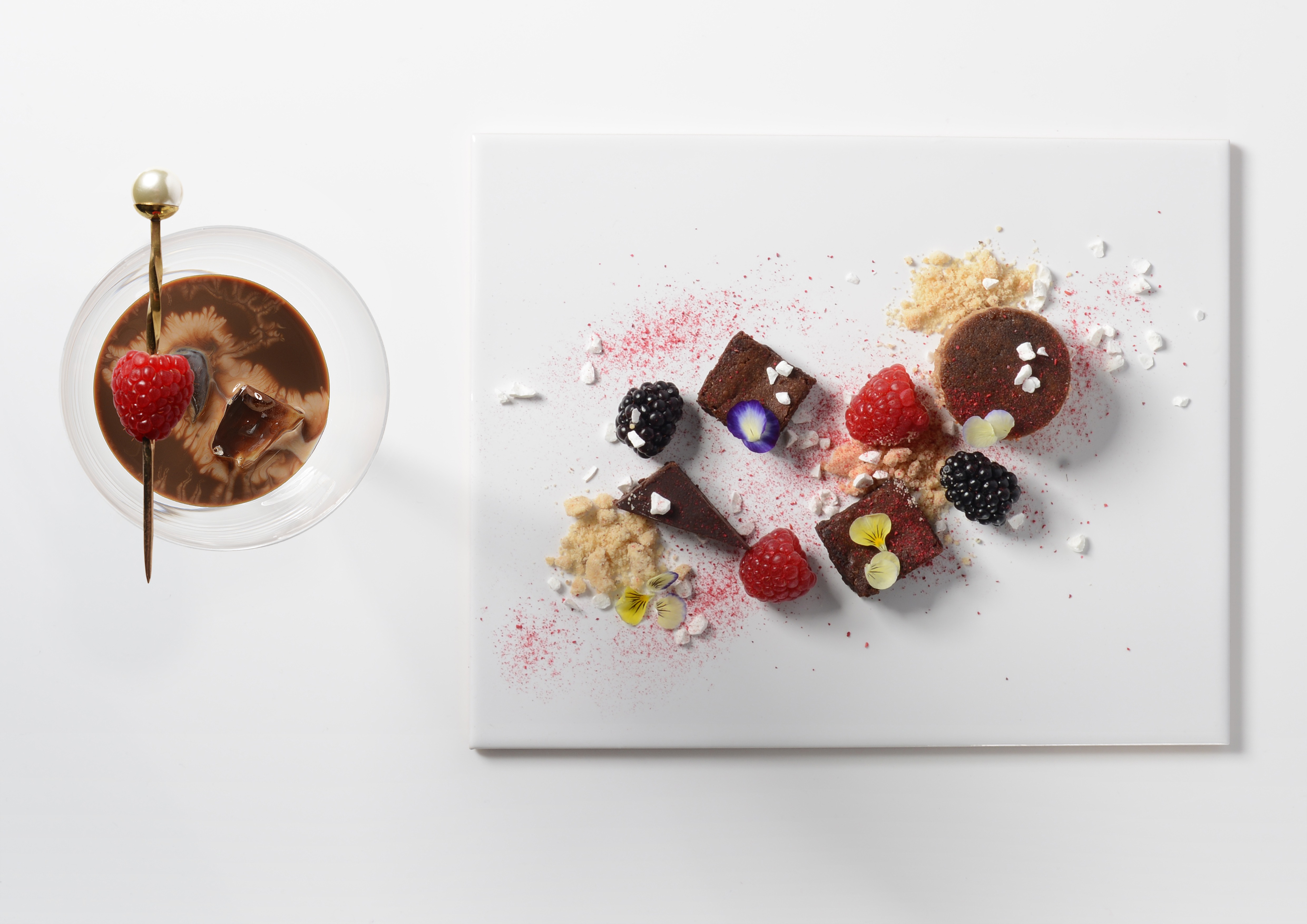 Some might think it cruel to open a chocolate-themed pop-up during London Fashion Week, where the attendees are probably some of the most calorie-averse people in the world. Some might think it a work of humanitarian good. Either way, yesterday Baileys took the bold move of opening Bar Chocolat, a six-day multi-sensory experience which allows visitors to Covent Garden to explore the deep and varied pleasures of the cocoa bean.
Decadence and drama are the order of the day in this intimate little venue, which brings together set design, treats, food and drink by some of Europe's most cutting-edge creative thinkers. The rooms themselves are the love-child of Willy Wonka's Chocolate Factory and a luxury aromatherapy spa, with a smattering of Alice in Wonderland and just a spoonful of Marie Antoinette's gold-encrusted Versailles. Designed by Petra Storrs, who has dressed Lady Gaga and collaborated with Paloma Faith, they effectively serve to transport you far from the central London bustle outside.
Once through the doors, it's time to taste the craft of master chocolatier Amelia Rope. Her creations are thickly creamy without being overpowering, delicately flavoured and displayed in accordance to the planet's elements (yes, really). "She uses only 100% natural ingredients", explains one of the hosts, "so they're much healthier than the chocolate you'd buy in supermarkets".
That's the kind of reasoning we like.
Next up is a mysterious, towering creation from maverick food artists Bompas and Parr. Opening various windows, your nose and tastebuds are titillated by evocative scents, while your ears are treated to the musical stylings of DJ Lou Hayter, whose previous credits include Paris Fashion Week and the Cannes film festival. We went with it.
And all this is before you even get to the bar and dining area, dramatically revealed through gossamer curtains, and run by Blanch & Shock. All dishes are chocolate-inspired, from crisp dressed lettuce to marbled sauces. In a strange mixture of the sophisticated and the childlike, dining occurs without plates; the seafood starter is served on a bed of ice, the main course artfully arranged straight onto the table.
But the desert, of course, is the real highlight, and the first chance to sample the new Baileys Chocolat Luxe – a creamy alcoholic concoction fusing the famous Baileys Irish cream whiskey taste with real Belgian chocolate. According to the dinner host, this unprecedented combination took Bailey's 840 attempts to perfect, and a trip around the world to sample 200 varieties of chocolate. Some people have the worst jobs.
The result is thick and intense; think Christmas morning bottled and poured. It requires a seriously sweet tooth, but for once, it does merit the indulgence. If that isn't enough, you may wish to coat your lips in 24 carats of complimentary gold, or snaffle down some further sweet treats – but this was the point at which we drew the line, and took a brisk jog back to the office.
In the eternally wise words of Mr. Wilde, "I can resist anything except temptation…"
Bar Chocolat is open from 11 September – 16 September. Entry is free with meals, which cost £17.50 for lunch and £25 for dinner, with drinks included.
For more information and to book entry or a meal visit baileysbarchocolat.com
Baileys Chocolat Luxe is available is available nationwide from October with a RRP of £16.99 for 50cl.
Words: Mark Bonington