DJ and London legend Disastronaut does lunch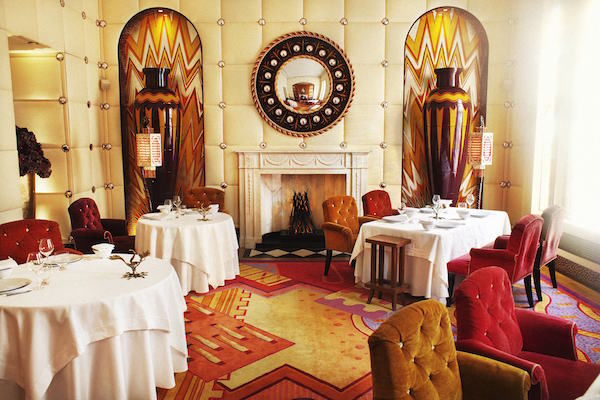 London is the global capital of lunch. If we're treating ourselves to a proper midday feast, we want bright, flavourful dishes that feel indulgent but that won't leave us with a trace of guilt – financial or intestinal – and central London rises to the occasion beautifully. Barrafina, Polpetto, The Palomar W1 and Pollen Street Corner all offer lively afternoon menus with a buzzing atmosphere for around £35-40 without wine. One lunch, however, stands miles above the rest.
When I sit in a place like Sketch's Lecture Room & Library I think that this is what cities are for. Simply said: Mourad "Momo" Mazouz and Pierre Gagnaire's two-Michelin-starred haunt remains one of the most enthralling places to eat in the big smoke, and their Gourmet Rapide Lunch is a favourite of Mayfair's artistic fraternity.
In my head there is a tiny calculator that divides the number of exquisite dishes against the total cost and Sketch's afternoon repast represents a big win in terms of both value and culinary bliss. The fact that Mazouz and Gagnaire are currently chasing their third Michelin star adds an additional frisson – their latest attempt powered by head chef Johannes Nuding (who was cooking the day we visited), after stints in Gagnaire's Paris and Moscow kitchens.
The Gourmet Rapide offers a seasonal and sexy three courses for a very resaonable £40, plus petits fours and coffee. For an extra nine quid you can bundle in a ticket to the latest Royal Academy exhibition (currently Allen Jones or Giovanni Battista Moroni) and give your soul a workout once you've treated your body.
Guided by the affable head waiter Tiziano, we start with red beetroot ice cream, a redcurrant rillette of smoked mackerel and chioggia native mussels – after a delectable pre-lunch selection of nibbles including a gelatin dirty martini, delicious squid ink crackers, home made hummus and some delicious Sablé biscuits. The standout main is pan-fried native pollock "à la Grenobloise" and for a £10 supplement it is well worth indulging in the cheese board from Neal's Yard and Bernard Antony in Alsace. The accompaniments of green apple, toasted hazelnuts, seasonal chutney, white beetroot purée and pear and Roquefort ice cream elevate the platter to a mini-meal in itself.
With a new joint seeming to open in London every week, it can be easy to overlook long-standing gems. And with the Sketch team reaching for the stars, there's no better place to cheer yourself up on an icy January day.
Sketch reopens 7th January
Words: Jeffrey Louis Reed