On the surface, you'd think that Londoners would be some of the best-fed people on the planet.
Our palates have been primed by the best in the business, and this month alone sees the opening of top-end venues such as Hoi Polloi in Shoreditch and One Canada Square down south; expansion of beloved city staple Burger & Lobster to Harvey Nicks; and two entire festivals in the form of the London Restaurant Festival and London Cocktail Week. Intimate supper clubs such as The Underground Restaurant and ferdiesfoodlab are thriving, And it looks like we're recreating the quality at home; The Great British Bake-Off is inspiring us to perfect our gluten-free hazelnut dacqouise, and our passion for shelf-candy cookbooks shows no sign of abating. But dig a little deeper and when it comes to eating well, our current generation of thirtysomething foodies are, quite frankly, all mouth and no trousers.
We may like to project an image of ourselves as conscientious consumers, chatting about miso-glazed organic flounder on the Whole Foods Facebook page, or repinning kitchen design porn on Pinterest, but for most of us, the reality of our daily habits is a little less picturesque.
"In my previous job as a human rights barrister, I worked very long hours and, by the time I left chambers, the only places I could buy food were supermarkets or takeaways," admits 35 year-old Kensal Rise native Marisa Leaf . "I realized that I spent every waking hour trying to make the world a better place – and then I went and spent my money at Tesco."
It's a story many of us will recognize – well, maybe without the world-changing bit. We've read our Jonathan Safron Foer and our Michael Pollan; we truly intend to only eat local, organic and seasonal. But when extended working days clash with early shop closing hours, and childcare responsibilities, parking restrictions and pushchairs make nipping into the neighbourhood deli an expensive marathon, we all too often give in to the lure of a Waitrose ready-meal.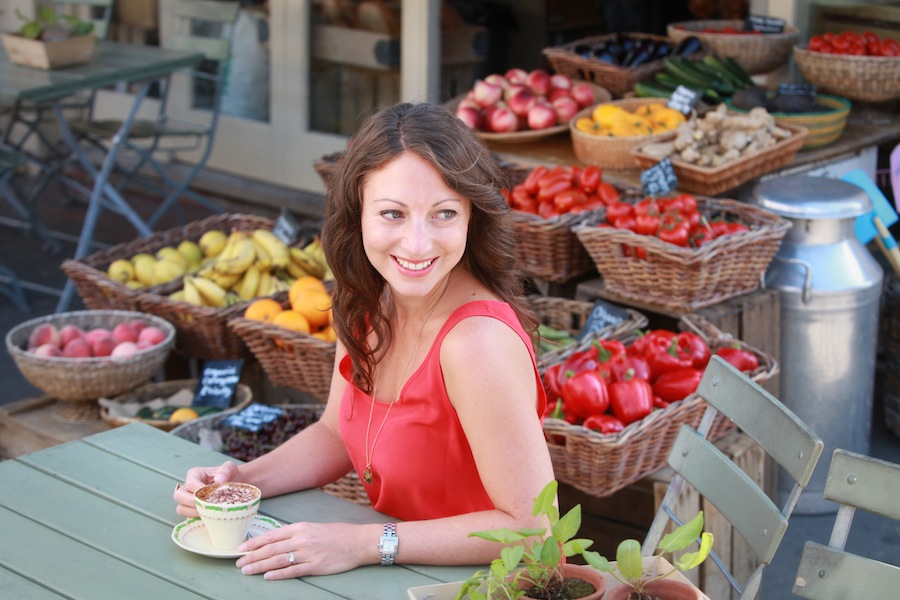 Marisa Leaf at Franklins Farm Shop by Rebecca Reid
The difference between you, me and Leaf is that she's done something about it. Despite her years travelling the globe as a barrister, Leaf remained a huge advocate for her hometown's local suppliers and became determined to create a sustainable future that would see them recover their place at the heart of the community.
"London is the city I was born in, grew up in and know best", she explains. "You need to know it well to uncover the best places: you'll find one of my favourite bakeries under a railway arch in Hackney, a mind-blowing salmon smokehouse down an otherwise unpromising alleyway in Stoke Newington and one of the best Italian delis tucked away amidst a cluster of terraced houses off the Essex Road. But the same people who are going to these brilliant independents at the weekends are also using Ocado or going into Tesco Express on their way home from work because they just don't have an alternative that works for them."
Her solution? Hubbub, an innovative home delivery service allowing customers to order online from local independent shops. First, customers create an account on the clean, colourful web platform and select their region; Hubbub currently covers North, East and South London, but plans are underway to expand to the rest of the capital and eventually the rest of the UK. Then, they select items from the wide range of items available, either by product  (which include everything from meat, fish, fresh vegetables and beer to toiletries, prepared deli platters and 'free from' foods) or shop (some of the finest London producers have signed up to the site, such as legendary butchers The Ginger Pig, sourdough artisans E5 Bakehouse and Paul A Young Fine Chocolates). Finally, customers pick a delivery time for the whole order to arrive in one go. "Essentially," Leaf explains, "Hubbub makes shopping online with your local butcher, baker and fishmonger as easy as shopping at the supermarket."
But the Hubbub experience goes way beyond a halogen-lit march through the aisles or a long wait for a grumpy delivery bloke who's swapped your coconut water for a Bounty. Organised by the hour, their delivery slots prevent timewasting half-day sit-ins for busy city workers; extend until 10pm on weekdays for those working late; and will soon cover Saturday afternoons for weekend parties and barbecues. Orders regularly arrive stuffed with freebies from other local businesses.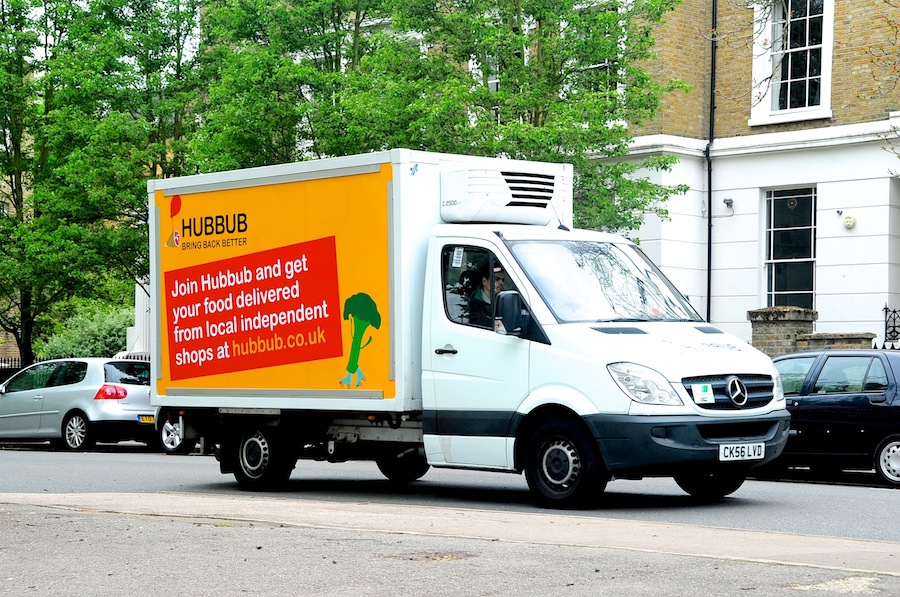 The Hubbub van
Above all, it is Hubbub's daily collection rounds, when the team visit the shops in their van, pick up the shopping face-to-face and gossip with the shopkeepers, which makes their service truly different. Each order is always freshly prepared, the team get forewarning of upcoming seasonal goodies or heirloom gems, and they can handpick substitutions if products are out of stock. Shop staff recommend their favourite recipes, and customers can buy ingredients to recreate them in easy one-click bundles on the site.
"As a business of butchers and farmers with the greatest commitment to quality and service, we love that Hubbub mirrors our values," explains Nicola Swift, Creative Food Director at The Ginger Pig. "The ways in which the team promote The Ginger Pig, look after their – our – customers and are always evolving and tweaking their online system is done with the same care and attention to detail that our butchers give to the meat. We love customers visiting the shops in person, but we're equally as delighted to have a way of providing for those who can't."
But creating a new way of urban shopping from scratch hasn't been an easy ride. To make her vision into reality Leaf spent months talking to shops and investors, conducted extensive costumer research, and finally launched right in middle of the global recession in Christmas 2008.  Despite the considerable challenges of "raising cash, getting to grips with London's traffic, finding great staff, acquiring customers, building relationships with shops, designing and maintaining the web platform" and continuing to work as a human rights consultant in Northern Ireland to pay the rent while she got Hubbub off the ground, Leaf never wavered in her commitment, because she truly believes that Hubbub has the potential to transform city living.
"Firstly, it gives consumers easy access to better quality food. Small shops can do things that supermarkets can't; just try some freshly baked bread from the E5 Bakehouse, some day-boat caught mackerel from Jonathan Norris Fishmongers, or a 100-day free range university-educated chicken from The Ginger Pig. And, while quality is paramount, this is not a luxury service; customers pay exactly the same prices as in the shops, there's no minimum order, and the delivery charge is just £3.50 (free over £75). Secondly, every £1 spent with local shops through Hubbub is worth almost twice that to the local community – compared to just 10p if that same £1 is spent in a supermarket. And that's good for everyone; for the small farmers and producers who supply our local shops, the local people and services they employ, and anyone who wants more than supermarkets and fast food outlets in their neighbourhood."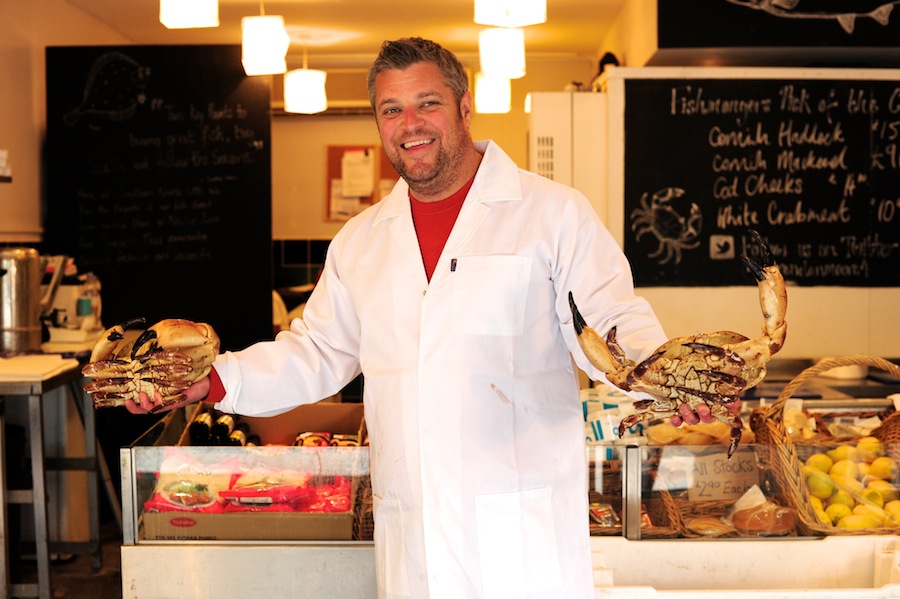 Jonathan Norris Fishmongers
Jonathan Norris, owner and founder of Jonathan Norris Fishmongers, says that Hubbub has helped drag his team into the future. "We first started working with Marisa and the Hubbub team in September 2011. My staff and I were initially a little sceptical but we were immediately won over. There's no question that Hubbub gives us access to customers who would not otherwise be able to shop with us. We were also impressed with the increased profile that Hubbub gave us, and they introduced us to social media as a marketing tool – I am now a self-confessed Twitter addict!"
Other suppliers find that Hubbub is helping them keep their priorities focused on what they do best. "From our point of view, the nature of their business provides a reliable revenue stream throughout the year," explains Ben Mackinnon, owner and founder of E5 Bakehouse. "Accessing the orders is simple so we don't have to spend much time packing or organising the bread." Which leaves them more time to, well, bake it.
Hubbub is perhaps most effective because the idea behind it is so simple, and Marisa hopes it has the potential to spread to other cities worldwide. But London still owns her heart, and she hopes that fellow residents will start to embrace a more sustainable foodie culture in lots of other small ways. "If you have even three square feet of space that gets sun, grow your own," she insists. "My father-in-law's green beans grown in his front garden in Kensal Rise are the best I've ever tasted. Also, look for little independent shops in unpromising locations with unglamorous shop fronts that have been there a long time. It's not easy to survive in these circumstances and if they've been there for 20 or 30 years they're doing something seriously right. Finally, I only go to restaurants for two reasons; either the chef is exceptional and is doing something that you just can't do – Otto's canard à la presse for example – or for a business, social or family occasion that you can't do at home. The Hubbub team always has a brilliant time at L'Entrepot in Haggerston."
Her parting shot is, unsurprisingly, a rallying cry for urbanites to walk the talk. "Buy from some of London's amazing small shops," Leaf insists "in person if you can, using Hubbub when you can't. That way you eat best of all, and you'll do so for years to come."
Words: Molly Flatt