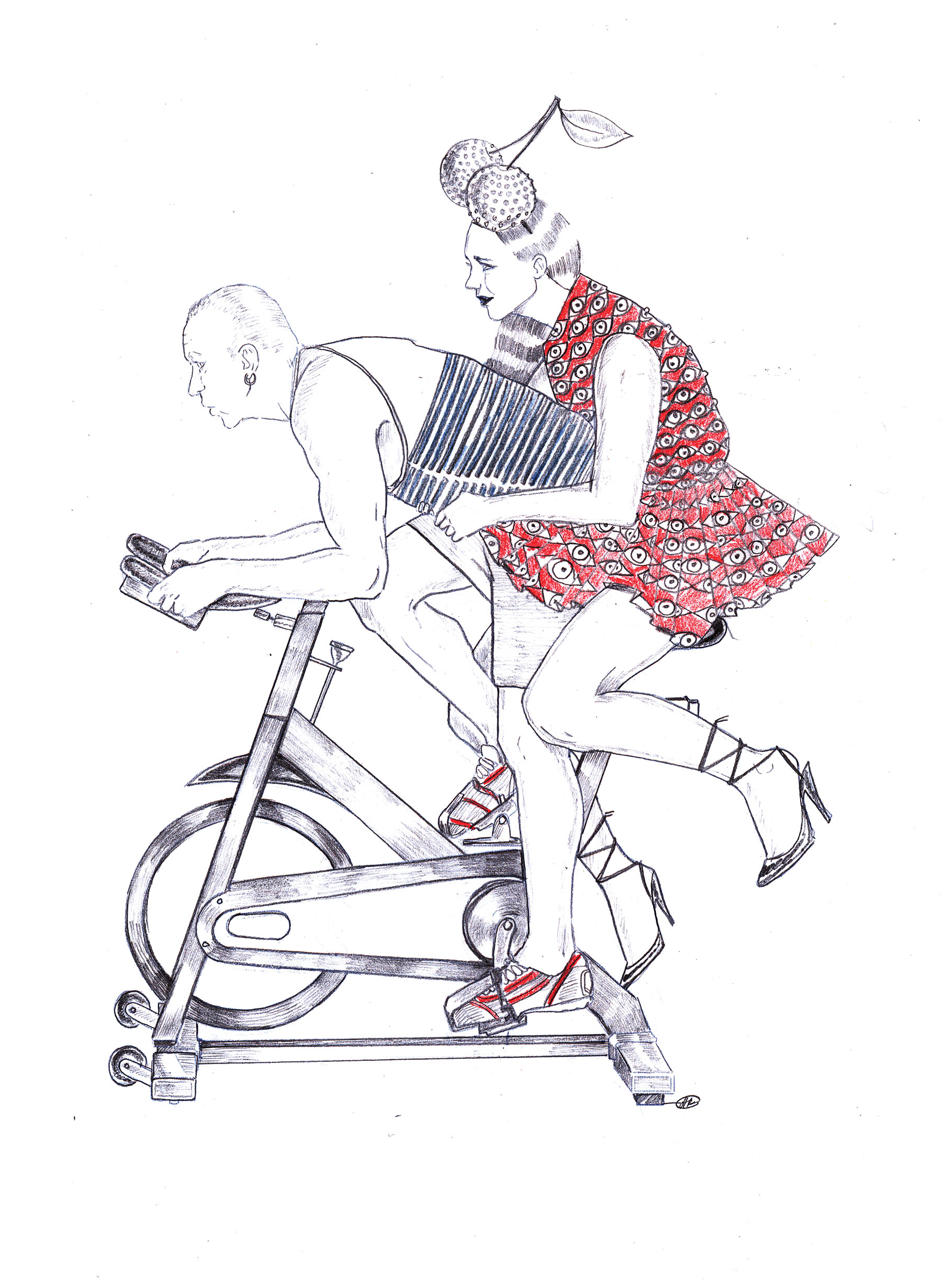 Marc Jacobs looks toned to perfection in the latest Diet Coke campaign, but as fashion tries to shed its coke, cigs and cocktails image, will it lose anything in the process?
Words: Molly Flatt
Illustrations: Artaksiniya
Last spring, our editor became a runner. Not a sashay-in-St-James's-Park sort of runner, but a proper, no-fags-and-booze, marathon-by-April semi-athlete. Naturally, PHOENIX HQ shone with pride (and a fair amount of shock).
Using her story as a springboard for a feature for this issue – an issue that just so happens to coincide with a certain historic international sporting event taking place in our hometown – seemed a no-brainer. An editor's education? From Lacroix to Lucozade?
But there was ambivalence when the idea was initially touted to the team. High fashion, the consensus went, is just a little lofty for pedestrian tales of protein shakes and nipple rub; fashion students are too busy with all-day appliqué and all-night raves to bother with keep-fit clichés. And that ambivalence, of course, is where the real story lies. Because, from crinolines to body con, the fashion industry has had a rocky relationship with health and fitness for centuries.
So we decided to investigate what is really happening behind the fashion scenes in the wake of London's Olympic year. Are we still a bunch of chain-smoking anorexics? Or are we now clean, lean Marc Jacobs-style machines? If a healthy lifestyle is all about moderation, can the extremist diva that is fashion ever truly subscribe?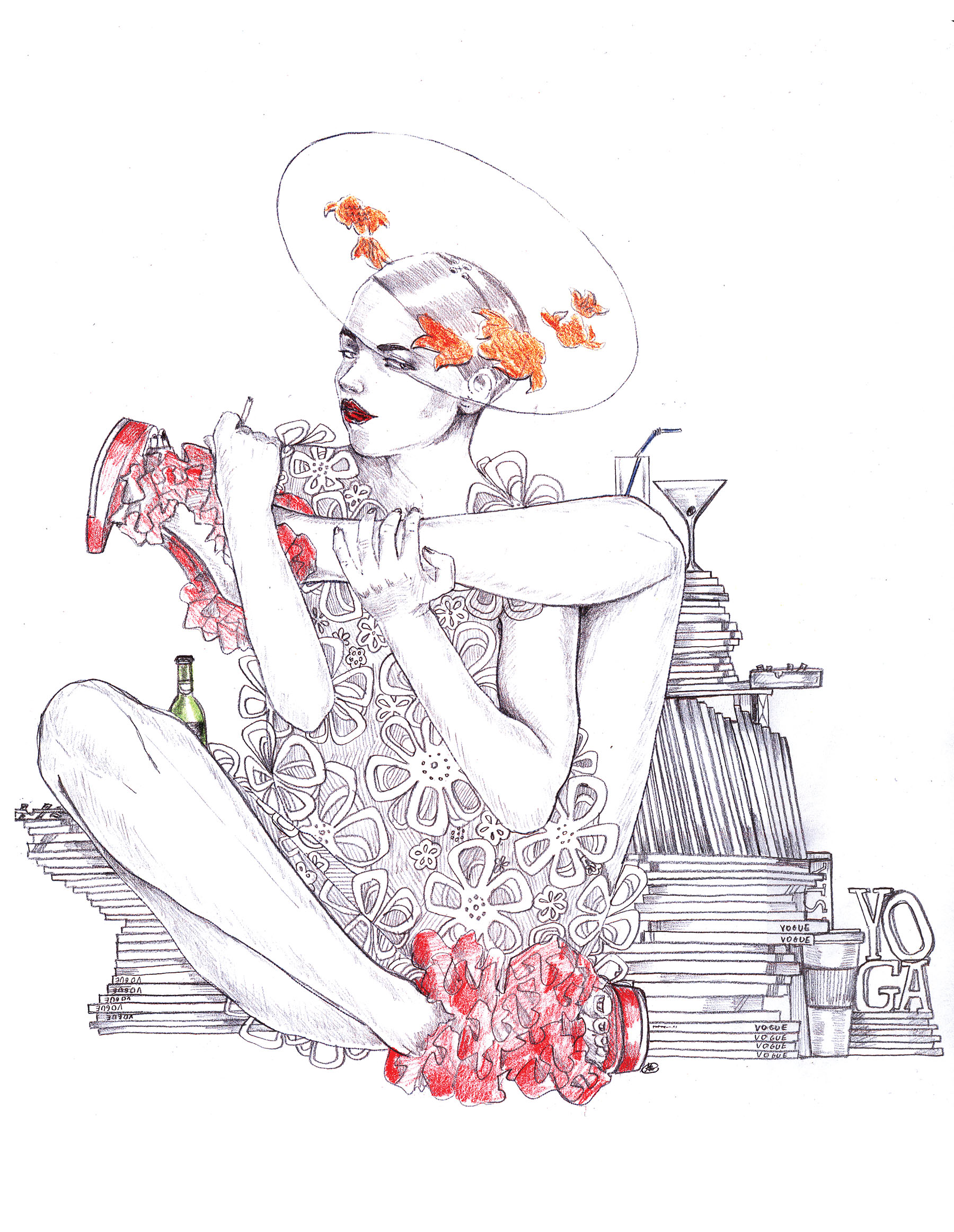 Zero to hero
One thing is certain: our editor is not the only one changing her spots.
"In my experience, over the past 15 years there's been a change of attitude in the fashion crowd," says Matt Roberts, the London-based personal trainer whose clients include Tom Ford, Naomi Campbell and John Galliano.
"If you look at anyone in big business – finance and politics as well as fashion – there's no doubt that you now have to be seen as healthy, fit and energised. People are more productive in their workouts, more focused on their diet and generally much more aware of themselves in a very competitive marketplace."
James Duigan, whose clients include Elle Macpherson, Jennifer Lawrence and Rosie Huntingdon-Whiteley, agrees.
"Fifteen years ago," he explains, "personal training wasn't a proper job. It was Mr Motivator; a joke. But now so many people in fashion have a trainer. We train a lot of the editors and assistants at Vogue, maybe two at the same time, and they namedrop who they train with."
This may come as a big surprise to those used to associating fashion with salads, cigarettes and cocaine. "The overwhelming trend in fashion has been about being thin," admits Roberts. "There's still an idea that not eating, or quick-fix weight loss is the answer. In that sense fashion has been slower than other industries."
But the trainers themselves are becoming experts in producing a 'fashion' look. "We are careful," Duigan agrees. "When you're training someone who has half a million dollars riding on their appearance you can't get it wrong. I know how they need to look, and you can do it in a healthy way."
Freeze frame
But before we all clink our glasses of coconut water and jog off to the shops, it's clear that the situation is a little more complex than this. In reality, improvements in the fashion industry's approach only serve to throw its lingering contradictions into even starker relief.
For example, fashion has a deep-rooted aesthetic of immobility that still holds fast to our imaginations today. "A detailed examination of what passes in popular apprehension for elegant apparel," wrote the American sociologist Thorstein Veblen in 1912, "will show that it is contrived at every point to convey the impression that the wearer does not habitually put forth any useful effort. […] The substantial reason for our tenacious attachment to the skirt is just this: it is expensive and it hampers the wearer at every turn."
One hundred years later, our most coveted clothes still imply louche inactivity, whether through luxurious fabrics (silk, lace, embellishment) or directional street styles (flatforms, maxi shoulders, palazzo pants). Daphne Guinness stumbling her way around London in a pair of McQueen Armadillos is not so different from a shuffling bound-footed Chinese concubine; Botox, whether injected to eliminate wrinkles or sweat, is a chilling exemplar of the continuing hold of this static feminine ideal.
Health and fitness are still not a comfortable part of fashion's public visual discourse, and a dash of 'post-workout glow' Nars Orgasm or a piece of 'luxe sportswear' – try actually hitting a backhand in an Alexander Wang mesh leather T-shirt – cannot change that essential truth.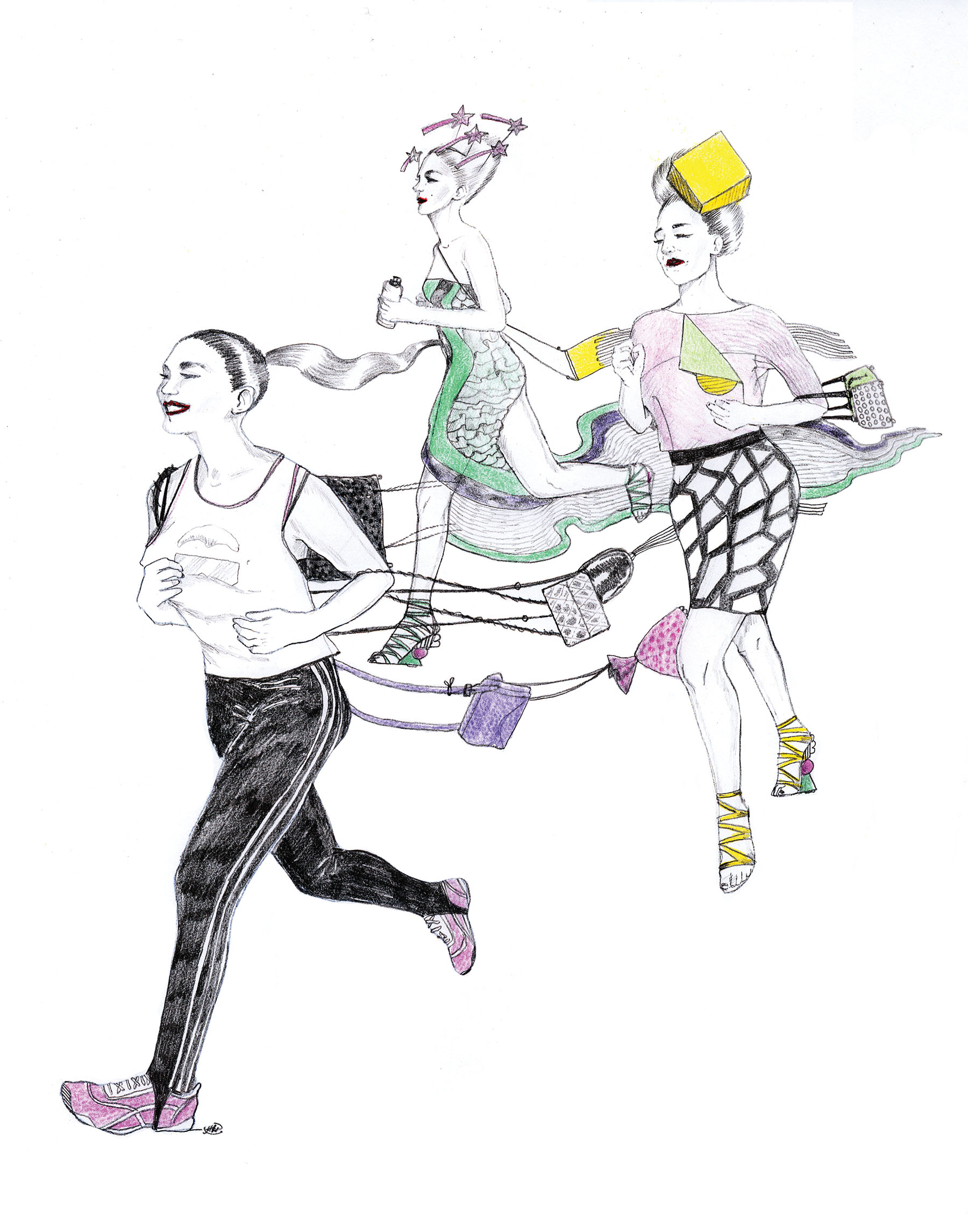 Tortured artists
Moreover, if you examine how fashion's top power players actually approach fitness, it's a confusing and not entirely appealing melange.
Who is a better role model? Alber Elbaz, whose beautifully dressed bulk hints at a refreshing everyman disregard for industry dictates, but whose constant self-deprecating confessions about carbs suggest quite the opposite? The plastic not-so-fantastic look of Donatella Versace and Karl Lagerfeld? What about poor messed-up Galliano, whose extreme workouts failed to save him from extreme substance abuse and mental decline?
Or the new fashion/health poster boy Marc Jacobs, whose three-hour-daily gym binges and goji-noni-acai superdiets have all the obsessive evangelism of a drug addict-turned-endorphin junkie?
"I think very creative people have short attention spans and low boredom thresholds," Roberts explains. "Opting for extreme measures for a short period of time appeals to their psyches. I've dealt with a lot of fashion designers who have gone for that approach, working out for several hours a day and attacking it hard, but then falling off the wagon because it's not sustainable. It's like a different sort of addiction, big highs and lows."
Ayurveda guru 'Yogi Cameron', aka Cameron Alborzian, used to be one of the top male models in the world, gracing Vogue covers and Madonna music videos. He agrees that the fashion industry tends towards extremes. "It's a very either/or culture. Models tend to vary between being smokers and drinkers to being extremely
health-conscious."
Inevitably, the image of the tortured and hedonistic artist remains much more beguiling than the Pilates fan who gets his five a day. But Duigan believes
that stereotype is wearing thin.
"Speaking frankly, being unhealthy and feeling miserable and being on a drug and alcohol rollercoaster gets boring really quickly. Dude, you know what? Clean up. Go for a jog. You might even be a bit more interesting."
Personal brands
Fashion folk's struggle to find balance can be attributable to factors other than creative temperament. One is simple logistics. "When I was a model back in the 90s, I went out, stayed up late, and travelled constantly," Cameron admits. "The body at 20 takes the hits much better than at 40. Maintaining health while on the road is a hard thing to do no matter what business you are in."
Another is that old villain, class. Admitting that your streamlined figure comes from Fitness First and Whole Foods rather than excellent breeding and nanny's macaroons or, at the other extreme, humble poverty and a diet of work and fags, is still deeply uncool. A 'healthy lifestyle' is just so middle class, and middle class is perennially the least fashionable thing to be.
But in a highly competitive marketplace, this very British attitude – part embarrassment, part arrogance – won't wash for long. American fashionistas have always been loud and proud about the work it takes to look good, from LA's juice-swilling gym bunnies to New York's groomed Bikram queens. And Matt Roberts believes that the future will come from further afield.
"There are some amazing fashion designers coming out of the Far East and they are hugely ambitious and hard working both in terms of their products and themselves. We have to realise that people want to buy into a brand and that the designer is part of that brand. There's a whole Eastern culture about meticulous presentation. In this country we're in severe danger of falling behind."
Role models
This social media-fuelled emergence of designers, editors, models, make-up artists, hell, even interns, as brands in themselves explains why any of this matters in the first place. People who work in fashion are becoming as influential as the clothes; and the moment that teenage girls – the fastest growing group for obesity in Europe – get interested in fashion tends to coincide with the moment that gym knickers lose their appeal.
"Around that age boys are idolising footballers but there's no one girls see as a strong fitness role model," Roberts sighs. "That is where I think fashion could play a part. I was really pleased to see that Stella [McCartney] is doing the designs for this year's Olympic clothing. It doesn't mean people who buy the products will do the exercise, but it does create a link. Fashion has a role to play in making girls stay interested in health."
And as for our editor? She smashed her personal best for the marathon; she looks better than ever in her Choos; she's back on the cocktails; and she got the last issue out (just) on time. Perhaps fashion is capable of cleaning up its act – without compromising its spirit – after all.