The other evening there was a pink sky. Suddenly Instagram was flooded with hyperreal pastels and Renaissance-worthy cloud formations. All across the UK we punched in that rebellious hashtag #nofilter as we collectively kept it real. It's this connectedness to each other and to our planet that forms the basis of the study of ecology. Particularly in fashion we've been bandying the word "eco" around for so long that we've completely forgotten what it really means.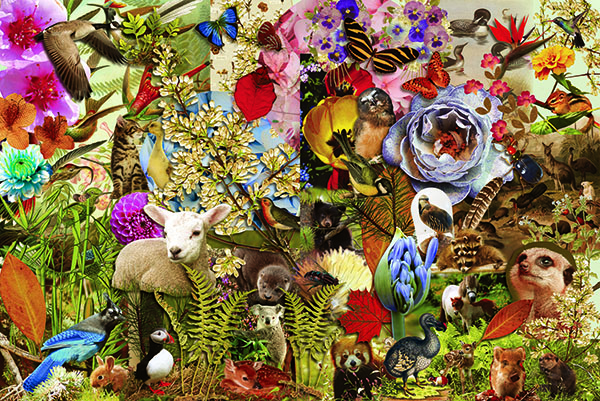 To disassociate ourselves from the world is a mistake. There's substantial evidence for 'nature deficit disorder', a hypothesis by Richard Louv in his 2005 book Last Child in the Woods that human beings, particularly children, are spending less time outdoors resulting in a diverse range of behavioural problems. Worryingly, according to a 2008 National Trust survey, one in three children could not identify a magpie; half could not tell the difference between a bee and a wasp; yet nine out of ten could recognise a Dalek. Must we face a future of Dalek honey on our toast?
And as adults the benefits of immersing ourselves in nature remain hard to ignore, a report published by the Department for Environment, Food, and Rural Affairs in September 2013 comparing rural versus urban populations showed that people in the countryside live longer, have a better quality of life, and lower rates of cancer than city-dwellers- despite the fact they spend more money on alcohol and cigarettes.
Coming soon to Bethnal Green is Lady Dinah's Cat Emporium, where, inspired by popular Japanese cafés of a similar nature, strung out office workers can order a kitty cuddle whith their flat white.  On a more serious note the charity Phoenix Rising, who we will be working with in 2014, employs animals to assist sufferers of post traumatic stress to help improve their mental and physical wellbeing. Vic Ferguson, a Bosnian war veteran and one of the co-founders of the charity explains how  the empathetic non-verbal bond with his Alaskan Malamute Mishka gives him confidence to go out in public, "I am not usually good at relationships but my relationship with Mishka has shown me love and companionship, trust and loyalty that know no bounds and that I have yet to find elsewhere. She's my best friend, she saved my life."
The truth is we're instinctively hardwired to want to connect with nature. It's called biophilia, coined originally by psychologist Erich Fromm, later popularised by biologist Edward O. Wilson, and turned into game-changing album and app by Bjork in 2011. Biophilia is why cats run the Internet. It's why all baby mammals appear "cute" to us- we look at the compact proportions of their faces and large eyes and most of us feel an urge to nurture.
Eco-psychology is now a "thing". The psychologist Michael J. Cohen's Natural Systems Thinking Process "connects our psyche with 53 distinctly unique attractions found throughout nature" . His work references gluons, a kind of subatomic particle, as key to these elementary attractions. "Since 1951, my hypotheses has been that we can produce hope, sanity, peace and balance by engaging in a process that helps us think like nature works,"  he says.
The key to reconnecting starts with awareness. From a consumer perspective it comes from knowing and caring where your garments are from, what they're made out of, who made them, and how they came to be hanging on your rail. Six months on from the Rana Plaza disaster in Bangladesh as an industry we have really just begun to start asking these questions.
The poet Thomas Moore explains it best, "at root, ecology is an erotic attitude of closeness, relatedness and care. We have made it into a rational, activist project and lost sight of its heart."
Tread lightly upon the planet, but wear a fabulous pair of shoes to do so.
Purchase a copy of our Heart's Are Wild here or on iTunes
Words: Hannah Kane