Sarah Eve speculates as fashion's bad boy is confirmed to take on Martin Margiela…
John Galliano's Spring 2010 collection inspired me like no other at the time but now seems darkly ironic; themed around LA's screenwriters' strike, it depicted ageing stars re-emerging after years in hiding.
Galliano himself is now doing the same, re-entering the fashion fray as Creative Director at Maison Martin Margiela: his first appointment since a drunken anti-Semitic rant was filmed and went viral around the world, stripping the notoriously capricious French designer of his position at Dior.
It is a somewhat ingenious idea to appointment fashion's most provocative showman to perhaps its most understated couture brand. Margiela himself stays out of the limelight and backstage after his shows; Galliano swaggers out with a knowing smirk and a camera-ready flourish. Galliano has been slowly coming out of the darkness with strategic interviews and bespoke private work such as the design for Kate Moss's wedding dress. His most recent mainstream fashion input was an outing as the guest fashion editor for the December 2013 edition of British Vogue, a gig which suggested that he is still a moth to the limelight, featuring Galliano as the centrepiece in a glorious Tim Walker shoot alongside Kate Moss.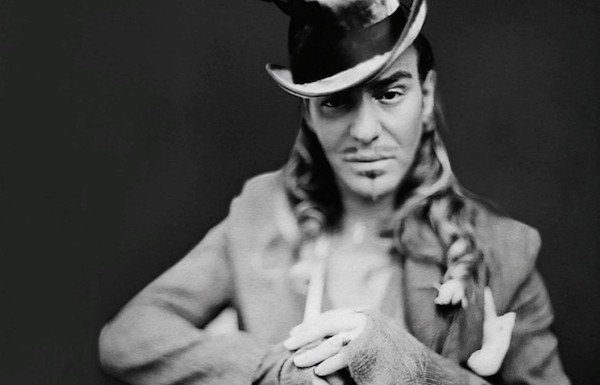 Will the showman still take centre stage?
From Russian gypsies walking through snow, to an army of Cleopatras reclining on thrones, to the aforementioned strike-inspired collection, Galliano has the urge and the ability to glamourise even the most unlikely cultural objets, and he has a truly skillful ability to make their transformation feel simultaneously theatrical and personal.
The position at Martin Margiela will give him complete creative control over his vision for the house and it will provide a fascinating opportunity for us to see his take on the fashion world, four years on – a world very different to the one he left.
Although Gemma Ward's return at Prada might point towards the imminent rebirth of doll-like fantasy, the current mode is a far cry from such an aesthetic. Our current model icons have piercings, tats and cropped hair, and Chanel's supermarket collection exemplifies this year's tough, brisk vibe – not a whiff of piratical drama in sight. Galliano's love for an edgy trainer might suggest a faint normcore affinity, but it's rather hard to imagine the dark prince of make-believe offering a thousand-quid version of a seventies mum jean or a super-luxe tracksuit.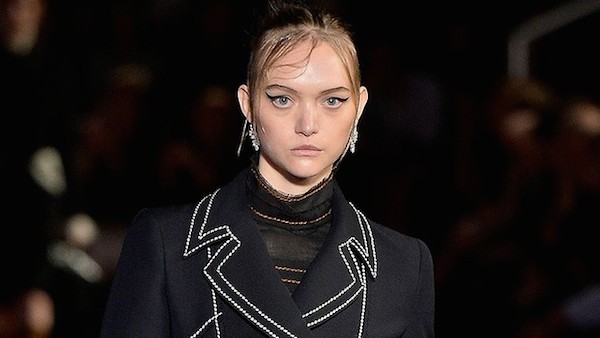 Ward opens Prada's SS15 show
Anyway, by the time of Galliano's debut haute collection next January, the fashion pendulum may well be swinging back to a more romantic mood and, if he can keep his wild antics in check, Galliano's wild imagination could be a welcome blast of drama.
All we do know is that his collection will come cloaked with the tapestry of a thousand opinions. If nothing else, Monsieur Galliao can be relied upon to create a stir.
Words: Sarah Eve