That's right, the statement flat triumphs this season, dominating footwear trends (cue jubilant high kick from stiletto-phobes worldwide) which means you can bin your Scholl Party Feet stash and value pack of plasters. Models at the SS14 collections made vibrant tracks in shoes melding comfort with quirky flourishes and an embellishment-heavy style. Think of Nicholas Kirkwood's smoking slippers crafted from dusky rose lace, or Marc Jacobs' sparkly blue moccasins. Please ladies, this is not a time for beige loafers; choose textural finishes, all-out ornamentation and hot colour combinations.
In keeping with the unstoppable rise of sans-heel footwear, iconic UK shoe designer Terry de Havilland is launching his first range of flat sandals this summer. Taking their cue from his signature flamboyant (and sky high) designs, these chic flats form a gorgeous addition to the collection. Melding the same upper design as the timeless Margaux wedge with a flat sandal construction format, they're a versatile and glamorous option for poolside fun, daywear and dinner.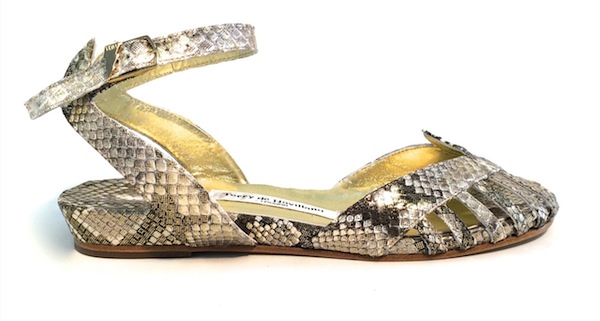 Alongside de Havilland's elegant flats, we've put together a hand-picked wish list of eye-popping, (semi)practical footwear. Say goodbye to your battered pumps…
Terry de Havilland ultimate flat sandals will be available to buy from June onwards online and at selected stockists.
Words: Mary-Jane Wiltsher