When radiography met knitwear…
Tonight, London's Hospital Club will host the launch of a new womenswear collection, designed and manufactured in the UK. Great, but not exactly extraordinary.
What is extraordinary is the fact that this particular line, which has hints of Jonathan Saunders and Christopher Kane in its bold graphics and fresh colour combinations, has been created using digital knitting technology that allows translation of medical scans, mostly CT and MRI brain scans, into knitwear.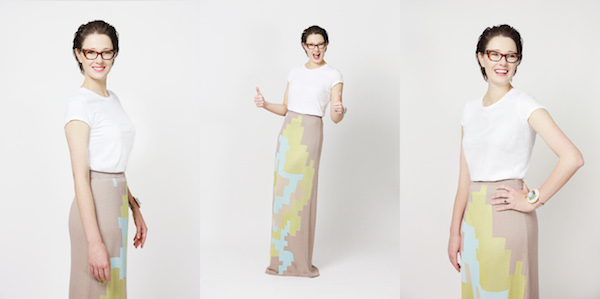 Brooke Roberts
Brooke Roberts is an award-winning digital knitwear designer and consultant, who just so happens to have over a decade of experience as a diagnostic radiographer with the NHS. She uses inspiration from scan images of the brain and sinuses to create pieces that also use the latest high-tech and luxury yarns.
The Spring Summer 2015 Super Women Campaign features influencers in tech, media, business and medicine, including Kathryn Parsons (Co-Founder, Decoded), Reshma Sohoni (Co-Founder, Seedcamp), Dr Laura-Ann McGill (cardiologist and triathlete), Sue Walter (CEO, The Hospital Club), Rachel Bremer (International Comms Director, Twitter) and Jemima Kiss (Tech Editor, The Guardian).
Tonight's launch will feature a digital presentation of the photoshoot with animated graphics and and the eStore will simultaneously open, allowing attendees to pre-order the SS15 collection and shop the AW14 collection for the first time.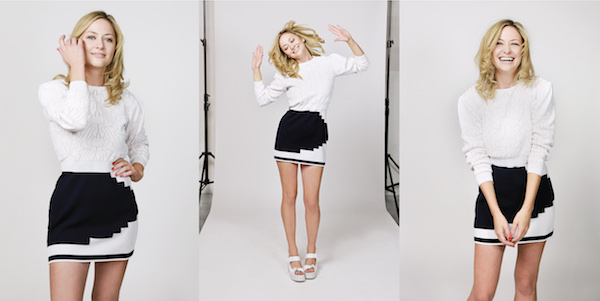 Kathryn Parsons
We got the low-down from Roberts on the eve of her big event.
Who will love your knitwear?
People who wear conversation-starting clothes. Dynamic people who seek to learn something new every day and look positively toward the future, rather than looking back at the past. Pioneers, creatives, inquisitive people.
If we buy one piece, what should it be?
One piece? Impossible! But them all, but start with the Maurits dress from the AW14 collection, which you can have now while waiting for all of your SS15 pre-orders to arrive.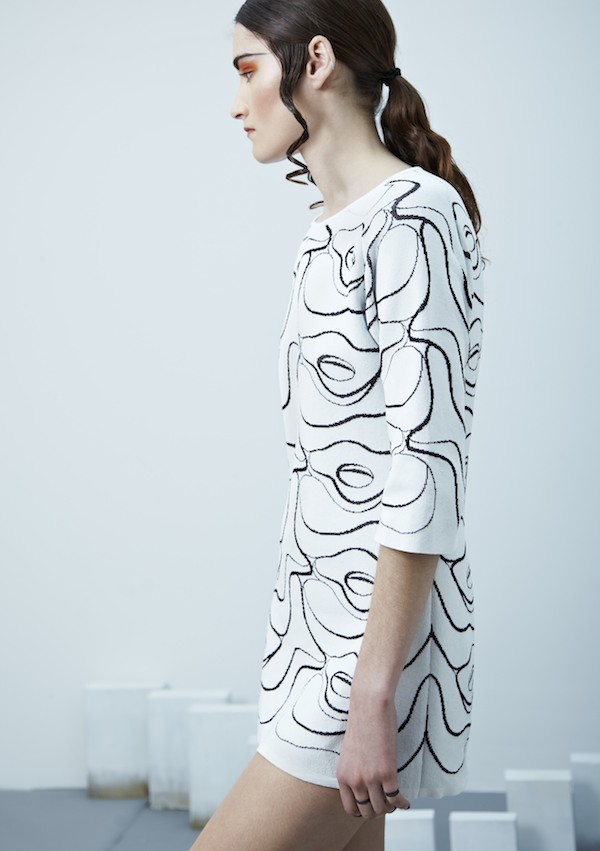 The Maurits dress
Where would you like the brand to be in five years?
We will have expanded into new markets including The States and Japan and have new product lines (accessories, interiors and electronics). I hope we will have a number of exciting collaborations under our belt with notable technology brands by then, too.
Who inspires you in fashion?
Bernard Willhelm, Y-3 by Yohji Yamamoto and Ashish.
Who inspires you outside fashion?
Zaha Hadid, my friends who are running small businesses and disrupting their industries and the women in my current SS15 Super Women campaign, including my mentors Sue Walter and Amalia Agathou.
You're a radiographer. Surely you're super-healthy?
Yes, I'm a radiographer. No, I am definitely not super-healthy! I just had fish and chips for dinner on my way home from a late shift at the hospital. I will be working until around 2am preparing for the campaign launch so I'm likely to drink too much coffee between now and then too! I do love going to the gym and feeling fit but I work two full time jobs so at peak times in each fashion season I'm not healthy at all.
What do you think is the sexiest body part?
Me? I think the midriff. Think about Saris and cropped jumpers with long high waisted pencil skirts… definitely the midriff. Shoulders are lovely too. They are also my favourite body part to x-ray. My favourite (and the most interesting) part to scan is definitely the brain.
Interview: Molly Flatt