As fashion weeks take place across London, Paris, Milan and New York, to newer cities on the calendar such as Kiev, Vancouver, Kingston, Muscat and beyond – each specialises in its own design niche. With the luxury houses of Paris and the commercial pioneers of New York, it is often London where people turn their heads to find the hottest in emerging talent. 
Establishing a platform for young designers to be able to showcase their collections to the press and buyers is tough. With the price of runway shows ever increasing, and only limited availability at London Fashion Week's main venue, as a young designer it is often impossible to be able to show a collection. This is where Fashion Scout steps in.
Co-founded by PR guru Martyn Roberts and show producer John Walford (who has since moved on), for 14 seasons Fashion Scout has been giving the opportunity to young designers to exhibit collections with a runway space at the Freemason's Hall in Covent Garden. The best talent is given subsidised or free of charge shows through the Ones-to-Watch and Merit Award initiatives.
Fashion Scout was the first step for many designers who are now recognised in the global fashion market such as Phoebe English, Baartmans and Siegel, Craig Lawrence, Peter Pillotto, Felder Felder, and David Koma to name a few. As a result, shows can attract top media attention from the likes of Suzy Menkes, Susie Lau, Sarah Mower and many international publications.
At PHOENIX we are always striving to bring you the finest in emerging talent, so here are some of our favourite picks from AW13 at Fashion Scout.
Ming Pin Tien 19/02/13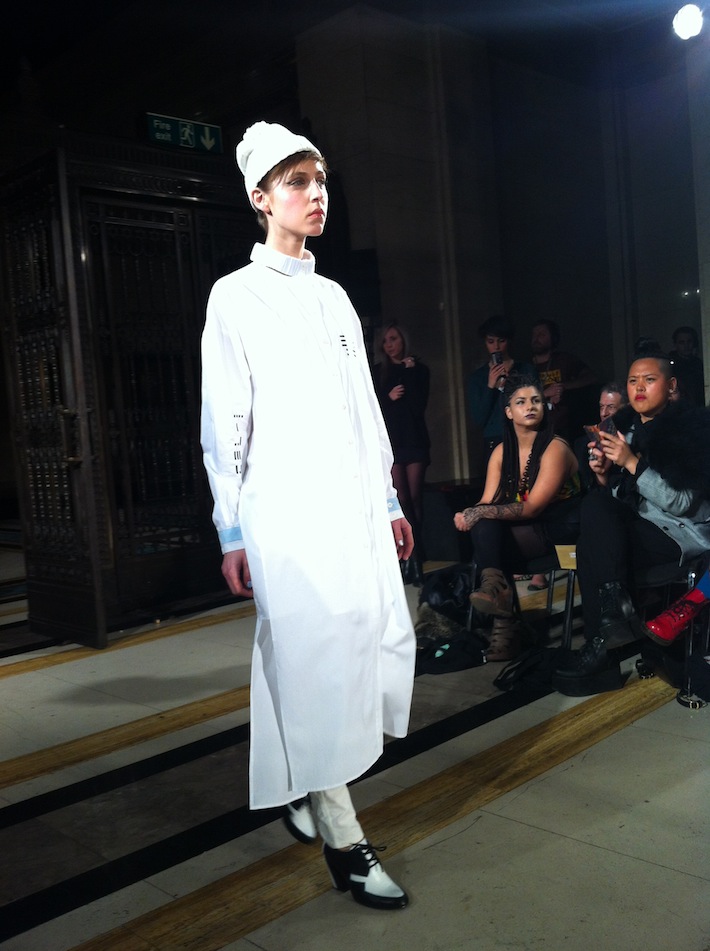 For his first solo collection since taking part in Fashion Scout's group Ones-to-Watch show last season, Ming Pin Tien has perfectly honed his talent and tasteful consideration.
The London College of Fashion graduate's show only used six models, which worked perfectly as the collection had a very tight and focused feel to it. Sportswear was combined with conceptual design creating an artistic vision which was also wearable. Unusually, the collection felt sexy without the need for models to be half naked, often this is the sign of a fantastic designer with an understanding of women's bodies and clothing desires.
The shoe detail was fantastic, as only three pastel colours were used in the collection contrasting the white which ran throughout and the single pastel colour used in each garment matched the lining of the shoe. A young, intelligent designer with his eye firmly on current culture, Ming Pin Tien validated Fashion Scout's support and belief in the young designer.
Yifang Wan 17/02/12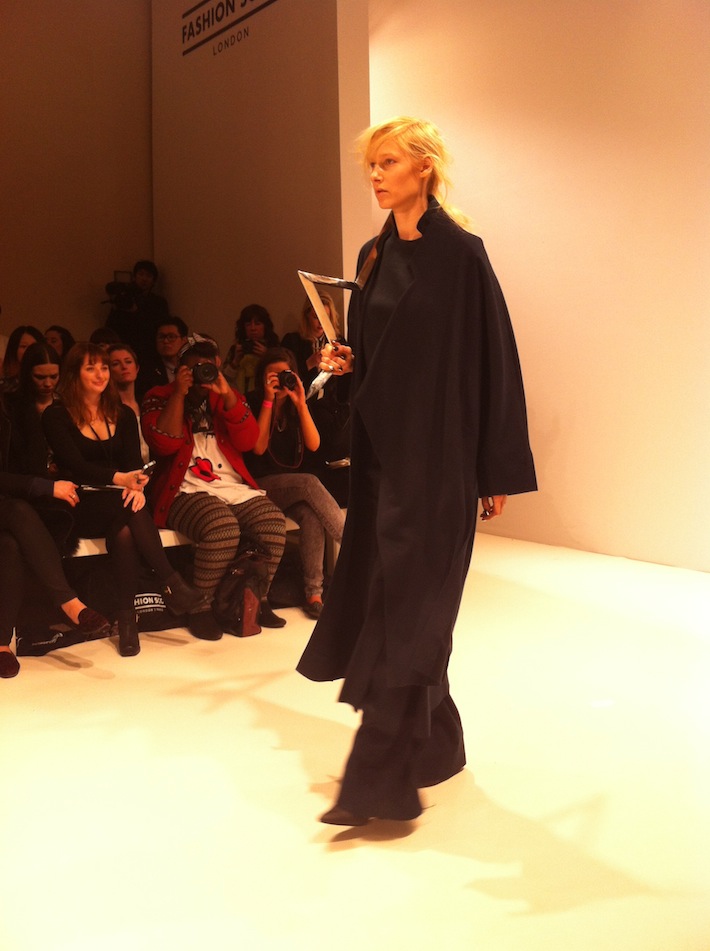 Another product of the Fashion Scout award system Merit Award winner YiFang Wan hosted her first independent runway show, surprising all with a seriously mature performance.
Wan's previous collection focused on her Chinese heritage, with the designs based on martial arts films. This theme of searching back through her own heritage maintained apparent with her AW13 collection yet somehow also felt much less obvious. Rather than an imitation of the past Wan seemed to find the perfect balance between history and future with a stark contrast of fabrics, colour and shape. The flowing silhouettes of her garments were juxtaposed with the angular metallic accessories. Wan also designed the accessories, proving herself to be as much a competent jewellery designer as she is at apparel.
Having a signature style after only two collections really says something about a designer and if you see one piece I guarantee you would recognise another or her creations. Sensibility and minimalism allow Wan to perfect very clean and simple runway shows that focus on exhibiting just what a talent she is and also how lucky London is to have her.
Pam Hogg 17/02/13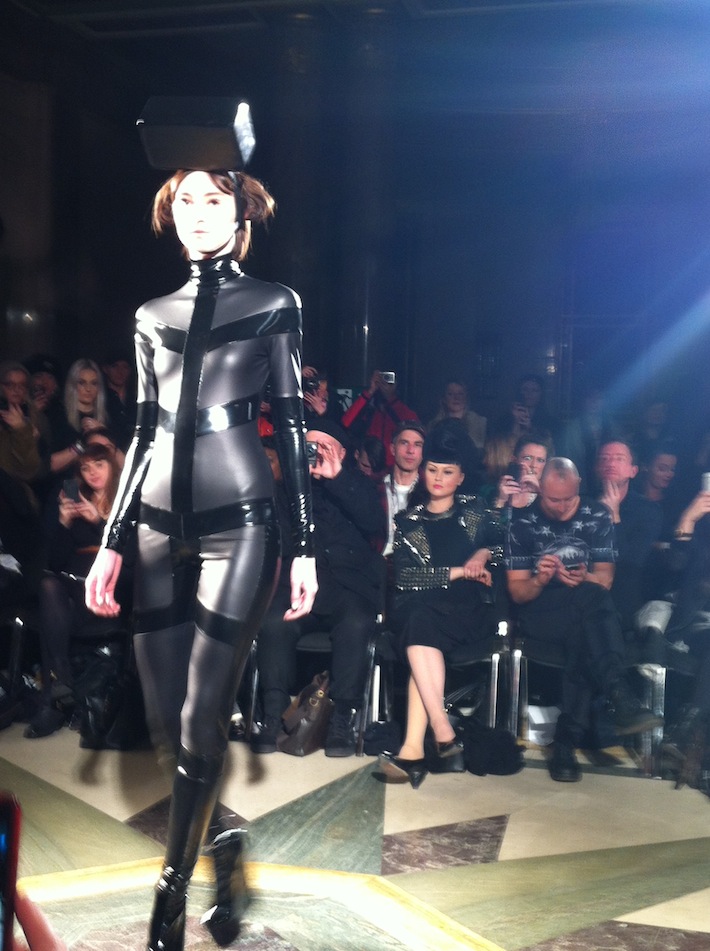 Pam Hogg is Fashion Scout's showcase event. Attracting a host of celebrity friends of the punk designer often the front row seats household names such as Duran Duran, Bobby Gillespie, Nick Cave and many more fashion, lifestyle and popular culture icons.
Pam Hogg is herself a fashion icon and her shows always bring a theatrical performance to the eerie Freemason's Hall. The designer's punk aesthetic derives from her creating clothes for friends from her bedroom in the late '70s and some of which went on to become iconic garments defining generations. It is this hands-on bedroom creativity which Fashion Scout is often the product off even today. Thanks to innovators such as Pam Hogg the fashion world has belief in young talent as pre punk the only fashion shows that existed were coming from large design houses.
Bringing back the Godmother of D.I.Y creativity and merging it within the same space as contemporary young creatives always creates for a very touching and reflectively reminder of exactly why we are all here.
Declan Higgins