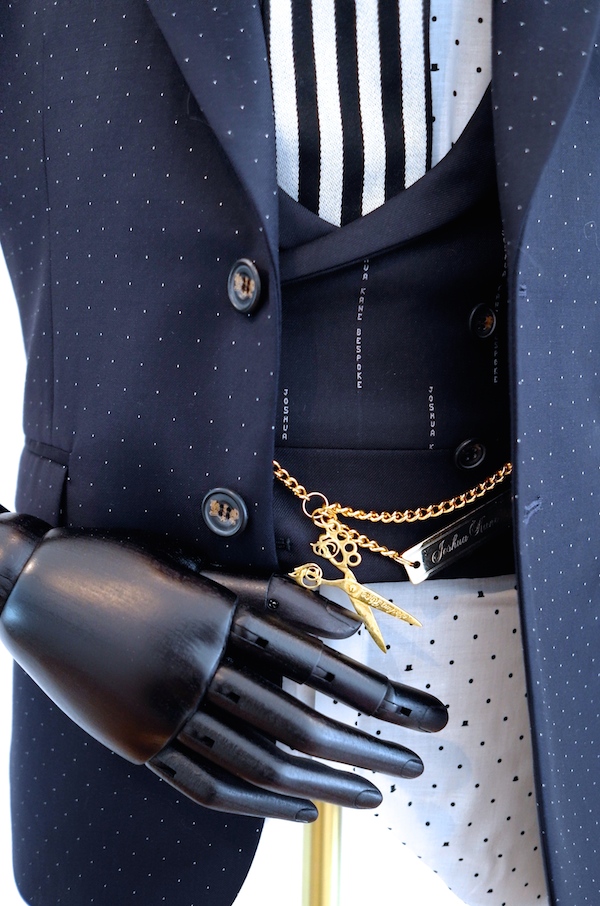 Traditional tailoring is very much alive and kicking at LCM – but the man doing it with more swagger and panache than the rest is the definitive neo-dandy Joshua Kane. As his older sister, and editor-in-chief of PHOENIX I say this with pride!
Josh sharpened his shears at Burberry Prorsum, Jaeger, and Paul Smith – launching his eponymous label earlier this year. He's already amassed a vast Instagram following, it's a  fun insight into the glamorous but hard-grafting life of a modern day bespoke tailor, and features some of London's most beautiful party people. Take a look – he's the chap with the big hat, big hair, big glasses, and big 'tache. He'll probably kill me for mentioning this, but when we were kids he used to take pains over extraordinarily detailed construction of fancy dress – he was never afraid of throwing a strong look out there!
Joshua combined the SS15 presentation with the launch of his first London store opening in a great space on Old Spitalfield's Market. The SS15 menswear collection 'Navy & Black' is inspired by the story of 'The Three Tailors' found on an antique fashion plate, and his constant muse – uber dandy Beau Brummell.
Turn of the century elegance is given a contemporary spin through exaggerated details. Fabrics for the collection have been exclusively designed in partnership with Yorkshire mill Joseph H. Clissold. Stripes have become bold and oversized, and are contrasted against Joshua's signature polka dots.
The stunning umbrellas are handmade in London by James Smith & Sons, their first collaboration in almost 200 years.  The attention-grabbing 'Gostick' hat, with its rakish high crown and wide brim is made in collaboration with Laird & Co. hatters.
Joshua Kane Bespoke, 53 Brushfield Street, Spitalfields Market, London, E1 6AA. Opening hours Monday-Saturday, 10am – 7pm 
Hannah Kane