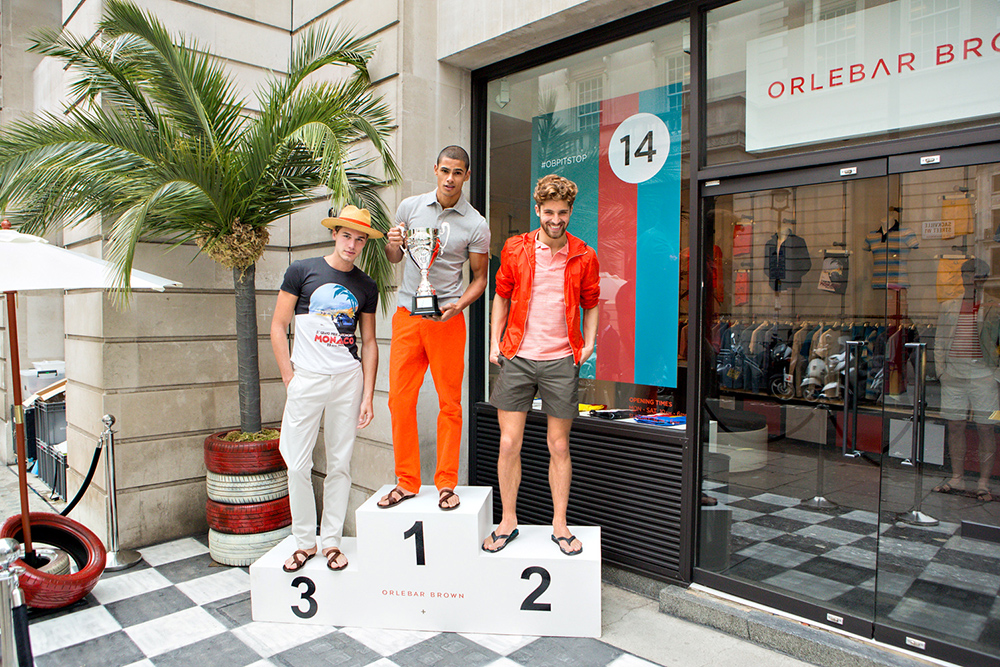 Entering in from the wash of grey sky outside of Sackville St, Orlebar Brown greeted its guests with an altogether brighter colour palette. Known for their resort wear and swimwear, the SS14 collection echoed previous themes of classic polo shirts and bulldog shorts. For the upcoming season however, designer and creator Adam Brown also sought inspiration from the Monaco Grand Prix. The collection centred around themes of the sport, separated into categories of 'Spectators', 'Drivers' and 'Crew/Pit Stop'.
Each theme carried with it a distinct style. 'The Spectator' dressed in pastel coloured summer blazers, 1960's style striped polo shirts and marshall orange bulldog shorts. Brown illustrated an overall ease and comfort to the spectator's dress, whilst keeping that feeling of luxurious simplicity designed towards the brands' clientele. The collection 'The Driver' was an altogether different affair. Whilst in keeping with classic tailoring, Brown introduced nylon and thick waterproof fabrics to add a sense of practicality to the collection. Mixing work and play, functional Harrington jackets in shades of berry maroon and navy blues were frequent, as well as sporty sweats to add comfort.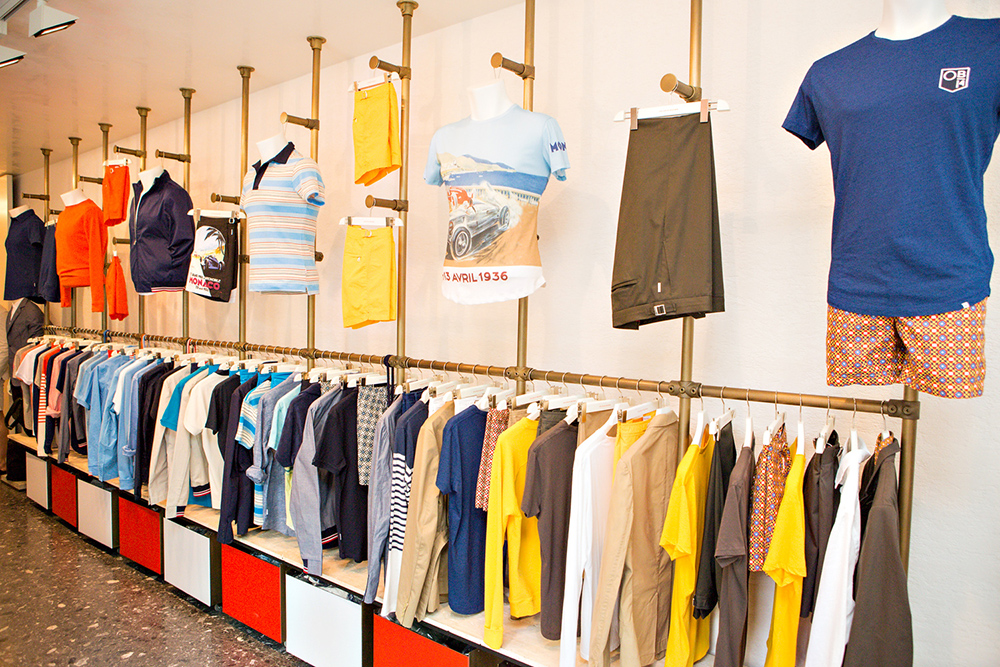 An anomaly for Orlebar Brown, Spring/Summer 14 featured graphic printed T-shirts and heavily patterned garments. Last in the categories, 'The Crew/Pitstop', featured t-shirts stitched with 'Orlebar Brown' graphics, emulating the style of advertising and sponsorship for the Grand Prix.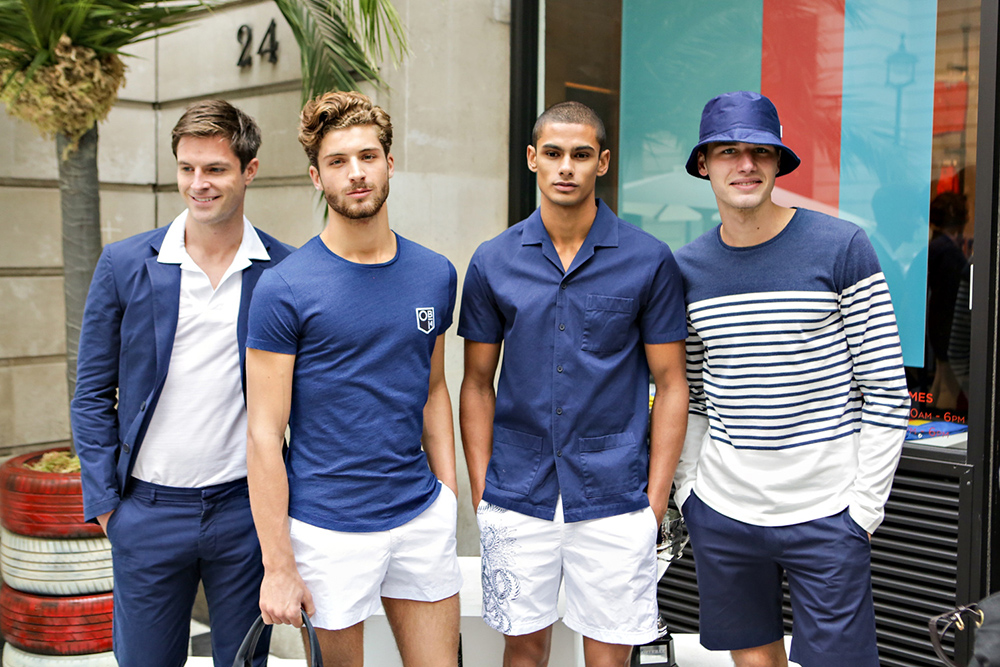 The classic bulldog shorts, famously the first garment Brown ever designed for the label, were updated for Spring/Summer, with graphic prints adapted from past Formula One flags, in hexagonal patterns of navy blues, greens and maroons. Illustration continued throughout in the form of printed t-shirts, again recycled from 60's Grand Prix posters. These designs could be spotted through much of the collection. Other prints included those of old photographs, not surprisingly centered on the theme of the beach and summer vibes, and 1930's travel posters continued the feel of holidays in the sun.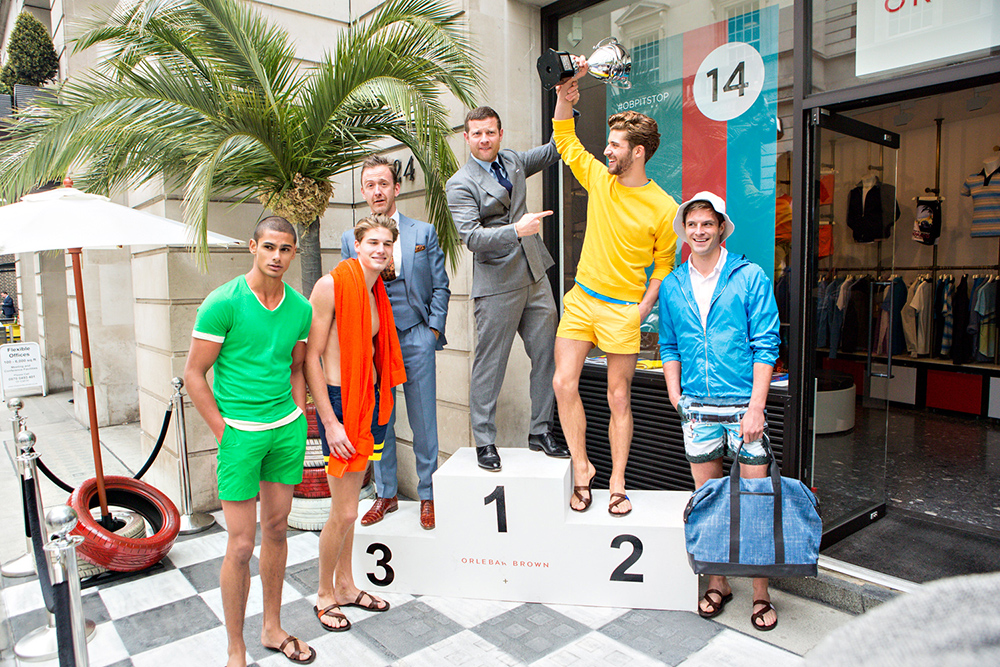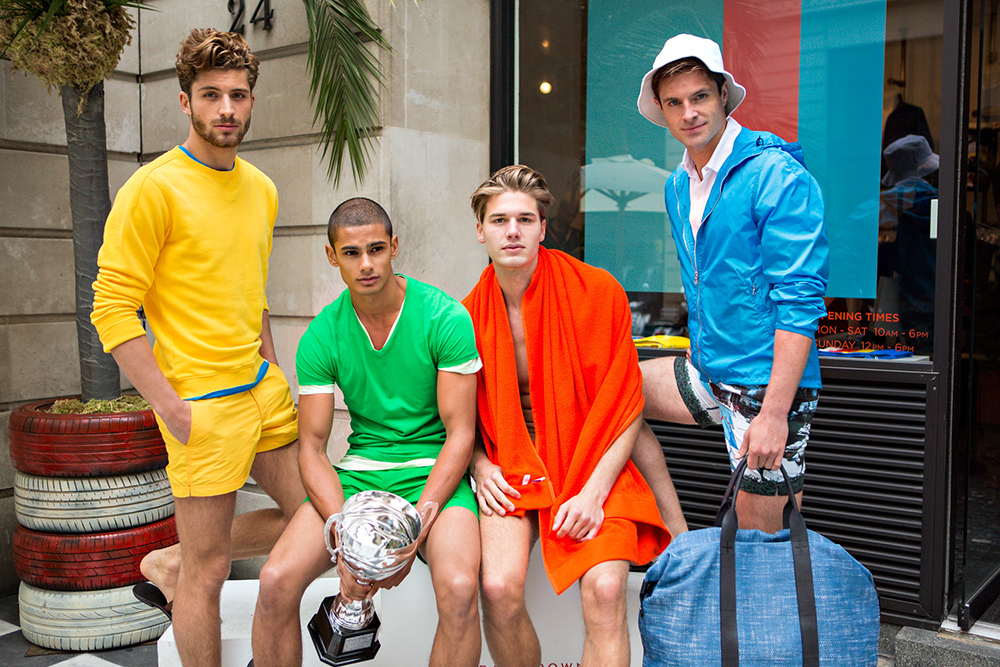 Brown's colour palette for S/S14 added to the continuing theme of summer. The collection focused on pastel colours, shirts in pale tangerine and shorts in faded turquoise, and a contrast of bright primary colours, such as marshal orange shorts, chrome yellow sweatshirts and royal blue garments. Not surprisingly, beach wear was a prominent theme, shown in the thick jersey polo shirts and Breton stripes that hung along the rails.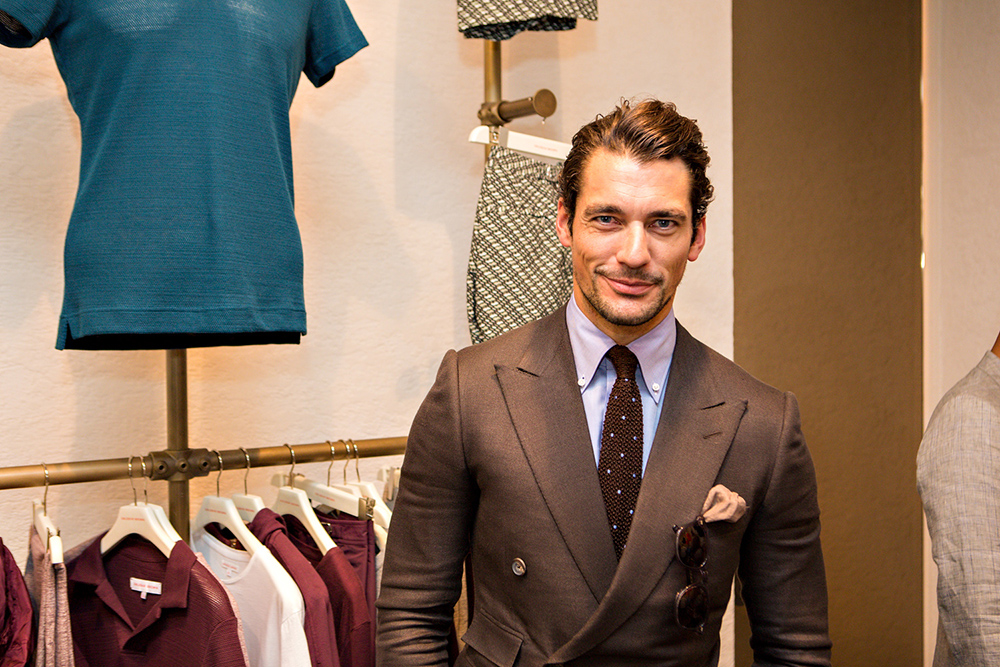 It is fair to say that Orlebar Brown succeeded in transporting its audience to the Monaco Grand Prix. Through continuing themes of classic, wearable resort wear, primary block shades upon its garments, and traditional summer resort wear, designer Adam Brown's collection succeeded in adapting 60's vintage leisure wear to fit today's modern man.
-Catherine Earnshaw