It's not yet noon on the final day of the men's collections, but it is already sweltering in the narrow upstairs room of Mercer Street Studios where Meadham Kirchoff are showing their SS14 menswear collection. Theirs is the only ticketed presentation within the Fashion East installation and invite-less revellers have queued for the chance to cram into the corners.
There is a palpable sense of anticipation. And BO. A split-picture film is projected onto the wall in front of us. As is Meadham Kirchoff's signature, the footage flickers from innocent, carefree visions of children at play and lovers sharing a bath, to darker, more brutal imagery of industrial labour, protest and war. A disembodied voice explains, 'the great barrier between me and the outer world is my appearance.'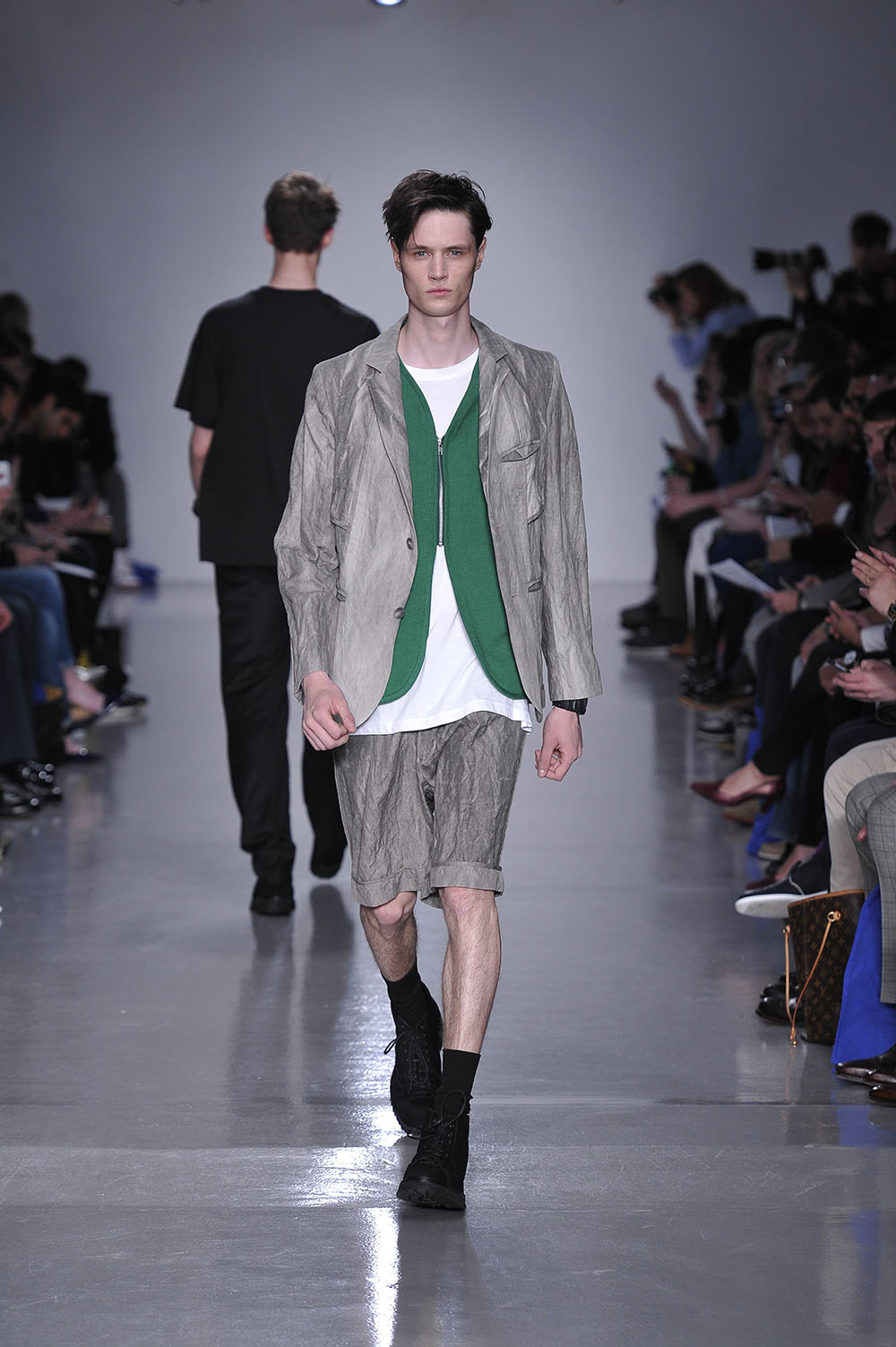 Five models in light-coloured outfits walk in, each posing for a second before taking a seat on one of the five wooden fold-out chairs at the end of the 'runway'; they each take a book or magazine out of their clear rubber draw-string or shopping bags and begin to read. A few seconds later, a model enters in a noticeably darker outfit, a Long-March style belted navy jacket with matching shorts, knee high socks and a blue sailor-boy scarf. He walks to the final chair to collect the sitting boy, and they return halfway back the runway to begin an undressing ritual which is to be repeated for each of the seated models. The lightly-dressed boy hands over his rubber bag – which has a felt cartoon tiger stitched onto it, then his long rubber coat that has darker panels along the 'hem', cuffs and pocket-tops. Underneath he is wearing several layers: a white button-front mini skirt over white rolled-up trousers; a long, monochrome gingham shirt and a matching regular-cut shirt, a cream vest and a white T-shirt. His hair is slicked over his forehead into greasy tendrils and on his feet he wears baby-blue lace-ups artfully painted with flowers and a blushing doll's face.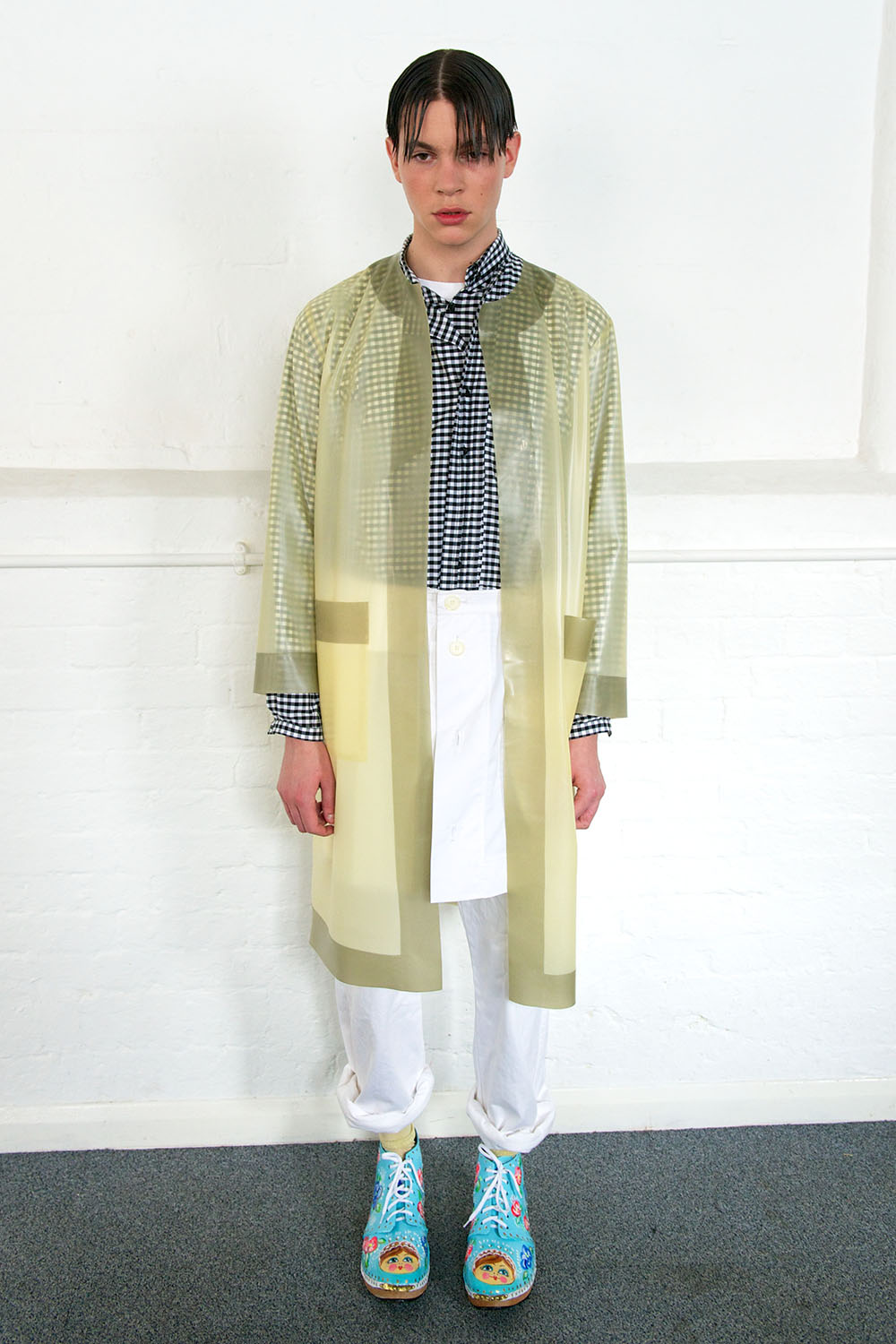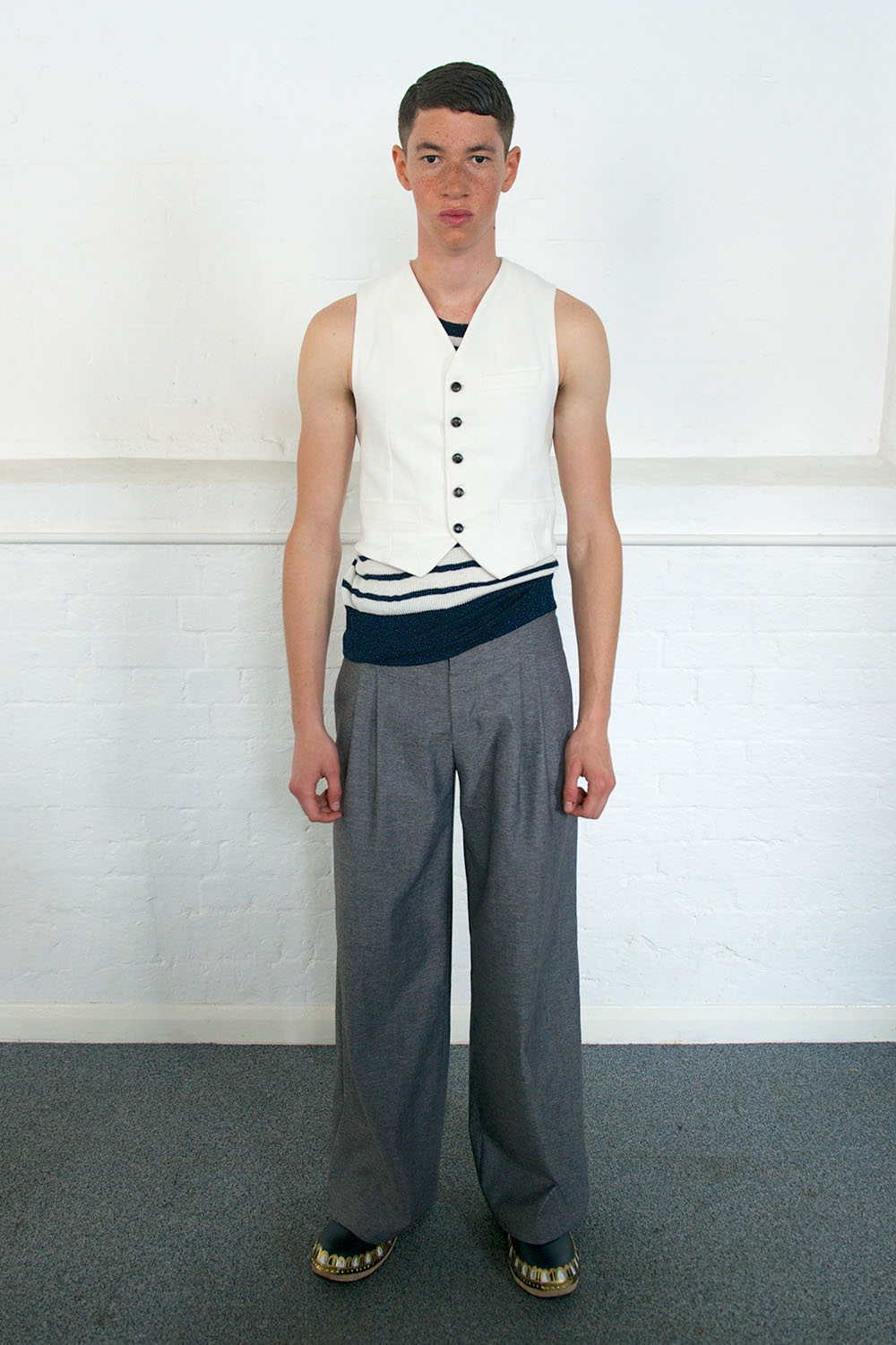 The next 'collector' wears flared jeans, a long, bright red shirt and cropped, short-sleeve jumper under his long rubber mac. The collectee, a long white mac over a white sporty sweater printed with the Shrigley-esque, underlined show 'notes':
"THE FATHER OF GOD WANTS EVERY BODY DOWN HERE TO BLESS THEM SELFS (sic) ONCE A DAY, AND EVERY MAN WHO LIKES A WOMAN, LIVE WITH HER IF SHE WANTS YOU TO BUT ONLY IF SHE WANTS YOU TO"
Right. Under the sweater is a delicate, embroidered white teddy worn over a black and white striped short-leg thermal body suit and the look is completed with tiger print wellies. Another boy wears a long red, blue and white floral dress over sheer white tracksuit bottoms and a cropped rubber jacket. The more formal looks offer wide sailor-style trousers in grey, white and navy, a grey checked suit jacket and matching waistcoat, and a long flecked-indigo tunic coat worn under a utilitarian navy jacket.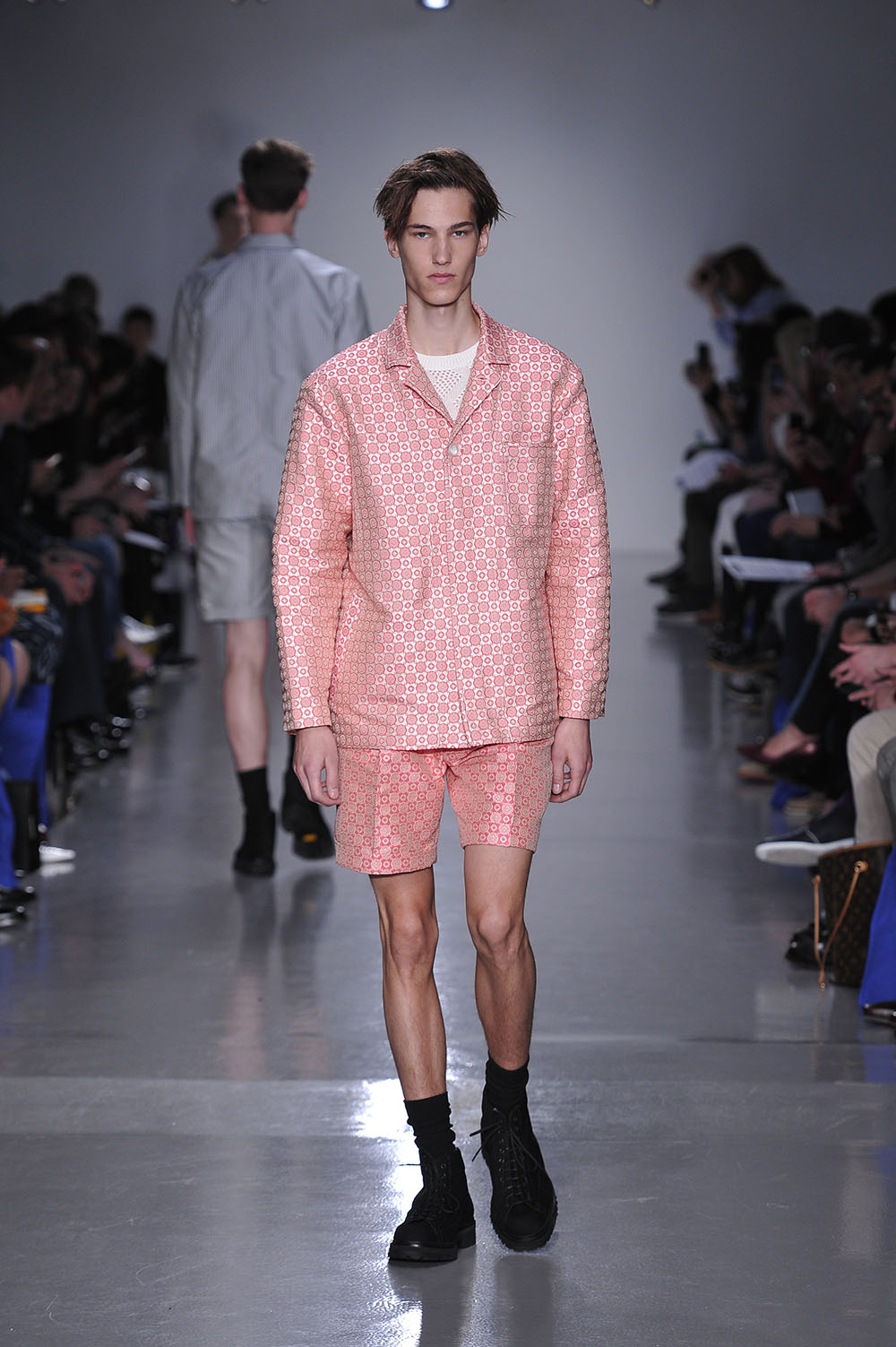 The Meadham Kirchoff design duo's creativity seems to know few bounds and their clothes are mercurially at their best when something feels a little wrong, a little uneasy. The style of presentation hints at their complex vision and belies the show title, 'I.DO.NOTHING'.
– Words: Charlotte Gush