SS14 menswear just got a little bit more exciting, as these three up and coming creative designers showcased at the Old Sorting Office for Topman & Fashion East catwalk show. The initiative has been championing new menswear talent since 2005.
BOBBY ABLEY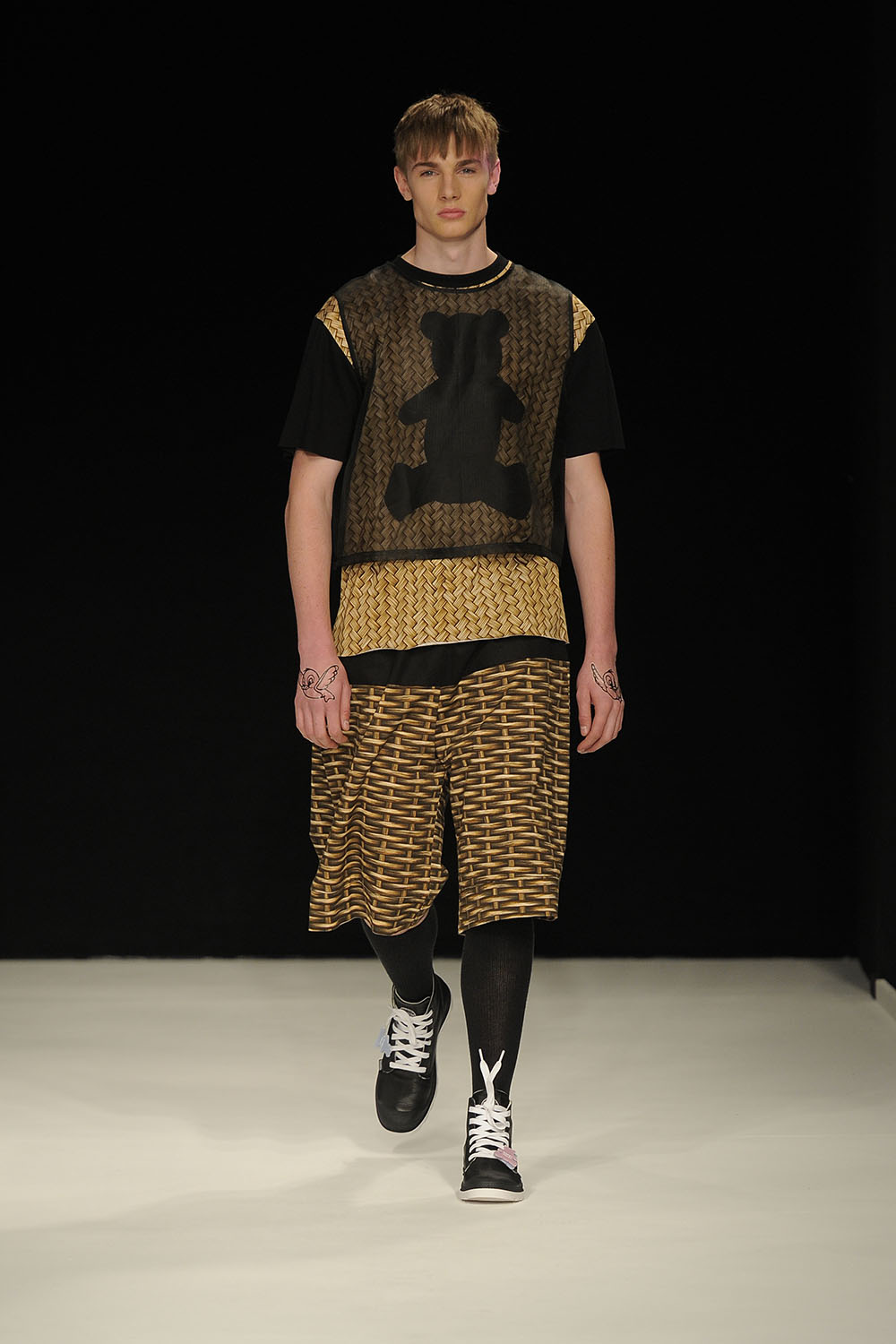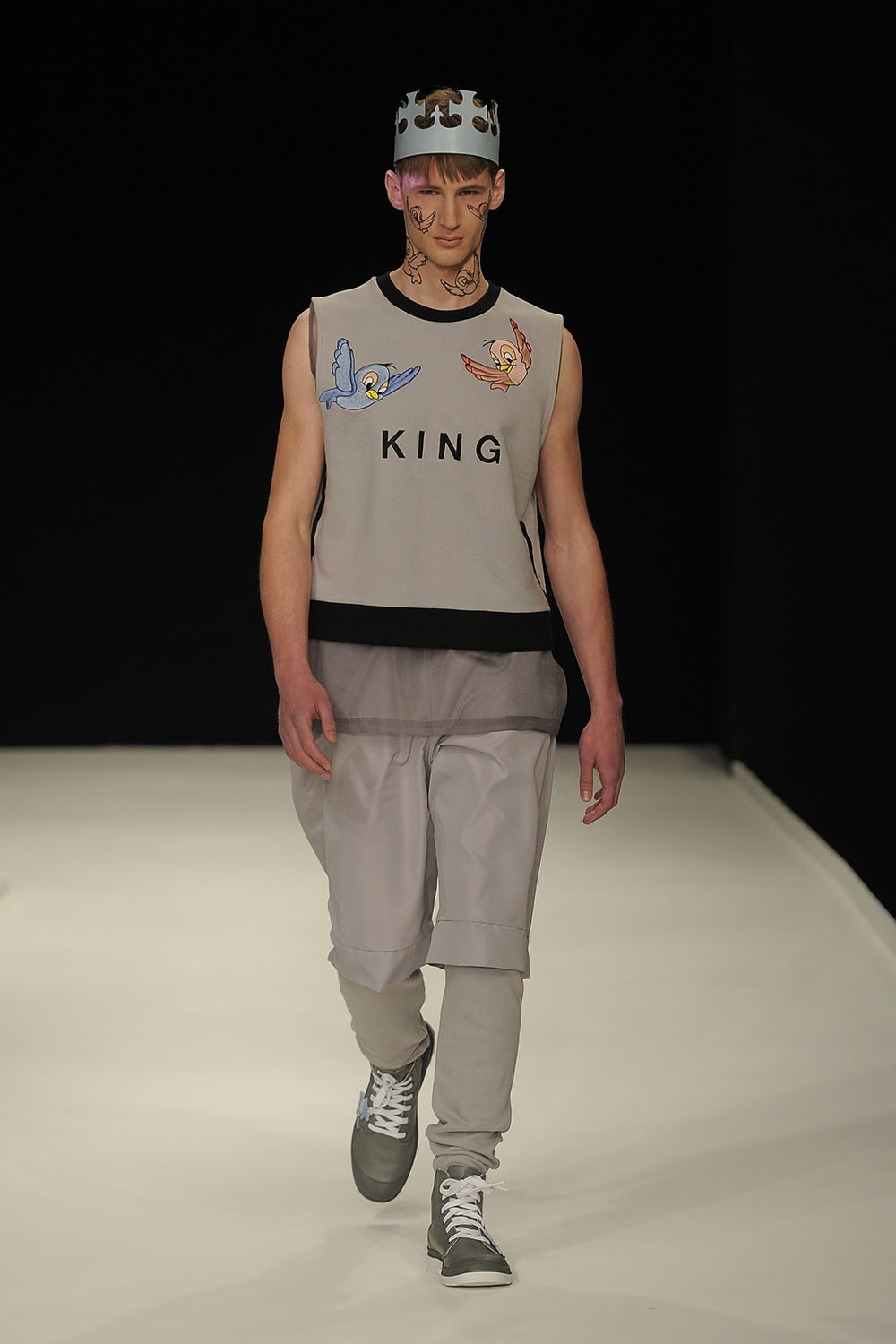 Prince Charming wearing modern sportswear. Bobby Alley took us into a magical Disney scenario documenting with exceptional narrative skills the morphing of a young man into a brave stylish knight. Burger King-like crowns made of coloured leather added to the medieval feel of the collection.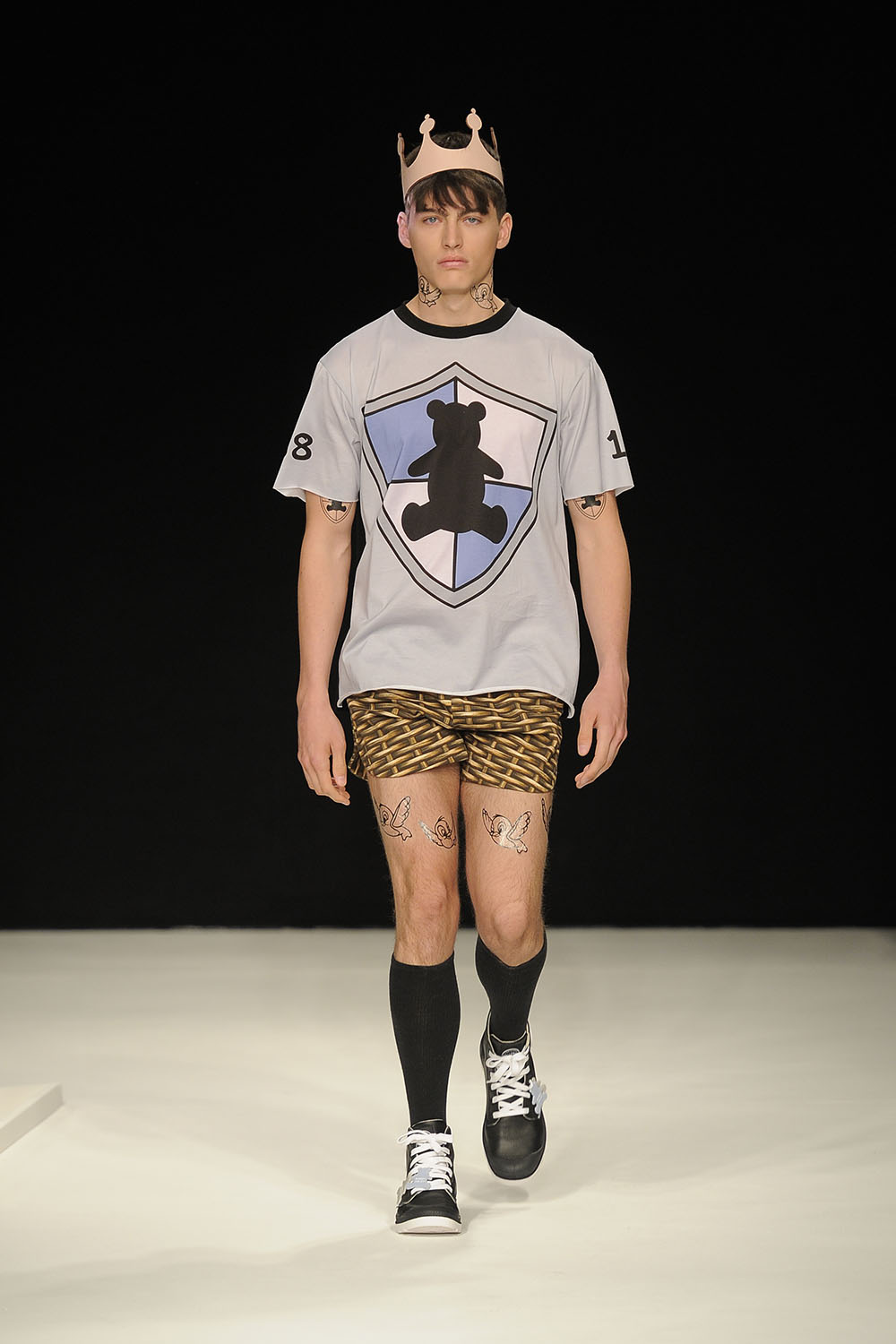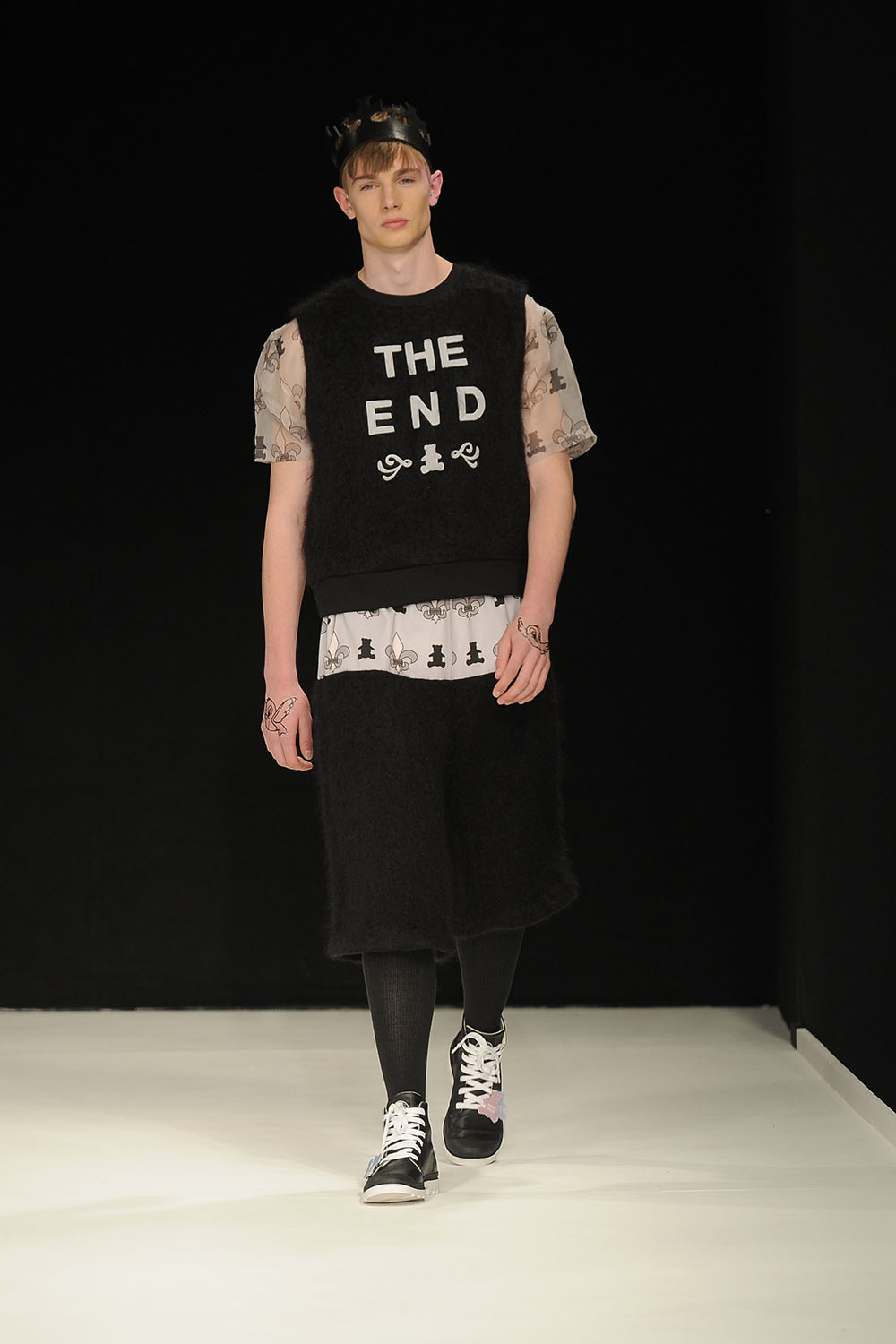 The cartoonish sportswear collection saw a variety of garments that had an Astrid Anderson SS13 feel to them, with organza layered with denim and most garments were imprinted with a variety of motifs with the designers cute teddy bear black cut-out logo, as well as fleur-de-lis and tweety birds. Highlights included printed basket-woven shirts and shorts, oversized rucksacks (with teddies attached to them), and a black knit jumper reading 'THE END' closed the catwalk.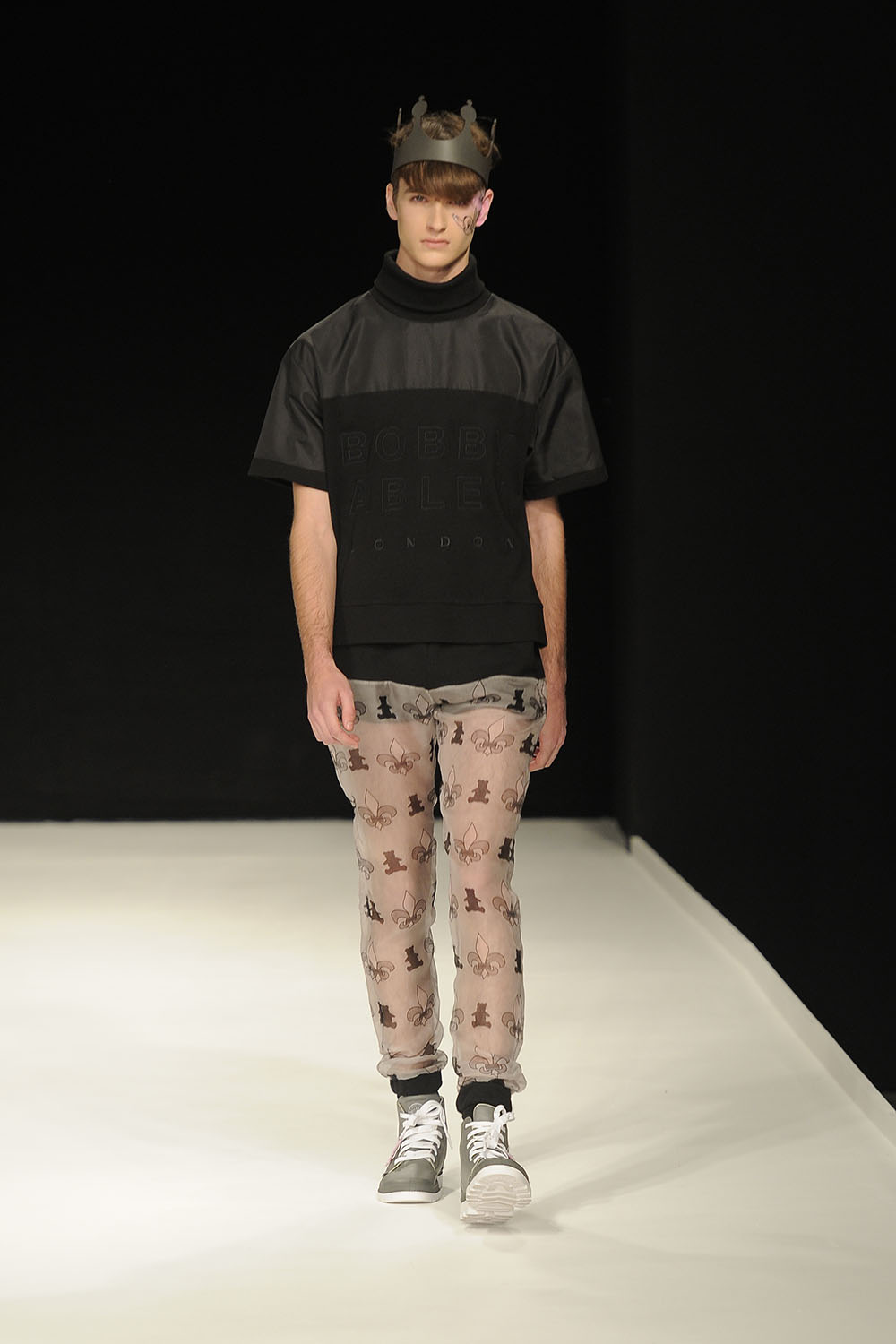 While his collection proved the depth, wit, and a refreshing carefree charm narrative, we couldn't help but feel some of the garments came short in originality and inventiveness. However, we fully expect Bobby Abley's extremely wearable clothes to be worn by the cool kids come next summer.
CRAIG GREEN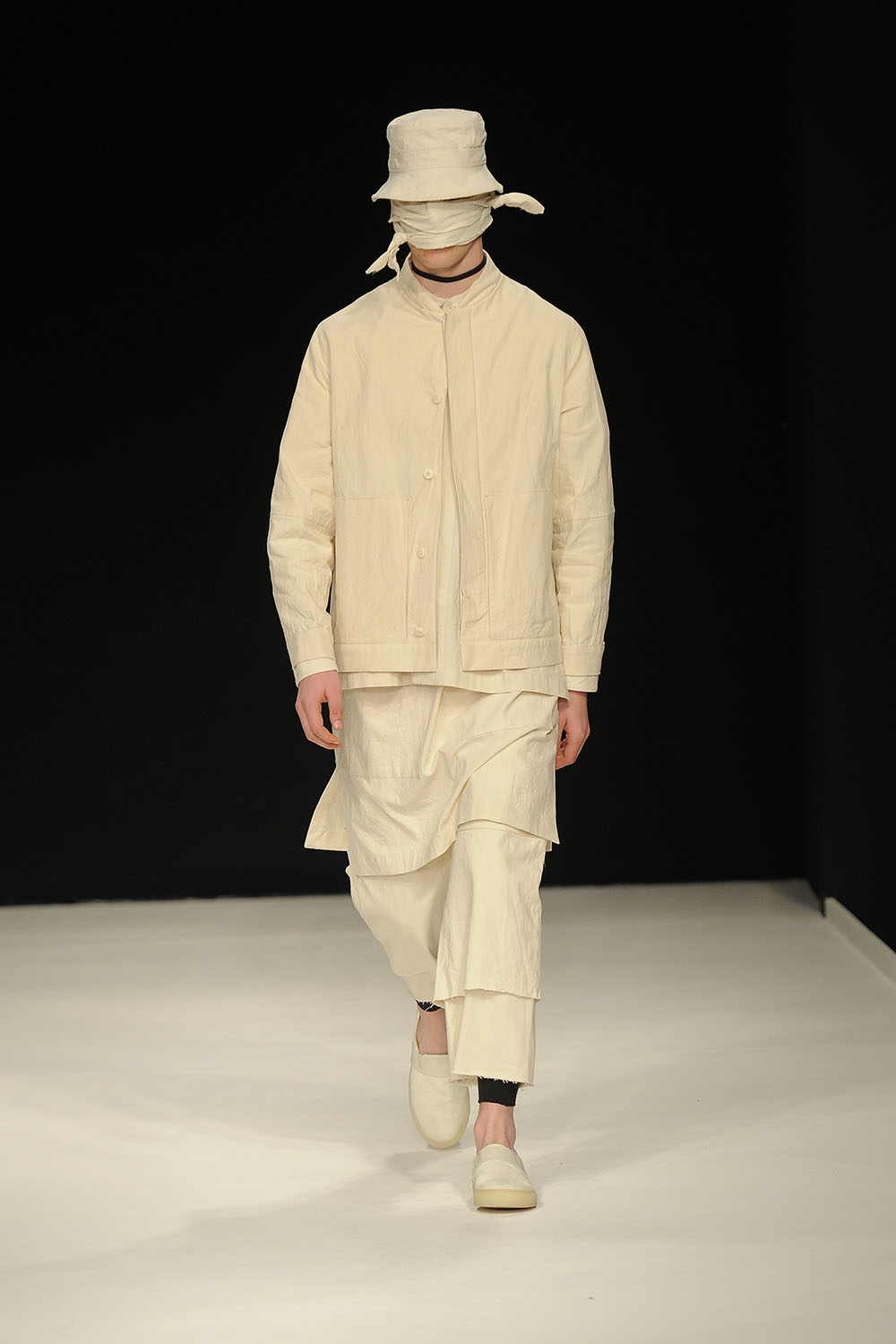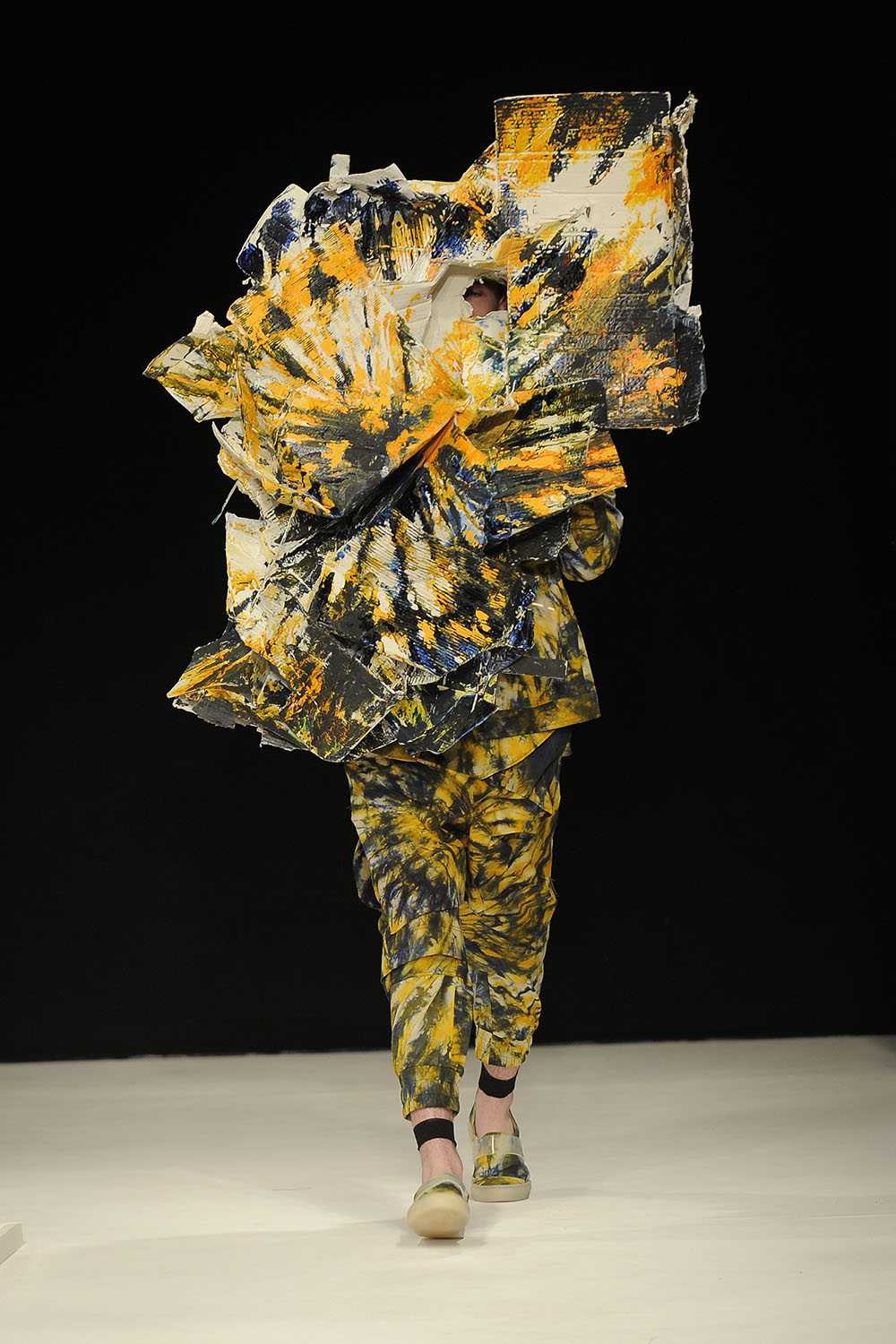 Without a doubt further establishing himself on British Mens fashion landscape was Craig Green, returning for a second time to the MAN line up with peace, love, and cardboard. It was an euphoric explosion of psychedelic hippie tie-dye and the come back of his deconstructed crates and box-like constructions (made in collaboration with David Curtis-Ring), this time full body sized and spray painted.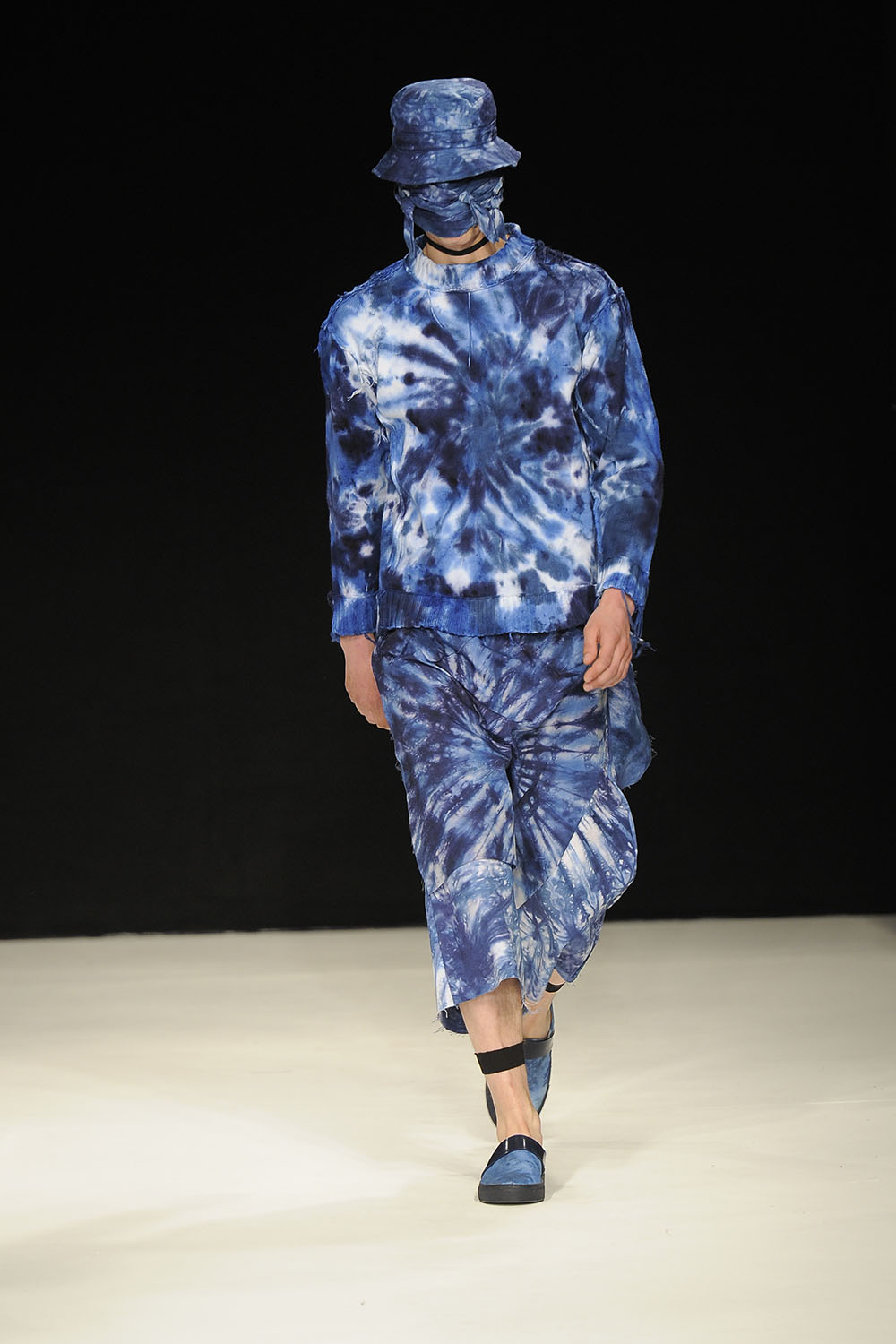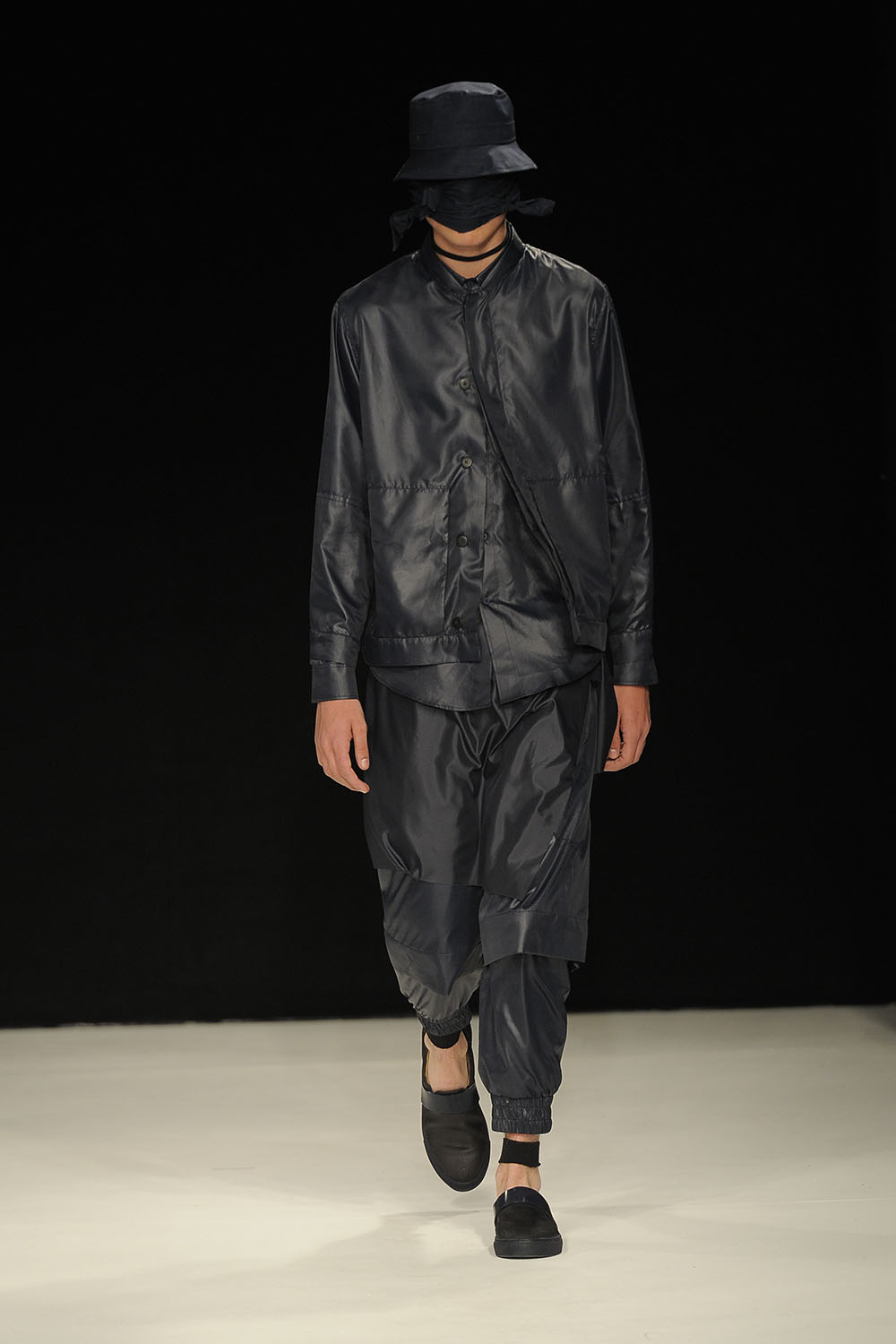 Leather embellishments and layered simplicity was key to this collection for this successful controlled chaos Green created. Winning looks were the simpler ones, a handful of plain deep marine blue layered looks getting our approval, as well as some deconstructed knitwear pieces. The designs were kept basic, yet layered up. Hand-sewn cotton knits, crinkle washed calicos were all displayed with a very manly silhouette. The louder outfits were a selection of hand-dyed pieces, done in a effort by Green to avoid the advances of digital printing.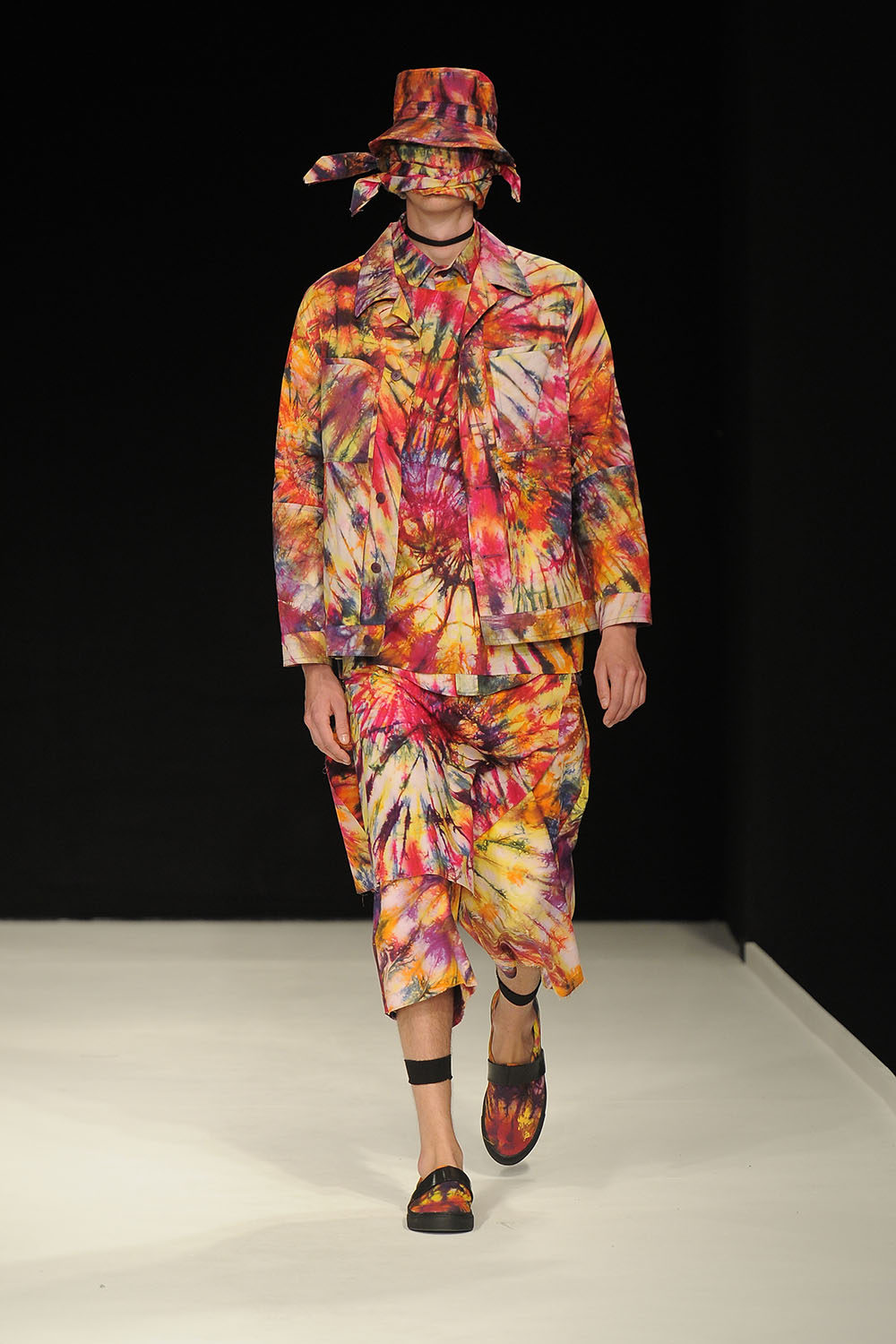 Footwear seamlessly matched the garments simplicity, the line of shoes was created in collaboration with up and coming Purified. It was a minimal take on sports shoes and were equally hand-dyed with patterns of strong colour and patterns. Shadowing bandanas tied around the models eyes gave that finishing touch to the outfits that added mystery and much more a 'street' quality to the clothes displayed.
ALAN TAYLOR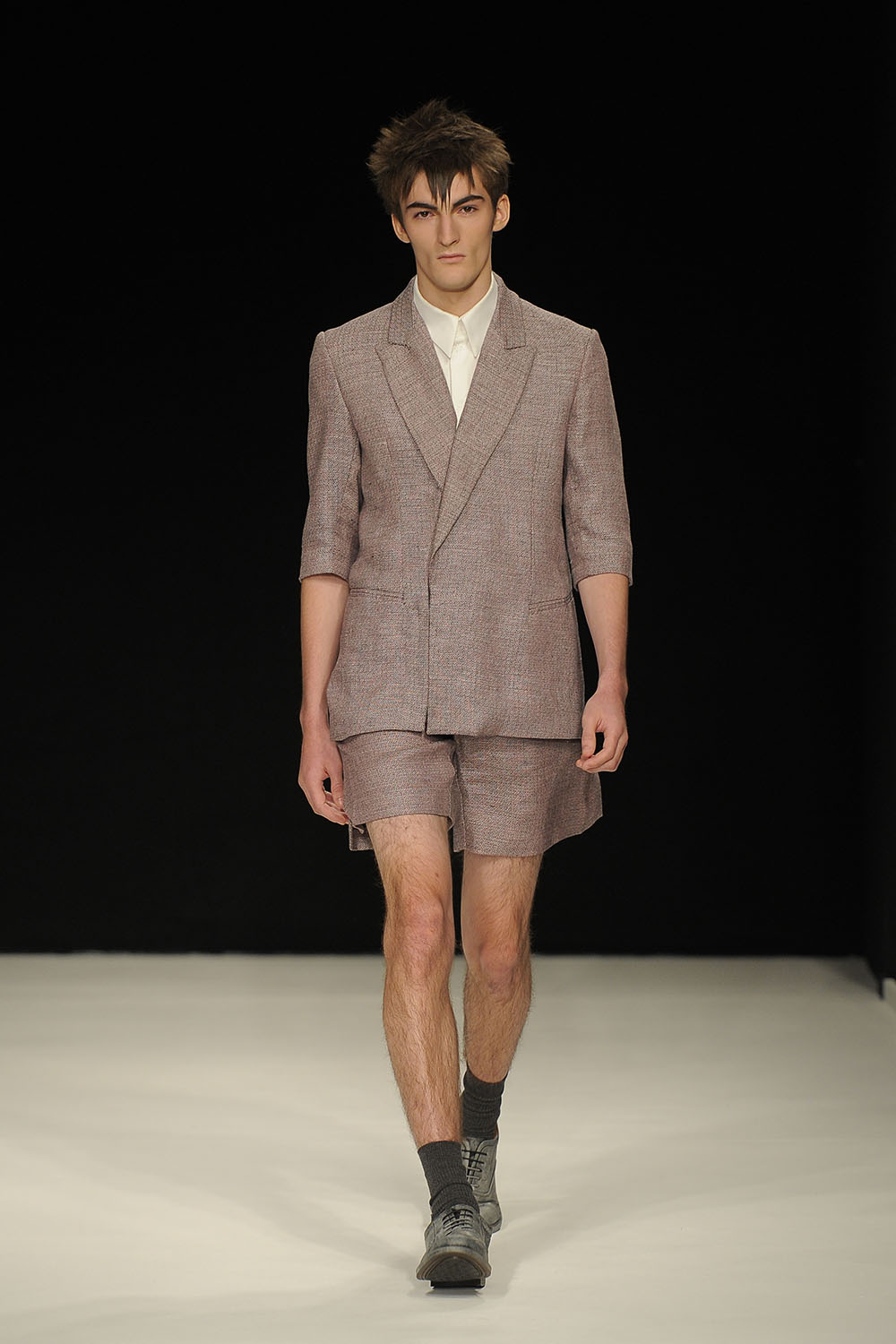 Finding huge appraisal at the early stages of his career, Phoenix's one-to-watch Alan Taylor debuted at the MAN show with his optical illusion take on tailoring. It was inventive, original, and a refreshing experience for menswear as he invited us to re-examine the way we see the world around us via the 4th Dimension. His play of juxtaposition of garments created an almost kaleidoscope effect.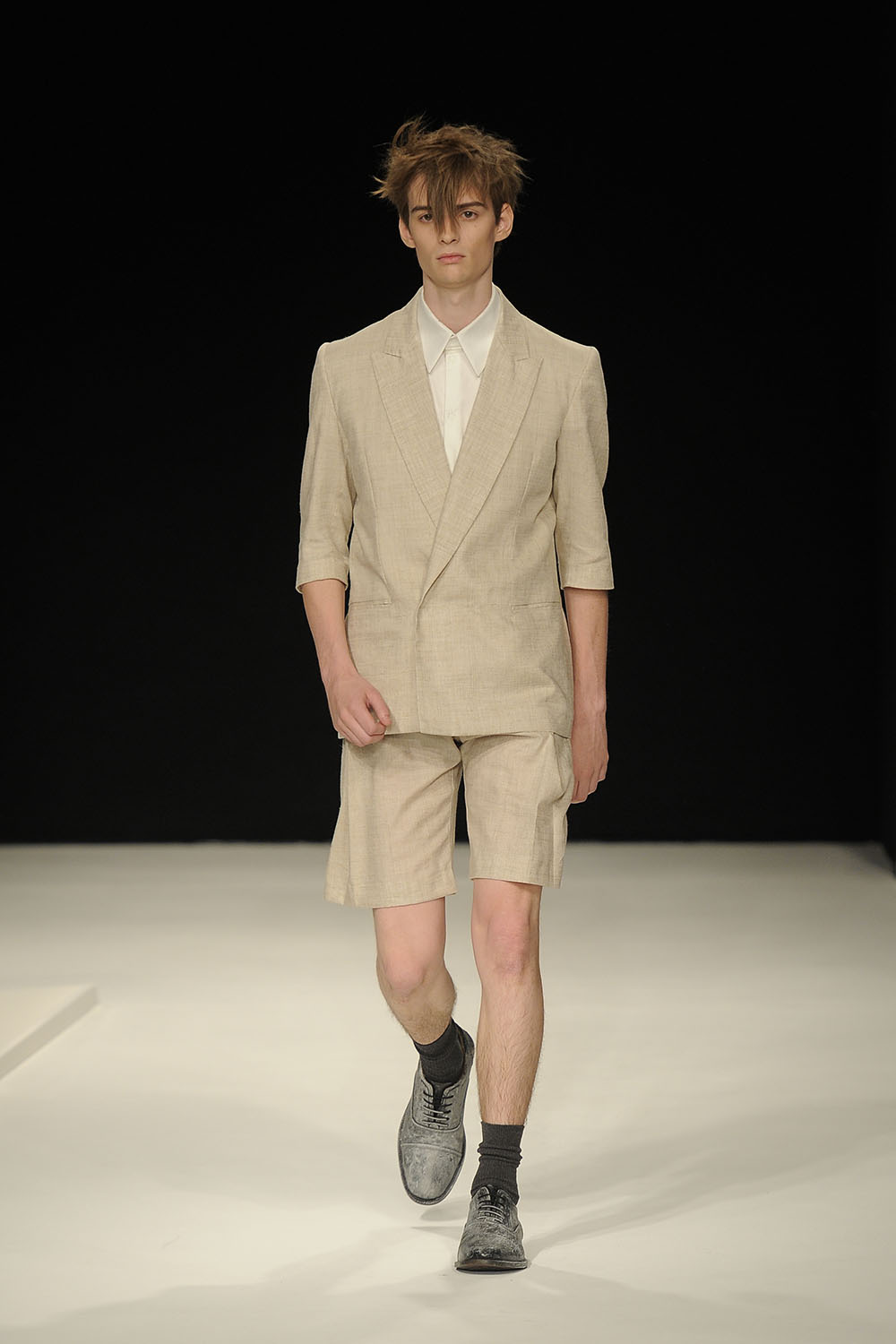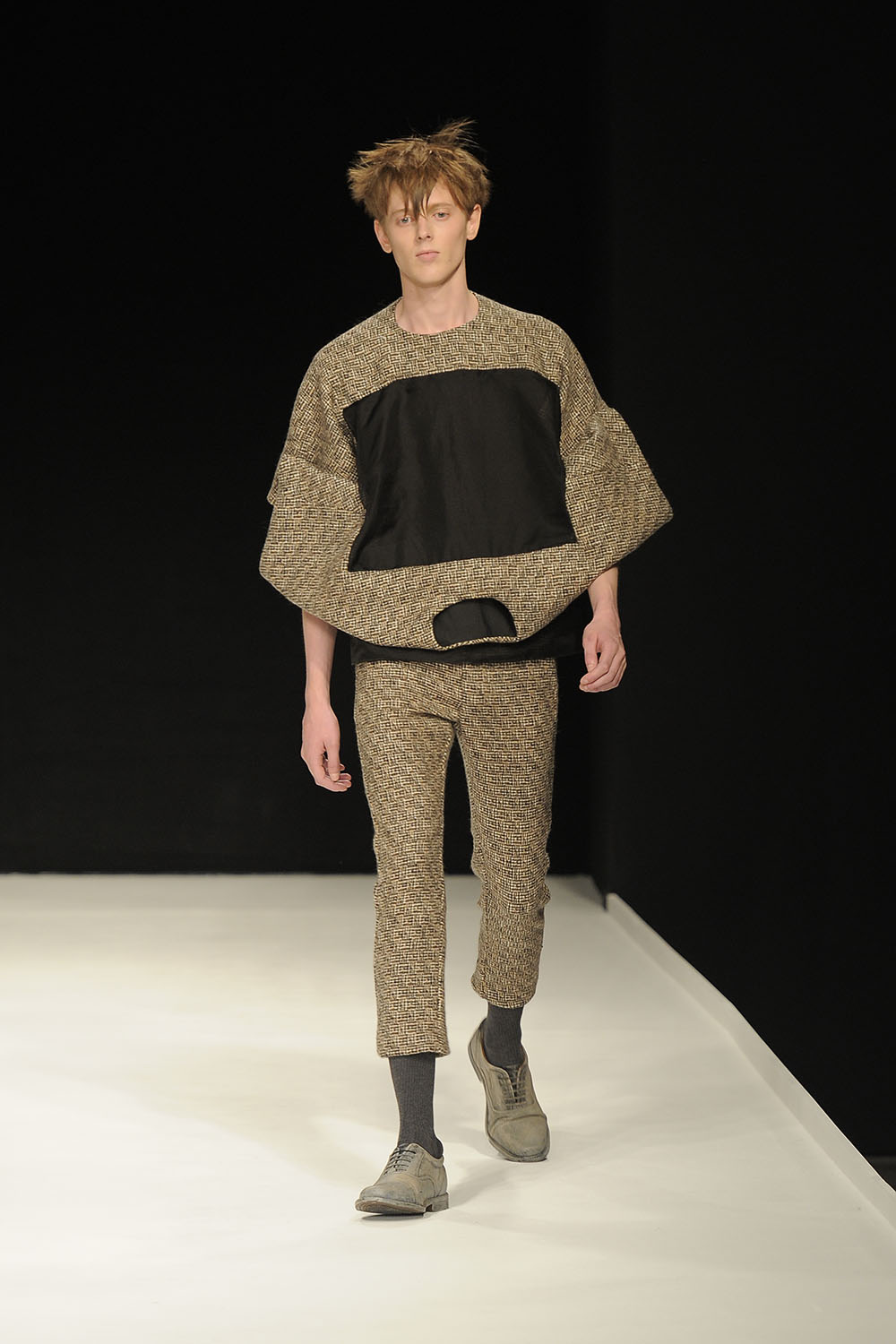 To the sounds of LCD Soundsystem, masculine structured blazers were reflected upside down on the models changing the silhouette of the outfit. An idea inspired by fashion writer Charlie Porter who accustoms to post catwalk images upside down. Linen, tweeds, and silk organza were the fabrics of choice all presented in tones of charcoal grey and blacks.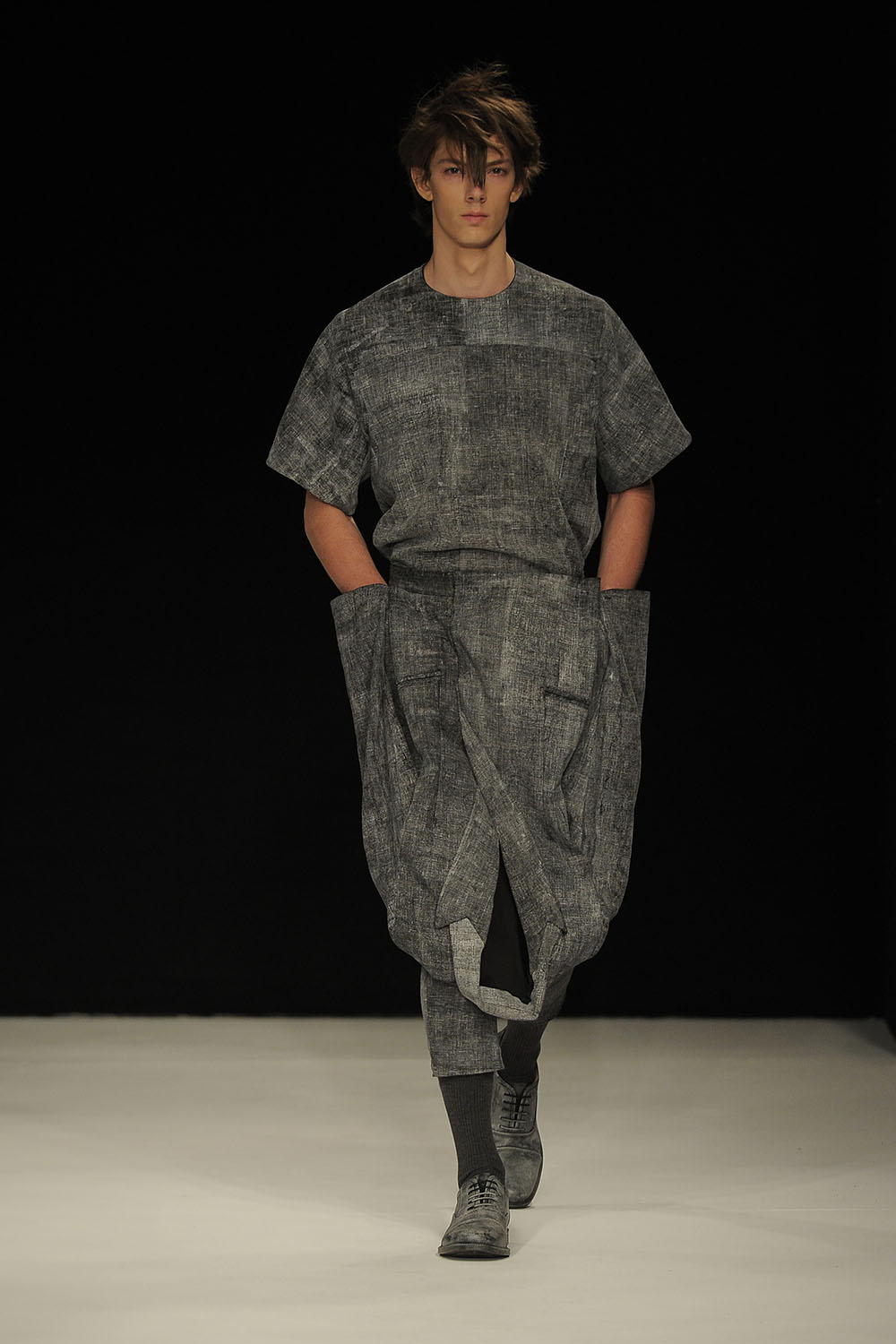 It was a spot on combination of conceptual designing with a lot of wearable qualities to it, a winning fashion week debut collection by Alan Taylor.
– Walter Ugarkovic