Lou Dalton was the much anticipated opening act of the third London Collections: Men, christening the new BFC catwalk space at Victoria House on Bloomsbury Square. After initial confusion outside, where both the fashion pack and a charity fun run had converged (who's in fancy dress? Who's in fashion?), it was sweet relief to see Dalton's crisp-but-crumpled collection of modern menswear.
Dalton's man is a 'young nomad', moved from place to place due to his father's job as an RAF pilot. As he searches for a place to call home, he "seeks solace in the engineering structural form of aviation and the freedom of flight.' One wonders which came first, the design concept or the sponsorship deal with G-Shock Premium, who supply the actual RAF and are launching their new range, Aviator timepieces, at LC:M.
The first look out was all black, with pleated Woolmark-certified trousers and a box motif T-shirt that walked straight off the catwalk and onto the rails at Liberty. It felt a little out of sync with the rest of the collection, which seemed really to start with look two, a slate-grey, elegantly crumpled cotton-linen mix shorts suit, worn with a white T-shirt and a natty forest-green under-jacket gilet,  featuring a curved hem with a short zip along the breast bone. The crumpled grey fabric was also cut into trouser suits with longer-length duster coat jackets and a utilitarian, single-button boiler suit.
For times when crumpled linen just won't do, Dalton evoked a 'new sense of pattern and decoration' with boxy shorts suits in metallic, pastel pink and taupe silk brocades. Jackets had ultra short notch lapels fastened high with a single button, and shorts were tailored into a sporty style, slightly dropped at the crotch but cut close around the thigh.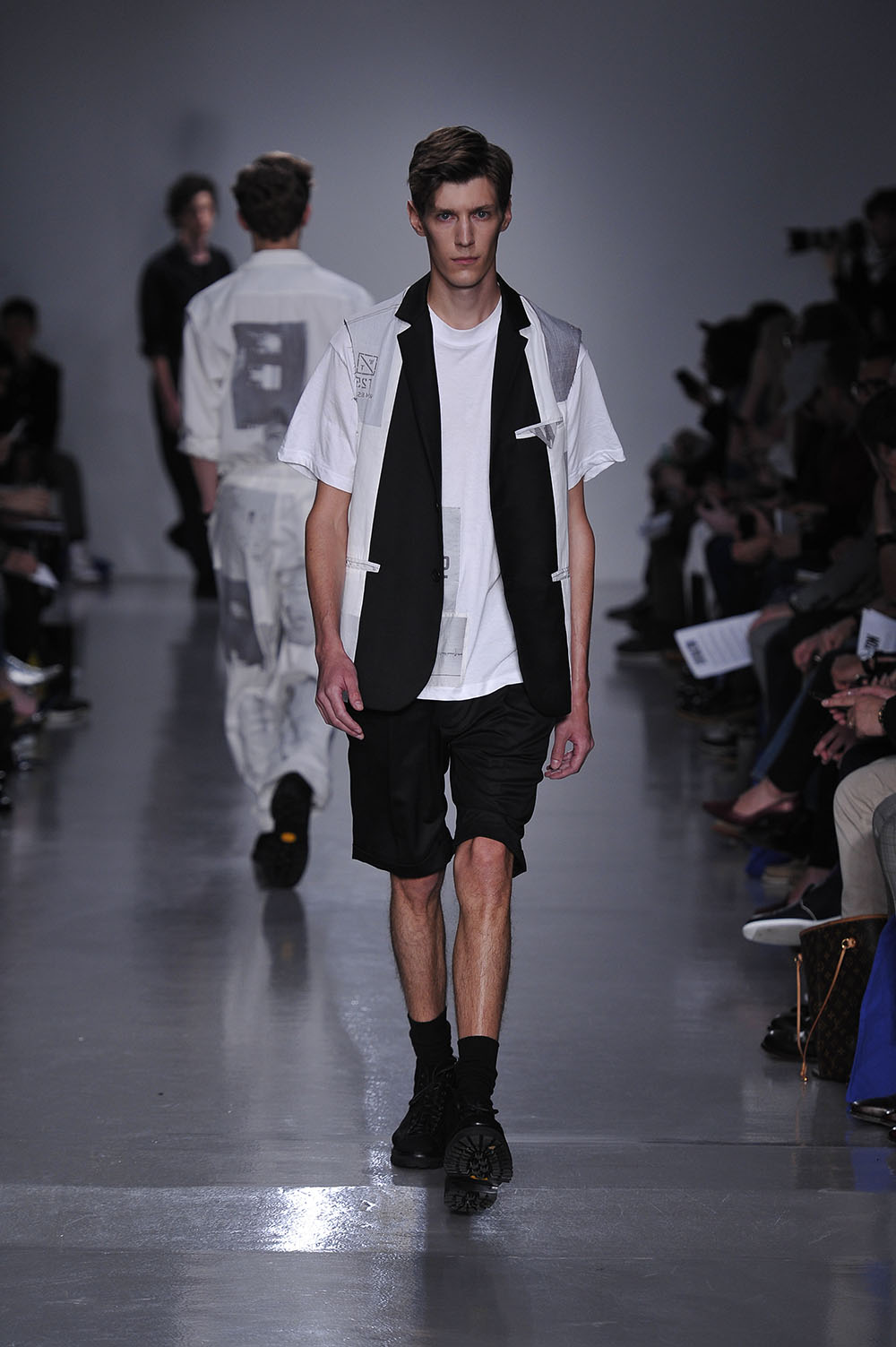 The RAF theme manifested as photographic images of alphanumeric aircraft codes printed onto crisp white cotton separates; short-sleeved, pajama-like shirts, wide cut trousers with elasticated waistbands and as panels on a sleeveless jacket which was tailored 'inside out' to reveal the seams. In the closing looks, two box-cut denim jackets in white and pale mauve stood out, they are the perfect shape for now and are surely destined to sell out.
In a collection jam-packed with collaborations, it was an achievement that Dalton's aesthetic shone so brightly. Brands are clearly queuing up work with the emerging designer, presumably giving her the liberty to pick and choose those who fit in with her concept, and not the other way around.
Words: Charlotte Gush