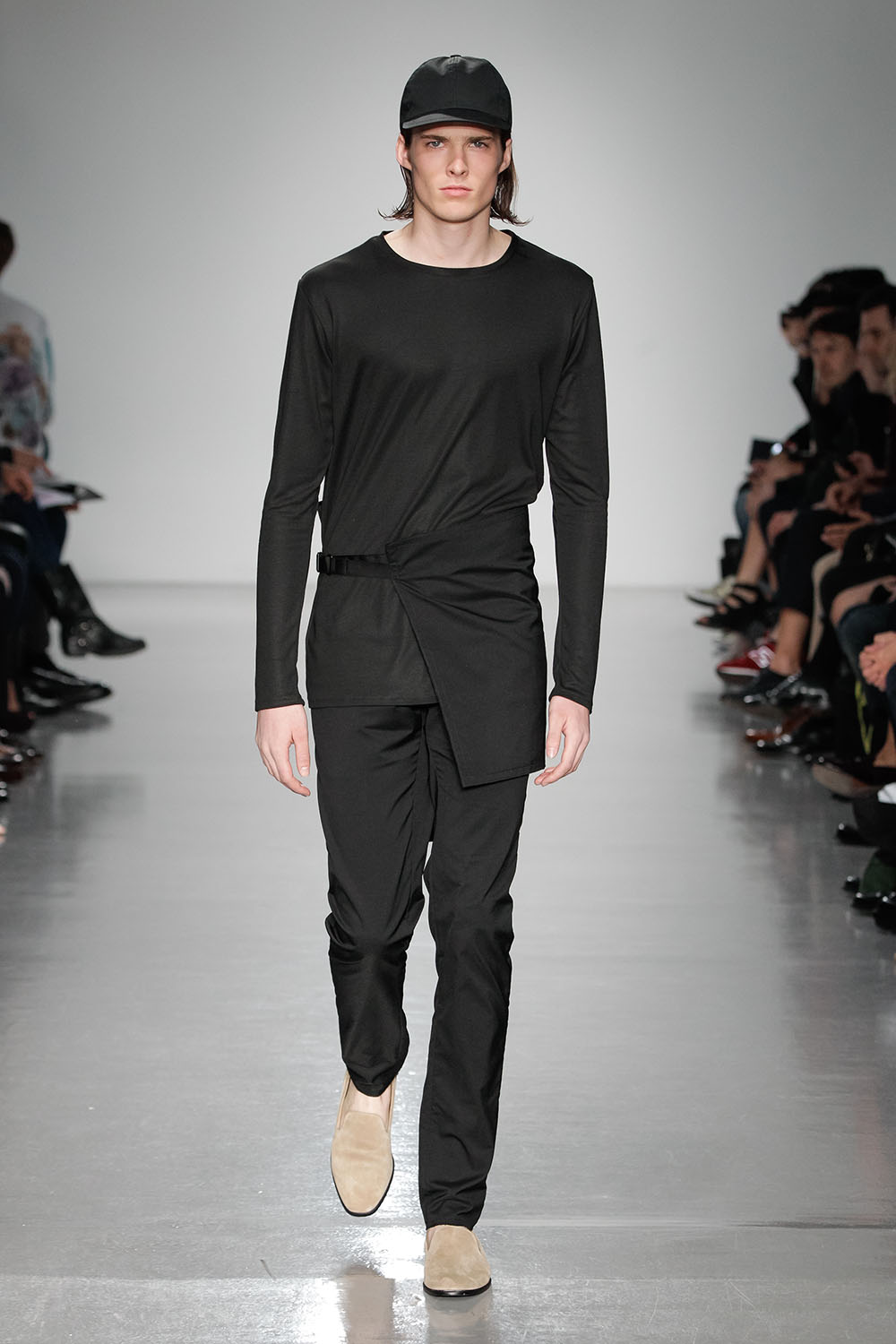 A new name on many a showgoer's radar, Lee Roach graduated only three years ago from Central Saint Martins and has already working with Meadham Kirchhoff, Kilgour on Savile Row and Peter Saville.
Perhaps a reflection of his pared-back design approach, a Twitter-friendly eight words was all he disclosed on the press release: UNIFORM MINIMAL MODERN CONSTRUCTION FORMAL RAW CONTRAST LIGHT. The first look out did its job of catching my attention: a restrained, neatly cut, all-black outfit of slim tailored trousers, a round-neck long-sleeve cotton top, a cap and a wonderful buckled apron-skirt, worn around the left hip. I love a superfluous fashion garment and this one didn't even have pockets; perfect!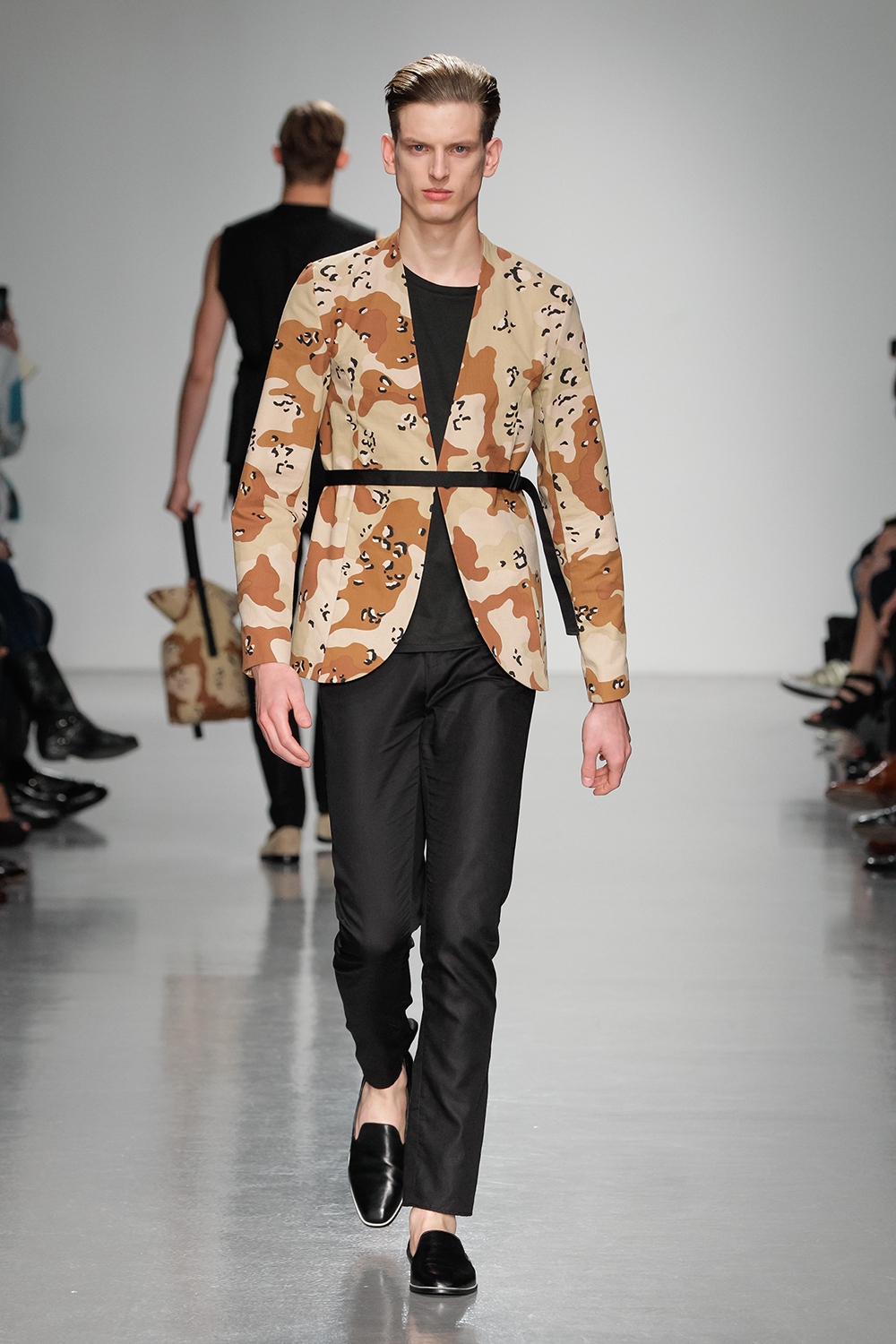 The slim trousers provided a strong base for each look, variously being pared with sleeveless T-shirts, boxy round-neck jackets and lapel-free suit jackets, fastened at the waist with utility-style squeeze-release buckles. The colour palette was largely minimal; black, navy and stone dominated, but a desert camouflage that seemed to incorporate leopard print also featured. After seasons and seasons of camouflage being 'the next big thing,' the assembled fashion press seemed somewhat bored by this addition – a dream for lazy trend-page compilers, but boring for those seeking fresh ideas from London's exciting young designers.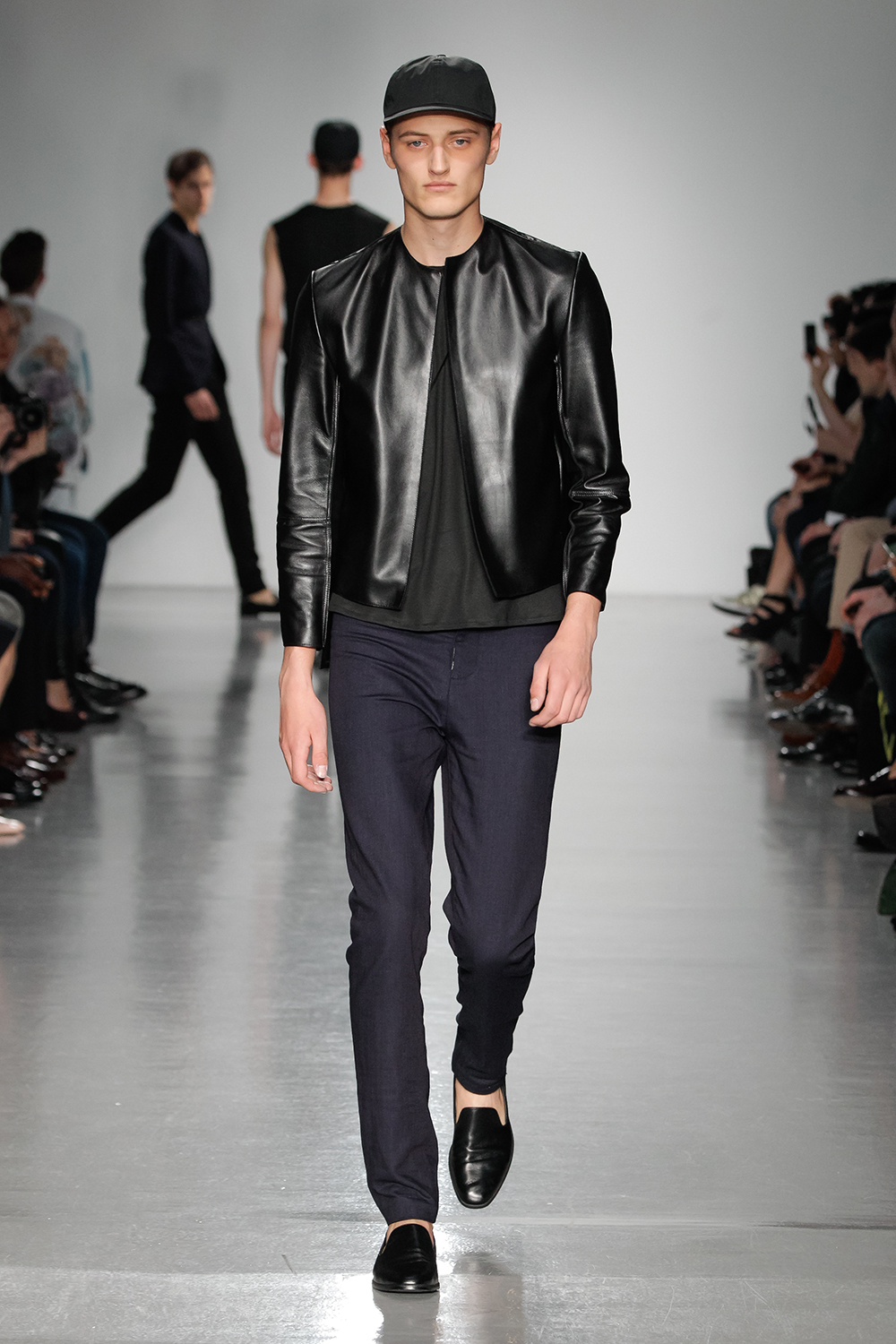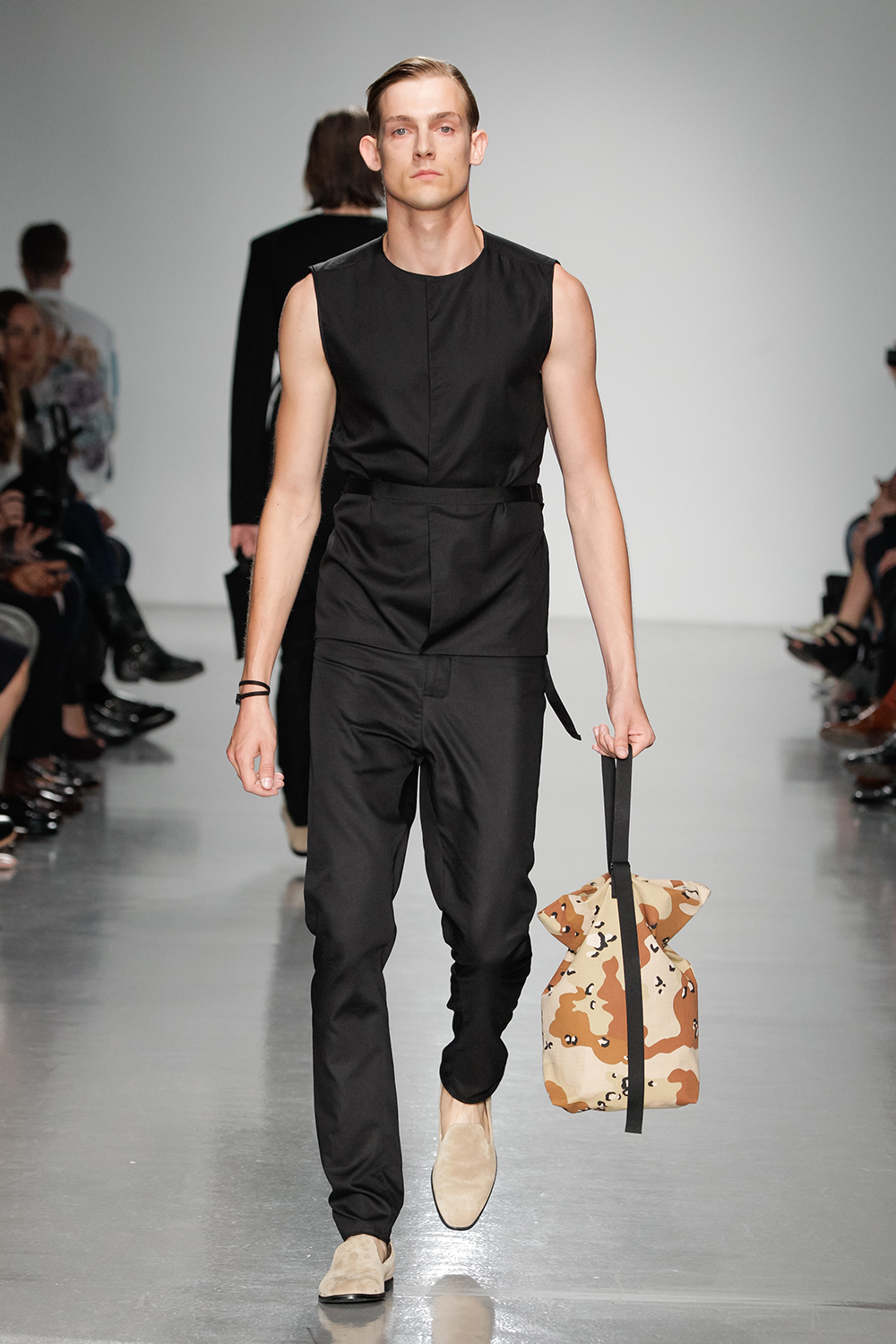 The mostly conservative hues allowed us to focus on the textures of the fabrics: starched crisp cottons, luxurious matt black leather, shiny satin and fine gauge wool. Closer inspection revealed that the apparently clean-lined aesthetic was being quietly disrupted by raw trouser hems and unfinished seams on the pouch-bag accessories. The monochrome geometric shapes of the show invite were printed across the chest of tank tops; a strictly minimal decoration.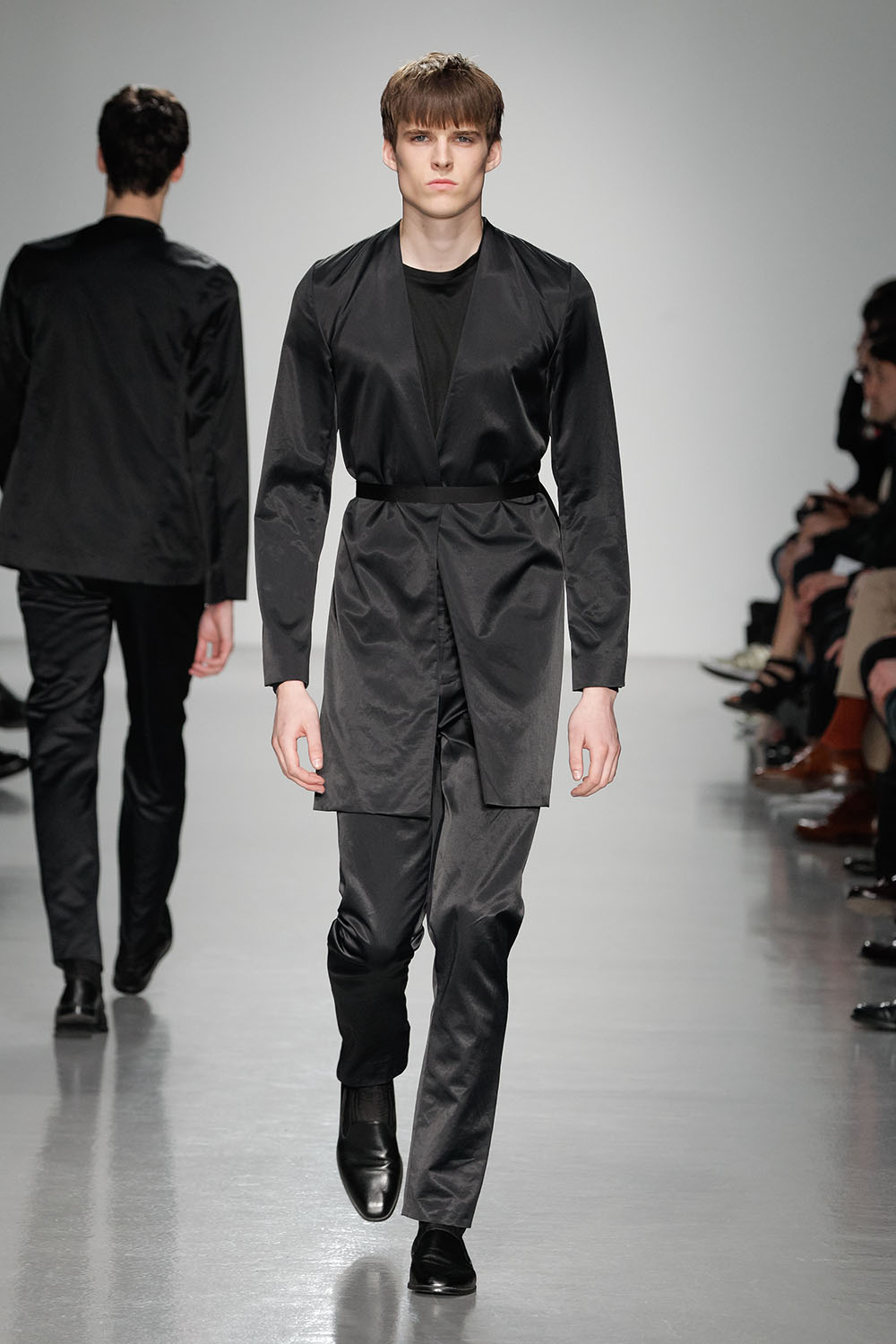 Despite inducing camouflage-fatigue (no pun intended), the collection was full of promise. With his neat, modern tailoring and clever details – not to mention the rail-space at Dover Street Market – Roach is a designer who will certainly be on many more fashion radars by next season.
-Words: Charlotte Gush 
– Catwalk Photography: Christopher Dadey