Set in the grand Victoria House in Bloomsbury Square, guests for Christopher Raeburn's Spring/Summer show were led through to the contrasting stripped back screening room on the lower ground floor. The raw surroundings however were to match perfectly with Raeburn's SS14 collection.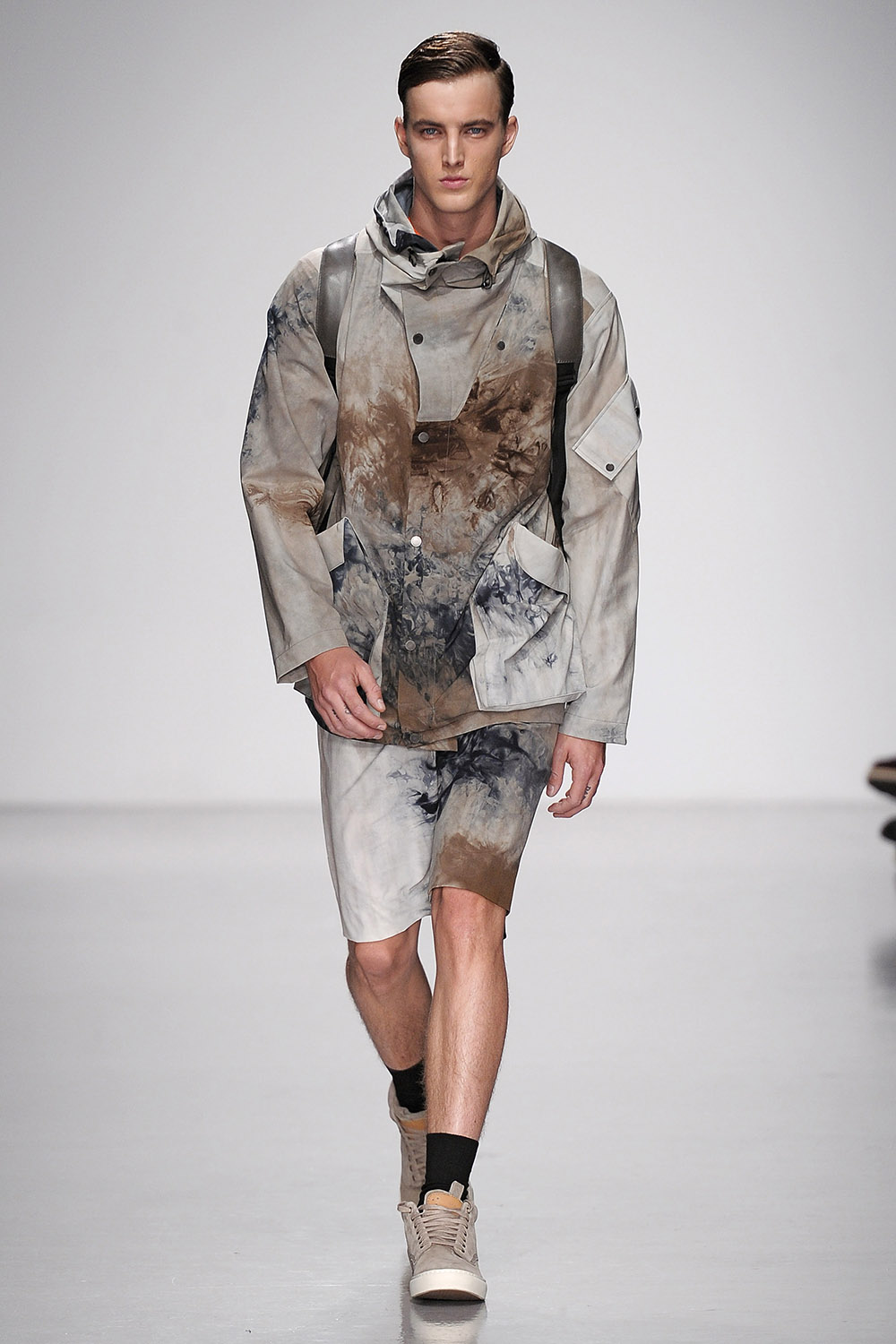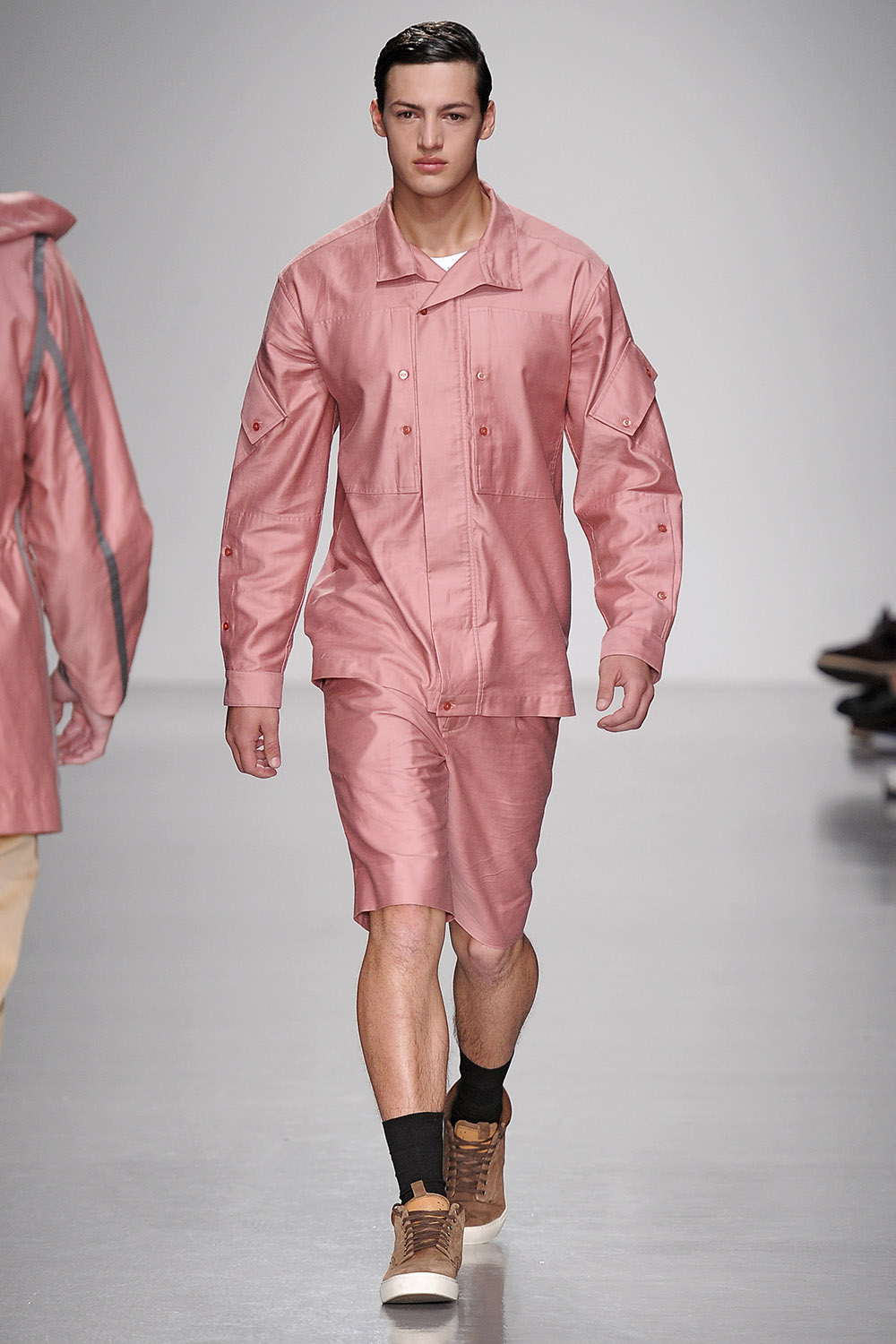 For  SS14 the Raeburn man was depicted as a fearless explorer, with a strong desire to uncover new lands and experiences. The first look to appear was that of a white jacket, loose fitting trousers and a rucksack, all matching, all dappled with blue, as though splattered with paint.
This theme continued with the bomber jacket that followed, paired this time with cream chinos. Raeburn, previously a pattern cutter, is widely known for his reinterpretation of military fabrics, and this collection certainly reinforced his reputation. The entire look was very uniform, moving on from blue and white to earthier shades of beige and dark forest greens, and camouflage army style prints.
One particular standout from the collection was a muted grey baseball jacket, complimented with baby blue, almost turquoise coloured sleeves. Finished with matching  trousers in shades of stone and an army patterned cap, the look was undeviating; however bold enough to add a little adventure. Further highlights included a metallic royal blue trench coat, simple in its design with only a strip of silver printed across the chest. A beautifully printed blazer was also a focal point, mixing deep blues and camel colours to create a surreal, marble like effect.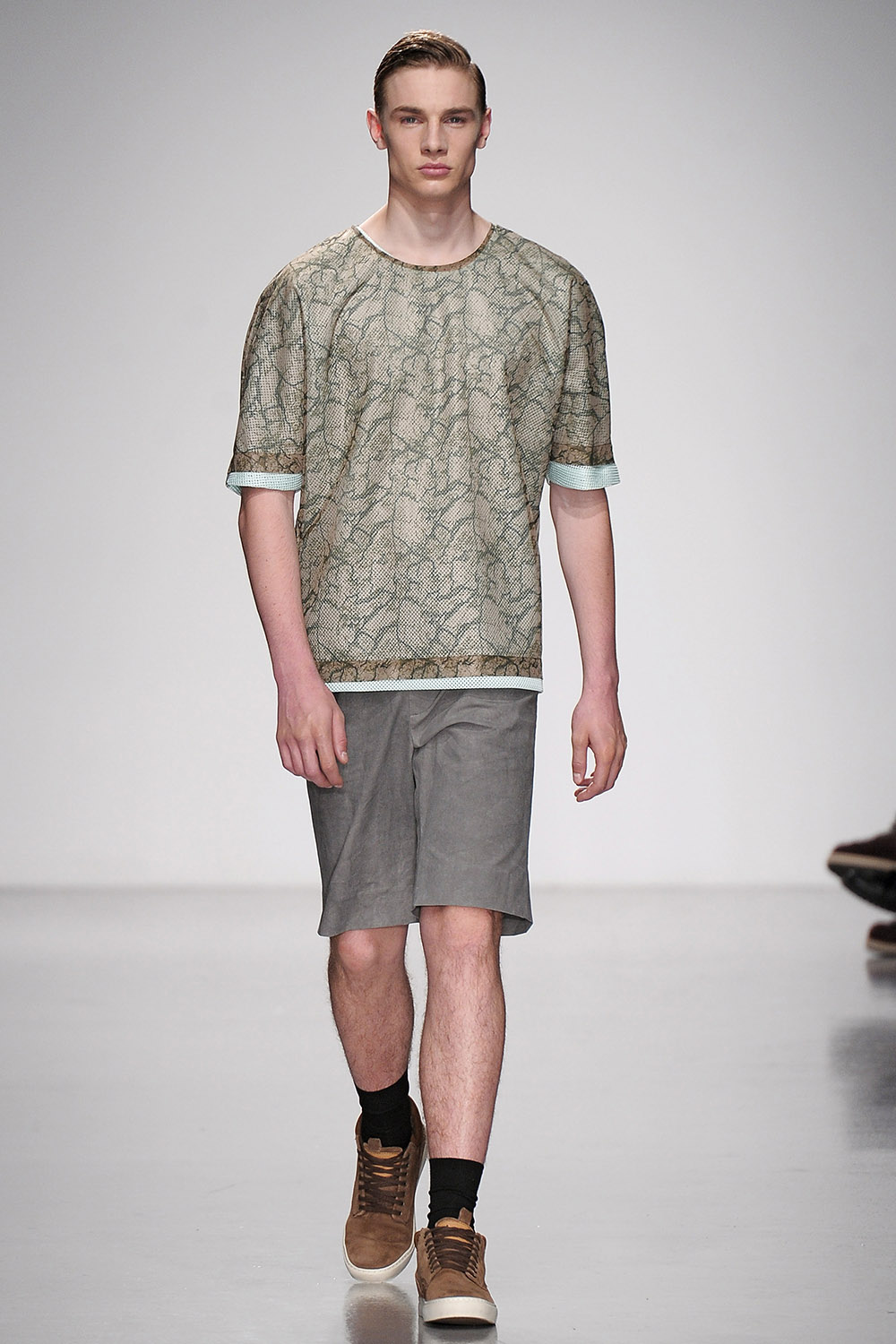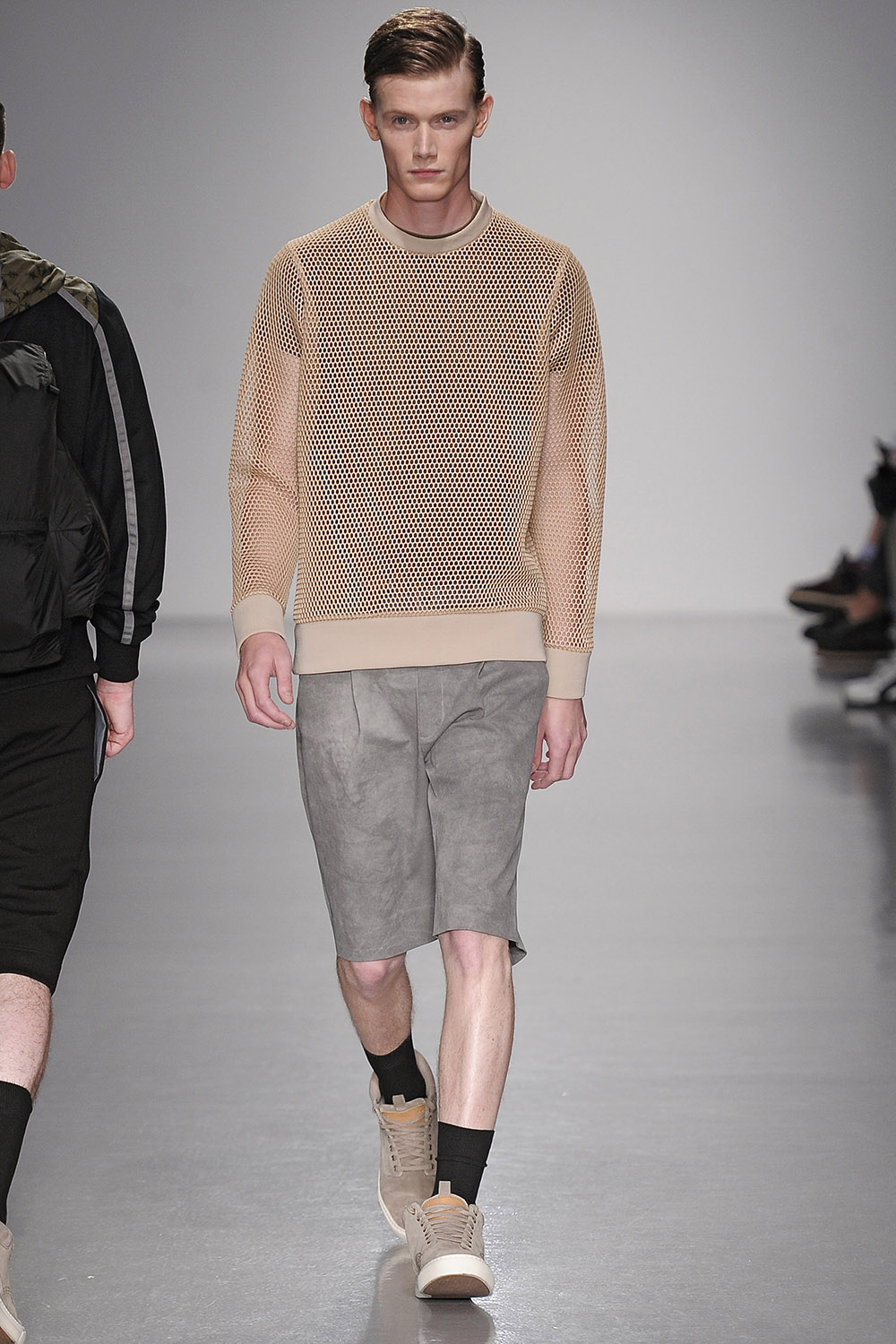 Throughout the show, the feeling of exploration was ever present. Practical fabrics such as mesh (of which the invitation itself was made out of), bright turquoise puffa gilets, and waterproof Harrington jackets were all frequently featured, further enhancing the wearability of the collection. One look featured a T-shirt made from snakeskin, again with sections of the sleeves made bolder by flashes of turquoise fabrics.
Accessories added to the traveller vibe, with oversized, boxy rucksacks being prominent, some worn simply over a bomber jacket, some styled over thin mesh blankets. Hair was combed neatly to one side, further complimenting the uniformity.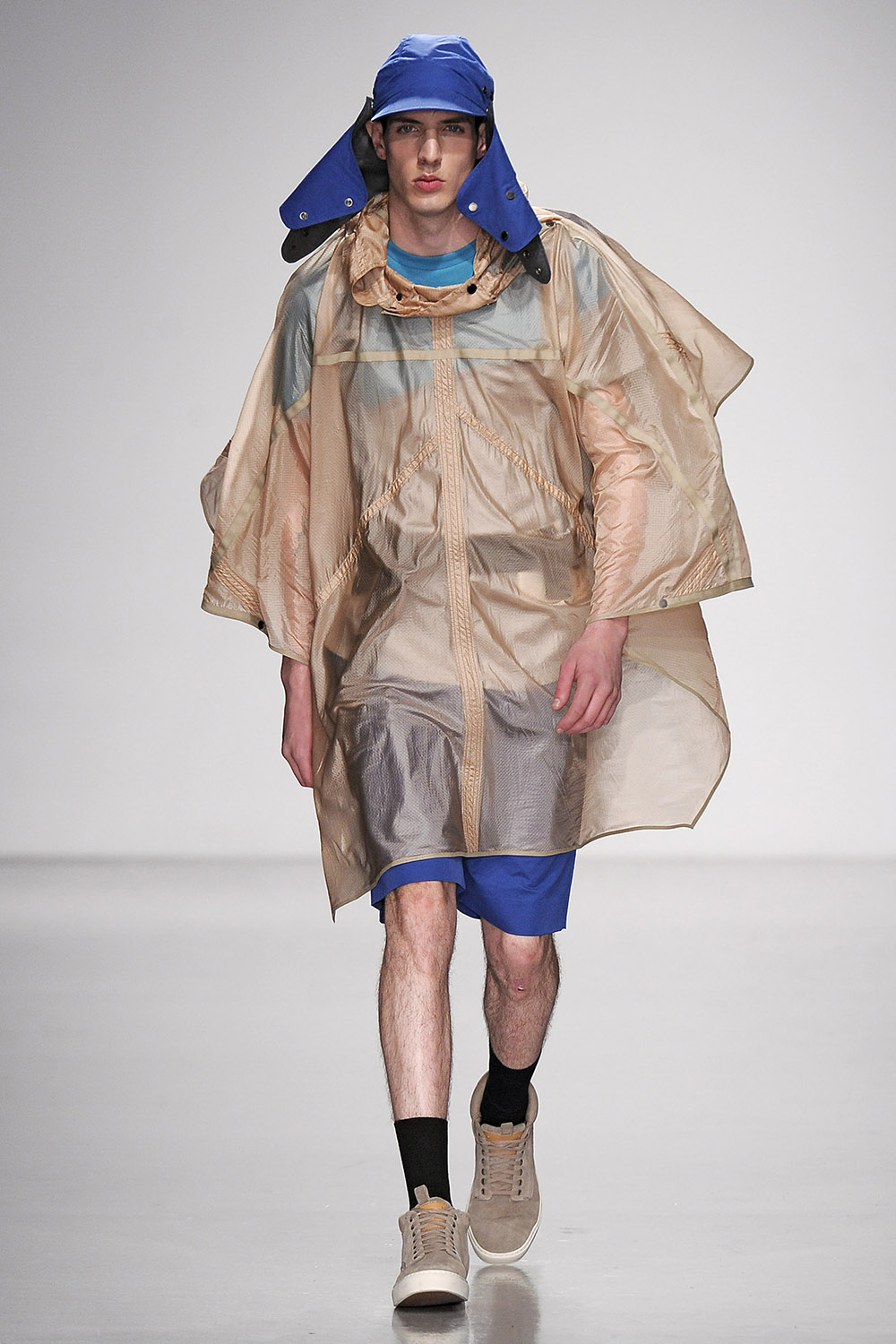 Overall, Raeburn was able to engage the audience with both practical and creatively crafted designs. Winner of the 2011's Menswear Emerging Talent Awards, Raeburn will no doubt continue to impress in his future collections.
-Catherine Earnshaw