Play Crystal Waters Gypsy Woman at anything and it's going to be a huge success. This was absolutely the case at James Long at the Old Sorting Office this Sunday. Thematically, Long's offering felt darker than ever before – with a direct focus on luxury layered street-wear. Cropped and fitted denim and shearling jackets, utility straps both tightened and loosened to manipulate the overall silhouette, and ragged knitwear belted hoods created an almost aggressive atmosphere. The highlight of both the show, and potentially for the whole of LC:M for me thus far, was Long's use of heavy blue-black lace, detailed with nylon webbing luggage straps. It is the unexpected juxtaposition of delicacy and functionality that added an important undertone of boyhood and softness to and otherwise 'strong street' collection; from such small detail, an entire internal monologue begun about gendered fabrics and clothes' ability to transcend traditional ideas of 'the norm' – it's for such reasons that clothes can be so meaningful. The show was impeccable, and completely outweighed expectation.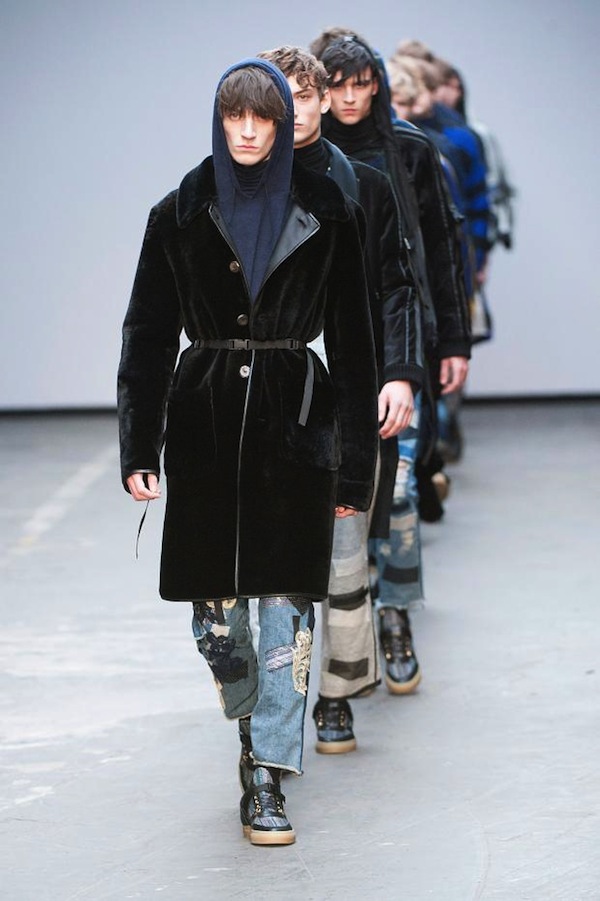 James Long
Then it snowed at Moschino… and this is probably the most exciting thing that happened down at the annexe on St. Vincent Square. The theme was rather confused, with a certain pop-personality nearby befuddledly remarking 'Whaaaat? I don't get it?' Yes, there was an array of standout awesome garments: the patchwork tartan skirt and trouser suits harked back to the old, true, Moschino, the literal 'hand bag' which hung like a massive hockey glove at the hip in silver lamé sparked a personal money-saving drive in anticipation for its release, and the silver and neon orange tailcoats would make wearers the centrepoint of any party. Scott is an incredibly clever, and humorous, designer, but for a designer that is usually so thematically focussed (see McDonald's, Barbie, Spongebob et al.) the collection was lacking continuity. It was tough to see how a consumer would align with the brand when there were so many different identities to choose from. Scott's excessive use of fur was also hard to stomach: tails, trims, jackets, hats, shoes and blankets all in new fur. It's hard to understand the killing of an array of animals in the name of glamour.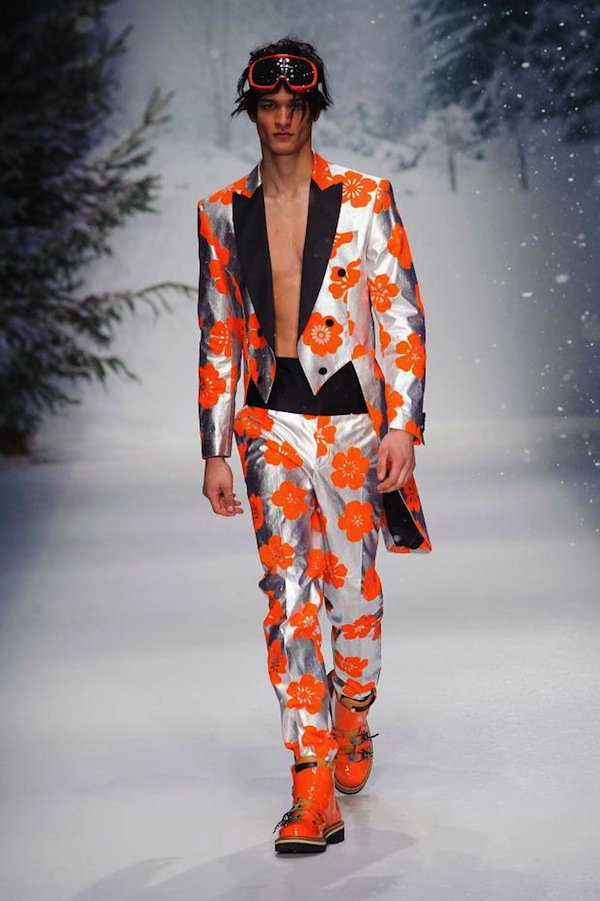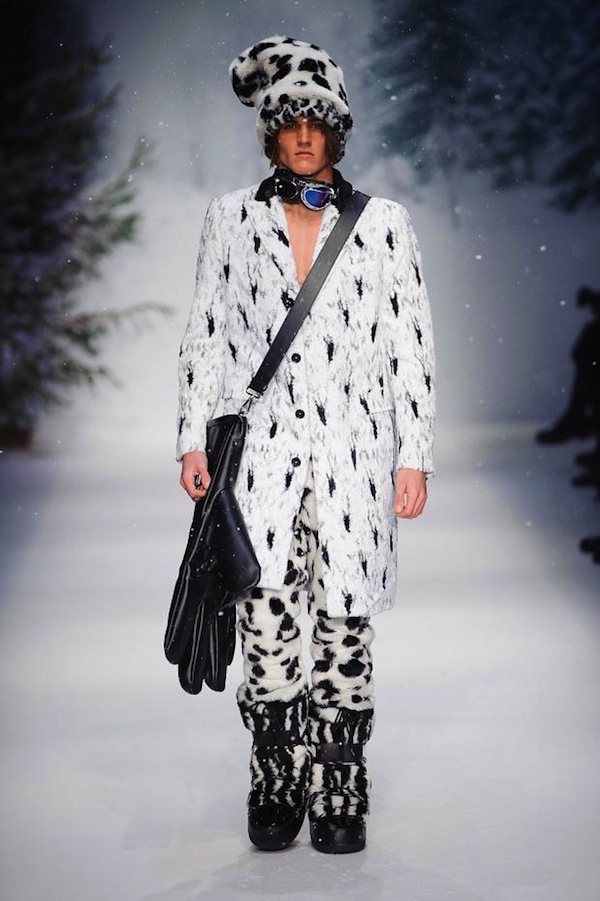 Moschino
And from gimicky excess to traditional tailoring at Mr. Porter's presentation of Kingsman, which is described by the online retailer as 'the classic British gentleman's wardrobe'. A rather clever sales technique has been employed here: a 'shoppable' mini-film, featuring Colin Firth and Samuel L. Jackson, with looks designed by Arianne Phillips, has been released alongside the launch of the brand on January 13th. That was a refreshing twist to what was shaping up to be yet another tailoring presentation. The clothes, like so many other brands this LC:M, are stunningly well made, but it turns out if you're someone who loves your tailoring then you are spoiled for choice (provided you have upwards of £1000 to spend on a jacket).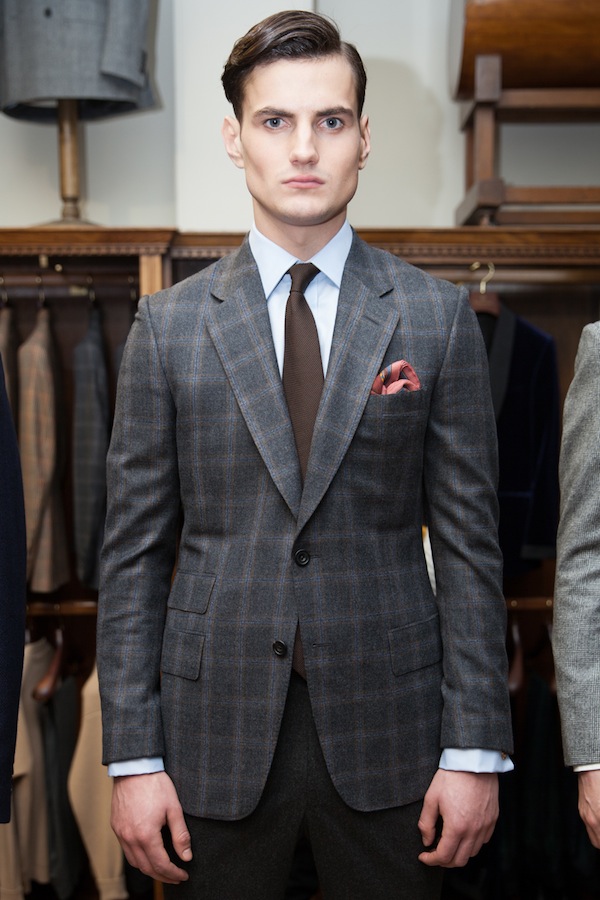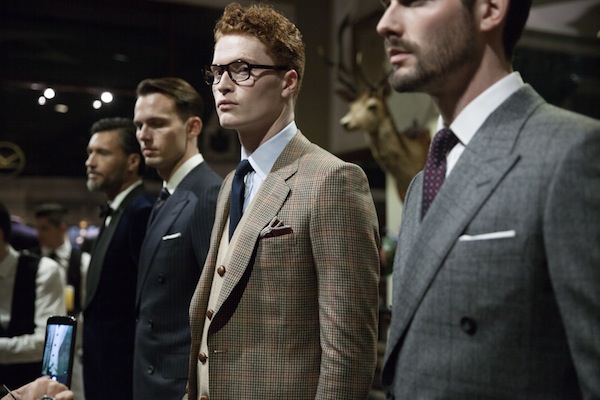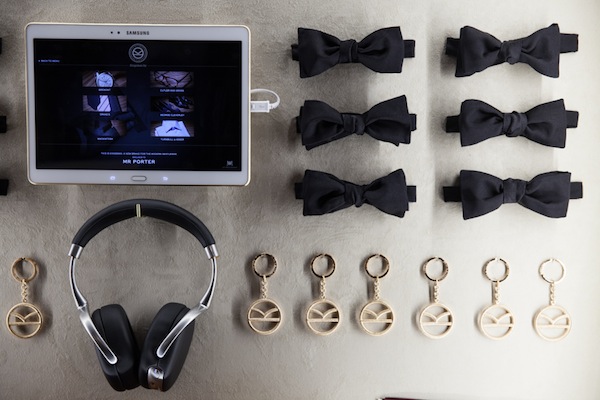 Mr Porter. Photography by Robert Binda.

Unfortunately getting to the Duchamp presentation on time proved somewhat impossible… apparently the food was delicious. Damn.
Three down, one to go.
Words: Tom Rasmussen