Contributing menswear writer Tom Rasmussen's take on the proceedings…
'Genius, genius, genius!' were the words heard bleating from the audience's lips at the close of the Lou Dalton show this Saturday morning. From a traditional tailoring background, it is indeed with much skill her garments are made, often focusing on functionality rather than obscurity. According to the designer, her inspiration for this AW15 collection came from a photograph of her father in boiler suit, as well as the Thunderbirds (seeing its 50 year anniversary this year). Dalton introduced wide tapered cropped trousers with slanted cargo pockets, coats which were subtly exoskeletal in their stitching and dark in colour, often with the inner in a pinkish cashmere/wool mix poking out from underneath, and shooting gilets in black tartans with zip off sleeves. The standout piece was the simplified take on the boiler suit: in both nylon and black tartan – offering true utility in its minimalism (a contradiction in terms, but a skill Dalton gets so right). The press release said that the collection was supposed to showcase the functionality of menswear, while exploring the sensitivity of its wearer. With lots of black outerwear, tonally contrasting under-layers, visible garment structure and Jim Stainton's Horse Meat Disco soundtrack, Dalton's collection did feel sensitive, beautifully well considered and, most importantly, provided a functionality that so few can make so stylish.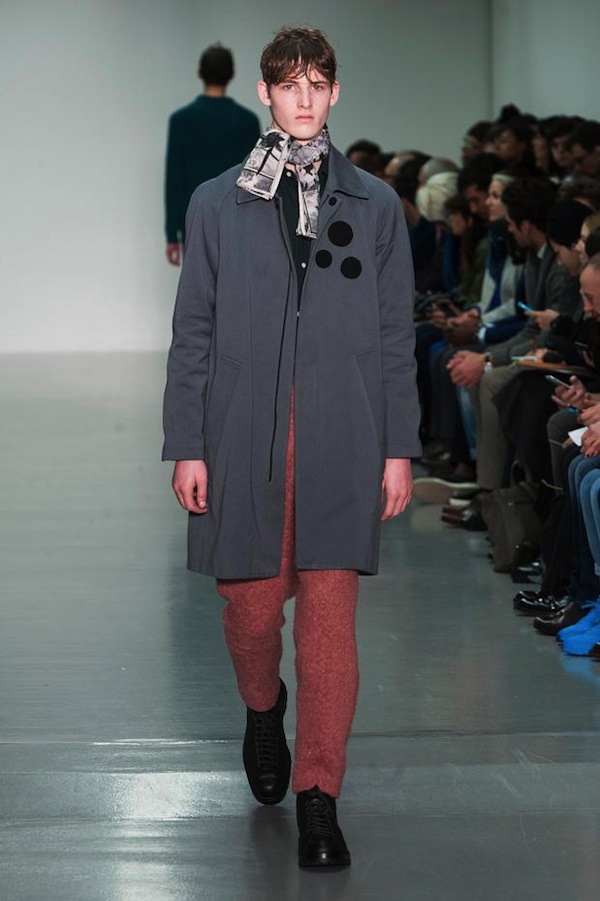 Lou Dalton
After such sensitivity, naturally, the next stop was an afternoon showing at the Sex Cinema on Walker's Court. Seedy cracked red walls, and vinyls which read 'Original Viagra' framed the Hentsch Man presentation, which saw its floppy-haired boys stood around drinking beers and whispering away. The theme of this season's collection was most certainly inspired by old Western movies – a slogan 'Cow Boy' tee and layered bandanna neck ties really hammered this one home. Suits in paintbox blue, a decorator jacket in evergreen and a rebel-red head-to-toe look saw the brand step away from its usual array of mixed brights, stripes and prints, and into a more streamlined phase. Wearable – yes, groundbreaking – no. The 'nod to the likes of Nirvana' (as the brand put it) went missing in action, and the whole peep-show vibe felt more try hard than well considered. Hentsch Man's evolution is evident, with the brand born out of the quest to design the perfect white shirt, so credit is due here.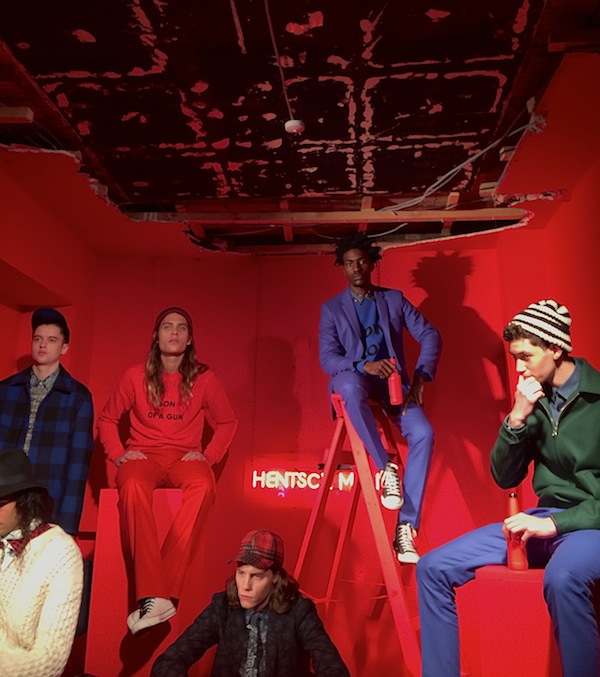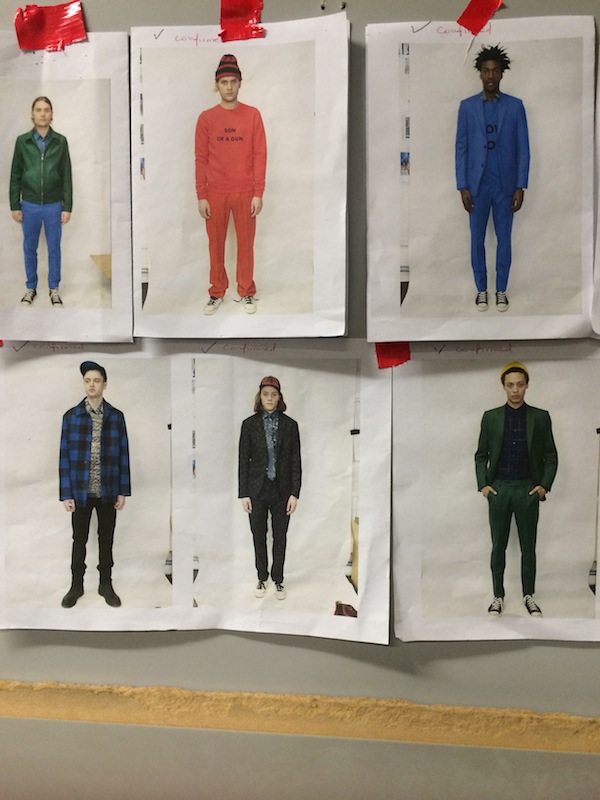 Hentsch Man
But it is shows like Sibling that remind you why you fell in love with fashion in the first place. The BFC showspace buzzed with high expectation for the brand's 'Judy Is A Punk' show, and with too much hair-gel and so many abs, the models clonked down the runway clutching huge knitted teddybears in crumpled 'paper-bag' short suits, reminding us of the time we wished we could have pink hair and play with dolls. Details included tacky crystal embellished skinny ties, teddybear brooches and backpacks, and sizzling pink chelsea boots. It was humorous and irreverent, and in their school-striped pink and black blazer suits it felt as though the boys were just overgrown kids marching to the sound of the Ramones. In a week full of functionality and utility, it is invigorating to see such anti-fashion pulled off in such an effortless way.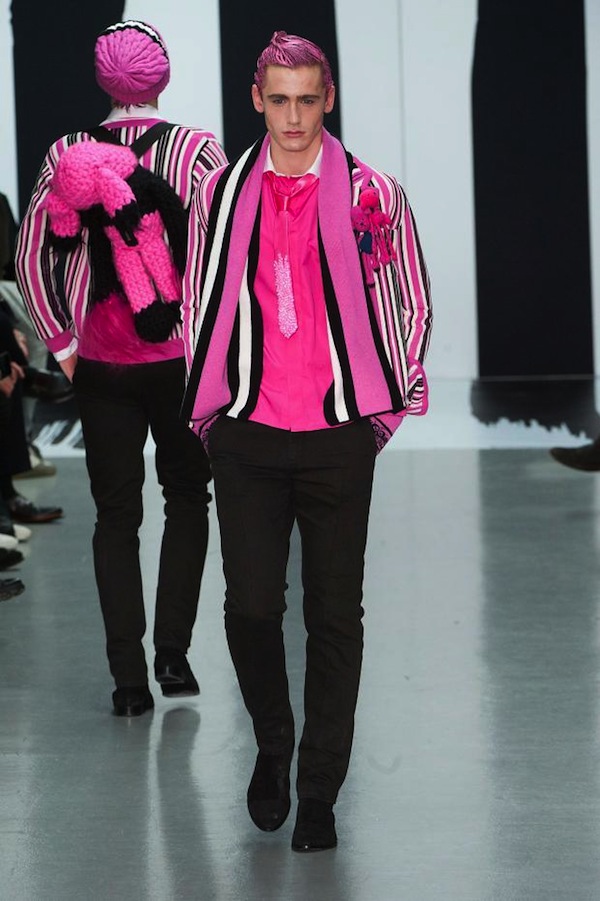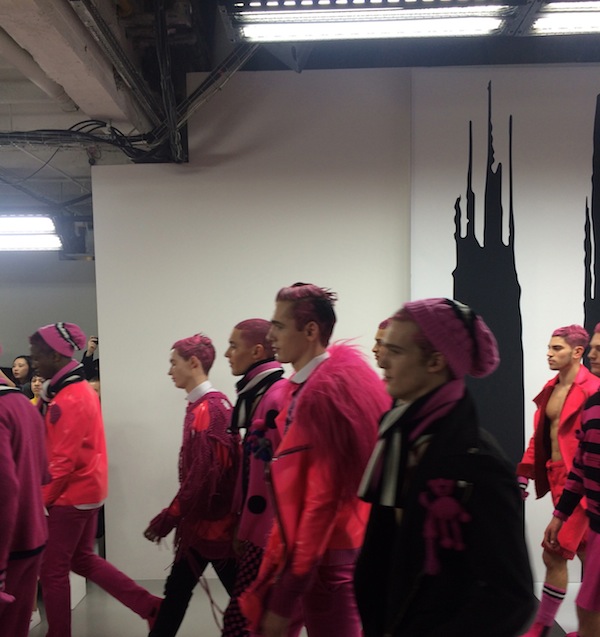 Sibling
And at the close of play we strode to Lutwyche: more bespoke tailored suits for more bespoke rich men. The utter contrast between the deconstructionist message of Sibling's punk offering, some twenty minutes earlier, and just more suits at Lutwyche felt like it punched you in the face. The skill was there, the British production was there, and of course tailoring has its place. But when told by the Managing Director that their gentleman has a driver, sails in the Caribbean, and is the owner of three plus homes, you can't help feeling both a little alienated, and a lot bored.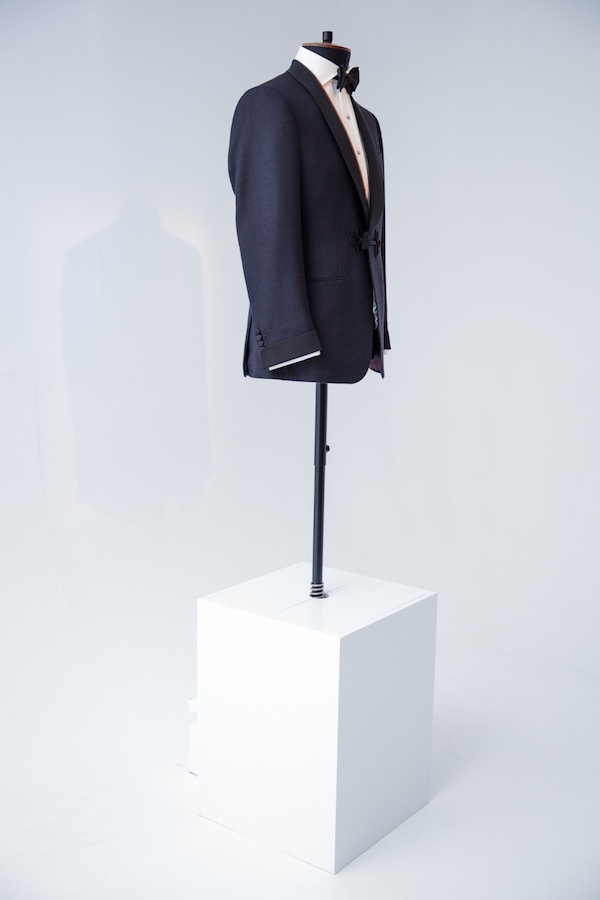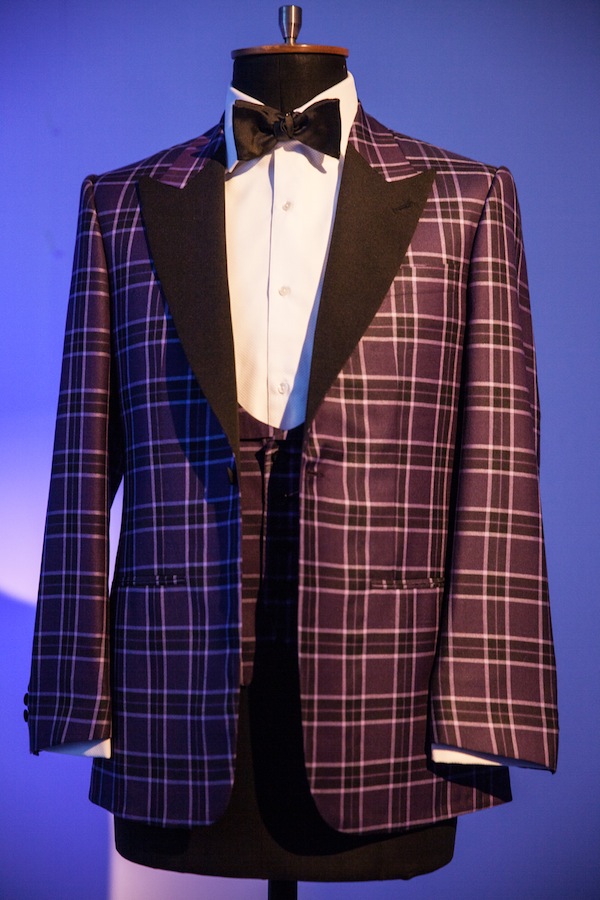 Lutwyche. Photographer: Robert Binda
Then to the Harvey Nichols x Dazed party at the Old Central Saint Martins building. Being met by a spray of champagne in the face by some faux-fur-clad pimp wannabe was the call to turn around and head to the tube.
Two down, two to go.
Words: Tom Rasmussen