Hannah Kane, Editor-In-Chief 
Day of one of Men's Collections and we race up the stairs of Somerset House to where a throng of press crams into the Portico Rooms, all keen to see who will win the International Woolmark Prize. In 1954, the year after it's inception, it was won by Karl Largerfeld and Yves Saint Laurent, and it's still a big deal. Up for grabs – a prize of $AU100,000 (Woolmark's owned by the not for profit Australian Wool Innovation).
They announce the winners as New York design duo Public School aka Dao-Yi Chow and Maxwell Osborne who do Japanese minimalism with a street edge. Their athletic models dressed in heavy woollen wet suits erupt into Superbowl worthy cheers as their team is declared the winner.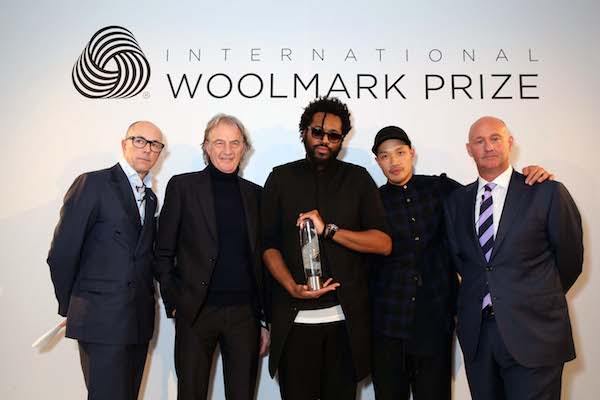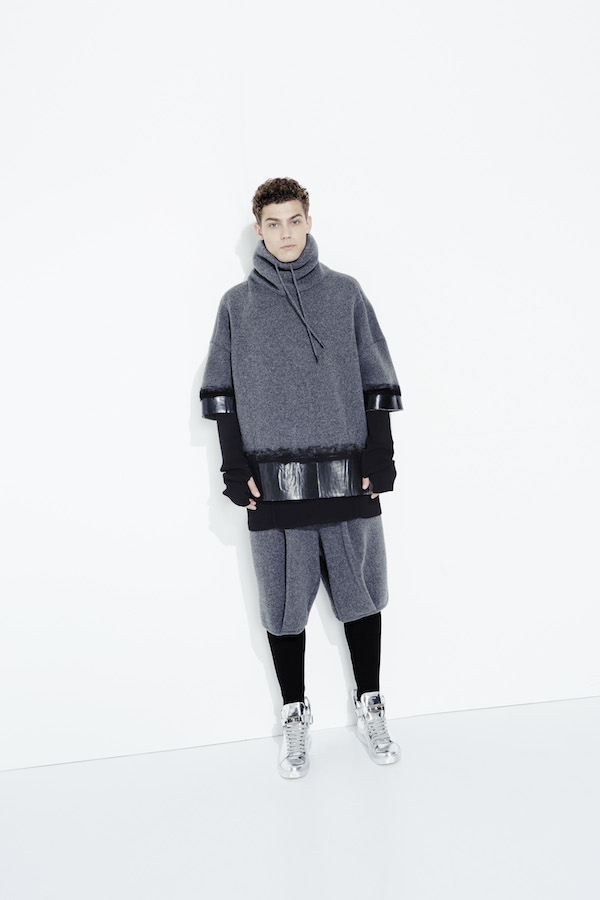 Though Public School a worthy winner, my personal favourite was Asger Juel Larsen from Denmark with his rugged, arctic white coats. To my mind, this is what avant-garde wool looks like.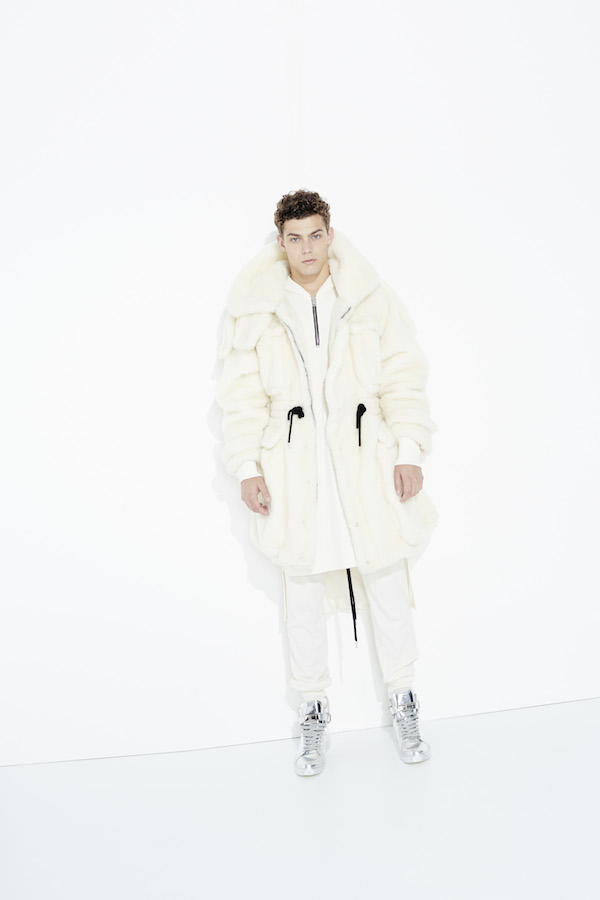 Next up the MAN show which showcased the work of three exciting young designers Rory Parnell Mooney, Liam Hodges, and Nicomede Talavera to a banging soundtrack of old school garage (we spotted Wiz Khalifa and Oliver Cheshire shoulder dancing on the FROW opposite). My clear personal favourite was Irish born, recent Central Saint Martins MA graduate Rory Parnell Mooney who did monk-like, minimalistic tailoring that was both elegant and louche.
Onto Victoria House and first up, Kit Neale who once again looked to youth and childhood for his inspiration, with his circus inspired collection. As ever, the prints were key, this season's were based on circus style fonts and typography. The oversize faux fur jumpers were alluringly tactile, good fun and interesting to see this AW14 womenswear trend shift to menswear for next winter. Overall the palette of zesty orange, cranberry and navy was a welcome change to the more commonly shown winter hues of black on black.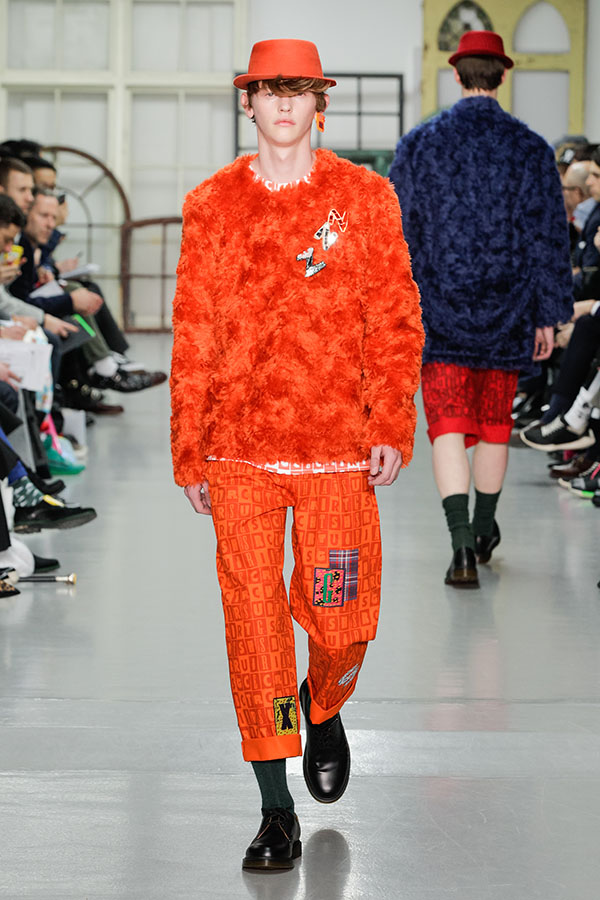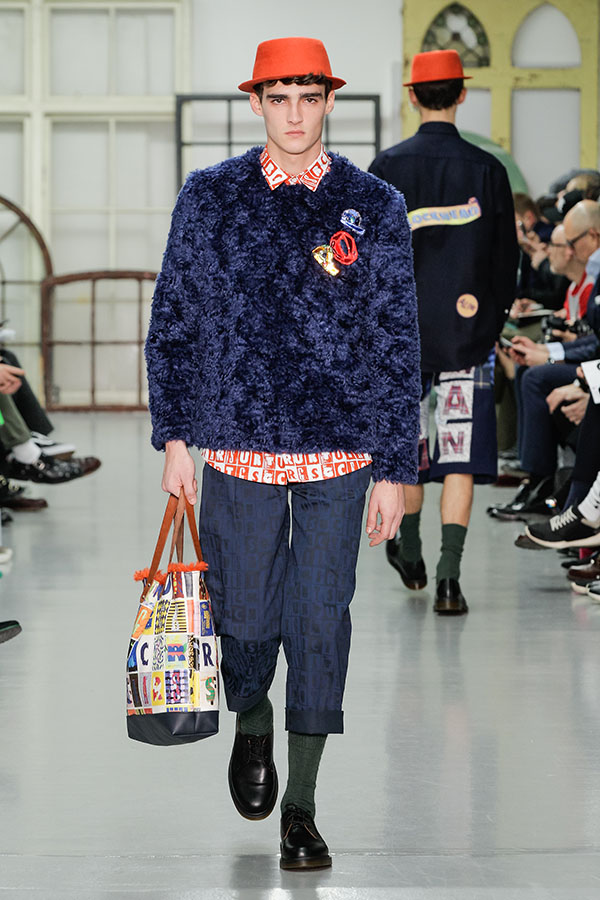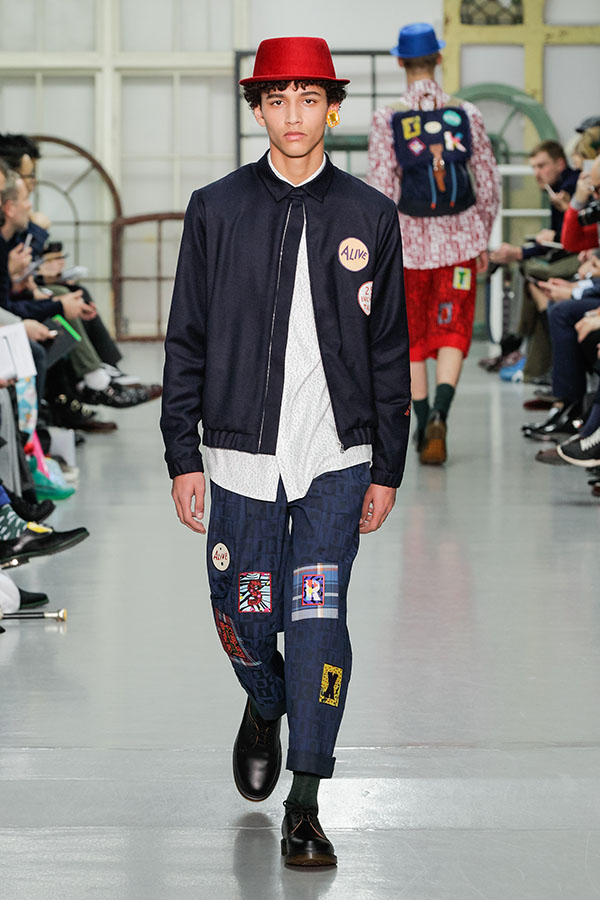 In the exhibition space I discover Brazilian born, Cordwainers trained footwear designer Diego Vanassibara. There are some beautiful design details to his traditionally crafted Italian made shoes – such as these sleek metal baguette studs.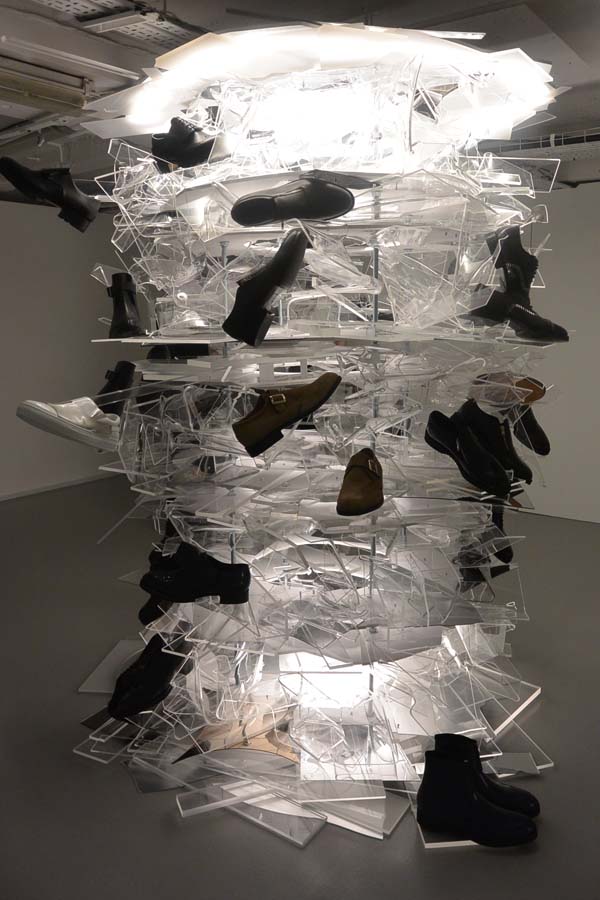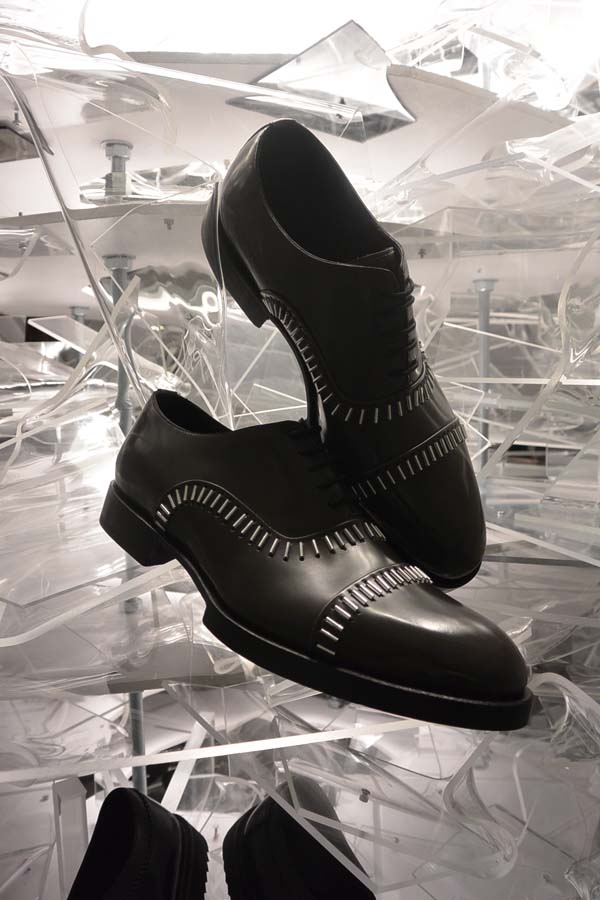 At Alex Mullins we see mustard corduroy zoot suits, with and seventies denim with exaggerated proportions. It was kooky and I liked it. Great low-fi set design of brown cardboard and giant fluffy pink snake.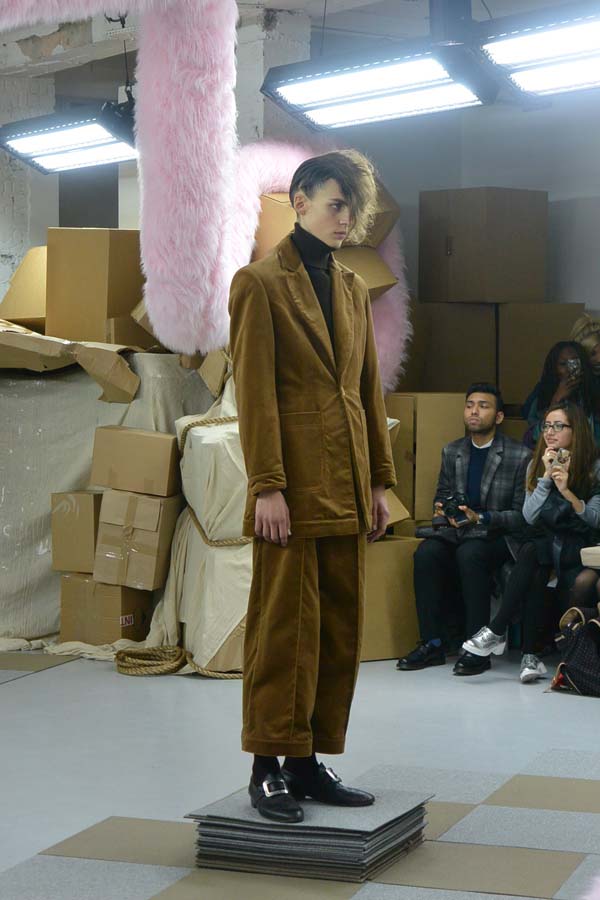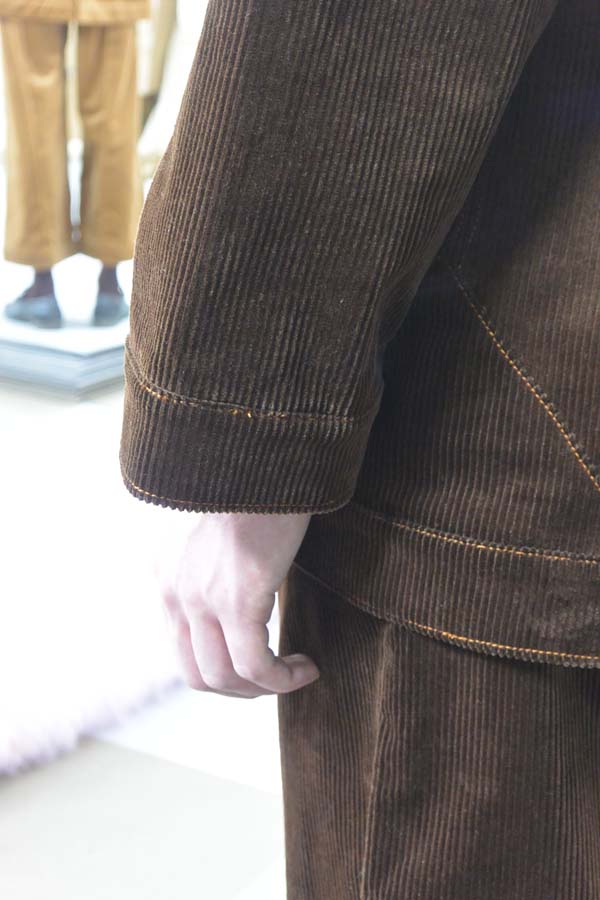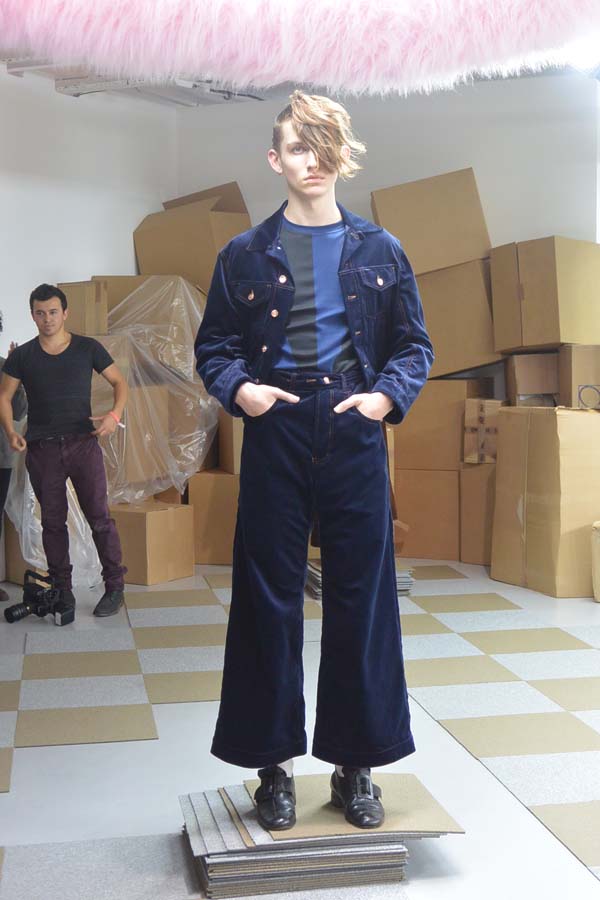 On the way out we pass by the stand for Augustus Pili. The charming Augustus himself greets us and points to his favourites from the AW15 collection, these Derbys in moss coloured, marbled patent. Although the brand has only been going 12 weeks, they look set on big things in 2015. If you're a man in need of a flamboyant shoe, then Augustus Pili is just the ticket.
At Christopher Shannon, who I like for his bold, "don't give a fuck" approach to design we saw oversized appliqué knitwear and slogan sweaters –  on one a plastic bag declaring "Thanks 4 Nothing," another a can of cola labeled "Broke". Plastic bags were a theme throughout the show – the models were styled with the aforementioned plastic bags on their heads… Which is very Fashion. But on a serious note, the sportswear rendered in traditional fabrics such as wool and striped shirting was exactly the kind of thing buyers and press come to see shows in London for.
(Photography Robert Binda)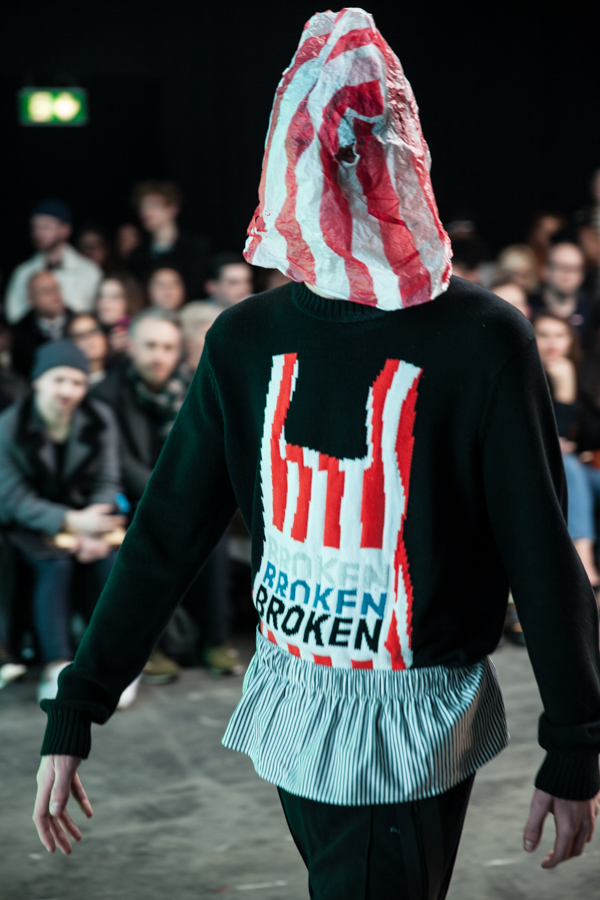 Next stop, Barbour who were showing for the first time at LCM. They've rightly plundered their heritage with a collection inspired by their 1919 'Donegal  Homespuns' tweed from Co. Donegal in Ireland. From their core essentials range there was the failsafe Barbout wax raincoat, for AW15 with accents of the Donegal tweed. Every man should have a Barbour in their wardrobe, and this would be a good season to make the investment from.
As you can see, staring at menswear is arduous work…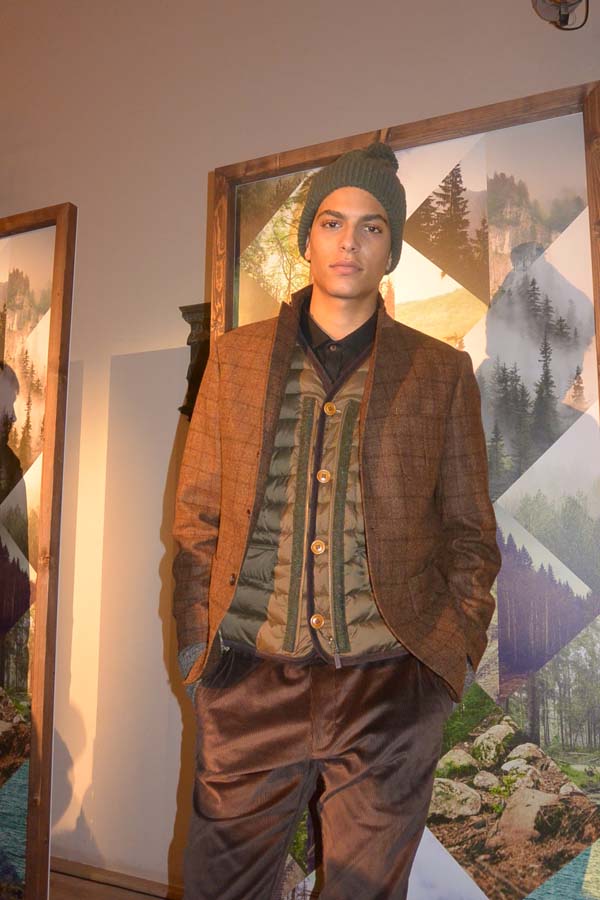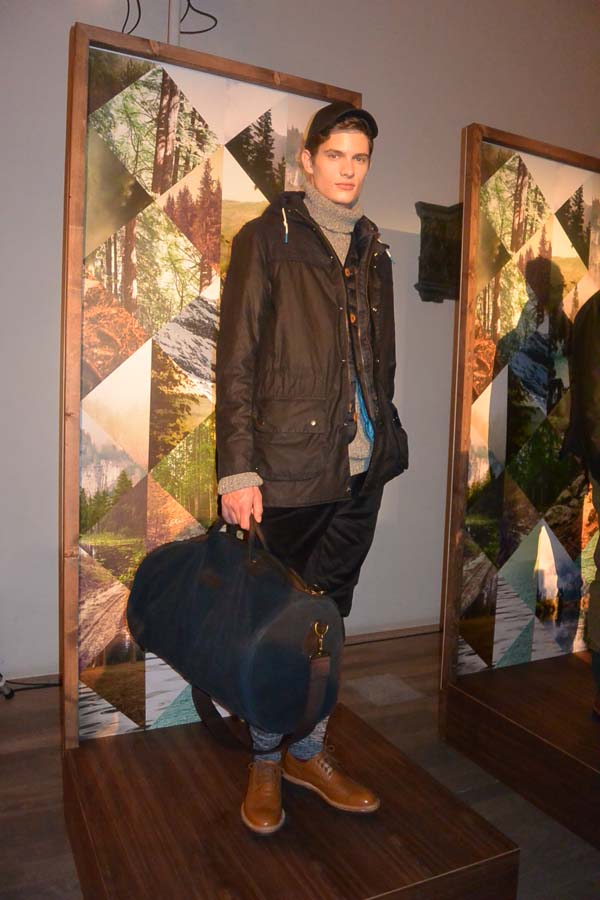 Back to the clothes –  Barbour have also teamed up with Japanese label White Mountaineering who are a brand who also have respect for their heritage. The Japanese tempest wave design is interpreted in a dark olive on jackets of slightly different lengths and weights ensuring there's one that fits just right.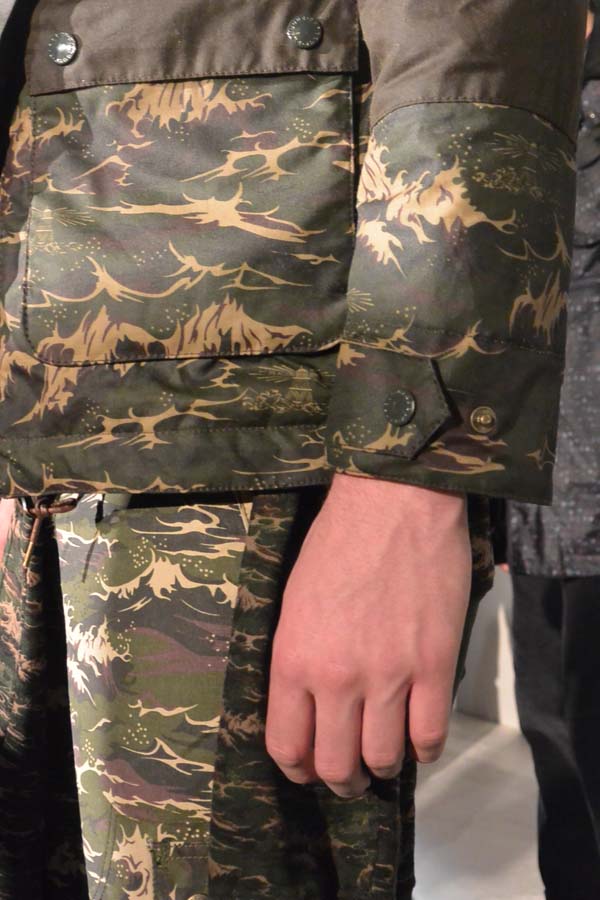 My final port of call is the gilded oasis of Fortnum and Mason, who had laid on a vast spread for the weary editors. After breaking all diet resolutions I try some of their stilton with a divine fig chutney washed down with a little champagne, de rigeur – check out their Fortnum's Blanc de Blancs Brut N.V, Hostommet's that's currently on sale.
A great first day, though a little footsore.
Hannah Kane