As the lights went down at Topman Design AW14, a specially-commissioned spoken word piece read by rock-star poet John Cooper Clarke set the mood:  'Apparel, Jim, watch this space.'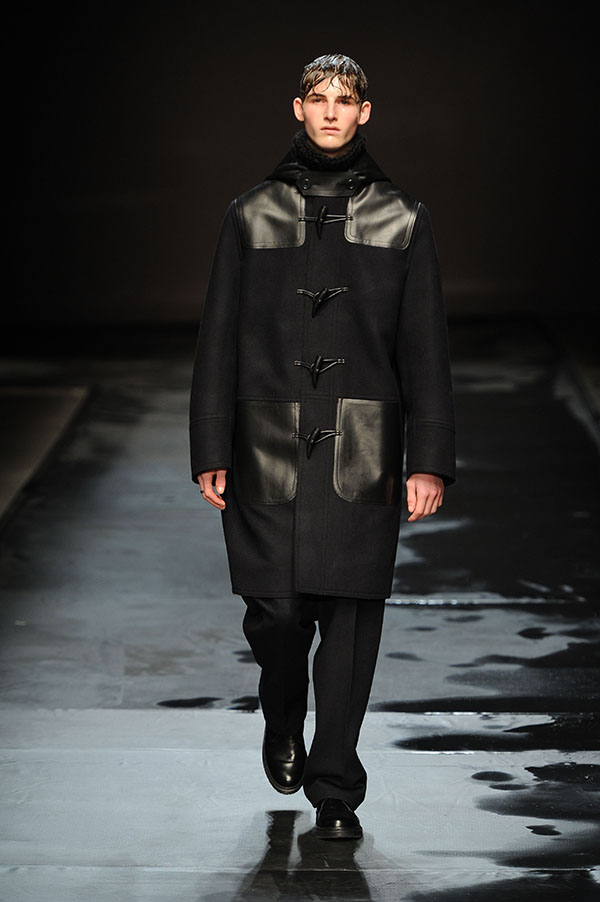 Inspired by stormy Northern skies, heavy industry, sea-scapes and ship-yards, the Topman design team served up a 'wool-on-wool-on-wool' aesthetic. Though the initial leather-panelled navy duffle coat was a play-it-safe opening note, the collection steadily grew in interest as the show progressed. Huge chunky knit jumpers with latticed sleeves, bobbled chests and high-funnel necks were worn under long-line, dropped-lapel greatcoats in shades of charcoal grey and navy. Wool trousers were cut wide, with pleats and high, belted waists visible under ultra-cropped pea coats. A cropped, blanket-check sports jacket was finished with a row of tassels across the chest and down the arms. Smoked PVC was used in panels over wool to create sheer, bonded duffle coats, while a full-length poncho and tight sports jacket revealed red tartan shirts layered underneath.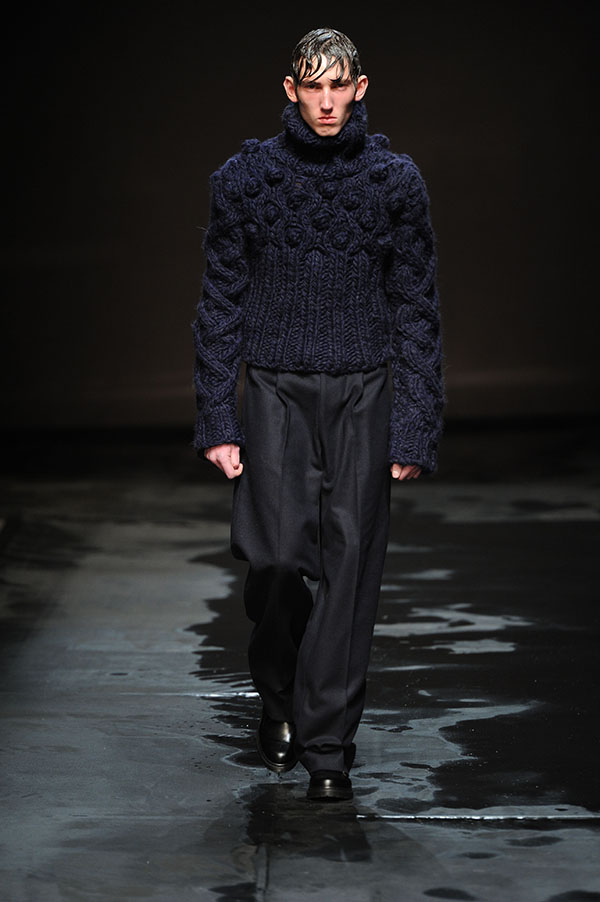 Colour was soft at first: duck-egg blue suits with skinny trousers and over-sized car-coat jackets were worn with suede monk shoes; a chunky-knit funnel-neck inspired by fishing nets and accented with large, seaweed-green glass beads was worn with wide, pleated trousers. Later, whole looks in hot tomato and orange-red brought drama to the collection; a wide-cut, cropped-at-the-waist red duffle jacket was a particular highlight.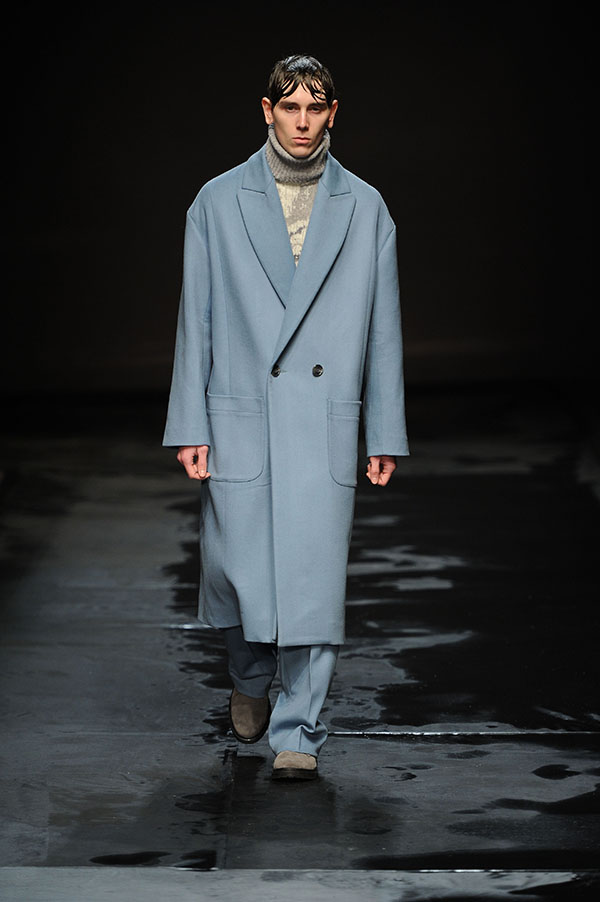 The show closed with clouds of mist and 'rain' falling from above the runway onto the models as they returned for the finale, walking to The Killing Moon by Echo & the Bunnymen.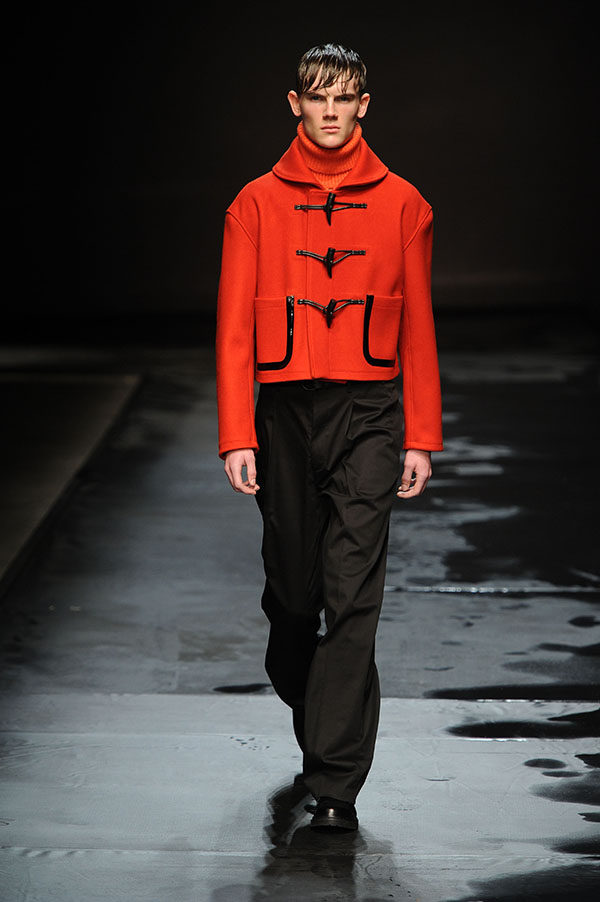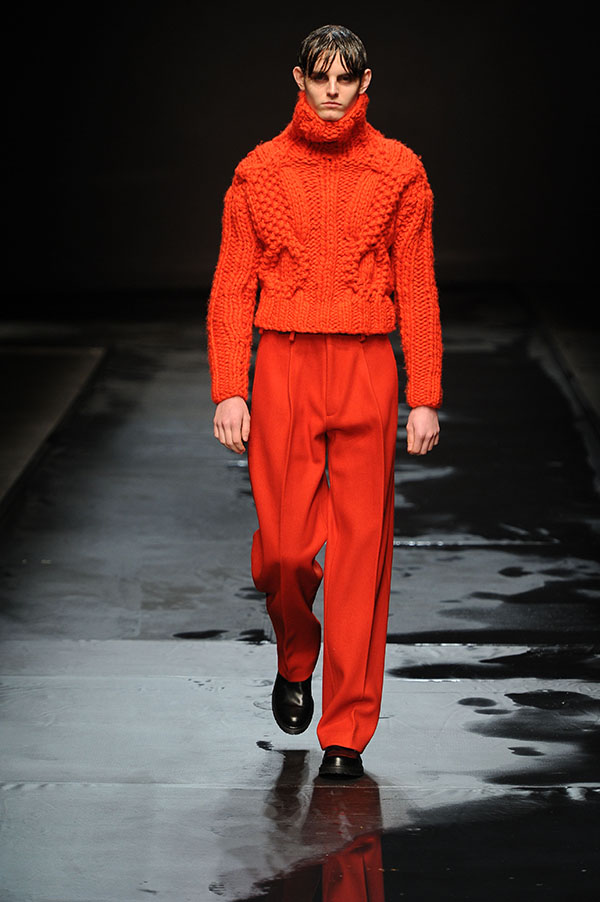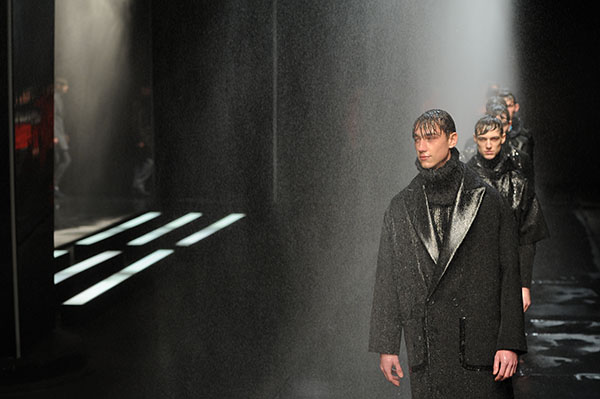 Words: Charlotte Gush