On day 4 of LFW I arrive into Kings Cross ages before the Michael Van Der Ham show, so head over to the Topshop show space on Gray's Inn Road, which always has an amazing food and drinks counter. I find an avocado breakfast wrap and feel glad to have eaten something green.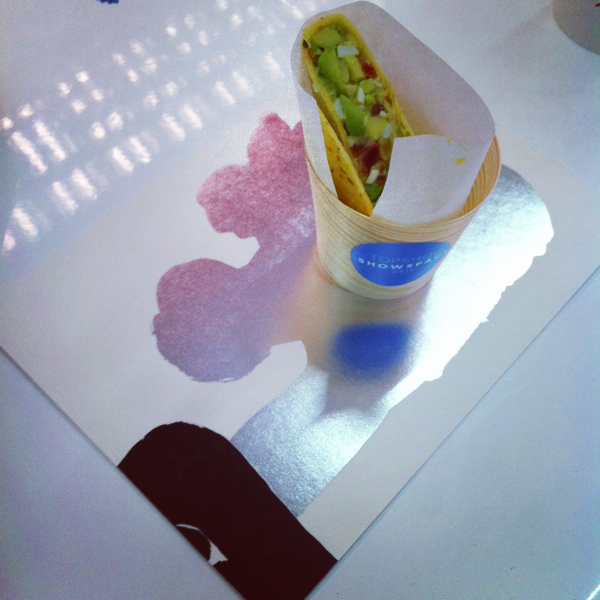 Breakfast in the Topshop show space
I find my seat in the second row and wait for the show to start. The first look out is a black chiffon maxi dress with stepped diagonal layers, wide shoulder straps and even wider off-shoulder bands; a style that also appeared at Holly Fulton and Eudon Choi. The dress is embellished with silver sequin clouds, mirroring the invite. Van Der Ham's collage style is present as ever; dreamy printed silks are layered and spliced asymmetrically with organza, and overlaid with appliqued clouds, with shredded georgette or tinsel outlines. Perfect party dresses file out one after the other, feminine and effortlessly cool, worn with round-lens sunglasses, platform block heels and scalloped chain bags.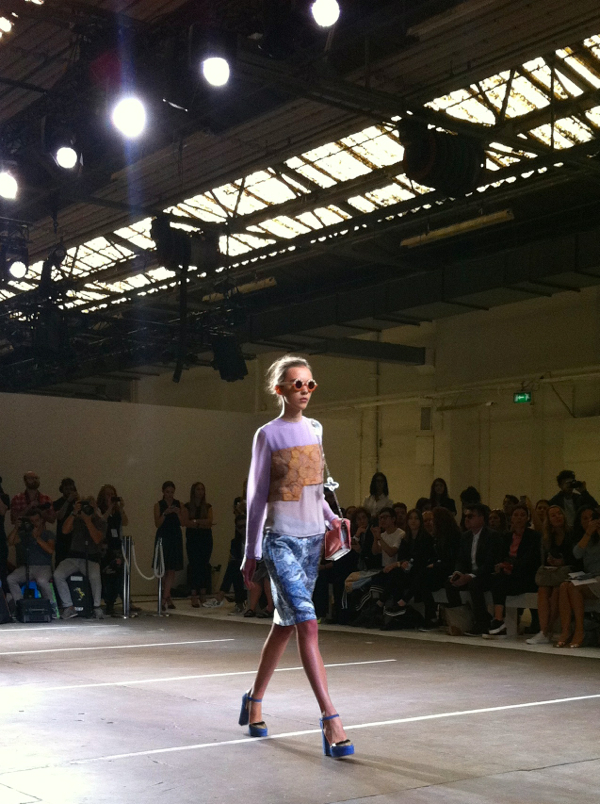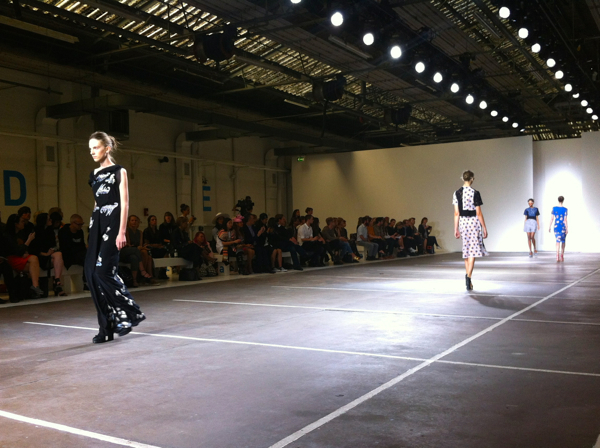 Michael Van Der Ham SS15
Afterwards, I grab a bottle of water from the canteen counter, wait for my walk-out film to upload using the Topshop wifi and head for the Jay Briggs presentation, lining up my Instagram pictures as I travel. When I get there, I bump into Rena Niamh Smith, who is doing the social media for Fashion Scout. She gives me a quick overview of the story behind Briggs' collection while the designer chats to stylist Rebekah Roy.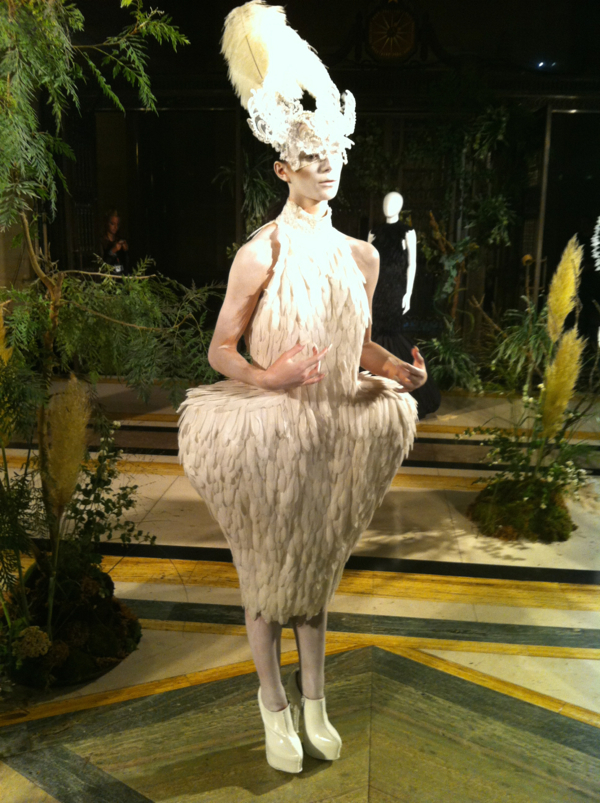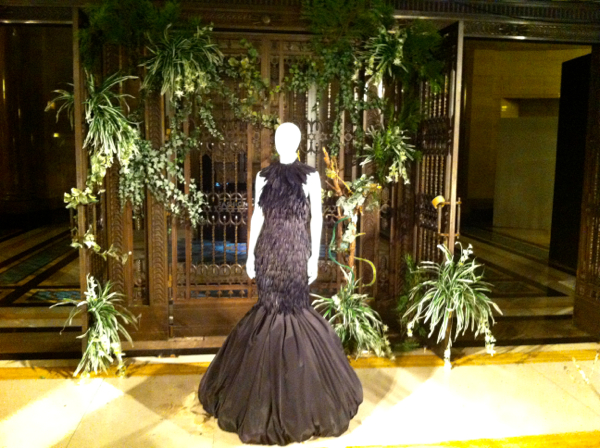 Jay Briggs SS15 'Melusina'
It's based on a 14th century Plantagenet myth, a medieval fairy tale: a prince is lost in the woods, where he finds a woman, Melusina, bathing in the river. He falls instantly in love and they marry immediately (of course) on the condition that she can return to bathe in the woods monthly. Briggs now arrives to continue the tale. Time passed and the prince grows old, but the woman's looks do not fade. Suspicious, the prince follows her to the woods to discover that she is a water nymph, with a mermaid's tail. In the original story, their children have a curse, but Briggs explains that he's changed it: Melusina catches him spying, knocks him in the water with her tail and drowns him.
Briggs has previously presented a collection of headdresses, but this is his debut womenswear collection. Following the fairy tale, there is a black, floor-length chainmail gown worn with a golden crown (the prince), a series of black jewelled and feathered woodland creatures, displayed on mannequins positioned amongst trees, rushes and vines, and a single model (Melusina) making slow, balletic movements in an incredible, white, fully-feathered halter-neck gown with exaggerated hips, worn with a cut-out lace and white feather headdress.
After the presentation, I ask Rena to snap my outfit outside in the sunshine. I'm actually feeling a little woodland fairy tale-esque myself, in wide printed silk trousers, worn with a black vest over a sheer black T-shirt.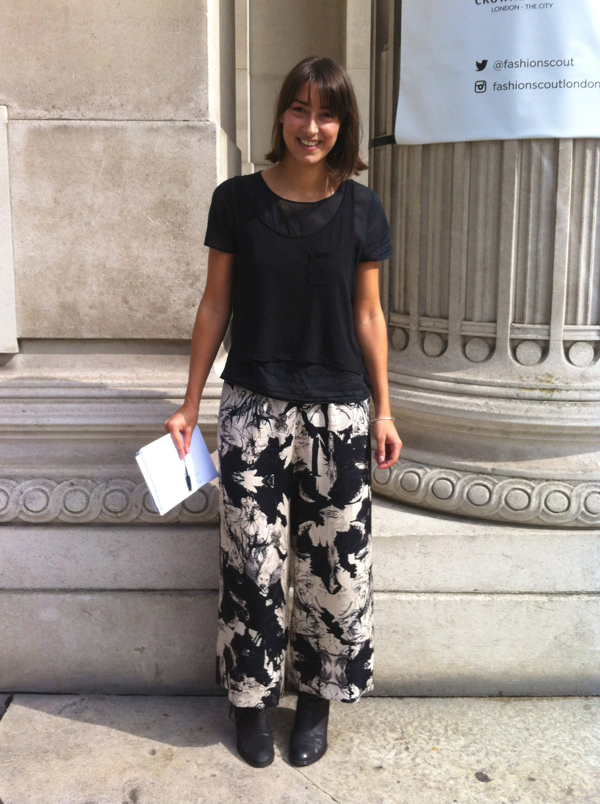 After having a bit of lunch, I head into the Rock Vault jewellery exhibition. Each designer has a bird cage on a pedestal in which to present their wares, but sadly no one is there to chat. My two highlights are Shimell and Madden and Thomasz Donocik.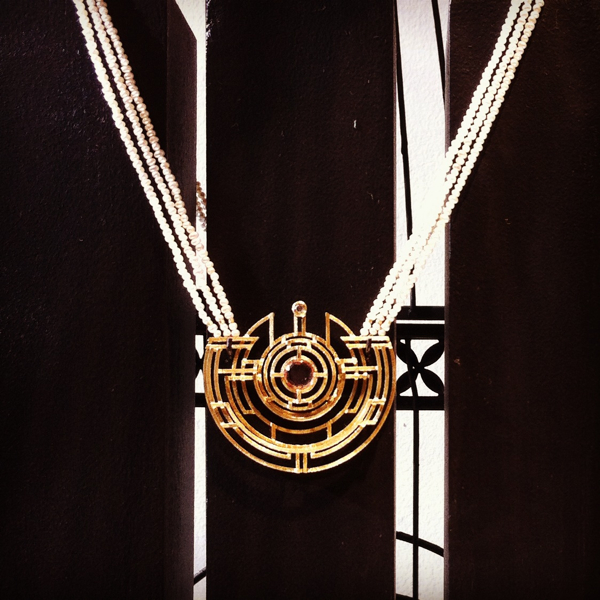 Shimell and Madden SS15
Shimell and Madden are showing a collection of Art Deco inspired gold necklaces and rings, often with an emerald cut stone set in the centre of concentric gold rings. The notes say they are inspired by science, mathematics, nature and time.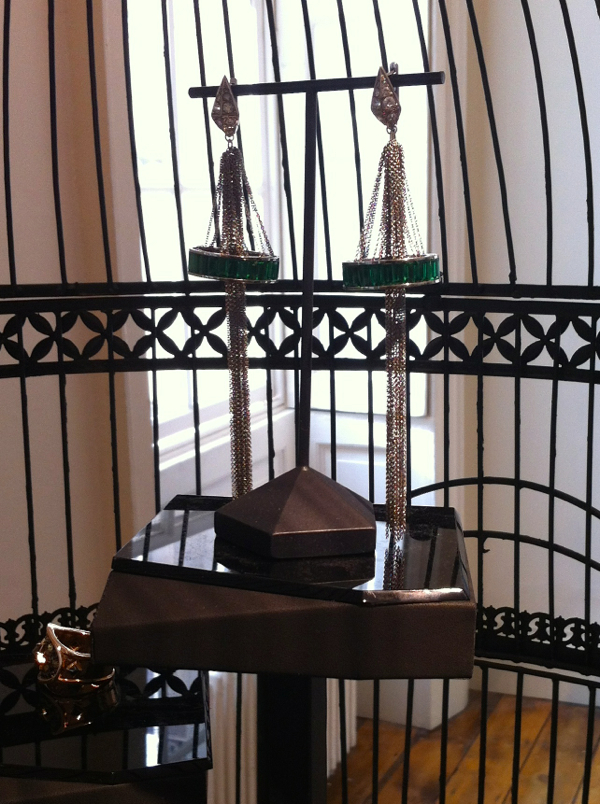 Thomasz Donocik SS15
Thomasz Donocik's chandelier drop earrings and shooting stars ring also caught my eye. With no one to talk to an no press releases about the collections (other than the very generic Rock Vault group notes), I swiftly move through to Hedonism, the millinery exhibition. Noel Stewarts 'The Electric Storm' collection, inspired by video artist Bill Viola's retrospective at the Grand Palace, catches my magpie eye. I'm not so keen on the pink fancies, but I love the feathers, which are half real black feather, half metallic blue vinyl and have a black leather casing around the quill.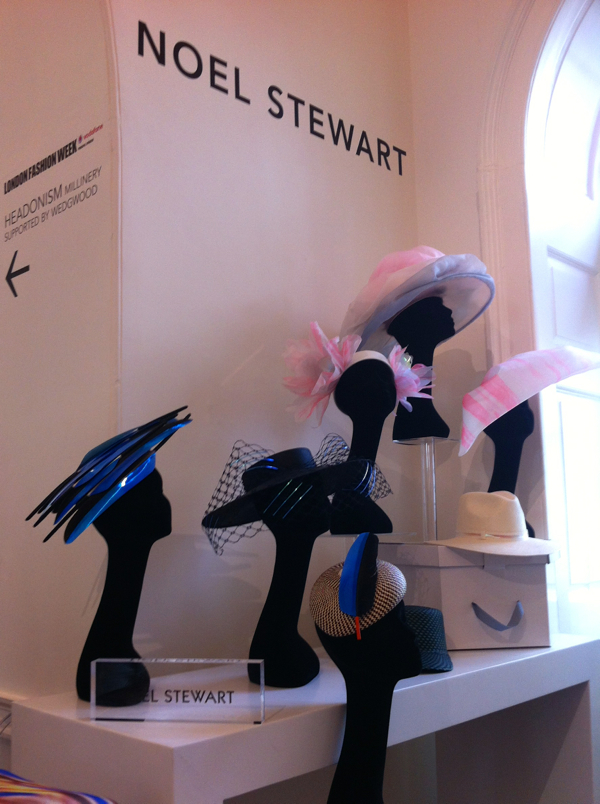 Noel Stewart SS15, The Electric Storm
Next along is the always playful Piers Atkinson, whose SS15 collection apparently runs to seventy RTW pieces! The notes say the emphasis is on 'Summer Occasion' hats, but put away any thought of Rotary Club garden parties, or maybe just imagine them with a lot more LSD than I presume is usually present.
Piers Atkinson SS15
Last but by absolutely no means least is a perennial favourite of mine, Filipino milliner Mich Dulce. This season, Dulce has collaborated with wicker weaving specialist Zacarias to create beautiful basket weave caps and pillboxes with luxurious black leather straps and bows. Kind of sweet, kind of kinky. Love it!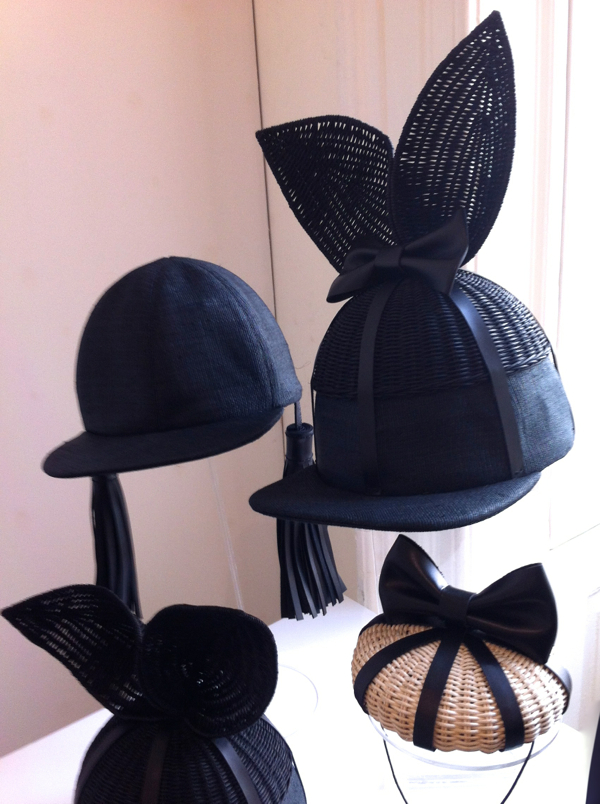 Mich Dulce X Zacarias SS15
Words: Charlotte Gush