We've reached the midway point of fashion week today and thankfully it is a much less intense day for me than the previous two have been. My first show is palmer//harding, held in the atmospheric chapel undercroft at Lincoln's Inn, scheduled at the civilised and Sunday-appropriate time of 1230pm. Sitting under the 17th century baroque arches of the undercroft and reading that the presentation is dedicated to the late Professor Louise Wilson OBE, a sense of history and the passing of time hangs in the air.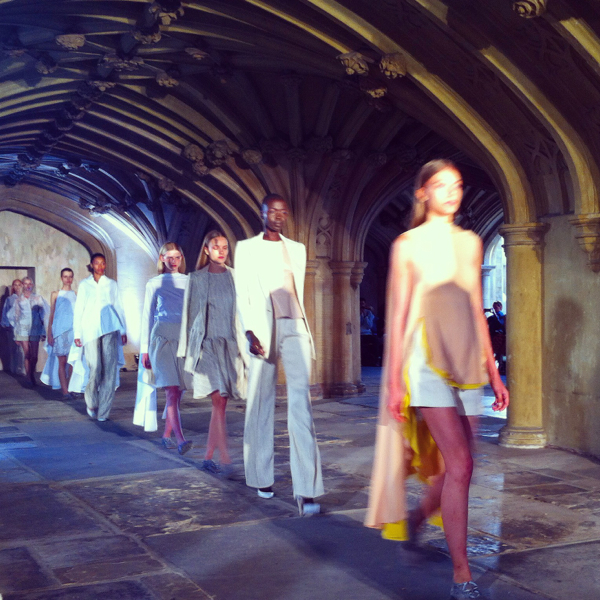 palmer//harding SS15 Lincoln's Inn chapel undercroft
The first few looks have delicately layered pale apricot and lemon crepe de chine shirts paired with wide-cut putty silk trousers or a knee length skirt with a high slit worn over a lemon silk petticoat. An older model with hair the shade of Bleach's 'awkward peach' wears a truly luxurious, putty leather biker jacket that appears to be held together with poppers and has been opened at the shoulders to reveal a lemon yellow silk lining; later there is also a version in duck egg blue. Hot pink and maroon silks are introduced and the contrast makes it easier to see how panels have been stitched over the base layer, with sides left to drape in waves a few centimeters in from the actual seams. The copper of the invite appears as a metallic leather pencil skirt and a sleeveless leather peplum top, worn with floaty apricot silks. A fragile white devoré fabric is cut into tunics and a very wearable sweater shape with the palest yellow cuffs, waistband and collar.
After the presentation, I walk back through Lincoln's Inn FIelds, where swathes of crocuses are in bloom, to Freemasons' Hall for the Fashion Scout Graduate Showcase. Static presentations like this may not have the drama of a runway show, but they do usually give you the opportunity to quiz the designers about their collections and that is what I do. My number one top favourite collection is by James Kelly, a recent MA Fashion Womenswear graduate from the Royal College of Art. Kelly shows three oversized parachute silk overcoats, a parka in army green with a flowing train, a trench in peacock blue and a belted raincoat in khaki, all with sproutings of ostrich feather in complementary shades. The parka has woven mohair 'fur' over the chest and shoulders, which Kelly tells me is from German teddybear company Steiff. The concept is of a girl who cannot get over her ex-boyfriend and so she walks through storms wearing his coats, which are too big and fall off her shoulders. Kelly points out how some of the ostrich feathers have been treated wet-look, to account for the rain. Just brilliant; what an exciting talent.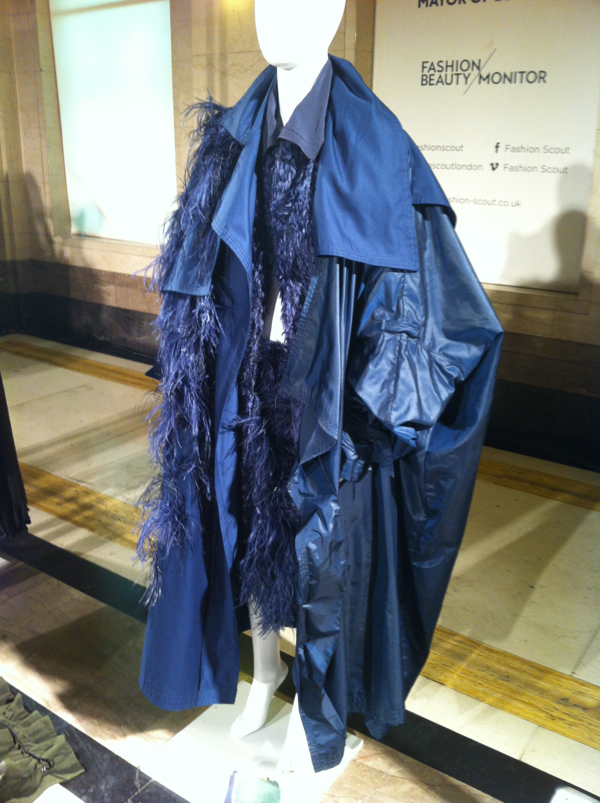 James Kelly, RCA MA Womenswear
I have three second favourites and I refuse to order them, so I'll tell you about them in the order I saw them. London College of Fashion BA Womenswear grad Charlotte Knowles was deep in conversation with another journalist, so we didn't get the chance to chat, which is a shame as her Showtime profile states that she was "inspired by groups who renounce materialism" and I would have loved to hear about her research. A floor-length indigo blue overcoat has grey leather shoulder panels and is covered with clusters of silver porcupine pins.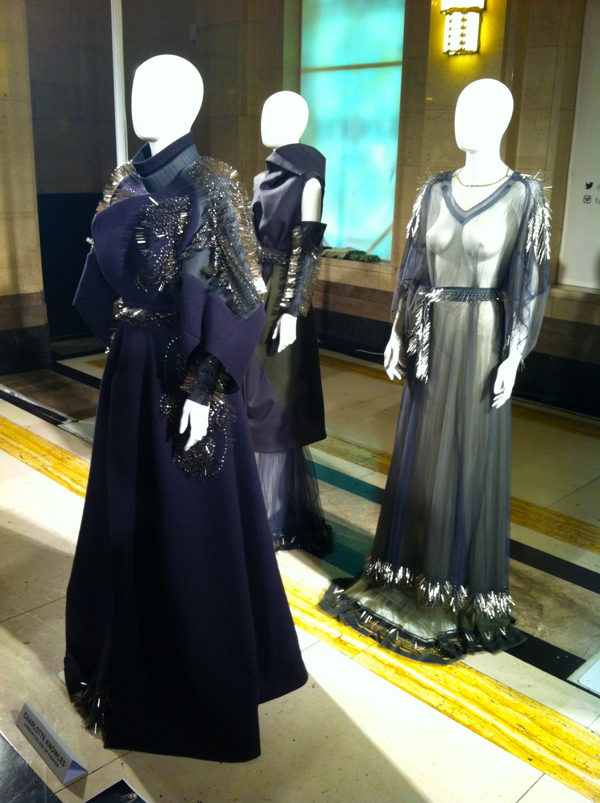 Charlotte Knowles, LCF BA Womenswear
Next along is Quoϊ Alexander, a Central Saint Martins BA Womenswear grad, whose heavy woven creations intrigue and delight. Inspired by the US-based Chinese artist Xu Bing, Alexander started from the idea of meaninglessness and inferred meaning. Seeking to "remove culture" or identifiable cultural references through abstraction – but not minimalism – he encourages the viewer to form their own personal interpretation of the work. The trousers with blue and white fabric woven through workman-orange netting are actually pretty wearable too.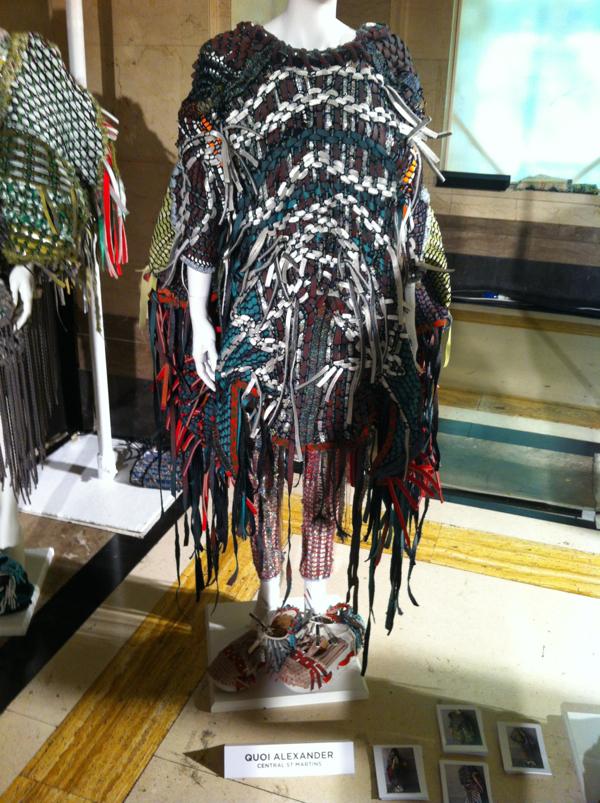 Quoϊ Alexander, CSM BA Womenswear
Last but not least are Jana Dahmen and Luke Bullen, both BA Womenswear grads from London College of Fashion, who have collaborated on a collection of layered silk cape gowns with exaggerated shoulders, 'face' headscarves and melted, painted perspex accessories. Bullen explains that the silhouette started from the theatrical shapes of Tudor royal dress, but that it rather ran away with itself and so the link is now tenuous. Dahmen explains that the layers of chiffon were printed together, so the pattern runs down through them, creating a blurring effect when in motion.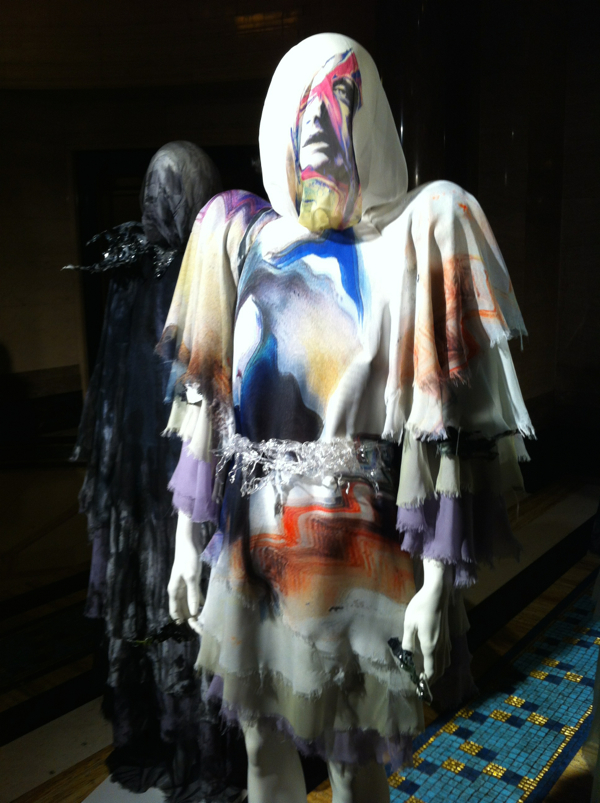 Jana Dahmen and Luke Bullen, LCF BA Womenswear
It is so invigorating to speak to graduates about their work, created in an environment where their imaginations and talents can run wild, sheltered from the often cauterising contemplation of commerciality.
I sit in the Somerset House press lounge for a while to write before heading back to Fashion Scout for the final show of the day, Vita Gottlieb. Intro by The XX plays as the first models appear, wearing silk dresses in pale khaki and navy blue; some are trapeze-line, pleated at the neck and tied at the waist, others are shirt dresses with tab collars and waterfall draping following the breastbone. The name of the show, Microworld, manifests in prints that resemble magnified pollen spores and amoeba. The embroidered white ferns and orange coral that decorate shift dresses and capes – also acting as neck braces and headdresses – are just beautiful.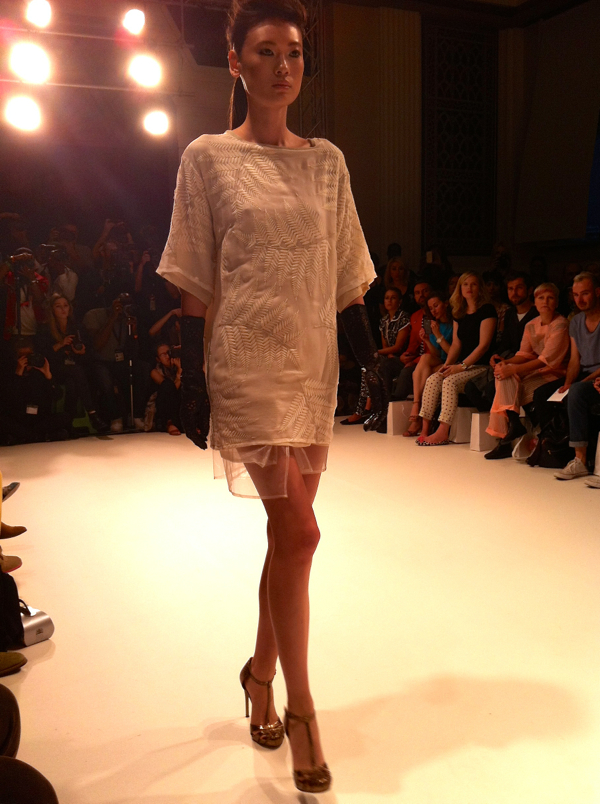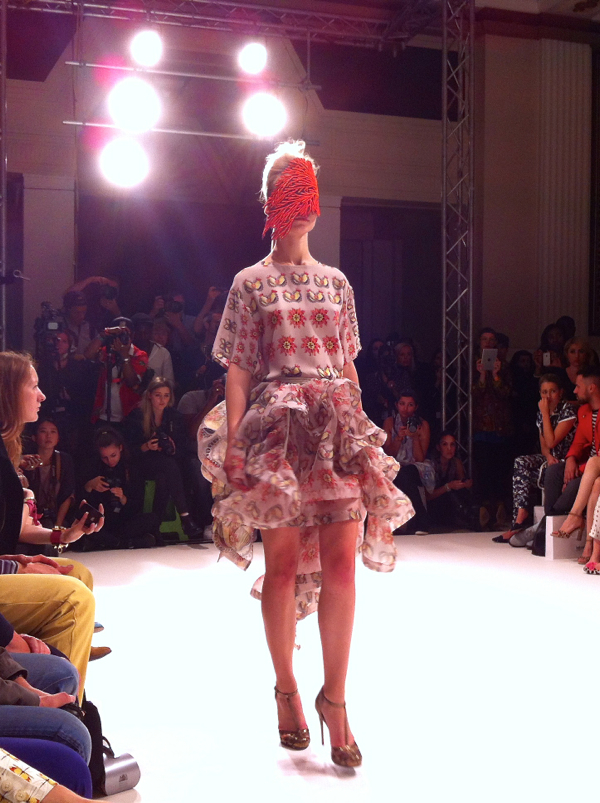 Vita Gottlieb SS15 at Fashion Scout
That's it for day 3 and, true to my word, I even managed to get a snap of my outfit during the day; look how much happier I am! I'm going for a Yohji Yamamoto vibe, with the monochrome, oversized, boxy silhouette and black leather brogues. The trousers have deep folds in the front, so the legs billow much wider as I walk. I'm holding the copper palmer//harding invite.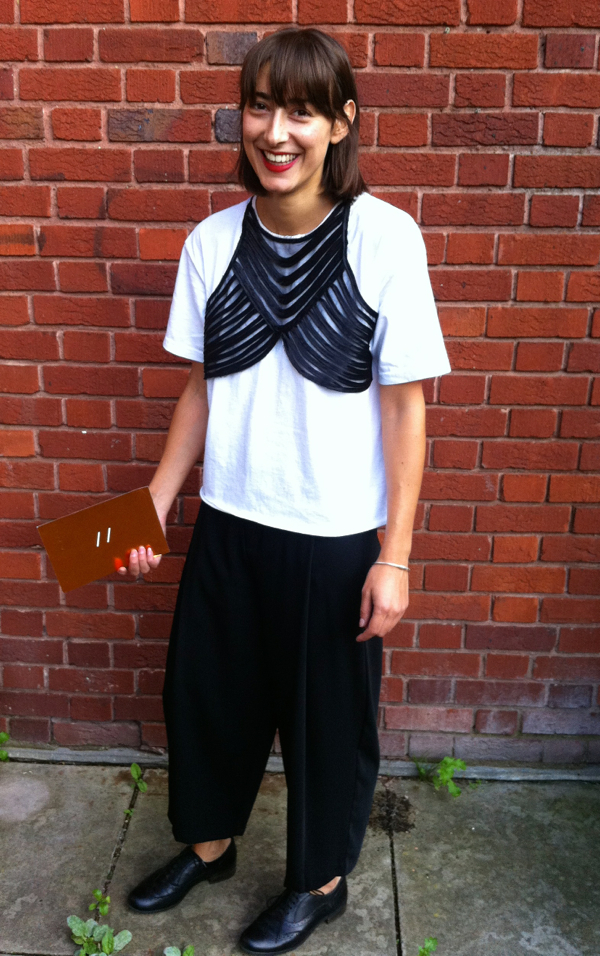 Words: Charlotte Gush