Fashion journalist Charlotte Gush reports on LFW Day 2, featuring Orla Kiely, Asli Polat, Holly Fulton, Nasir Mazhar, Phoebe English and Lucas Nascimento… 
It's an early start and I was not tucked up in bed by midnight last night. I meet Helen – a friend of Phoenix Editor-in-Chief Hannah – outside Victoria House at 0845 to collect my tickets, she's queuing for the very first show of the day, Barbara Casasola. Helen looks relieved that I'm on time. And, I imagine, so do I. The day has started better than expected and I feel pretty smug swanning into Sainsbury's to grab a salmon bagel before heading to the Somerset House press lounge to read The LFW Daily paper. My first appointment is Orla Kiely's presentation at 9.30. At 9.20 I leave the press lounge to find the presentation space. After a confusing conversation with a BFC helper, I realise the show is at The Vinyl Factory… in Soho. Run! My smugface evaporates. Fortunately, the bus gods smile on me and I make it with 2 minutes to spare and a good standing spot.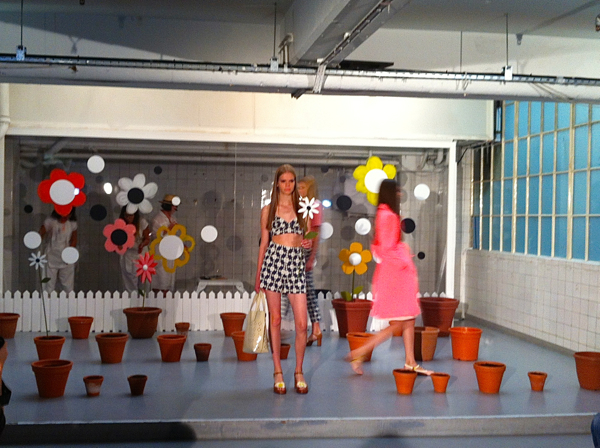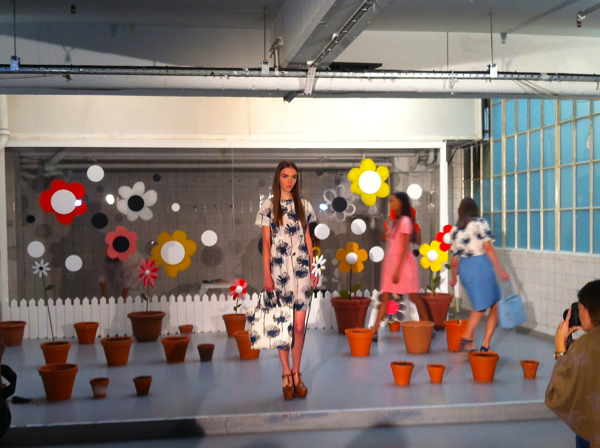 Orla Kiely SS15
On a small platform in front of us stand terracotta plant pots in different sizes, filled with soil, but no plants. Behind them is a perspex screen with black polkadots, and standing behind it are three girls in white painting overalls. As the models file out to Some Velvet Morning, the painters add colourful petals around the black polkadots, creating a growing backdrop of fresh daisies. The notes credit Alia Penner as the featured artist. Each model carries a large daisy, which she plants in an empty pot. Delightful! It is a collection of summery, seventies-inspired separates and loose T-shirt dresses worn with wooden block heels, a collaboration with Clarks Shoes.
I'm playing venue bingo today and now head to Asli Polat, who is showing her debut collection at the ME hotel, on Aldwych. Tickets with gold stars or green dots are called into the lift first and I have to wait a little while for silver stars to be called. I come out of the lift on the top floor into a light and airy triangular loft that has a central island decorated with big white blooms. There are two rows of comfy armchairs all the way around – perfect! Polat is a recent grad of FIT in New York and was selected for their prestigious Finals show. A concise collection of iridescent white, pink and baby blues, the look is girly and sporty, with bonded lace running shorts, cut-out lace skirts, sleeveless biker jackets and ostrich-feather hemmed bombers. Dungarees and cagoules in shimmering metallics are delicately grungy.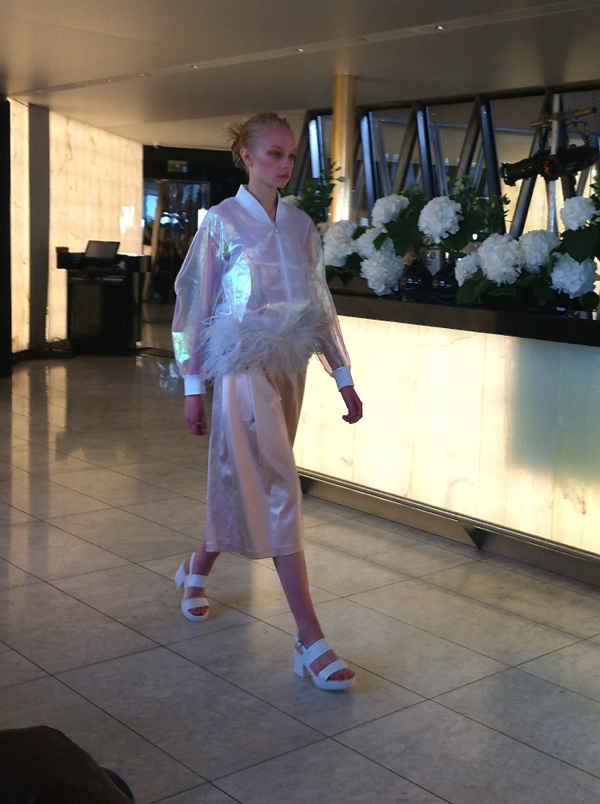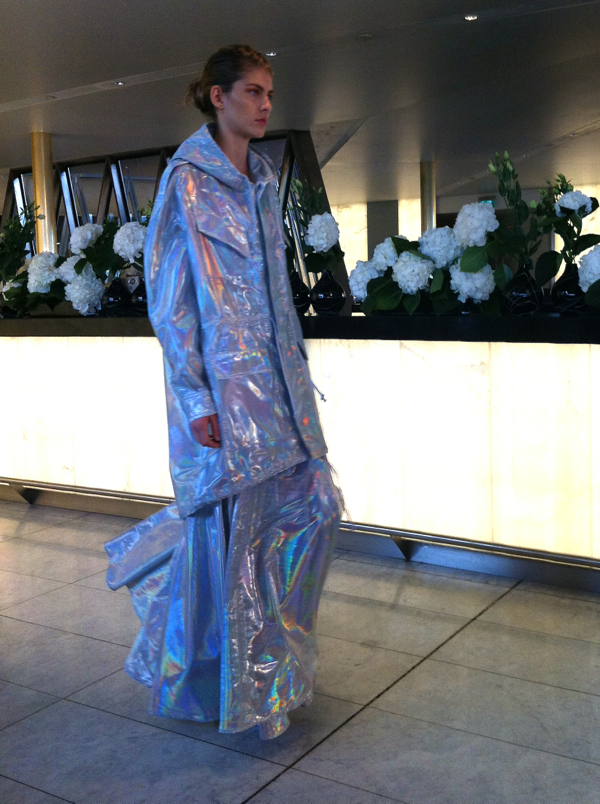 Asli Polat SS15 at ME Hotel
Hot-footing it again; now to Fashion Scout for Zeynep Kartal. Glamorous feminine evening-wear is her game and this season she presents flowing gowns with necklines slashed to the waist in aureolin yellow or pale pink with floral print panels. Flared-leg jumpsuits add some diversity of silhouette, as do embellished bodys (an elegant swimming suit shape) worn with flowing silk capes. The striking, slightly autumnal make-up is by by Phoenix Beauty Director Lan Nguyen-Grealis.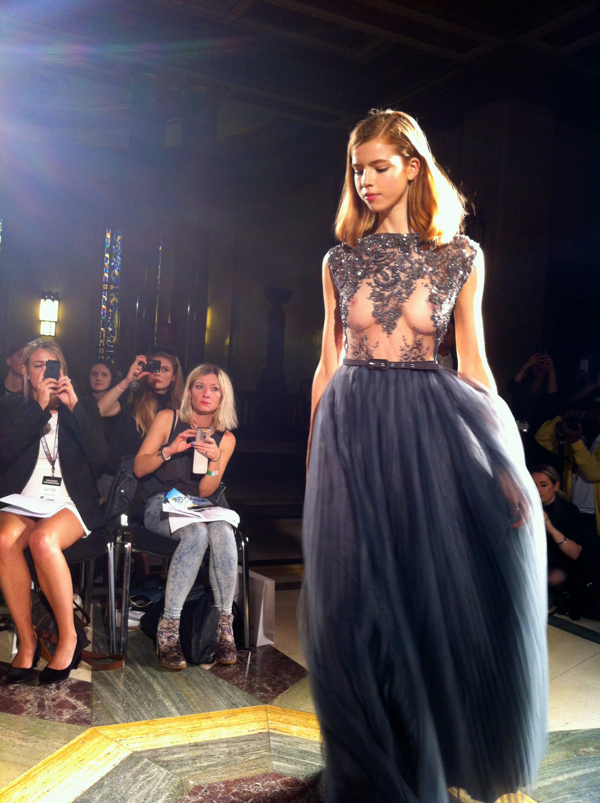 Zeynep Kartal SS15 at Fashion Scout
After sitting to write in the media lounge for a while, I head back toward Somerset House. I get back to the press office to find both coffee machines are out of action. Restricting press access to coffee is risky business; people are threatening to eat the pods. A man comes to fix it just in time for me to grab an espresso and run to Holly Fulton, where I bump into Ishwari Thopte from the Centre for Fashion Enterprise. We instagram the beautiful posies of flowers on the front row and play Guess the Catwalk Wifi Password. The BFC have a whole day of events around tech and digital, but they can't get press wifi in the main tent… hmm. Spectacularly, Ishwari guesses the correct password (following a pattern from around the site) and we connect just as the lights go down for the show.
The first look out is an oversized car coat in white, with a black chequerboard print and graphic interpretations of folk motifs: flowers, leaves and, err, what look like radioactive symbols! Worn with a pale lemon yellow T and wide-cut white trousers, the look epitomises modern, arty elegance. The notes describe the collection as an ode to sun worship and the sun dresses are really beautifully executed. Simple, sleeveless silhouettes with plain loose skirts often have ornately decorated tank-top over-layers, embellished with woven monochrome patent leather, appliqued flowers or laser-cut patent leather. The accessories deserve a mention for being effortlessly stylish and cool: plain, 3-strap leather sandals in combinations of black, white, aquamarine and red; and bug-eye sunglasses with pastel frames, a collaboration with Cutler & Gross.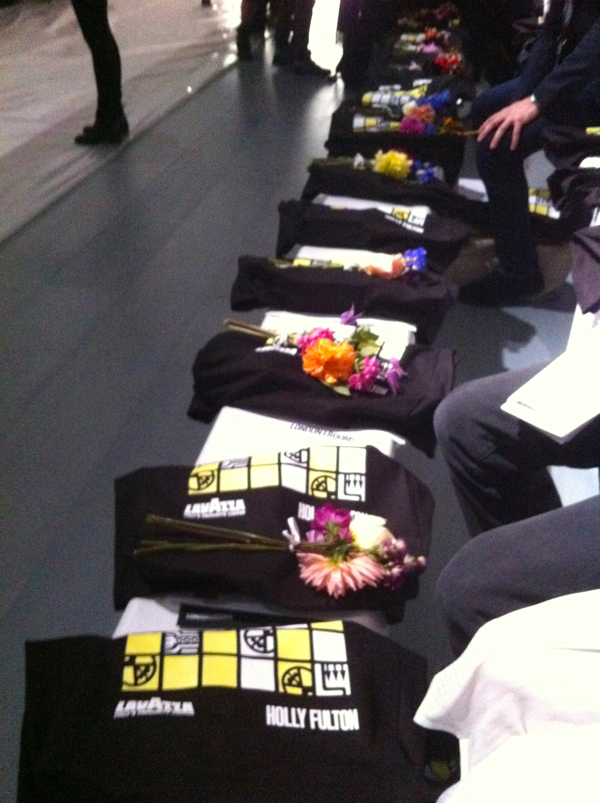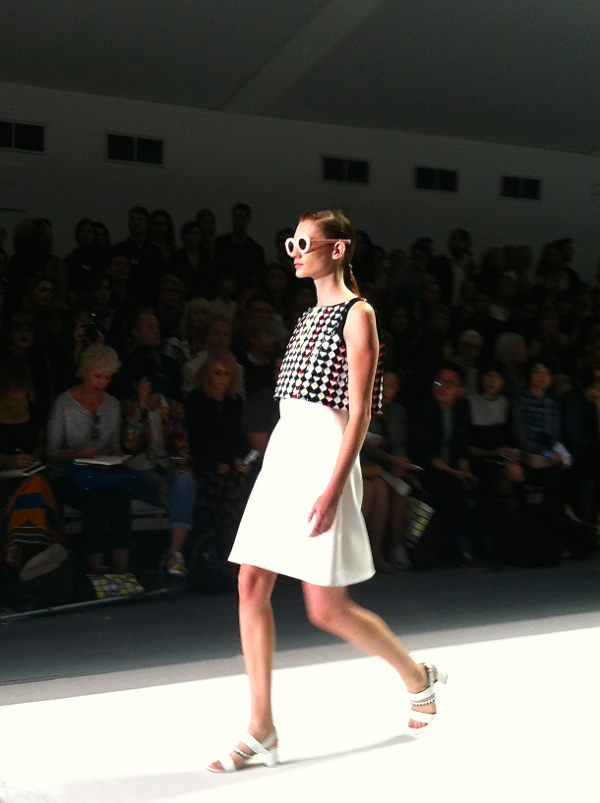 Holly Fulton SS15
Up next is Nasir Mazhar. There are no notes and as usual the collection is full of achingly cool urban sportswear, with overt branding. There was a definite sci-fi vibe, with metallic fabrics, alien-eye sunglasses and silver antenna headdresses. Branded elastic garters held up curtains of billowing fabric around the models' legs, kept in place by chunky suspender belts. Mazhar gets extra Brownie points for championing diversity and casting models in a range of shapes, sizes and ethnicities. Fashion is boring if everybody looks the same.
Nasir Mazhar SS15 walk out
Now, I must confess I am in love. Ever since her AW13 show, themed around sightlessness at what was then Vauxhall Fashion Scout, I have been head over heels for Phoebe English. It is a fashion crush so colossal I was actually nervous-excited (like before a big night out) while queuing for her Somerset House presentation. The collection did not disappoint; it never does. In the centre of a small circular room stands a circular stepped platform, originally designed for a theatre production by English's mother and built by her father, they are now reinvented as an installation with glass stalagmites, creating a "floor chandelier". A boxy television plays a glitchy film by Susu Laroche, based on the four humours: blood, phlegm, yellow bile and black bile. The original score by Stanley Schtinter is a loop that begins as sparse noises, becoming increasingly intense, until it cuts out suddenly to replay. It seems odd to have said so much about the setting and nothing yet about the clothes, but with such a conceptual collection, the context is very much part of the creation. The Phoebe English signatures are all here: raw cotton and fine muslin; 'unfinished' fraying hems; and visible seams and darts, evoking an x-ray. This season, English added exaggerated guipure d'art on over-sized square net and a collaboration with illustrator Helen Bullock introduced bright paint marks to layered, crisp white shirting. Devastatingly beautiful and endlessly engaging.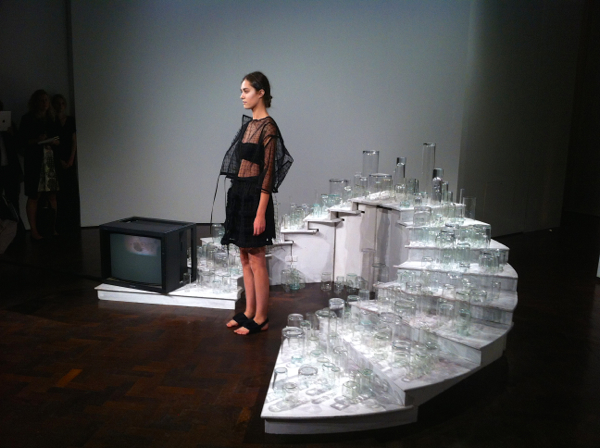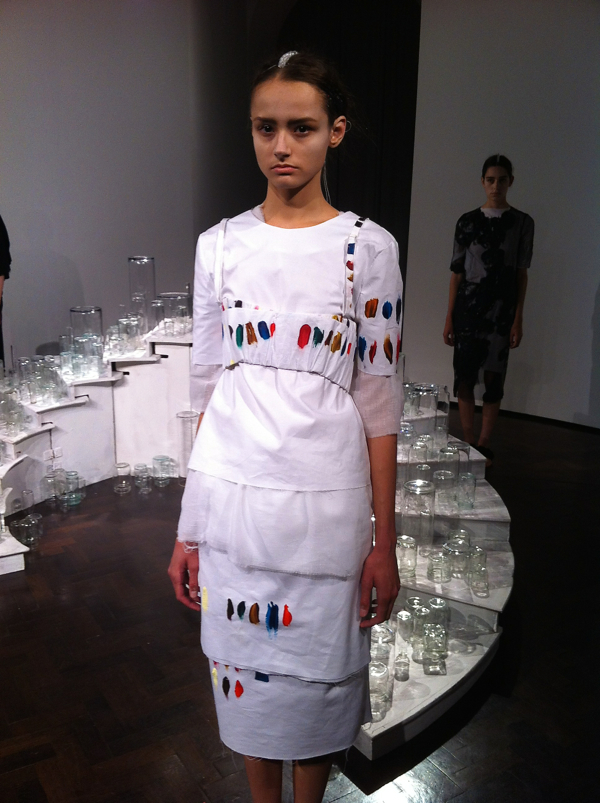 Phoebe English SS15
My final show of the day is Lucas Nascimento, back in the main tent at 1930. The show is running late, so there is ample time to read the notes, but it has been a long day and I am struggling to make any sense of it. "Complexity rises in a light aura of an extremely determined yet relaxed woman", anyone? I don't know what to expect. The opening look perks me up; shimmering persimmon and grey diagonal striped tapered trousers are worn under a tangerine apron skirt, tied at the hip and billowing open, and topped with a fine-knit, lollypop-orange sweater that covers one arm and half the body, held around the neck by a standard ribbed collar. Sheer tailored trousers are paired with clean, open leather tunics in taupe and fabric is draped sari-like across shoulders. A chartreuse silk parka jacket with drawstrings paired with sheer, flared trousers in the same hue is a highlight. I'm not so keen on the knitted jacquard recreations of artist Nina Fowler's monochrome drawings, but the people seated around me love them; it's a matter of taste of course, but they are clearly beautifully rendered.
Lucas Nascimento SS15
That's it for me for day two; I'm absolutely dead on my feet. Which makes me wish I had asked Ishwari to snap my outfit during the day, but instead you get another grainy late night shot, sorry. I'll try to nail it tomorrow, the mid-way point of fashion week. Here, I'm going for evening grunge, with a dark navy silk tunic that has a tailcoat-style back, worn under a dark denim jacket that has shredded elbows and shoulders.