Fashion journalist Charlotte Gush gives her run-down of LFW Day 1, feat. Jean-Pierre Braganza, DAKS and Shrimps…
I always enjoy arriving into Temple station on the first day of fashion week, registering the slightly confused looks of the morning commuters who rarely see such a volume of extravagantly dressed peacocks on their morning tube. Just as I'm walking into the courtyard of Somerset House I send a #FF (Follow Friday) tweet to fashion people I'd like to see. Just as soon as it's sent, I bump into photographer Dan Sims and illustrator Sophie Parker, a lovely, smiley pair I've worked with at All Walks Beyond the Catwalk.
J. JS Lee SS15 walk out
My first show of the day is J. JS Lee, who usually shows clean, delicately sculptural shapes with interesting textures. The show notes explain that Lee was inspired by friend and artist Meekyoung Shin's soap sculptures and pressed flowers. The house standards were all there, along with neat, Wimbledon-appropriate pleats and the addition this season of an abstract 'botanic motif' in shades of blue on billowing white silk separates. The stand-out look was a matched pairing of tailored, tapered trousers and an elegant work shirt in the botanic motif silk. Celebs in attendance included Jimmy Choo, Delilah (dressed in a woolly jumper and long white overcoat in 20 degree heat) and MIC's Milly Mackintosh.
http://instagram.com/p/s0X4hHnBu7/
Joshua Kane's Grey Skies launch
I'm a little hungover from bespoke tailor Joshua Kane's luxury jewellery launch last night and I am starving, so I locate the press room. I fail to make a coffee, but the lovely Lavazza guy helps me out. I scoff a Nature Valley bar, connect to the wifi and sit down to type.
Next stop Teatum Jones, just a little walk away from Somerset House at 2 Temple Place, a Victorian mansion. The room is spectacular, with carved wooden panelling and stained glass windows. The music starts, but instead of models opening the catwalk, a full choir in robes walk out! Inspired by Nina Simone, the collection was beautifully textural, with 'unfinished', fraying hems and inside-out seams, sculptural high collars and jewel embellishments.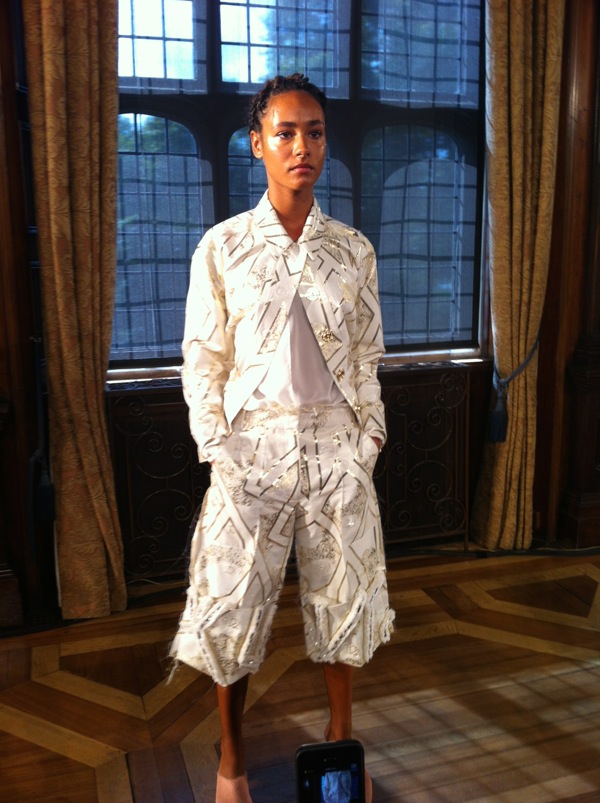 Back at Somerset House, I have a few minutes spare, so I nip into the Toni & Guy Blow Out Bar for a fringe trim – thanks to Georgia, I can now see the shows!
Next up, DAKS at the Royal Opera House. The space is so light and elegant, a huge atrium of iron and glass at one end, with the opposite wall covered floor to ceiling with mirrors; refreshing! The opening look has navy, slim tailored trousers with a full-length pinafore in delicately pleated mauve chiffon, unfastened to the breast and floating along in the model's wake. The collection continues this theme of elegant tailoring and floaty silks, but it's not prim, more coquettish. A pleated silk blouse with a dramatic hood is the showstopper for me, but a pearlescent white trench is also arresting.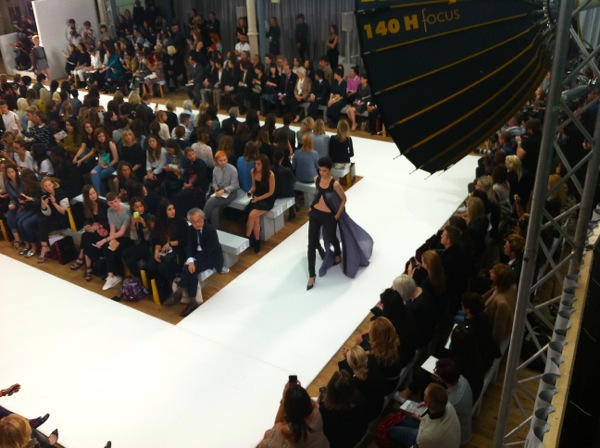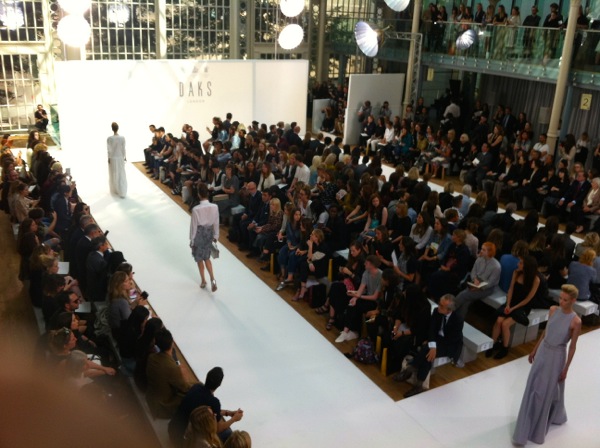 I dash from the Royal Opera House over to Freemasons Hall, home of Fashion Scout, for their Ones to Watch showcase. I arrive 10 minutes late, but the queue still hasn't gone in. I have another show, Eudon Choi, in 20 minutes at Somerset House; if I don't go now I'll miss it. I spot an Itsu and the opportunity to have lunch, so I leave Fashion Scout, grab salmon on a bed and head back to the courtyard. I eat my lunch in the queue – I have an appetite and apparently no shame. Fortunately, I bump into some people I know from the Fashion Innovation Agency, so I feel less exposed.
Into Eudon Choi, where the show notes say the collection was inspired by natural forms as interpreted by artist Georgia O'Keeffe "from precise realism to poetic abstraction". There's suiting in small, detailed floral prints, with sections of pleating and unexpected black accents: a strap here, a contrast sleeve there. Pleats are definitely having a moment, I've seen them at almost every show today. And workwear too, Maoist Long March-style jackets appeared at Choi and Teatum Jones, mirroring trends from New York, led by Marc Jacobs.
Eudon Choi SS15 Abiquiú
My phone is running out of battery, so I hot-foot back to the press lounge to recharge as I'm supposed to grab a few words with Jean-Pierre Breganza after his show, up next.
It's an explosive opening at Breganza's ARCHITECTONIC show; the first model storms out to Daniel Avery's Drone Logic in a silk shirt dress and dinner jacket in bold geometric monochrome and taupe with crystal epaulettes. There's a distinct 1920s Metropolis vibe; Art Deco graphics meet flapper embellishment, with stunning beading and black feathered hemlines. The motorcycle motif of the invite is interpreted as a print on draped silk dresses and in the details: tabbed biker collars and D-ring ties.
After the show I rush backstage and wait for the celeb (Rosie from MIC, apparently) meet-and-greet to die down before grabbing a few words with the man himself. The notes say the collection was inspired by Detroit.
Why Detroit, in particular?
"Detroit's so cool! The idea of Detroit being a metropolis, a heavy city, then all of a sudden due to the economic times and industry leaving, it's withered away, but it's part of that beauty, that derelict dystopia that I'm so enamoured with."
You always create an amazing balance between hard and soft, and in this collection, machines and nature, I say.
"I'm a science fiction freak and I love industrial design, so I incorporated my love of abstract expressionism and melded it together."
The notes say you found inspiration in the "temporarily peaceful equilibrium" between the natural and urban world. What's to come, the apocalypse?
"It's inevitable. I don't really enjoy the term 'apocalypse' because it's a bit biblical, but there is an end; no, not an end, more like an evolution. In my humble opinion, I think – god, I'm going to say this in an interview?! – extraterrestrial lifeforms are going to come and teach us the way!"
Yeah?!
"It's going to happen, and I think in my lifetime."
If the apocalypse is anything like Braganza's show, it's going to be beautiful and really fucking cool. I'm kind of OK with it. Thanks JP!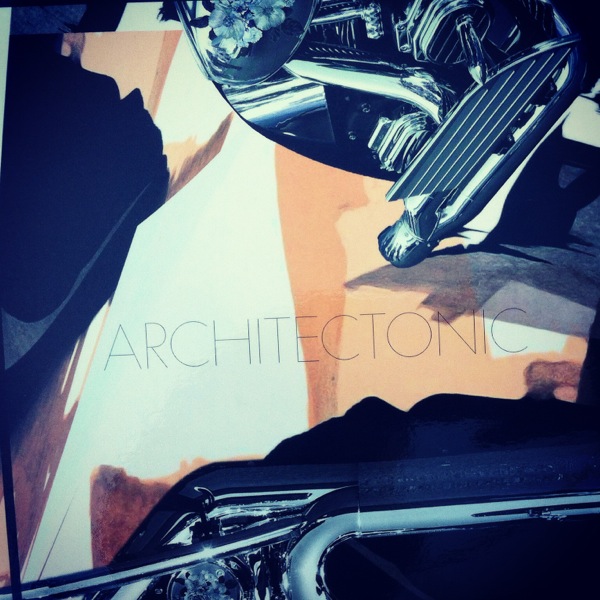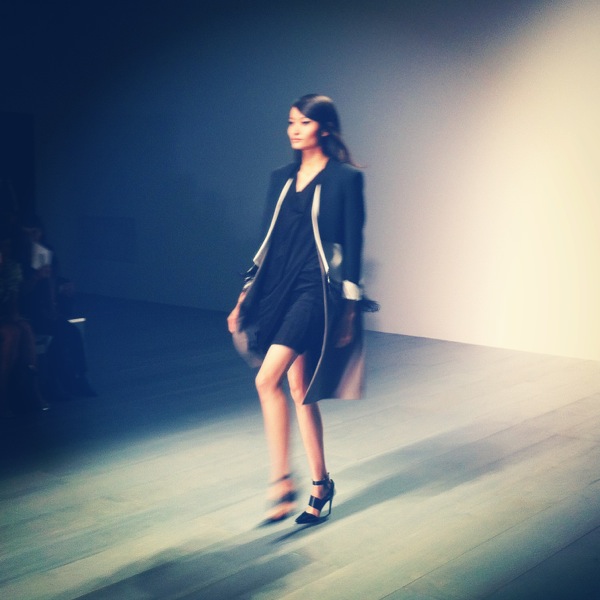 Next stop, Shrimps! Everyone's favourite fake fur fun-time girl. The tippets worn by the PRs are so luxurious they look like real fur. "Is it real now?" I ask, with obviously noticeable sadface. "No!" they exclaim, "But she's added loads of amazing new material: faux horsehair, faux stingray; it's amazing!" And it is. Inspired by the Flintstones, Pleasantville and rocky stone landscapes, the collection is effortlessly cool, the level of retro appropriation is just right. Oyster silk pajama suits with bed shorts or cropped bottoms come in plain silk with shrimp-pink piping, shrimp prints or an art-school cartoon face print. The fur jackets are boxy and come in shade of grey and dusty pink, leopard or canary yellow. I lust hard over a pastel pink faux stingray biker jacket with gold zips and a grey fur collar.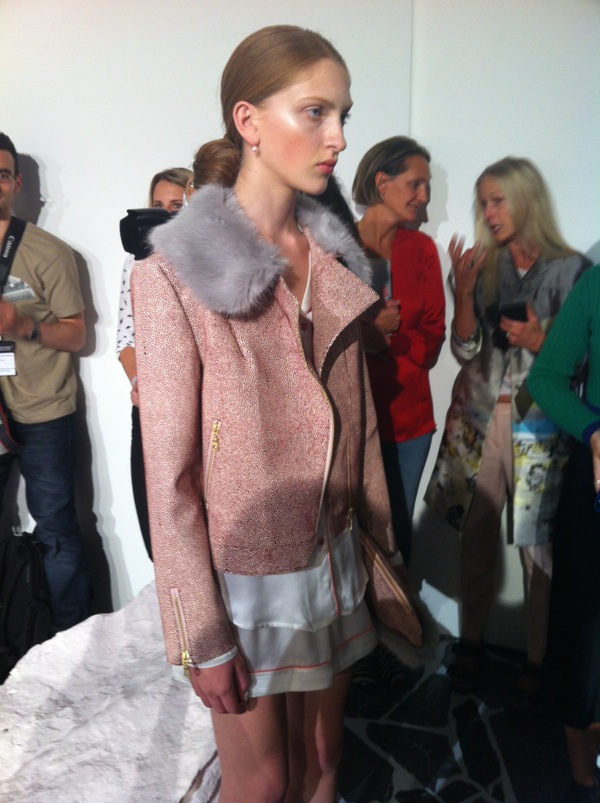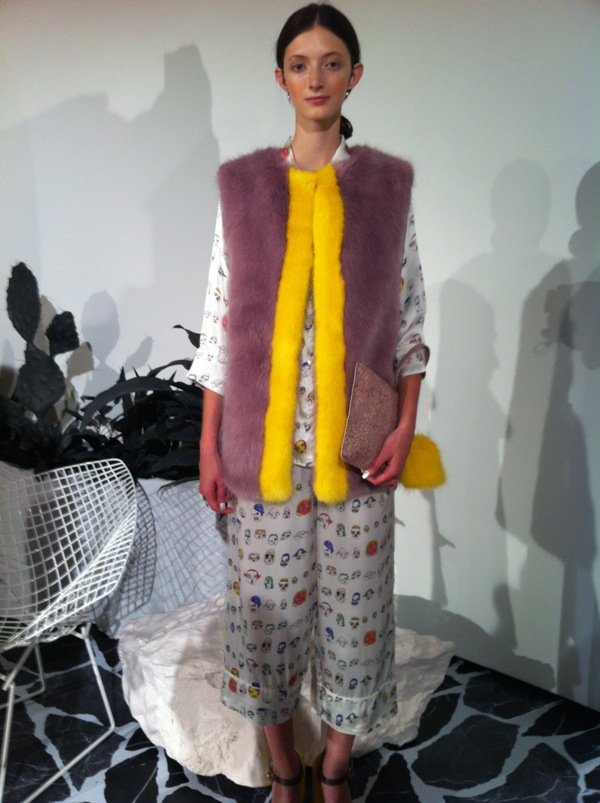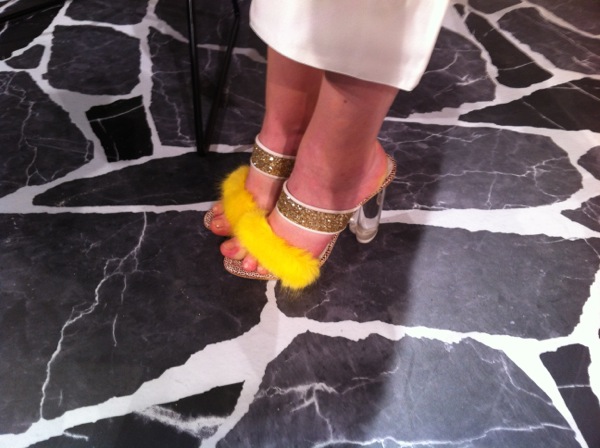 Ashley Isham at Fashion Scout is up next, but when I arrive, the previous show (Hema Kaul) hasn't even gone in yet. I head to the press lounge and eat a pot of frozen yogurt that a male model just thrust at me. In there, I see Caryn Franklin, who I work with at All Walks Beyond the Catwalk. Her next show is Sadie Clayton, a mutual friend of ours who is showing in St Giles in the Field church, off-schedule. Sensing that Ashley Isham will be very delayed, hot and sweaty, for the second time today I cut and run. Caryn and I swap show stories as we walk to the church, where Sadie's eclectic friends and fans are gathered; they're a really good-looking bunch. We're seated in the pews and read the notes. Entitled Pomp & Do the collection is inspired by the Pompidou Centre in Paris. The famous building's exoskeleton is interpreted as white cut-away swimwear-style suits under sheer mesh skirts and cropped, cut-out tops. The looks are finished with architectural headwear by milliner Mary Franck.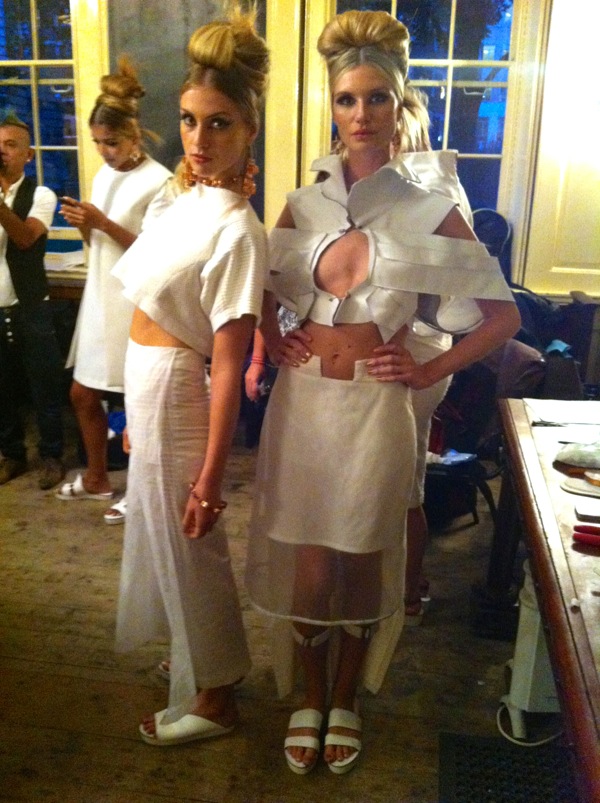 That's me done for the day. Double kisses all 'round, dahlings. I thought I might get away without snapping what I wore, but here it is, at the end of a long day! I was going for Seventies glam rock: