There's those moments in life where things can get a bit surreal – and Saturday's Markus Lupfer presentation was most definitely one of these moments. Hanging carrots, floating flowers and falling autumnal branches were slung from the ceiling of the beautiful neo-renaissance 10 Carlton House. The fashion pack – who were sporting a high proportion of Lupfer's sequin-clad sweaters – were cooing over cutesy little white bunnies which inhabited floating bubbles in the corner of each room. Pixie Lott, in her SS15 Markus Lupfer orange 'tweedy' playsuit and gigantic python stilettos, posed with a rather distressed looking bunny. All the while the models were, much like the bunnies, gloomily posing betwixt the falling vegetation sat behind Markus Lupfer x Linda Farrow perspex cat-eye and daisy sunglasses. These are a must-haves of the collection. Prints tied the whole collection together – with geometric leaves in khaki and lavender, a sort of 'Bambi in the branches' silver jacquard, and an oversized strawberry plant pattern. These alluring motifs crept their way onto zip-up A-line dresses, boyish suit trousers, bomber jackets and a baggy winter parka. Shoes were playful variations upon the same sneaker: glitter toe caps and embroidered sides in the collection's aforementioned prints, and colours – khaki, lavender, black, maroon and navy. Lupfer managed to produce what felt like a more adult collection, and the set served to highlight his 'walk through the secret garden' inspiration, rather than overshadow it. But, although the bunnies were cute, one couldn't help but feel it was a rather unnecessary PR move at the expense of potentially distressed live animals. Otherwise, Lupfer maintained his ability to produce wearable clothes in beautiful cuts and prints.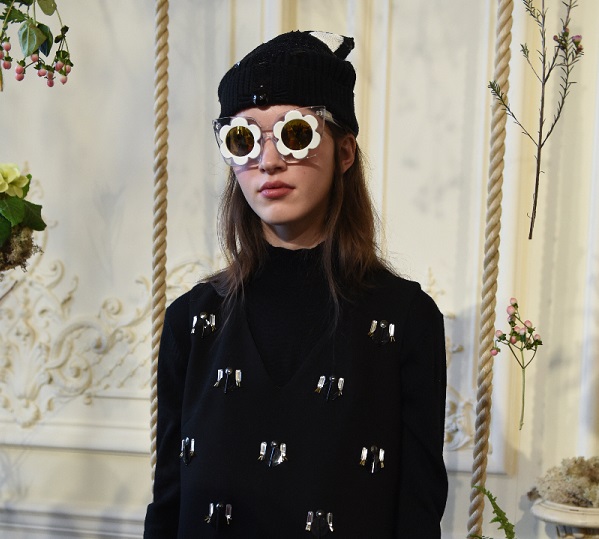 Next, over in a book-less library somewhere in Bloomsbury, Rejina Pyo's models weaved around big boulders in the dimly lit dark wood room. The crowd bustled in, peeping over each other's heads, to get a glimpse of the CSM graduate's rather minimal, Western-inspired collection. With much more subtlety than Markus Lupfer, raw silks in navy and black were gathered finely at the neck and pulled tightly across the body. A black suede Western jacket, with a little kick skirt to match, had gold appliqué delicately placed in a kind of cloud-cum-cow-print pattern randomly across it – this featured on silk skirts, and body hugging dresses across the collection. Gowns in caramel and navy velvet curved up from the sternum to the shoulder, providing a flattering neckline to these beautifully svelte creations. A rather Comme-inspired long A-line skirt, in what looked like black wool, with apron panels at the front and the back, added an element of cool to the collection. A drastic change from her geometrically cut paint-and-check pattern skirts from SS15, this collection seemed more considered. The theme was explored thoughtfully – giving off less of a 'cow-girl' vibe than other designers have – Pyo's fragile fabrics and pared down designs were ultimately wearable and stylish, and each piece felt like it could have been dressed up to the nines or down and dirty.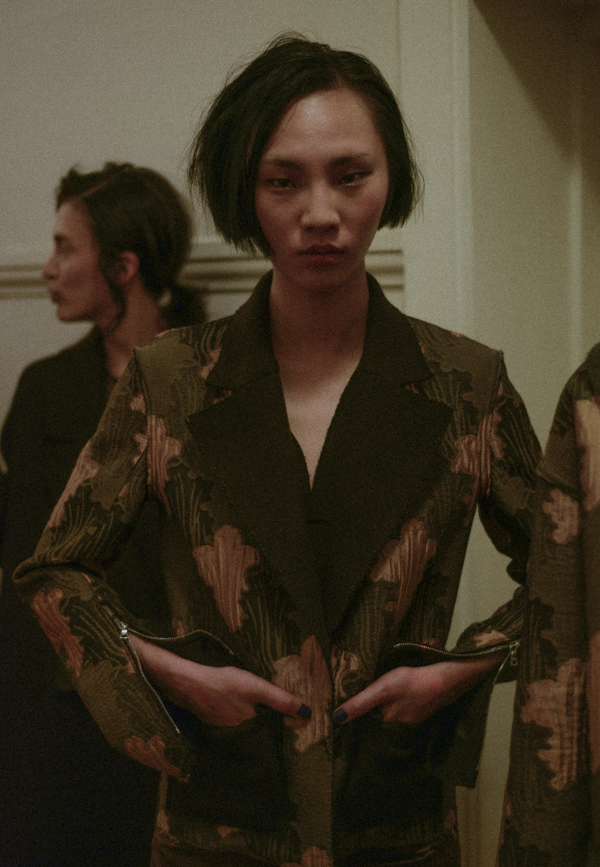 Two down, three to go.
Words: Tom Rasmussen