"I think what I often see is that people are frightened of fashion, and that because it scares them or makes them feel insecure… they put it down." 
– Anna Wintour, The September Issue
Upon arriving at day one of London Fashion Week it is difficult not to empathise with those people Wintour is talking about; reams and reams of the most fabulously dressed individuals swarm atop the cobblestones of the impressive neo-classical beauty that is Somerset House. This style arena is brimming with fashion in its many forms – from the mesmerized fashion fan to the terrifying magazine editor – and everyone's outfits are meticulously considered and constructed from the tips of their toenails to the ends of their hair.
So of course this is daunting – in a space where people devote a large part of their lives to clothing and image, in a space full of the industry's taste makers – it can make the most secure person wish they'd worn that other pair of shoes or a different combination of rings. Yet by the same token, the moment you have queued, shuffled, checked your outfit, squeezed, checked your outfit again and finally reached your seat this external fashion hierarchy seems to drift away, with audiences collectively united by what they came here to see – the designs. This is what LFW is really about.
It is so refreshing to see a female designer exploring the realms of female sex in their work: Jamie Wei Huang and her nymphomaniac collection was certainly this. Taking a much more daring road than in previous seasons, Huang's models skulked down the Fashion Scout catwalk to what sounded like an unexpected marriage of heavy metal and deep house, kitted out in bold patent platformed chelsea boots, their hair wrapped tightly around their necks. So often male designers who produce clothes for the 'sexual' woman base their entire collections on female sex at one extreme: bondage style bags and accessories, corsets and thigh high boots, and chiffon shirts which happen to casually drift open to reveal a glimpse of nipple. What is so empowering, for the wearer, about a female designer working with such a strong theme is that the display of sex in the garments were all at once practical, wearable and workable. Boxy full length dresses made of incredibly fine leather were strapped at the collar bone by quick-undress snap fastenings; knotted leather laces tumbled to the ankle from the hip, beneath which a significant amount of leg peeped out, and oversized jackets with shearling seam detail in reds and blacks would keep the wearer warm enough to wear nothing but skin underneath. With a colour palette of blacks, blues, reds and oranges – none of which were intensely bright – Huang's offering for AW15 is as easy to wear as it is to take off.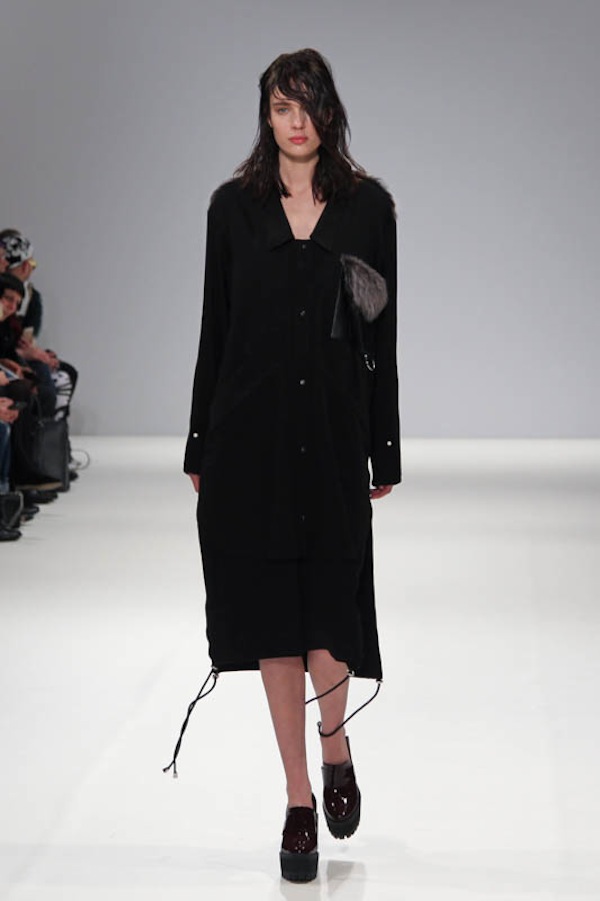 Meanwhile, back at Somerset House, the Bora Aksu show took its place at the opposite end of the sex spectrum. The designer finding his inspiration from Oscar Wilde's songbird, the press release then asks 'What is more precious than love?' The pre-state saw speakers blasting out a violin solo with soundbites of tweeting birds layered on top, before the show started with what genuinely was a melody from Les Misérables being played on the violin. Models wandered down the catwalk in blues, pinks and beiges formed into full silk skirts and Victorian pussy bow shirts. With feather cuffs and matchy matchy heeled booties, the first half of the show was absurdly twee – and not in the good way. The beginning of the offering was not an exploration of love in any interesting form – just beautiful girls in beautiful dresses looking beautifully conservative. But half way through, out of what seemed like thin air, arrived a selection of delicate, intricate dresses – made of melting crochet, layered above form fitting raw silk, with areas of localised lace partially distorting the silhouette at the shoulder or the thigh. In black, lavender and mauve, these dresses were absolutely on point, and seemed (finally) to capture love from multiple angles: romance, confusion, obsession, torture… the list is endless. After a rather mixed bag at Bora Aksu, his offering really does remind us that when executed thoughtfully a garment can make you see a thousand different words in a thousand different languages all in a single glance.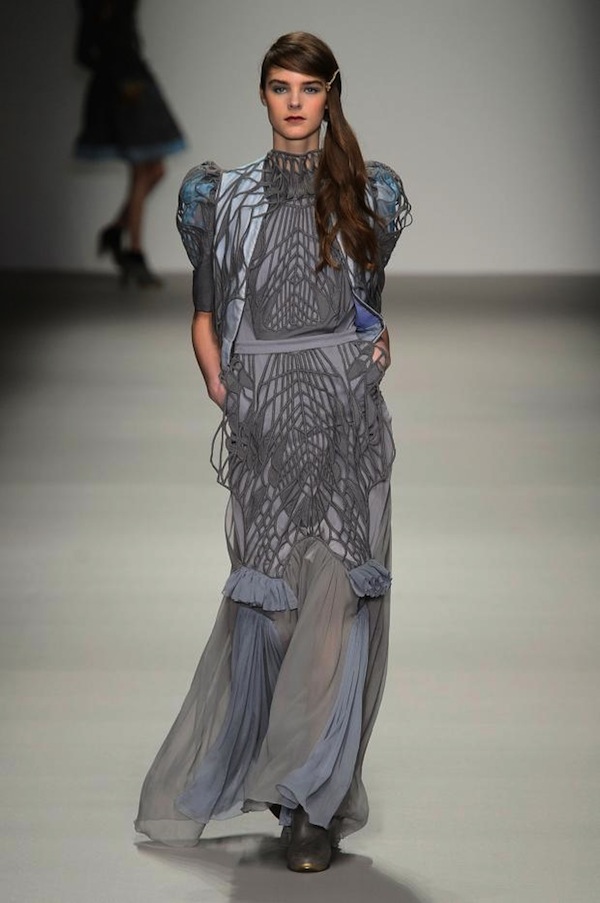 And from tweeting birds to sixties sex symbols, the semi-celeb studded Felder Felder show was apparently based upon Berlin's Kommune-1 – and their muse was none other than the politically radical, über sexy Uschi Obermaier (Google her!) With groupies such as Jimi Hendrix and Mick Jagger, and one of Helmut Newton's regular subjects, it was no surprise that Felder Felder's interpretation of Uschi wore intricately embroidered, entirely sheer kick flares and high-necked tank tops. Towering platform T-bar heels in all-gold or all-black clacked on the marble floor of the beautiful Vestibule runway – lit in part by the dull London day pushing its way through gigantic stained glass windows. Electric blue glistening thread formed checks across tight, translucent 'late night looks'. Plunging necklines delved to the naval, and oversized laser cut leather sleeves gave a sixties silhouette to body hugging upperwear. It was this portion of the show that captured the sex, the rock n roll, and the glamour of the period – and it was stunning. With 'Don't hate what you don't understand' as their tag line for the season, the identical twin design duo really did capture Uschi's spirit, both in style and attitude.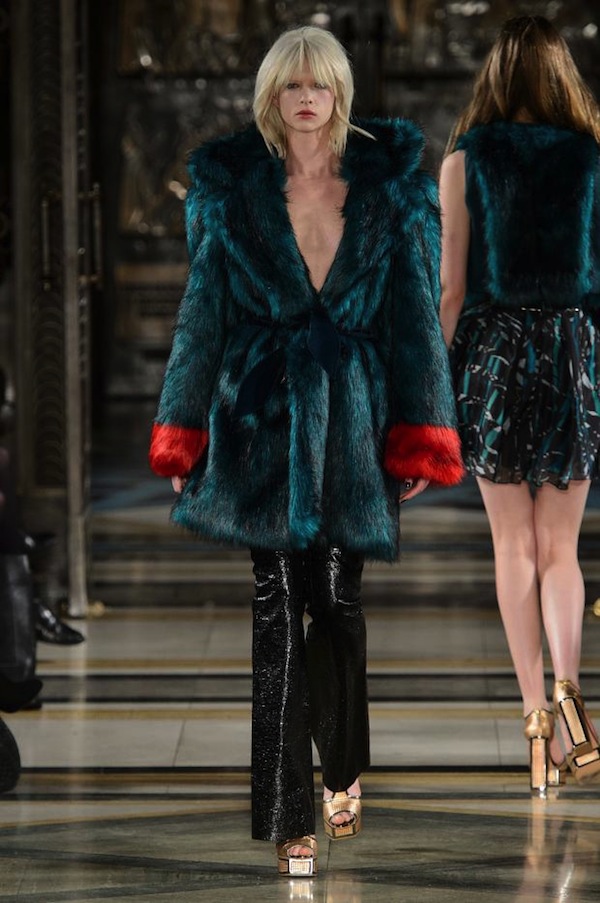 One down, four to go.
Words: Tom Rasmussen