Gyo Kim and Yuni Choe are the designers behind the Fashion Scout Merit Award-winning label GYOYUNI KIMCHOE, whose avant-garde interpretations of classical fabrics are causing a stir amongst the fashion pack. Ahead of their AW15 show we chatted to the duo about inspiration, show preparation and success.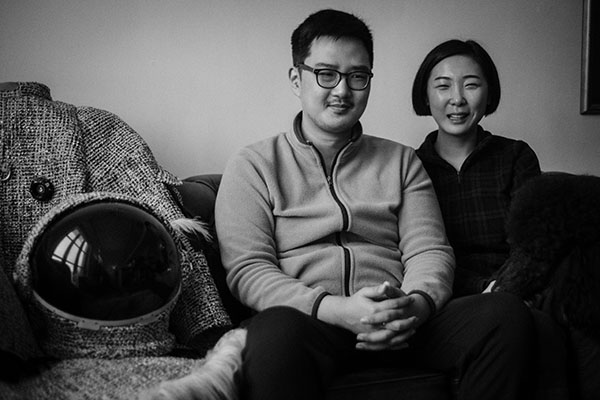 Photography: Charles Moriarty 
What's the story behind the new collection? 
Our AW15 collection, entitled The Thanatos Expedition, tells a story of afterlife explorers by combining images of Mongolian shaman and astronauts, but the meaning behind it reflects our thoughts on how science and technology are against spirituality and humanity. We wanted to say that however people choose to explore science, they should always respect life and nature – like Mongolian shamans do.
How do you prepare mentally for the show?
It's very important for us to maintain a good and consistent mental state leading up to the show. When we feel stressed we stop everything, take a rest and go out to walk the dog. It helps us to refresh us mentally. But in general, we are very calm and happy people, maybe it's because we are a couple and share everything, including emotions.
Describe the atmosphere in the studio in three words?
Cosy, free, love.
What's the key to a successful fashion show?
Narrative. Fashion shows are very special; it is not just about presenting our designs, we also want to say something through it and we want to show the vision and story behind the collection. By integrating all the effort and work of different people: models, hair, makeup, music, production and PR, a fashion show gives us the perfect stage to narrate our story. So, for us, creating a fun and dramatic narrative is essential for a successful fashion show.