Murmurs of hushed excitement rippled through the crowd as the first model emerged at John Rocha's Autumn Winter 14 show, her head and shoulders enveloped in oversized, midnight ruffles, undulating above a black hand-crochet dress, interspersed with teardrop-shaped pieces of lush green velvet. Some may have been casting their minds back to the scrunched lace, black widow spider hats that crowned Rocha's AW13 collection, but those were funereal in their nature; here, a feeling of deep romanticism pervaded the event – youthful, passionate, with a continual hum of darkly-tinged drama.
Citing the work of abstract painter, engraver and sculptor Pierre Soulages (a man 'obsessed with the power of black') as a major influence, Rocha chose a night-time palette, with swathes of shadowy organza broken sporadically by oyster greys, rich garnet reds and evergreen hues – accents which took their cue from 'dusky Icelandic skies'. Shape-wise, the abundance of layered tulle skirts, blooming ruffle-form dresses, giant corsages and sheer gowns scattered with delicate appliqué floral details gave the impression of a garden at witching hour. Underneath these sophisticated silhouettes, black knee-high stockings topped with skinny velvet bows offered a playful nod to bedtime dress-up.
Thicker, denser textures were explored through the use of patent-glazed felt, its glinting, hardened surface elevated by its juxtaposition with hand-made raffia lace. Similarly, sweeping wide-legged tweed trousers weighted airily-frilled shoulders, and roomy trapeze coats flecked with white sloped nonchalantly from bodies, their unravelling raw-edge sleeves bringing to mind rumpled, star-struck runaways. Though grounded in Rocha's signature feather-light chiffons and silk georgettes, this collection achieved new heights through its tactile play with contrasting textures and accentuated form, demonstrating the designer's continuing ability to subvert and reimagine.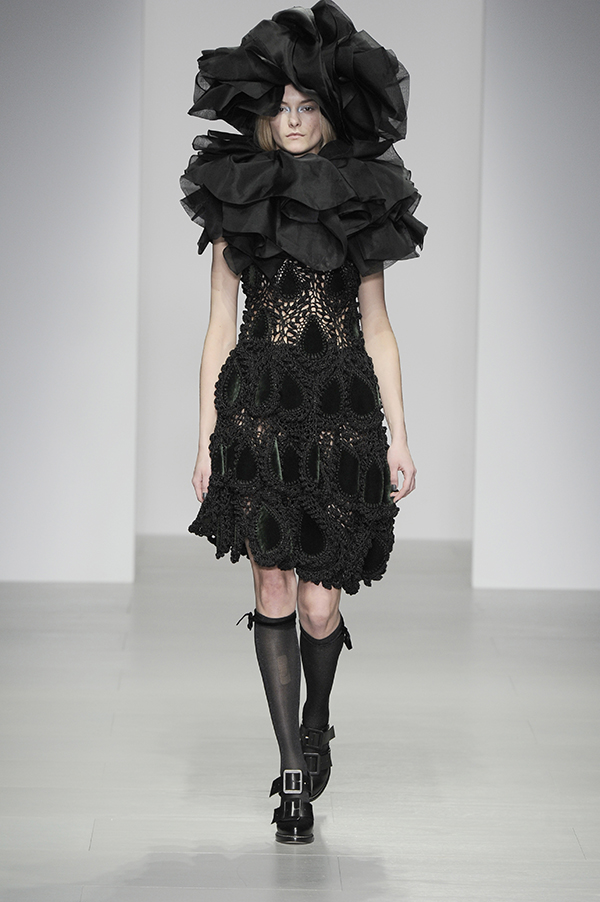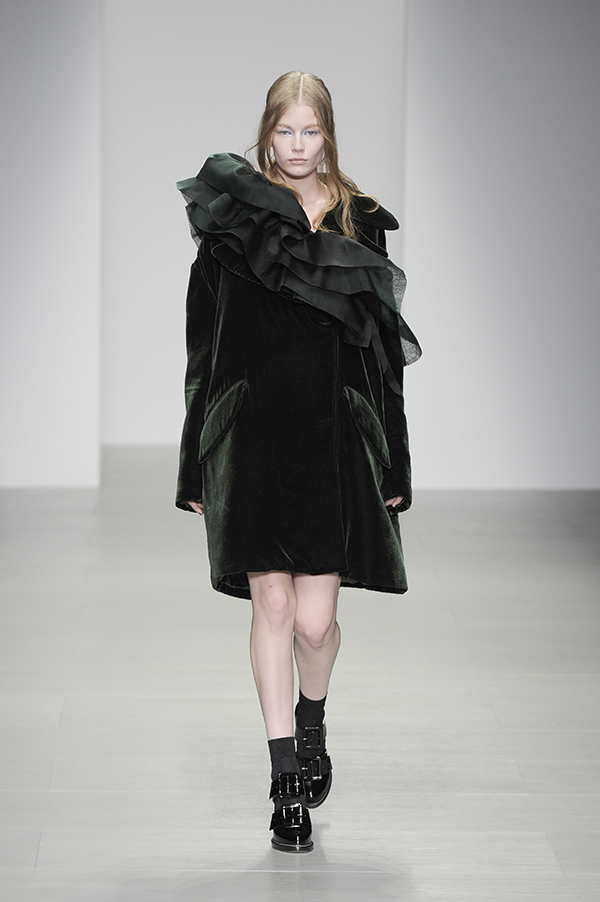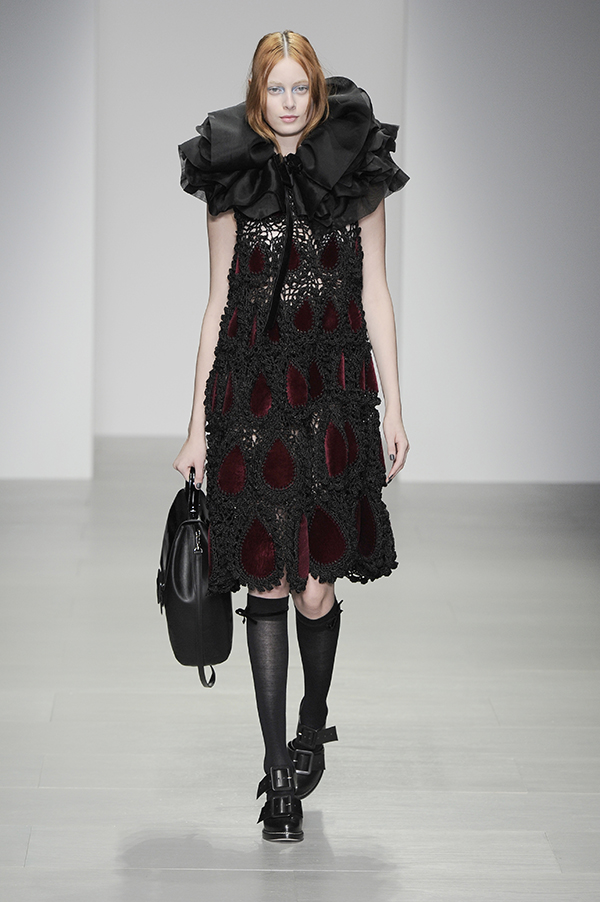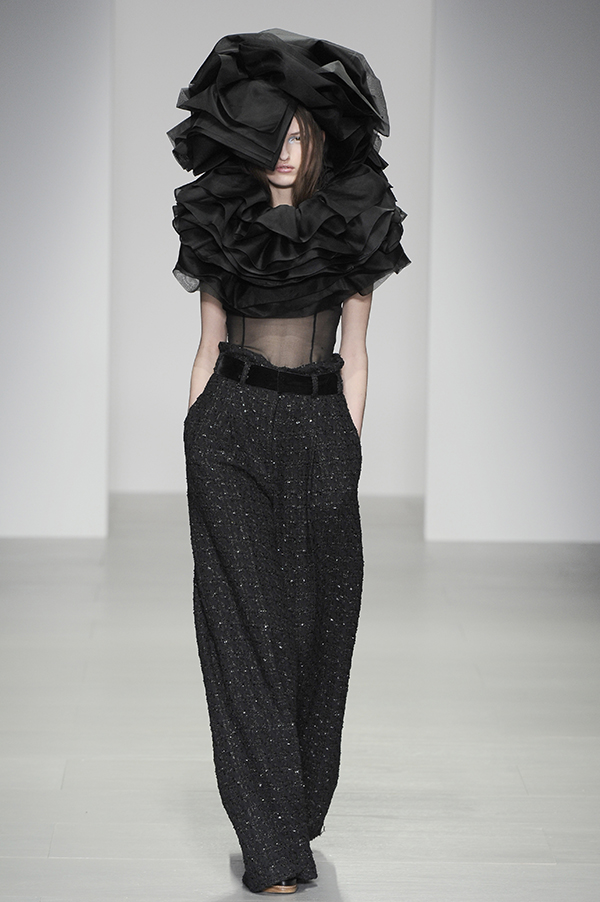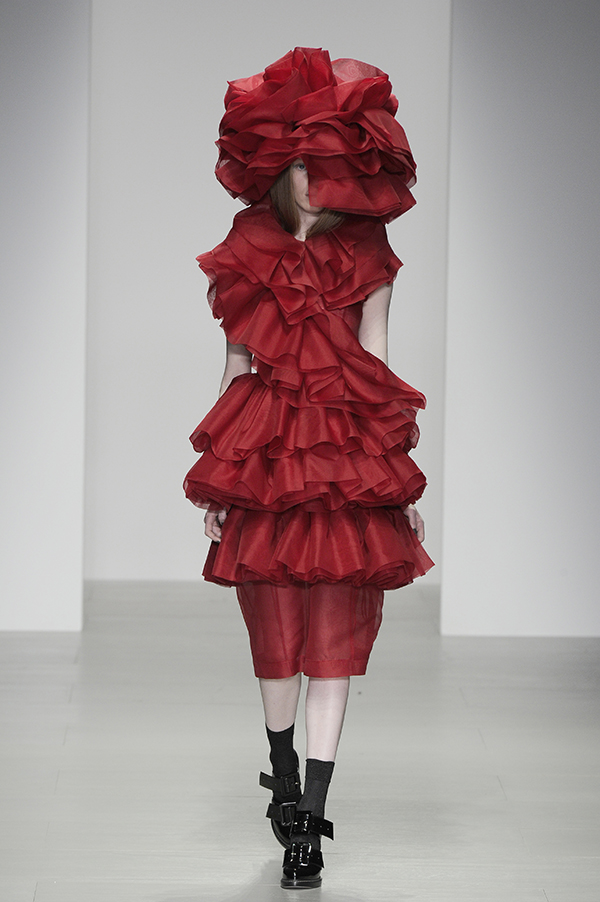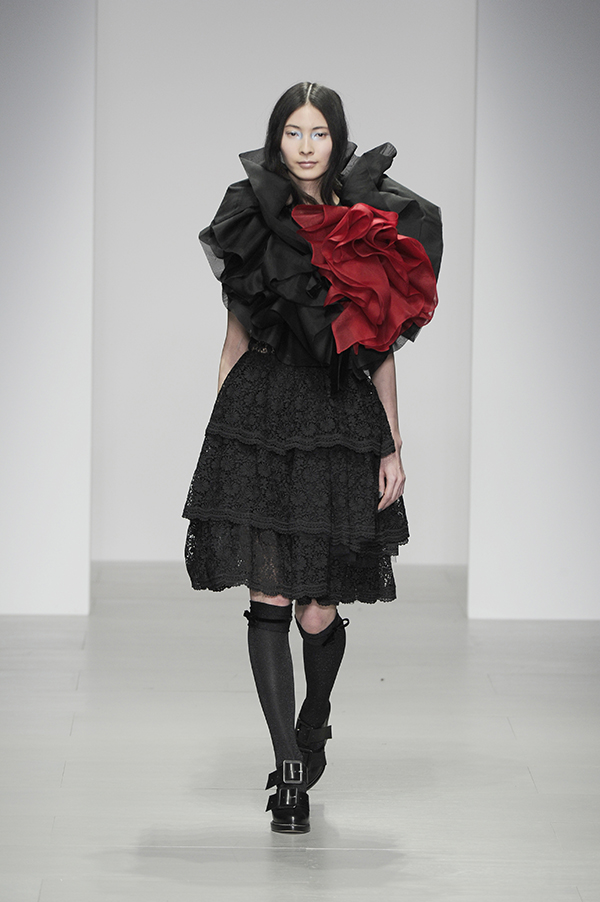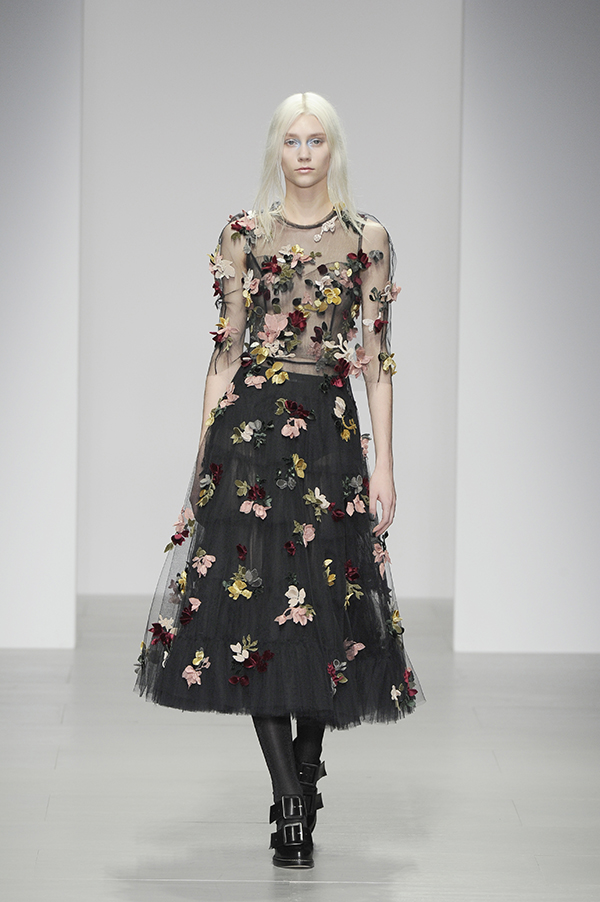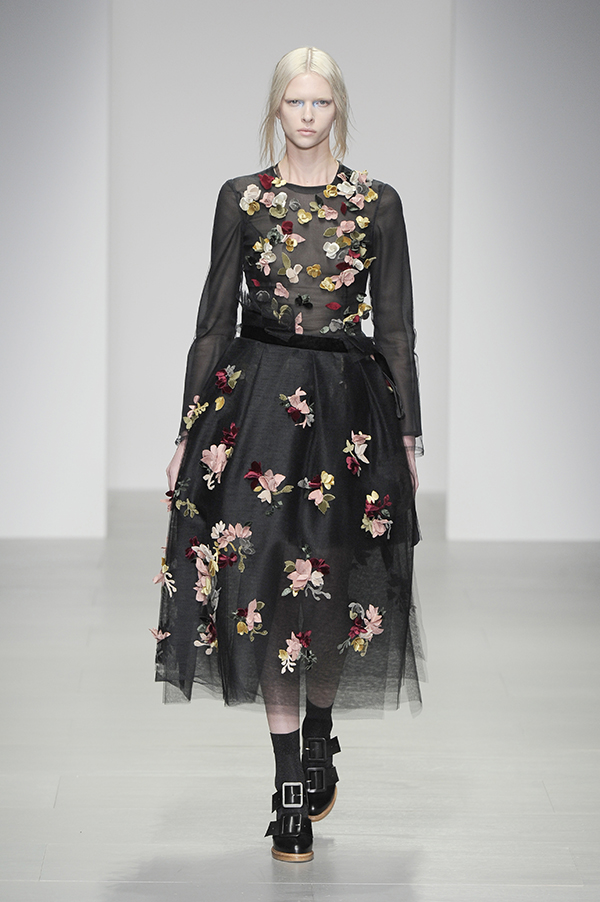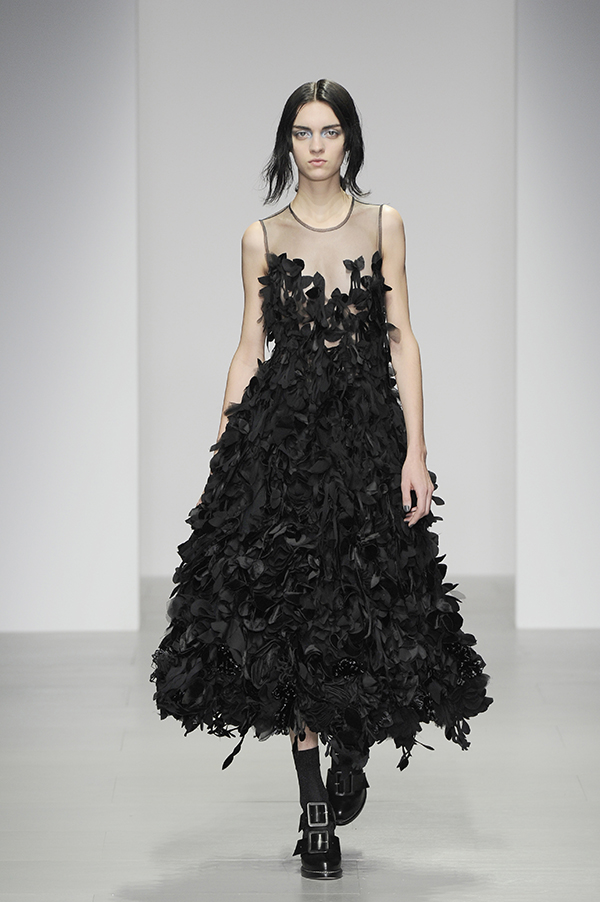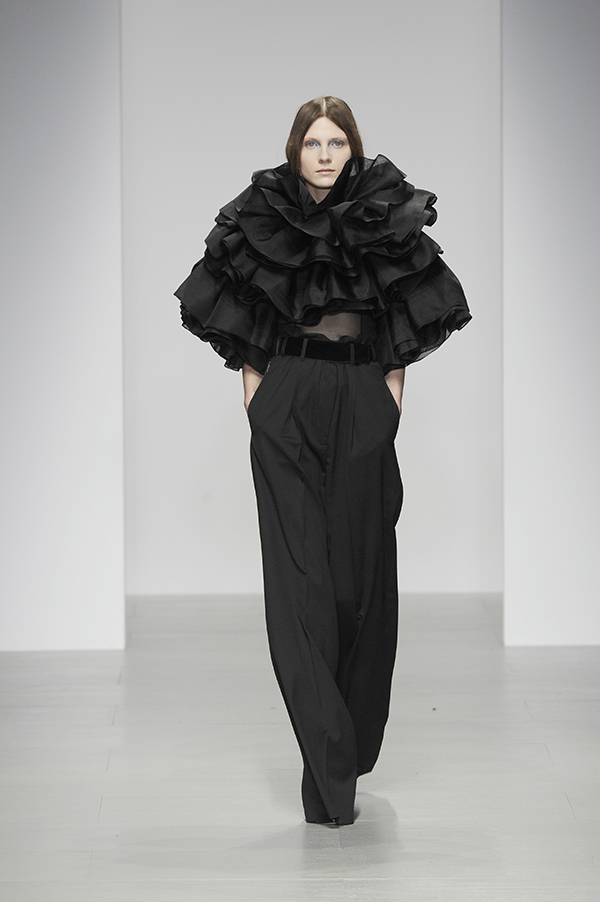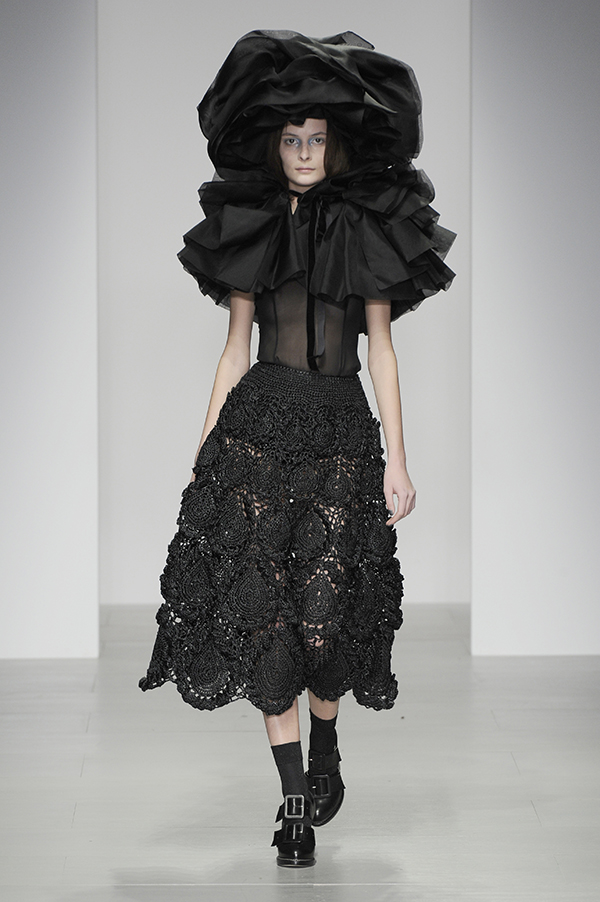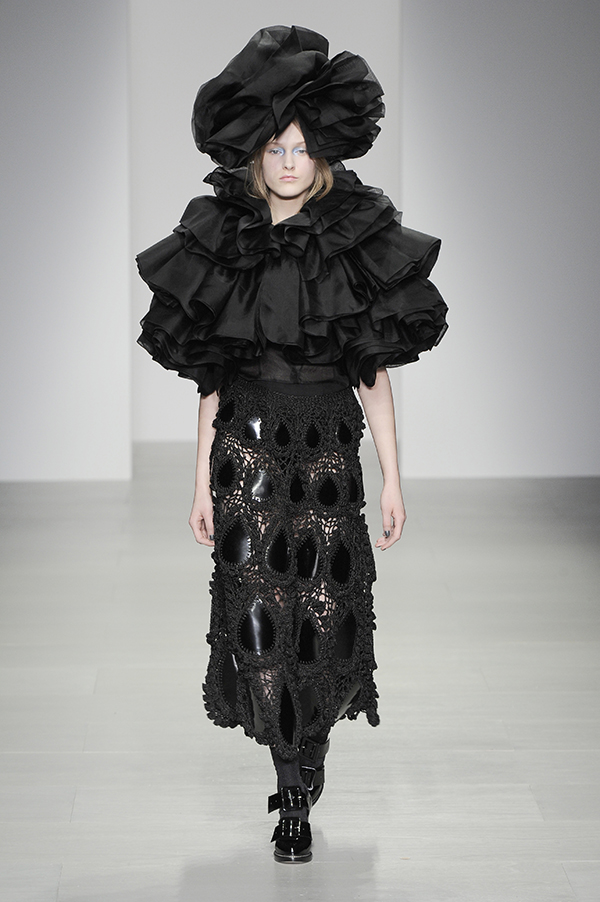 Words: Mary-Jane Wiltsher