Remember that quintessential childhood movie scene where Dorothy is first catapulted into Oz and everything jumps from dour black and white to a hotly coloured wonderland? Mix that palette with a globetrotter's textile hoard and a dash of urban know-how and you've arrived at Fyodor Golan's AW14 offering, Crocodile. The richly textural collection comes as no surprise from designer duo Fyodor Podgorny and Golan Frydman, both from Fine Arts backgrounds, who were nominated for the Dorchester Fashion Prize last year and won Fashion Fringe in November 2012.
Supported by Nokia Lumia and inspired by adventures through Myanmar and Cambodia, Crocodile is a heady concoction of multicultural influences and high-tech finishes. Guests were ushered in out of the drizzle into the lo-fi warehouse space of Farringdon's Familoe building, transformed with blue and violet lights. A bell-shaped skirt crafted from interactive tablet screens provided a punch-packing opener, flickering between scudding clouds and shifting landscapes, the perfect prelude to a range that painted a picture of disparate cultures drawn ever-closer through technological advances.
What followed was a psychedelic fish tank of mermaid-like metallic dresses, iridescent foil-finish leather jackets with angular shoulders, ballooning sleeves, blue fin-shaped ruffles and hooded wet-suit style pieces peppered with jungle green sequins. Fuchsia was everywhere, from the pink raffia turf coating the venue's floor and pillars, to the candy-floss textured hooded coats worn over matching roll-necks. Models sported gleaming black baseball caps and John Lennon sunglasses (à la Mathilda in Luc Bresson's Léon) with hair pulled scruffily into fleuro-tinted cane-rows, giving the whole affair an undercurrent of adolescent, tribal fearlessness.
…And the closing song? Somewhere Over the Rainbow.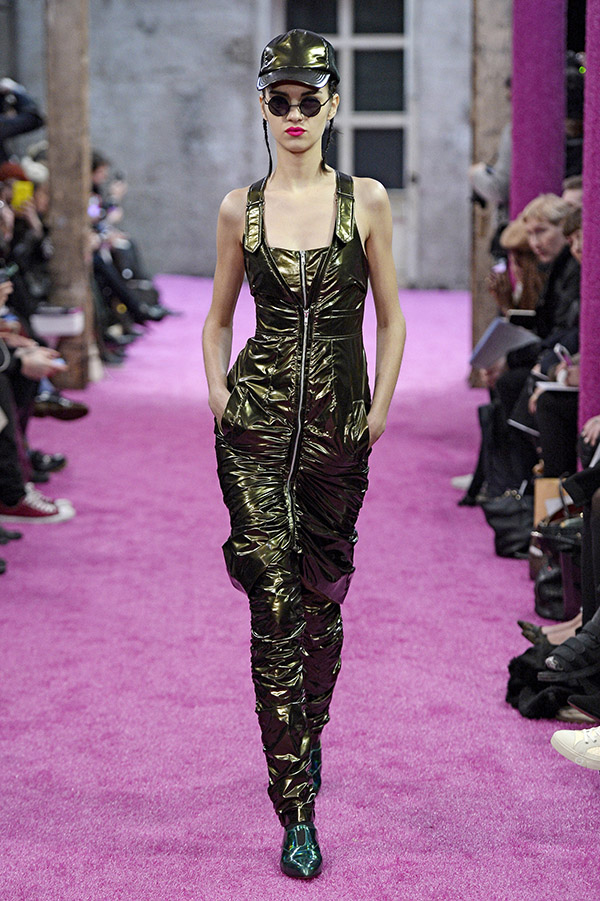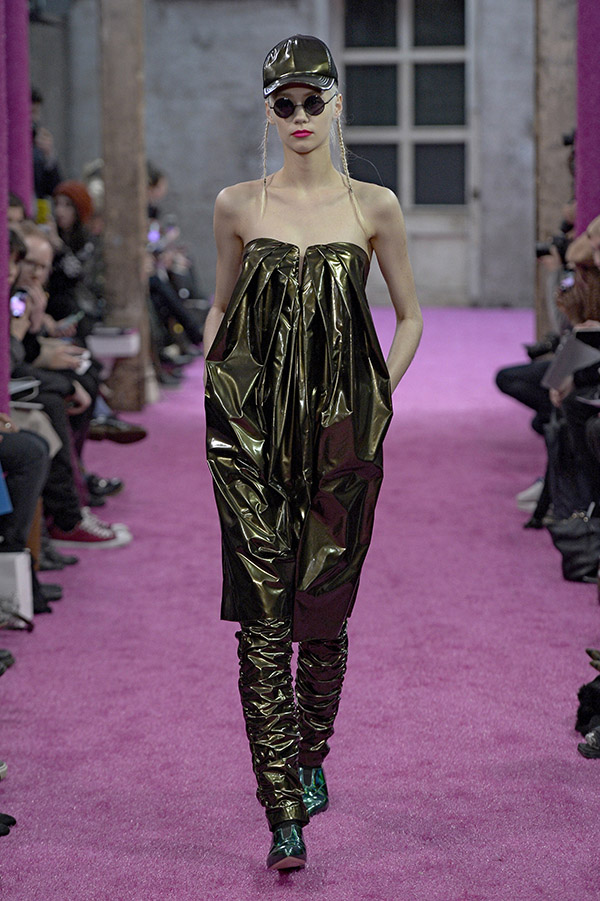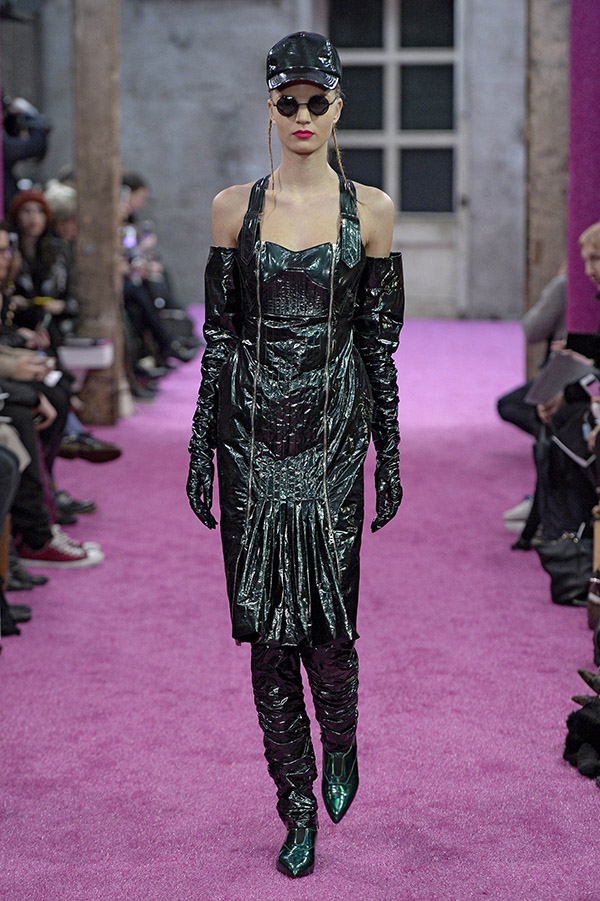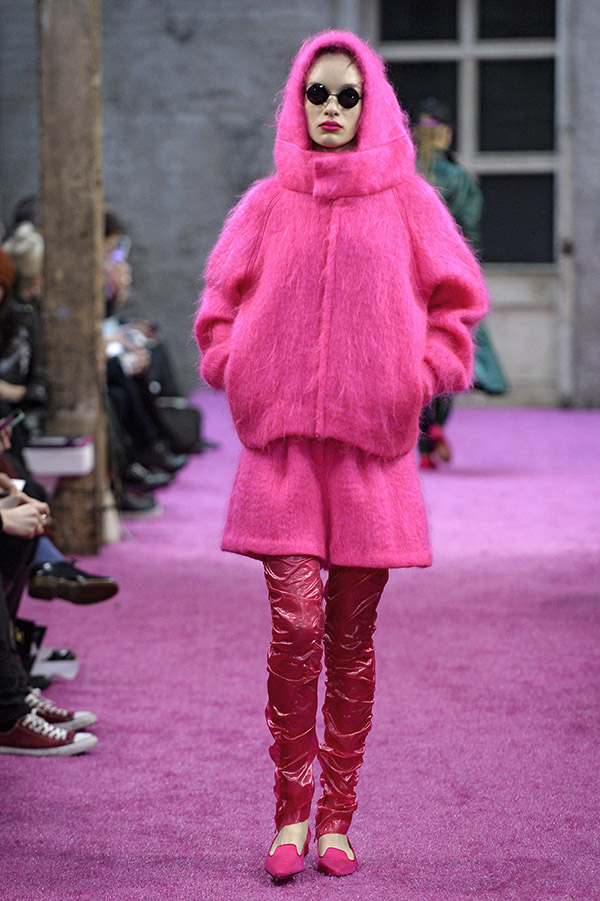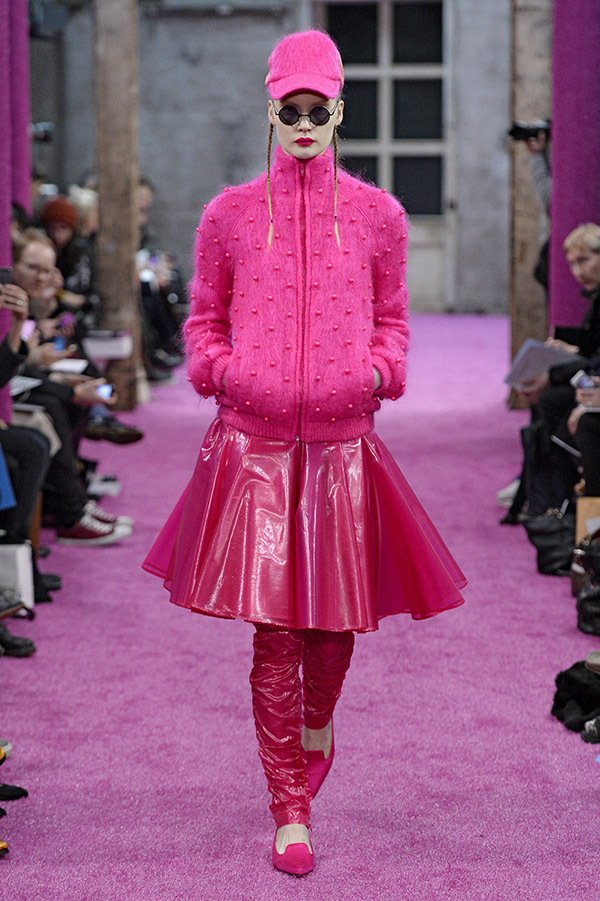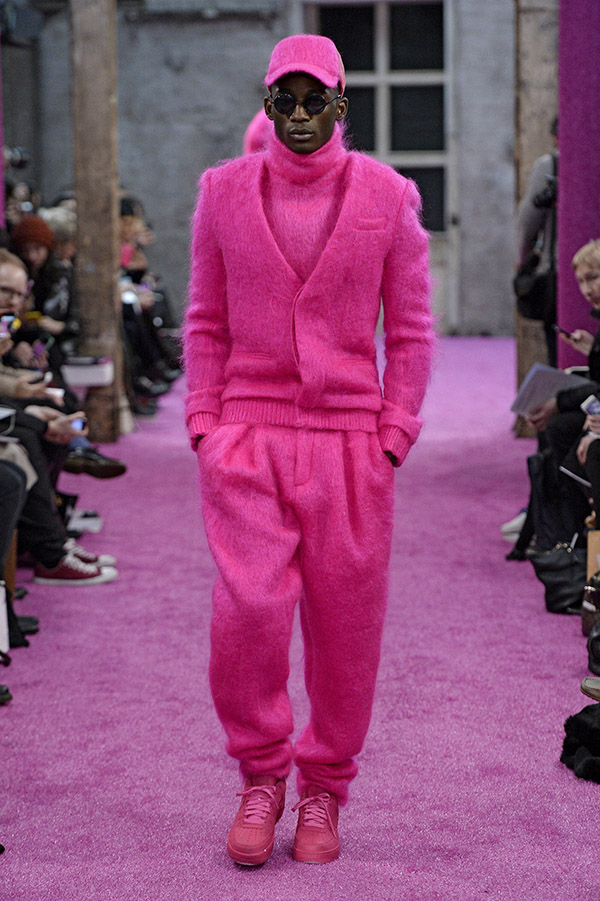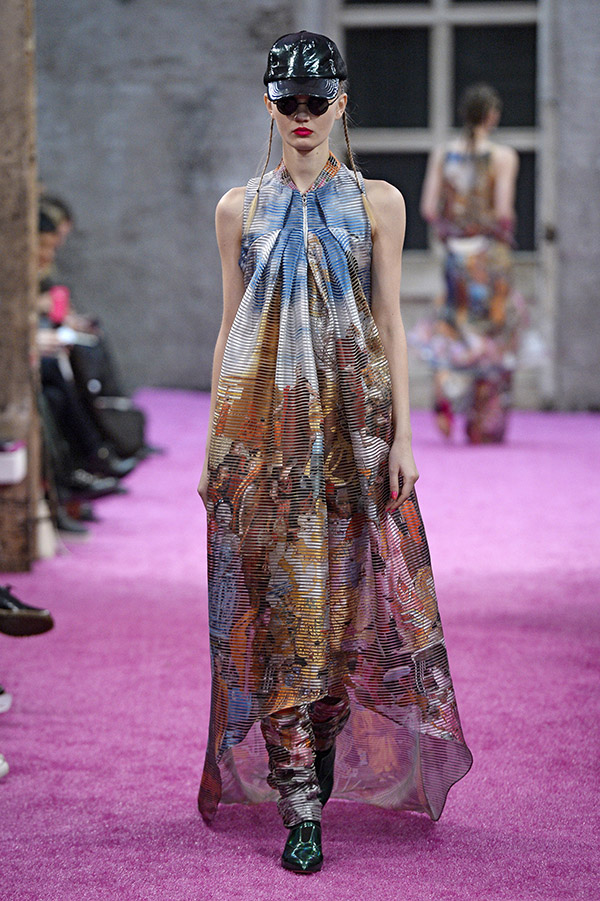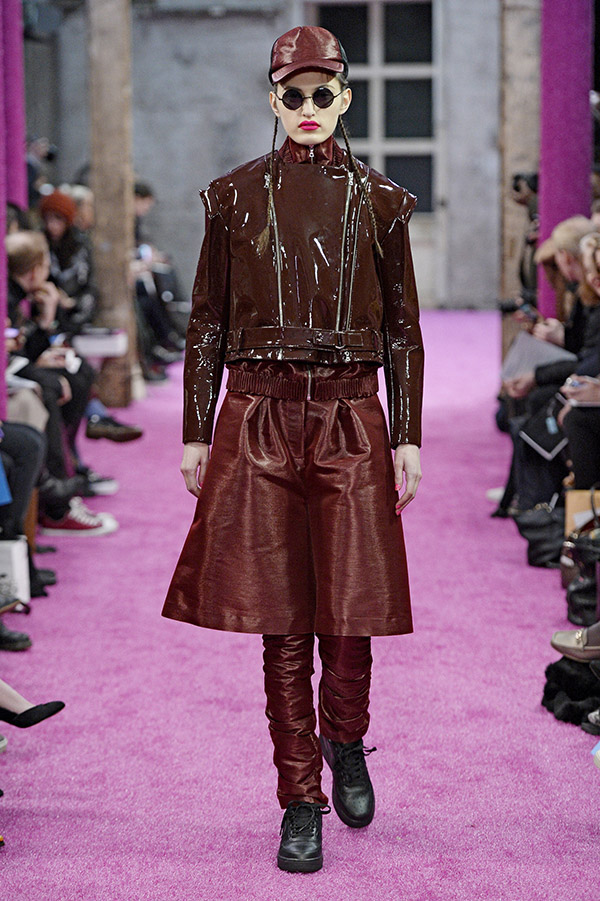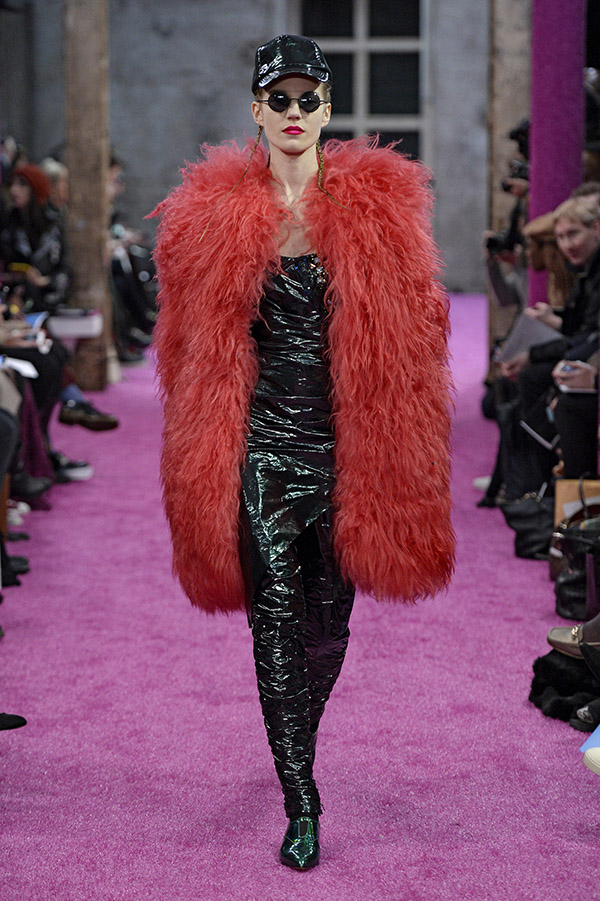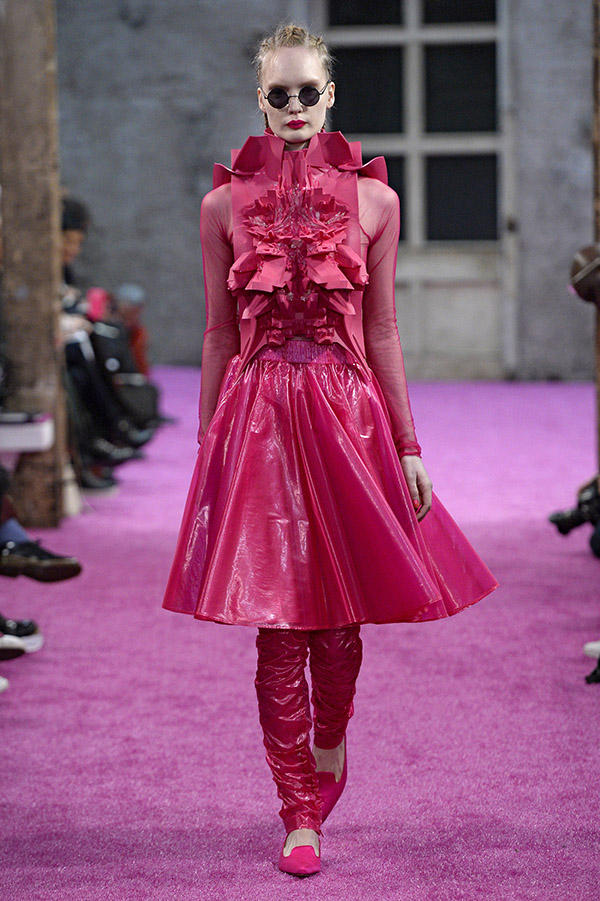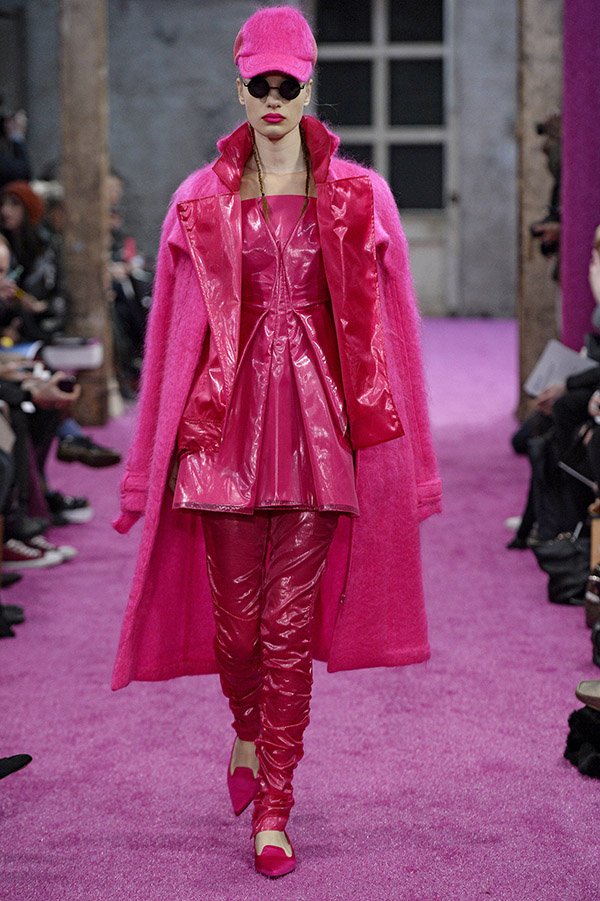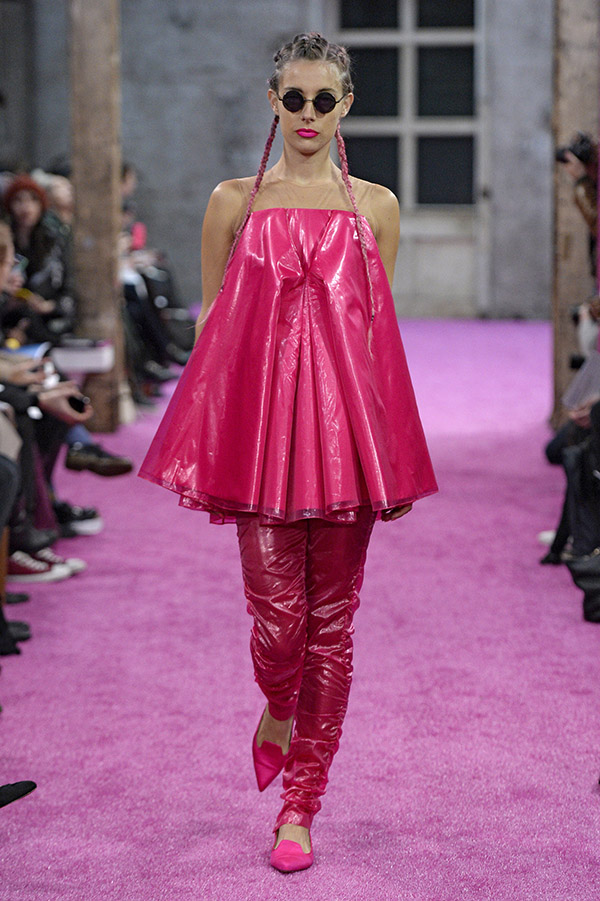 Words: Mary-Jane Wiltsher