In the world of LFW there's a rather hierarchical system: there are those with VIP Mercedes and priority passes, there are those who are gifted Louboutins and have endless Uber allowance, and then there are those who can barely afford to top up their Oyster… enter me. Once the shows start the great thing about it all is that this incredibly heteronormative hierarchy seems to dissolve, and all are transfixed by the usually dazzling array of garments floating down a runway. But when rain, in its more torrential form, strikes one can't quite make excuses for dripping water from the puddle which has formed on the brim of your hat all over someone's Balenciaga bag.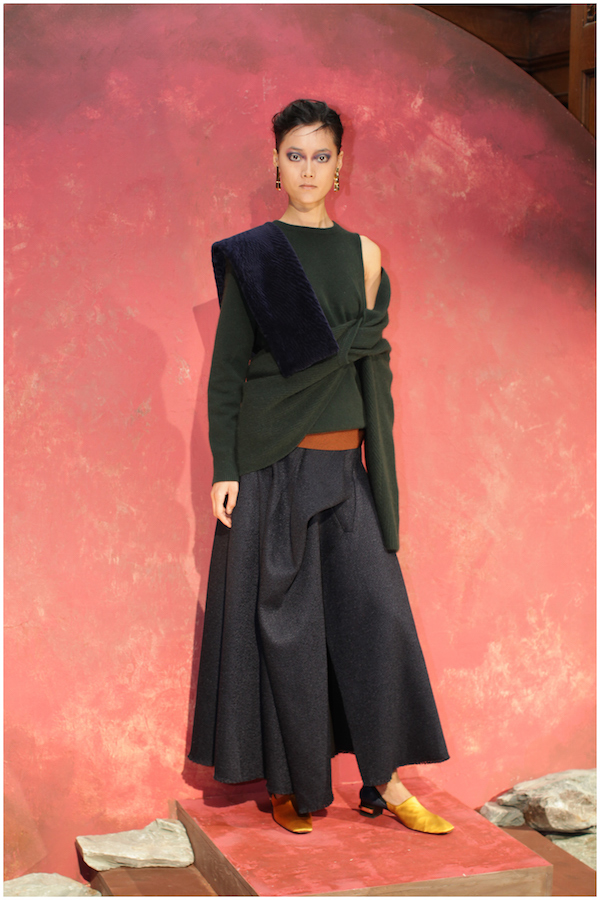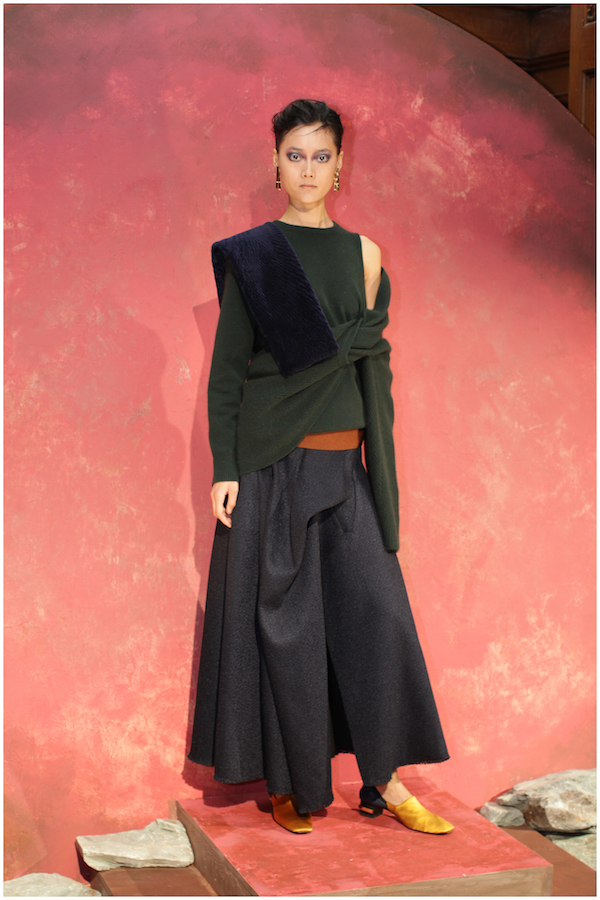 And yesterday's schedule made it nigh on impossible to avoid the open heavens, with the first of the day at the Chelsea College of Art. Soggily we traipsed into the Toga presentation, expecting wonderful things from the Japanese brand who are new to showing in London. With critical acclaim and quite the cult following, yesterday's collection didn't really seem to follow suit. Some of the pieces were absolutely beautiful: the hot pink structured trench-coat was a total stand-out, and the trousers in both shiny gingham, colourful checks, and beautifully sheer raw silks, had a kick-out at the front which sat like the a flare over the wonderful satin heeled slippers. The oversized shearling coats and the bow-cum-sphere-cum-hoop earrings in bright gold were totally wearable. Floor-length kilts in black boiled wool, and 'tinsel thread tops' were stunning too. However, there was a through theme of outerwear which hung across the body, with an oversized sash confusing many of the silhouettes; and the lace trims on so many of the pieces looked ill placed. Understandably, the premise of Toga is its wide and international inspirations, but this collection – with a lot of fantastic pieces – felt like it slightly lost its sense of direction.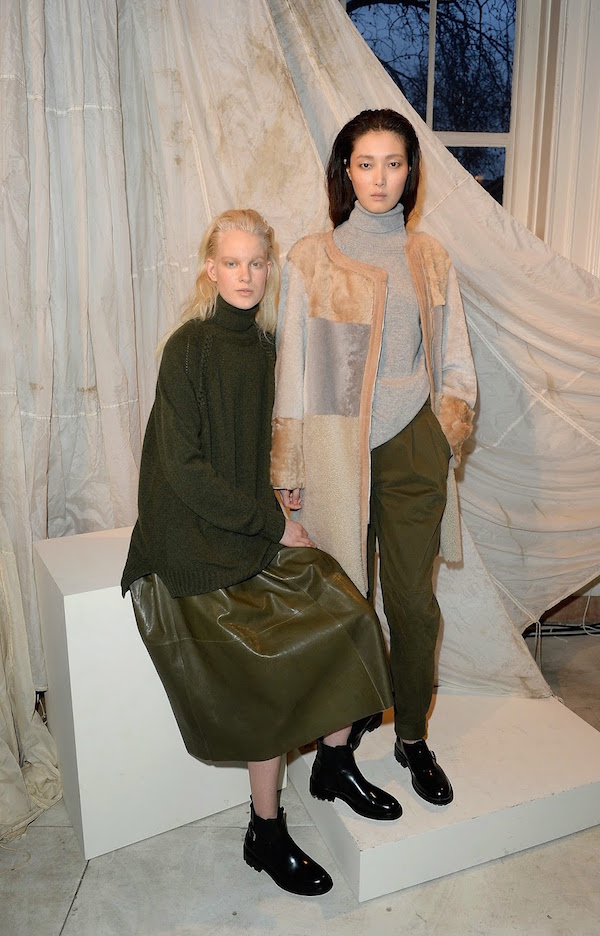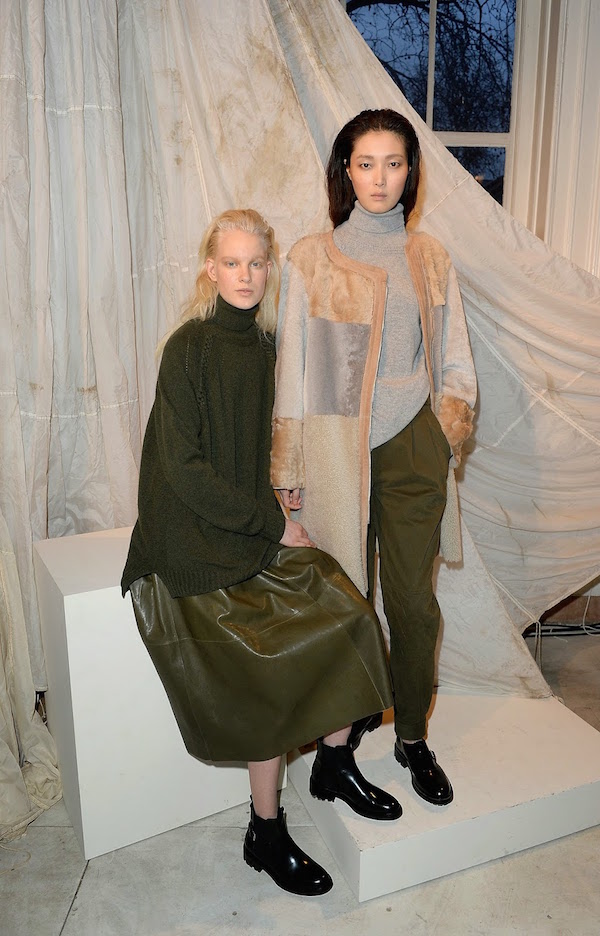 Next up was a blustery trek to Clerkenwell's Old Sessions House for Belstaff. With fallen parachutes amid the neo-renaissance restored walls, attendees wandered around with a delicious mulled cider and that 'please don't make me go back out there' look. Not usually my cup of tea, the Belstaff collection was actually rather fantastic. With sharply cut leather biker jackets, duck-egg blue cocoon coats and beautiful boyfriend trousers in black suiting, the pieces would work well in any minimalist's wardrobe. With only a dusting of the typical wave-quilted khaki jackets, Belstaff felt more fashion forward then ever.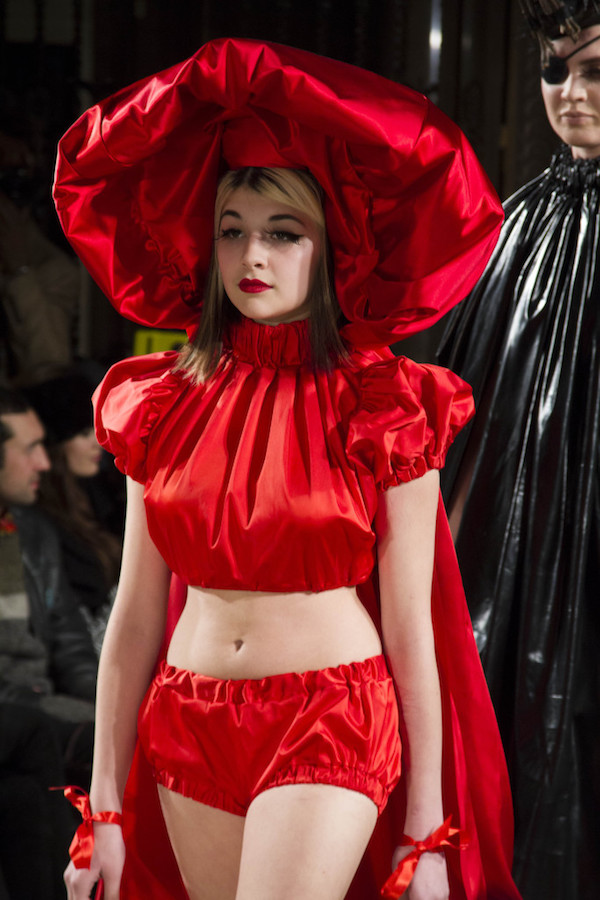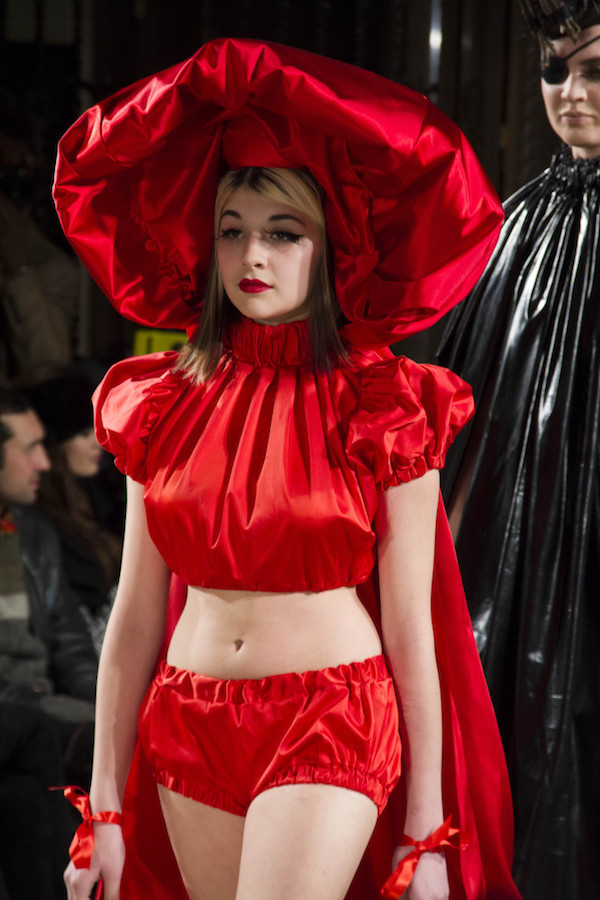 Then there was Pam Hogg – with the show at over an hour late it was hard to find anyone complaining about the weather here. The endlessly talented, and supremely radical designer drew hoards of whistling fans to the show at Freemason's Hall. Red riding hood, with her gigantic silk head piece and fiery red hot pants meekly paced down the runway, followed by a woman with a shaved head and an eye patch wearing what can only be described as a PVC-clad sex-crow look. Alice Dellal stomped out in her studded brown suede cave girl outfit, and then in mesh knickers with a big pink bow over the vagina. The cool kids of Hogg's queer cult wore pastel lamé 70's jackets, gigantic kipper ties which read 'Dogs' in shiny appliqué, and mud brown satin capes embellished with even more pastel lamé. All designed, made and appliquéd by Pam herself, the designer is truly a testament to the fact that one doesn't have to produce thirty-two collections a year and sell on every continent to be successful. What's more, it's for this reason Hogg remains radical – calling her own shots, her semi-couture collections have maintained a cult following for years, a cult which has just acquired a new member.
Three down, two to go.
Words: Tom Rasmussen