Mayada Khammu may be proud of her Arab roots, but she doesn't want to be pigeonholed. Of course, the London-based designer is inspired by the Bedouin culture on her mother's side of the family – but it's the way she combines her inheritance with a modern, urban aesthetic that makes her such an exciting new talent.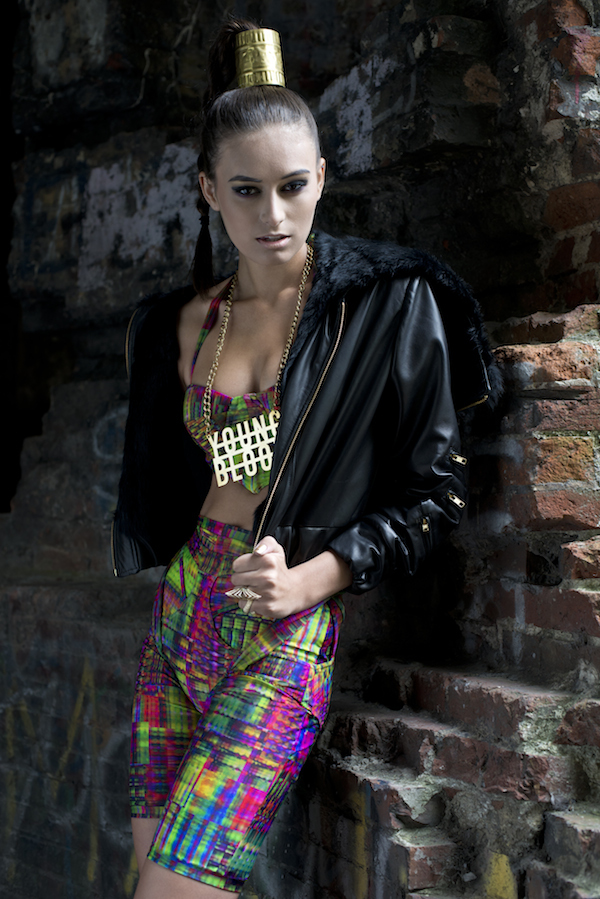 Khammu's luxe streetwear first caught PHOENIX's eye when she showed her MA graduate collection as part of London Fashion Week SS13. Since then she's gone from strength to strength; Khammu designed the tour outfits for Rita Ora's festival circuit last summer and has just been recruited to Caterpillar footwear's 'Bright Young Things' campaign, where she'll get to re-design the iconic CAT boot. Now, she's split her brand in half: her eponymous line offering high-end couture with a twist while her 'Young Blood' line – which she describes as "hip-hop merged with social values" – provides an accessible slice of her culture-clash chic.
Weeks away from the debut of her second major collection, we caught up with Khammu to talk about her ever-expanding young brand.

Last time we spoke, in April last year, you'd just launched your collection at the Wellington Club. What's been going on since?
Since April, I've split the brand in half. I've got now the high-end stuff, which is the 'Mayada Khammu' line. That focuses on more artisanal pieces as such so there's more leather. I work with fur, latex, that kind of thing, so that's more made to order. And then I've made 'Young Blood', a streetwear line, so that's more accessible stuff. Lots of t-shirts with political slogans on and bikinis.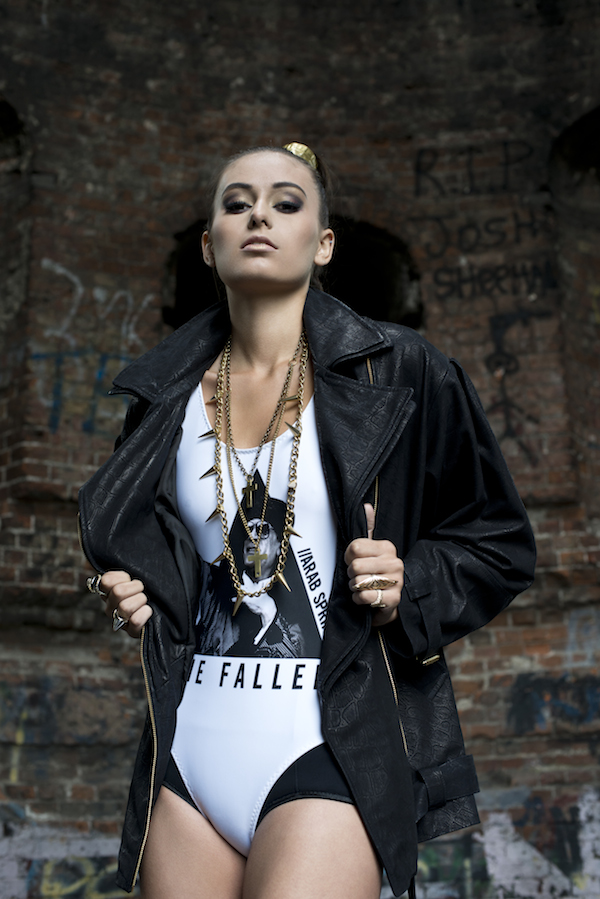 What made you dub your line a general 'collection' rather than defining it as Spring/Summer or Autumn/Winter?
Instead of doing seasonal collections, I do just an unseasonal variety of things, so that's why there's swimwear mixed in with fur and heavy jackets. I just thought, with the way the world was moving as well, I don't really see how I could say it's a Spring/Summer collection when it's summer in one country and winter in another.
You've often spoke about how you draw from your Arab roots when you design yet your work has a very urban, 'London' aesthetic. How do you feel your cultural heritage comes through in your designs?
I didn't want to do [the Arab influence] 'in your face'. I mean, a lot of people when they draw influences from Arab culture, you can see it so obviously, like with the kaftans and the Arab calligraphy and the sparkle. That's something I really wanted to go against because if you look at the new generation of Arabs, we're not like that at all. Especially people like me, who've been brought up in Western society. We want to still hold onto those Arabic values, but we're very modern. So that's what this collection sort of was [about].
In the sense of Arabic roots, I looked into my mum's Bedouin culture. I thought if my Great-Grandma was here today and she was my age, what would she be like? How would she dress? It was like 'the new age Bedouin'. So that's where the crosses came in and the covering of the head – but then I took Bedouin techniques such as weaving but I juxtaposed it with Western culture. It's about the little touches. I wanted to do something that had a hidden meaning and wasn't all face value.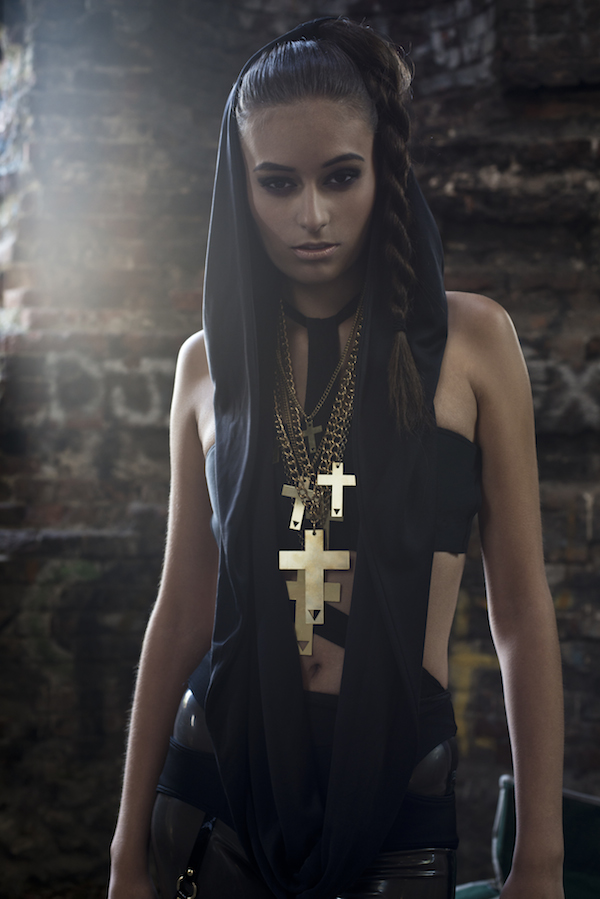 You once described your designs like 'Karl Lagerfeld on MDMA at Torture Garden'. What do you mean by that?
The whole 'Karl Lagerfeld' thing was because I wanted to keep a sense of class, so with my woven jackets, there's a lot of craftsmanship. It's almost like a Chanel jacket but in a modern society. The 'Torture Garden' bit refers to the sexual repression of women with the harnessing aspect [of my designs] and the latex, and 'MDMA' refers to the bright, acidic colours I use. It's just really referring to how my designs are a mix of lots of different things.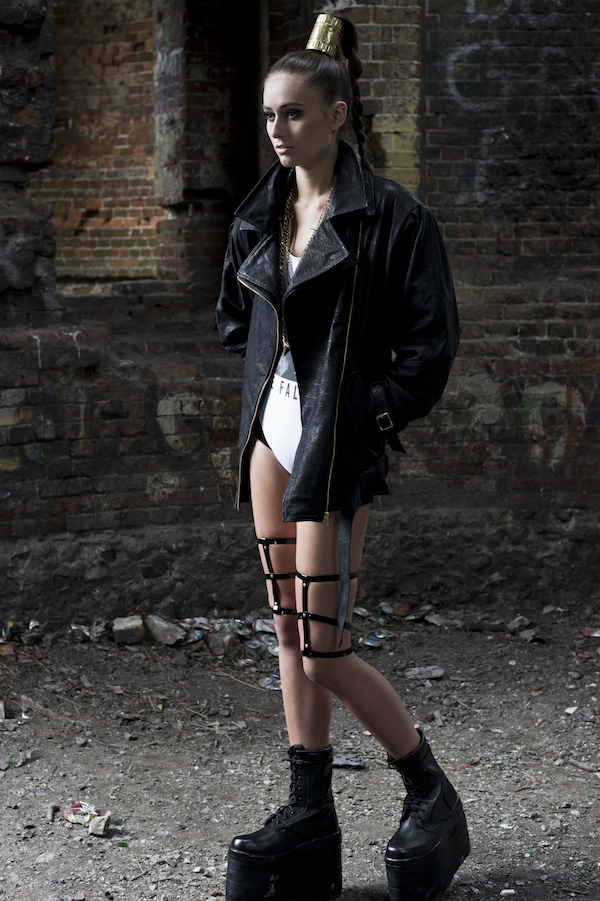 Who do we know that wears your pieces?
Rita Ora wore one of my acid-print swimsuits, and that led to me designing two outfits for her Australian tour and then designing her dancers' outfits for the festival tour that's just been. Angel Haze was one of the first celebrity wearers; she's worn quite a lot of the stuff. Eve, as well. It's all rappers, really strong women that have a voice.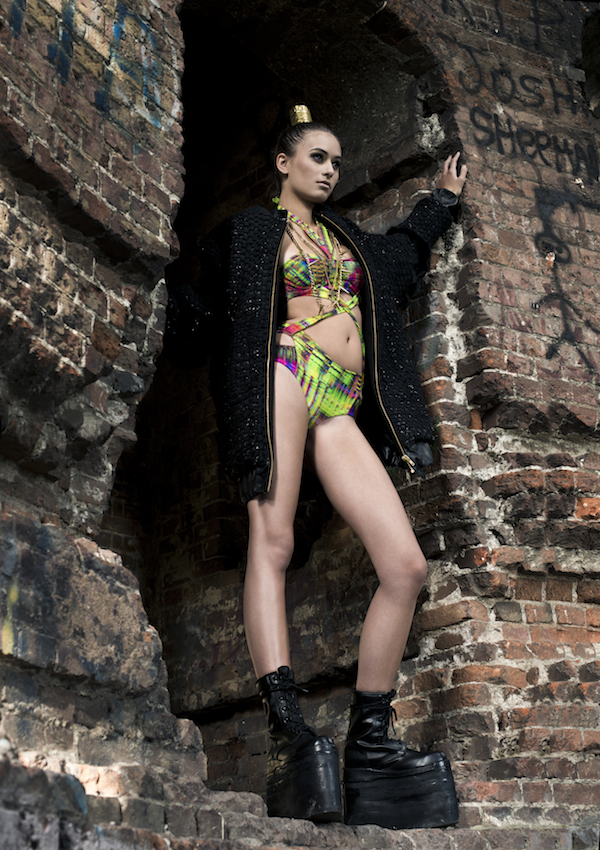 Who would you most like to wear your pieces?
Jay –Z and Beyoncé. Jay-Z and Beyoncé would be a dream.
Do you see your designs moving in a different direction at all in the future?
Definitely [still] a mix of cultures. I mean, I've learned a lot in a year [since the last collection] so I think my upcoming collection will just show my progression.
What's next?
My next collection will be at the end of March or beginning of April. The show's also being supported by Caterpillar again. This year I was approached by them to be part of their new campaign 'Bright Young Things', where I'm redesigning the boot, so that's really cool. Hopefully, I'm in talks about having a musical performance at the show as well.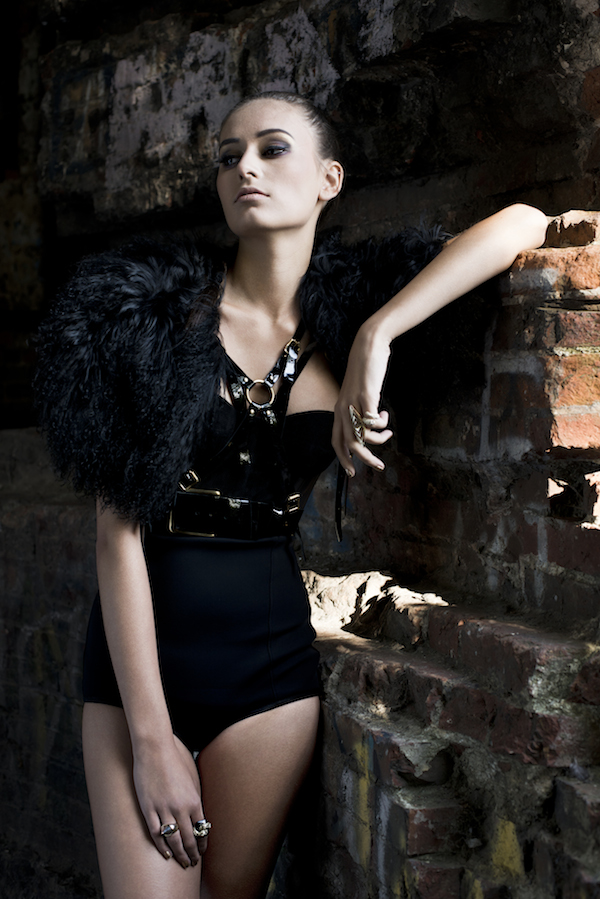 Words: Rachel Michaella Finn