Hannah Rogers celebrates the legacy of Gucci's outgoing queen bee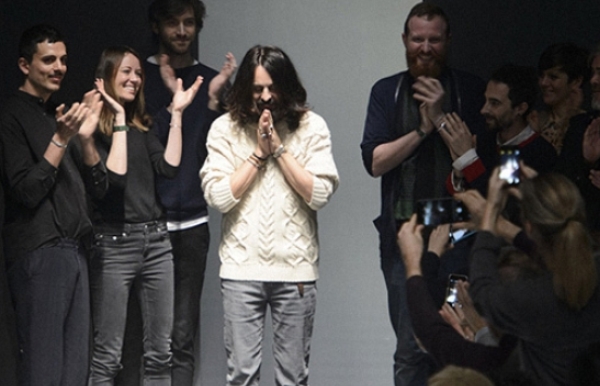 Alessandro Michele, the new creative director of Gucci
My first taste of, well, taste, came from being dragged around the street markets of Cardiff by my grandmother. These were not the colourful, vibrant treasure-troves of London. You would not get lost in vintage finds, or snap up anything truly beautiful. No, these markets were where taste goes to die – and it dictated the way I felt towards a number of fashion brands for years to come.
See, the stalls of my childhood made their money out of one thing – whacking brand symbols and prints onto cheap, fell-off-a-lorry accessories. So offended was I by these, even at age 8, that I developed a lifelong resentment towards certain designers and their signature branding. The Burberry check is a prime example; I love the brand but I avoided that distinctive plaid long before our current less-is-more atmosphere.
But perhaps the label I hated most of all was Gucci. I could not stand those double G's, flaunted left right and centre in the early noughties. Even in stores full of the real-deal accessories, I could not ditch the idea that the brand was tacky.
Then along came Frida Giannini.
Giannini is a true visionary; a pioneer in design with an infectious passion for the roots of her brand. At the time of her promotion to replace Alessandra Fachinetti as creative director, Gucci was a mess: over licensed, poorly marketed and lacking inspiration. Its most popular product was wrapped in the GG logo, but hanging from the arms of a brash, ostentatious customer. Profits were down, but more importantly so were opinions. The once glamorous italian brand so well known for its quality and craftmanship was fading.
However, rather than pandering to consumers keen to swaddle themselves in blatant branding, Giannini took a step back – into the 1960s. Delving into Gucci's archives, she created the Flora collection, with a scarf of Grace Kelly's at its heart. Though not welcomed by critics, commercially the line was a huge success. Her following collections all continued to reference various aspects of the brand's heritage, bringing life back into the collections through a combination of nostalgia and innovation – which, as recent infatuations with the 60s and 70s have shown, is a winning combination.
It is this exact attitude to design that has drawn me to Gucci in recent years. Giannini is a woman who understood what she wanted Gucci to be, and went with it – regardless of what was in mode at the time, or what the financial powers that be might have preferred. Her collections have been sleek and sophisticated, and they exude her dedication and strong character; few things bring confidence to a buyer more, and her following represents that.
With growth at a low this past year for the company, financial concerns have doubtless contributed to Giannini's exit. In the argument of balance between monetary drive and creative vision in the fashion industry, this is certainly a case to note, and we can only hope that her replacement, Alessandro Michele, does not deliver a predictable closing statement.
Generally Michele's accessories haven't strayed too far from the realms of the commercial – easy fabrics, palatable shades, and little colouring outside of the lines. His spring menswear show this week – brought together in an impressive five day space – proved a distinct shift from the brand's recent past, another indication that the house is to come under reconstruction.
However, there was a lot to be excited about. The collection in question was definitely in touch with the glamorous heritage of the brand. There was an undercurrent of rock and roll; Frida herself had always been inspired by musicians, an interesting commonality. Representatives from Gucci have outlined Michele's passion for the brand, and his artistic curiosity.
So whether he might bow to monetary pressures, and begin a process of degeneration of Frida's legacy, remains in question. Though the leather loafers she left to fill are large, with a decent dose of adoration, research and dedication, the promising Michele should find them to fit comfortably. One this is for certain: we will be watching Gucci's womenswear show next month very closely indeed.