Today might appear just like any other in September. It's not too hot, it's not too cold (which results in an additional 10 minutes to our morning routine as we um and ah as over whether it is jacket or cardigan weather), yet, as well as being a distinctly average journée, today is also a particularly special day in the fashion world – the birthday of sartorial sovereign, Karl Lagerfeld.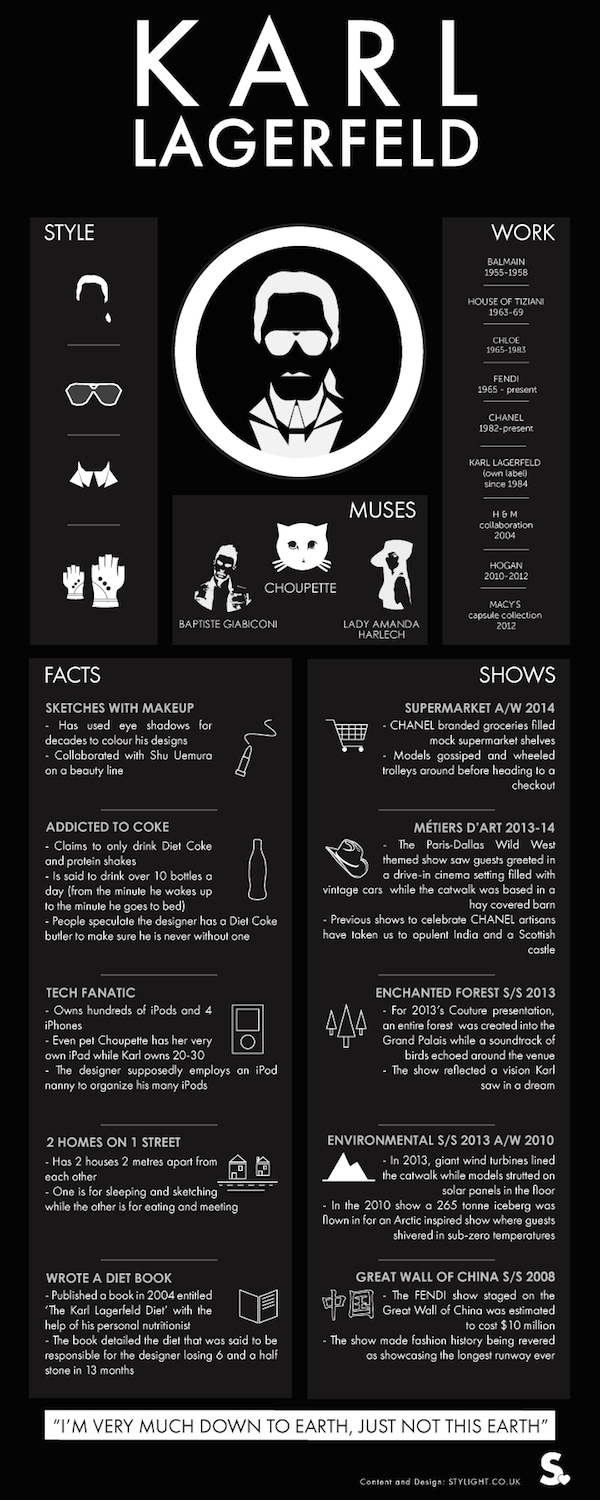 via Stylight
Like all great masters of fashion, Karl likes to maintain an air of mystery, refusing to reveal his true age. He claims that we will have to wait until his memoirs are released to ever know the truth – but it is speculated to be between 1933 and 1938 – deeming his to be one of the longest and greatest careers in the industry. Yet, it seems that Lagerfeld has no intention of hanging up his perfectly polished calfskin shoes. "Why should I stop working?" He says. "If I do, I'll die and it'll all be finished."
Distinguished by his impeccable appearance of slicked back white hair, clean-cut jet-black suit, firmly pressed ivory shirt and rectangular sunglasses, Lagerfeld is as much recognisable as he is a genius. He is known for being a man of the moment, with his finger firmly on the pulse, knowing what trends are right for when. His Chanel revival in 1983 is the clearest example of this; he rejuvenated the declining label by modernising the clothing through beautiful simplicity – cropped jackets and shortened hemlines – while still retaining the essence of Chanel through tweed and pearls.
Today, over 65 years on from when he entered the industry, Lagerfeld is still trailblazing in the high fashion stakes. He was the first to put trainers on the catwalk – a move that influenced countless fashion houses, from Stella McCartney to Isabel Marant. His catwalk shows, too, push boundaries, meaning there is never a Chanel show that doesn't fill the headlines. A 265 tonne iceberg from Sweden in 2010 and a supermarket runway for A/W14 are just a couple of the moments that will go down in history.
In order to celebrate Mr. Lagerfeld's birthday, and his one-of-a-kind attitude, we've selected two of our favourite looks from this season's ready-to-wear-collection. Well aware that the Chanel price tag is perhaps not a feasible for the average Londoner, we have created two ways to wear these trends without breaking the bank.
The key to the Chanel looks is layering key pieces in muted tones, such as white, black and grey, whilst keeping a fashion-forward edge with a variety of rich textures…