Your pocket guide to Russia's thirtieth fashion week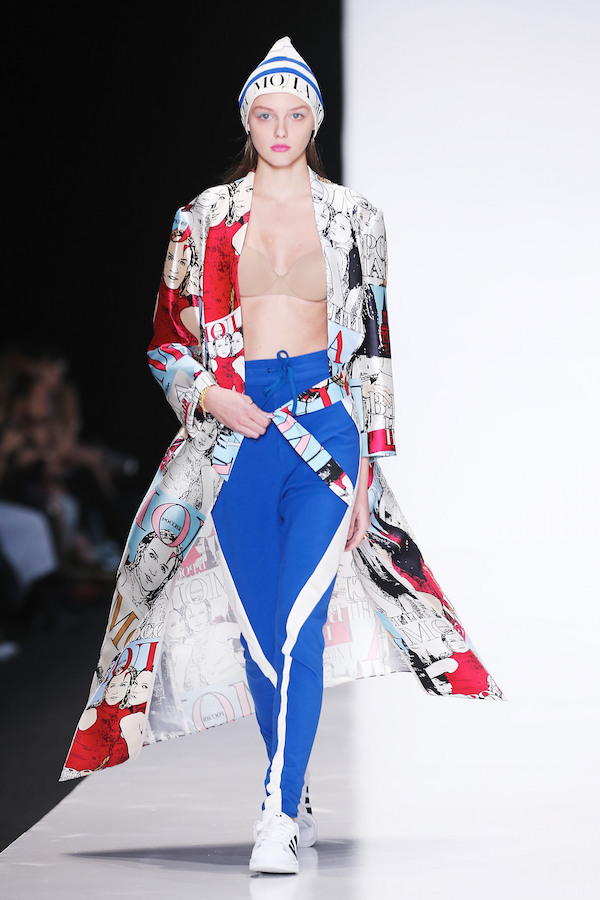 Galetsky SS15 (Photo by Oleg Nikishin/Getty Images for MBFW Russia)
During the final week of March, all eyes will turn toward Moscow as Mercedes-Benz Fashion Week Russia celebrates its 30th season. A mix of internationally acclaimed designers and homegrown talent will display their Autumn/Winter 2015 collections in Moscow's Manege Square.
The Russian fashion industry was in its infancy when Alexander Shumsky and Evelina Khromtchenko co-founded Russian Fashion Week with just 20 designers in 2000. Since then it has grown in size and importance, serving as a platform for both Russian designers and those from Eastern Bloc countries.
Helping to raise Fashion Week's standing is the strategic partnership with Mercedes-Benz, which began in 2011 and has been extended till 2019. Mercedes-Benz has impeccable street cred in the industry with its headline sponsorship of several international weeks.
"The signing of this agreement is a logical development of Mercedes-Benz's global strategy to support the most important fashion weeks in the world," said CEO of Mercedes-Benz Russia Juergen Sauer. "I'm confident that we can strengthen the potential of Russian Fashion Week, as we did, for example, in New York and Berlin."
Through catwalk shows and showroom presentations, MBFW Russia shows Russian and Eastern European designers alongside internationally recognised brands such as Vivienne Westwood, Catherine Malandrino, Frankie Morello and Tony Ward.
The 29th season, held in October 2014, included over 70 participants, and trends ran the gamut from extreme feminine glamour to a wide variety of prints and textures, unique silhouettes, minimalism and the avant-garde. Fashion illustrators Megan Morrison, Yelena Bryksenkova and Je Sul Kim as well as street-style photographers Diego Zuko and Adam Katz Sinding were all on hand to document the activity.
Not familiar with the Russian fashion scene? Here are seven names you should know:
Slava Zaitsev, aged 75, has spent the past five decades shaping Russian fashion. Think of him as the Godfather. In addition to his own line of traditional (bordering on stereotypically Russian), feminine and romantic clothes, he also oversees the Fashion Laboratory, an organisation of promising young designers. His shows are always full of theatre.
Igor Gulyaev's designs will make you wish for a more glamorous life so you could wear his clothes every day. Sumptuous textures, luxurious fabrics, ultra feminine silhouettes, gorgeous details – these are clothes requiring exaggerated adjectives.
Alena Akhmadullina makes beautiful clothes, classy, elegant and flattering. Her SS15 collection was full of flora and fauna-inspired prints executed in romantic and feminine lines – garden-party perfection.
Cap America, created by Olga Shurygina in 2013, is part of the new avant-garde movement experimenting with modern shapes, interesting textures, cut-outs, layers and varying volumes in monochrome or vibrant colour combinations.
One of my favourite brands is Eugenia Legkodymova's Laroom. Her SS15 collection was fresh, vibrant and brightly colourful, full of feminine A-line shapes and hourglass figures. She's already posted a sneak peek of AW15 on her website and it's full of light, girlish designs that I'm craving.
Atelier Galetsky is part of a younger generation influenced by world-wide pop culture – and it shows in his designs. His SS15 show was full of bright, vibrant colours, bold lines and a modern Russian interpretation of global branding.
One of the most avant-garde designers from last season was Ria Keburia from Georgia, who works in Paris. Her contemporary collection was full of Japanese inspiration, bright colours, unique shapes and playful doodles of cars, plays and toys.
It's an exciting time for Russian and Eastern European fashion, and MBFW Russia brings this corner of the world to a much wider audience. Details regarding the line up for the March show are being finalised, and more information can be found on the website here.
Words: Julie Reid