Often when the word East London is mentioned, especially around the fashion table, a connotation immediately flies through everyone's mind. Yet over the past 20 years East London has been the cultural birthing ground for much of the UK's most recognisable, successful and famous artists. Whether it is YBA or The Libertines, East London has paved the streets to success so entering the UEL Graduate Show brings with it a certain level of expectation.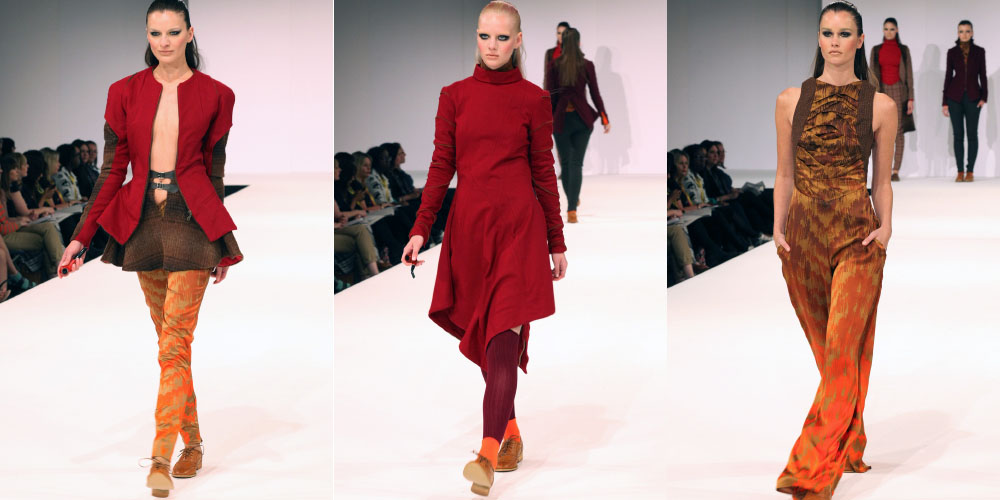 Rochelle Mullings
As the first look appeared with the model holding a Sherlock Holmes pipe – the iconic one not the black clay pipe Holmes would have been much more likely to have used – a retrospective feel started the collection yet the rest unfolded to prove quite the opposite. The six garments included a tweed trouser suit with cape draping coat and a red turtle neck, an elfin look followed by a floor length dress which would have been suitable for the Met Ball. For only six pieces the conceptualism and creativity kept coming and the show piece was a cleavage open coat with silhouette augmenting crotch shaper alongside bright orange and brown trousers. For what appeared originally as a tweedy collection with Sherlock Holmes pipe ended leaving you feeling as though you'd been on a journey from where the idea started to where it can go. The perfect showcase of a young designer explaining their abilities, ideas and future prospects.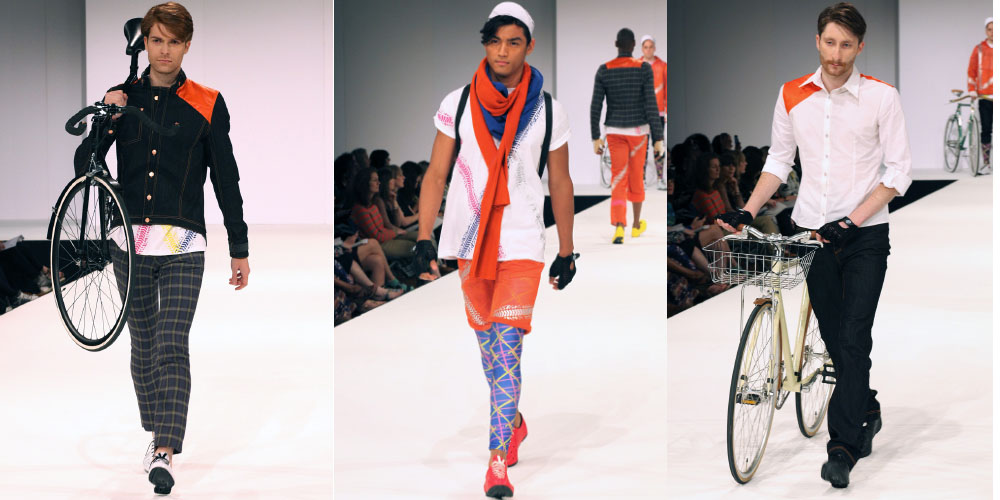 Charles Chambers
At every show there needs to be that one thing everyone's talking about and at UEL GFW 2013 it was certainly Charles Chambers. Putting bicycles on the runway was daring but when the third model appeared without one he had a well crafted courier esque rucksack with long handle in replacement. The collection had a strong theme and had obviously been drawn from the UEL doorstep of that East London beard and bicycle look combined with the courier essentials. A colourful and bright collection all held tightly together by a single idea executed perfectly.
Jazz Gina Brar
Colourful, sexy, fun, undoubtedly inspired by the likes of Holly Fulton, Moschino; Jazz Gina Brar with a name to match the collection lit up the runway and proved completely technically competent with her constructions. Plastics and pastel pinks held the collection together with latex shorts and trouser leggings accompanying gauze and cotton. The range of materials was vast, perfectly exemplifying Brar's confidence and ability in execution.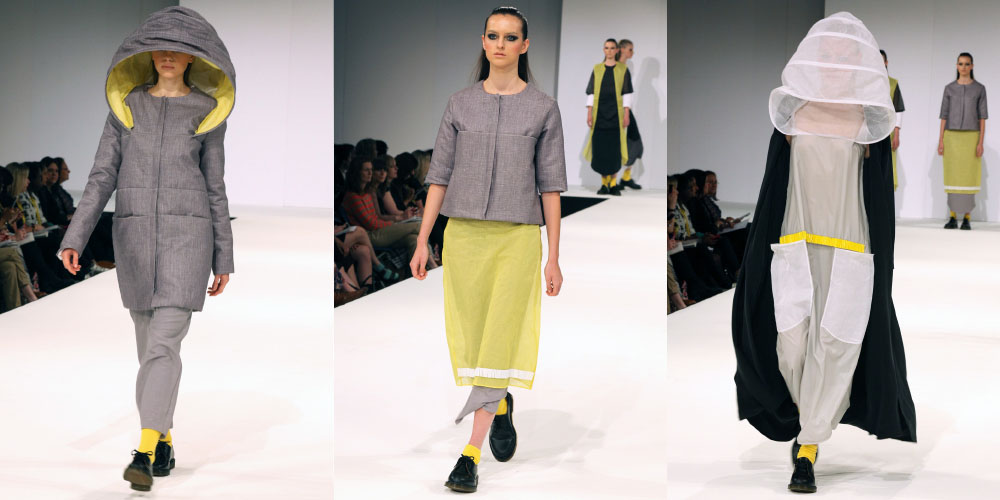 Francesca Steed
Opening her 6 piece collection with a hooded model the eerie collection consisted of charcoal greys, black and all low colours starkly contrasted with bright yellow detail. The collection felt clean and contrasting, the use of the yellow brought the collection to life whilst the shaping of the pieces showed technical integrity. References appeared to the likes of Jil Sander, classic Boss and early Raf, that continuously successful clean German simplicity look with a few added extras thrown in as evidence to talent, conceptualism and originality.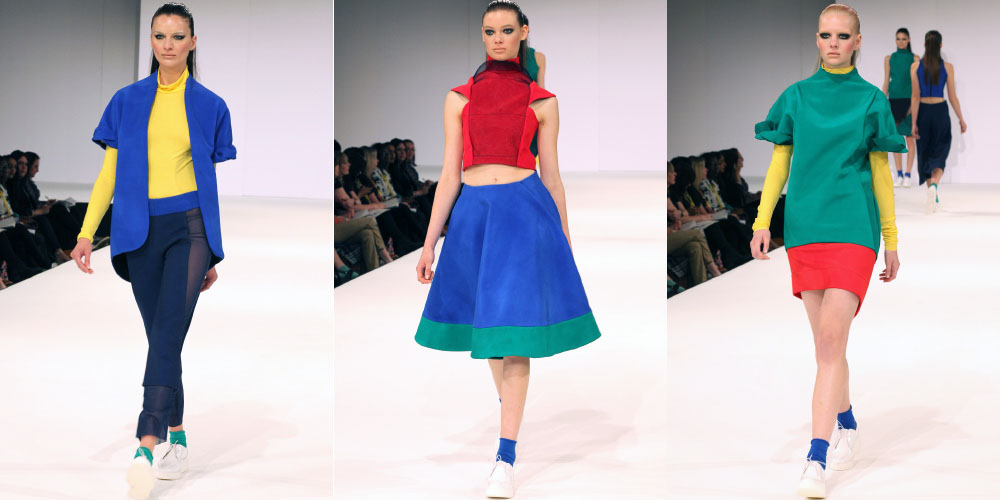 Elizabeth Harrison
This colourful show was an extremely wearable sporty collection consisting of block colours, cute socks and well made garments. So often you want to believe in a collection and that is exactly what Harrison achieved. With it's bright colours and many different shapes, whilst creating a collection with a strong mnemonic Harrison also gave evidence she could do so much more. All shapes and sizes were shown yet tied together with a strong theme and sense of similarity  a genius way to show your graduate collection and prove you've got your own style.
– Words: Declan Higgins
– Photography: Justin van Vliet
CLASS OF 2013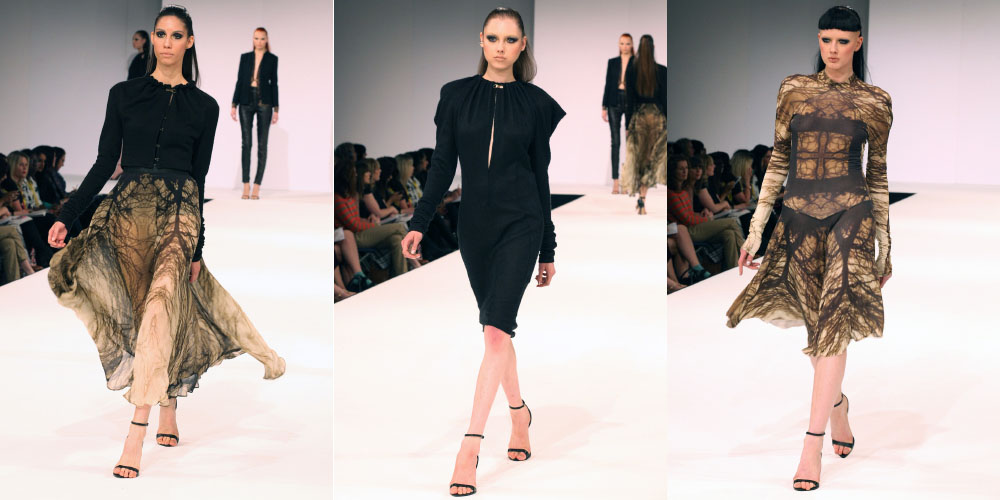 Francesca Holgado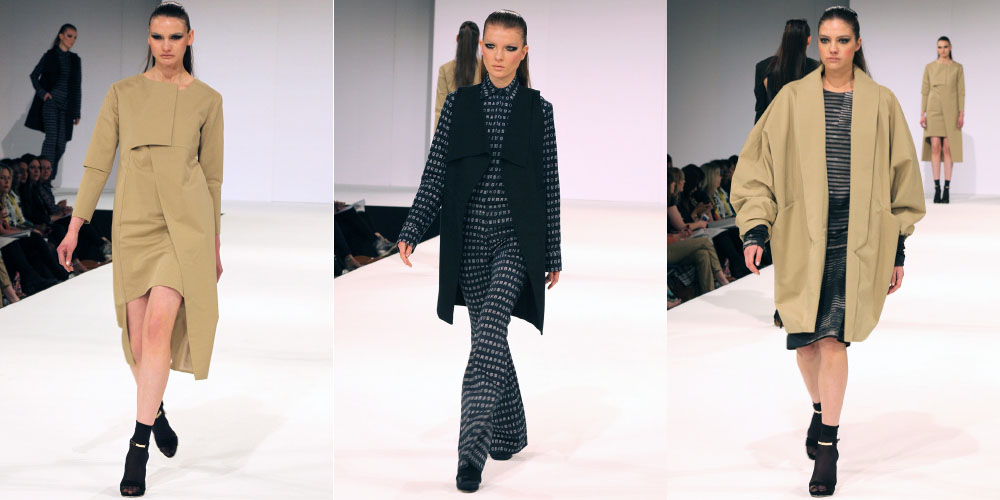 Anu Raat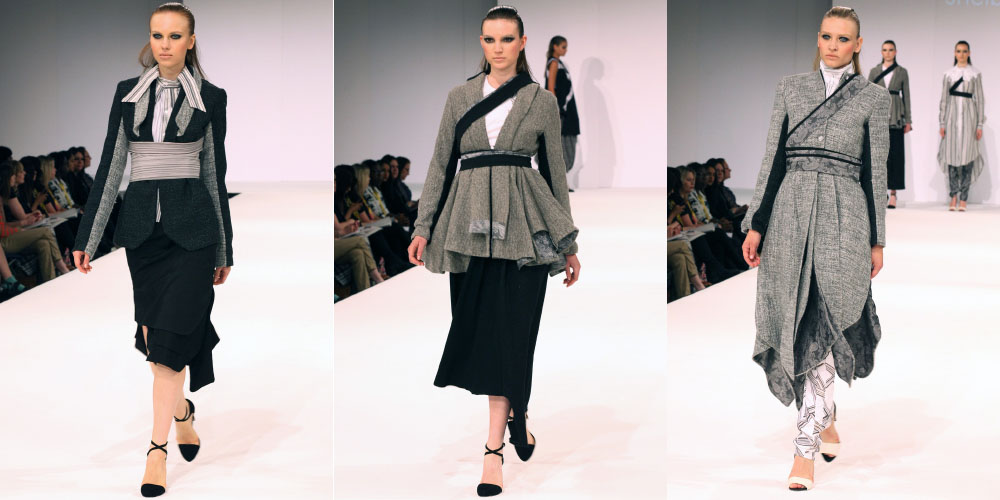 Shelby Moncherry-Desfosse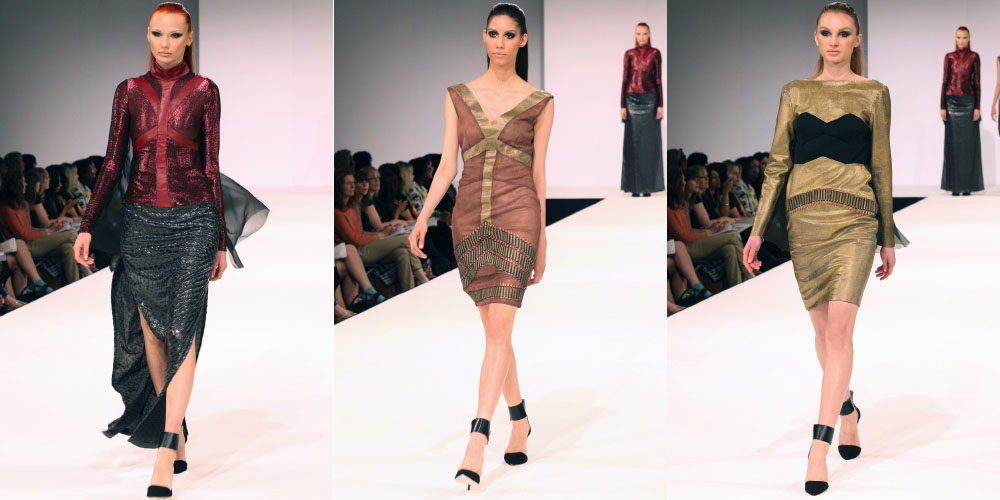 Poonam Osan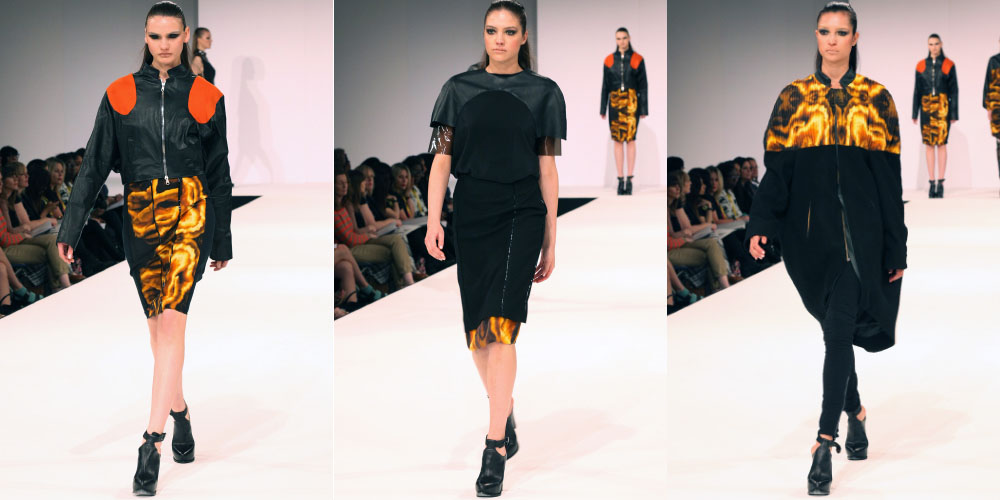 Catherine Handford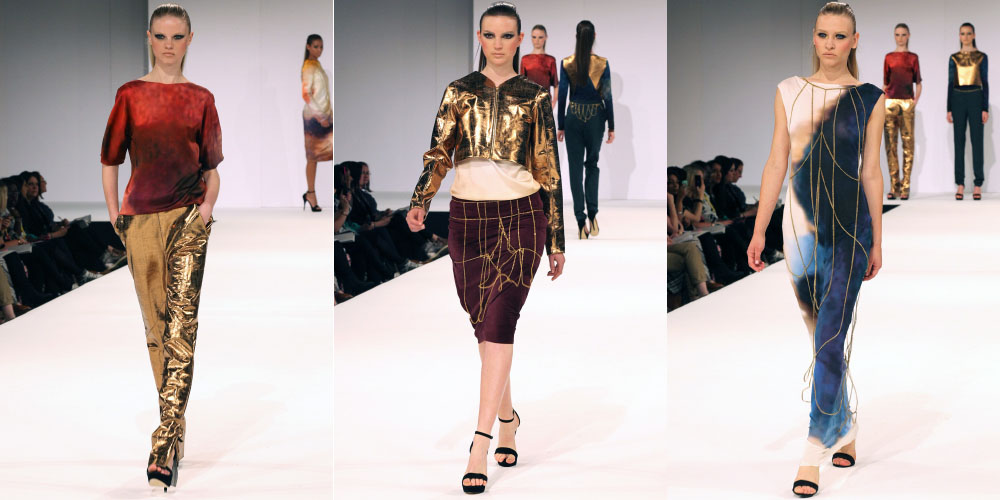 Leshia Thomas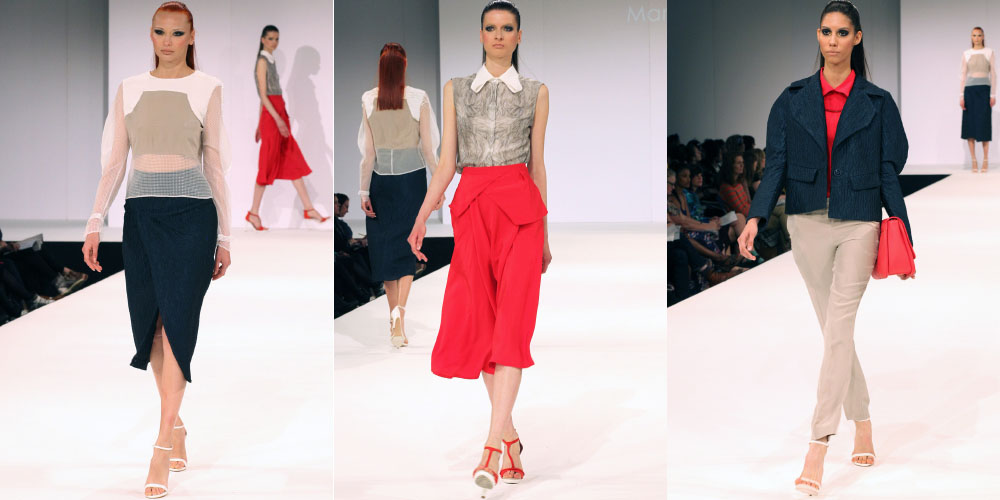 Marietta Kalvi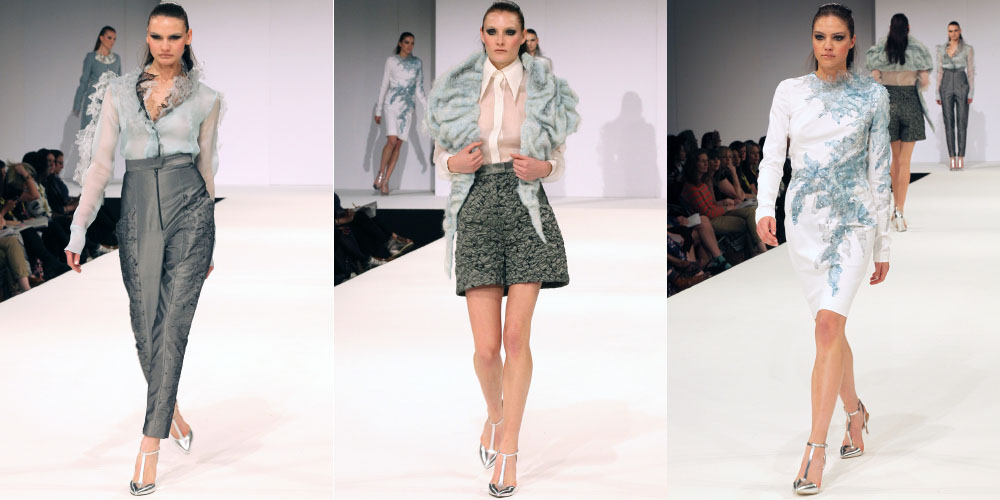 Estela Nevinskaite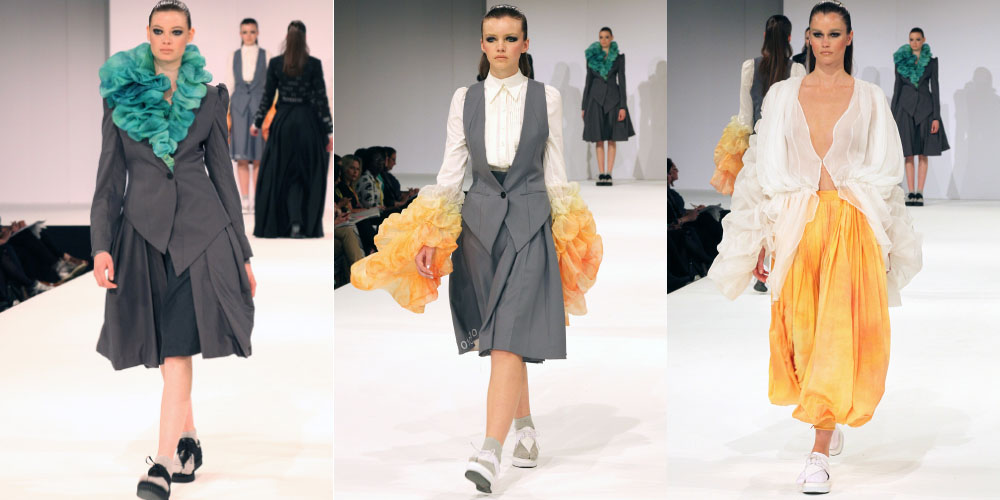 Ayumi Morita