One thing was certain from the UCLAN show. The Jelly shoes of the 1990s are most definitely back. UCLAN designers mixed minimalist, sculpted tailoring with bold, cartoon-like accessories and bright summer shades. Here are some of the favourites from this year's show.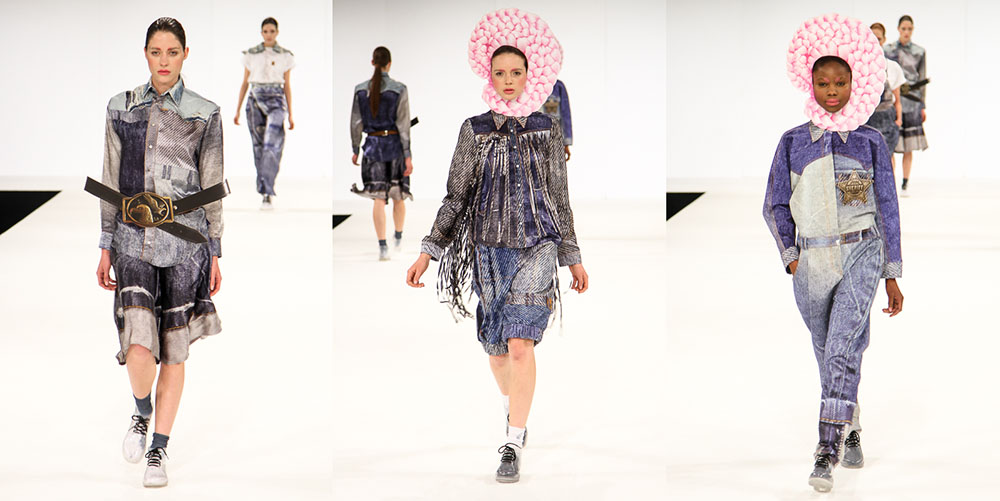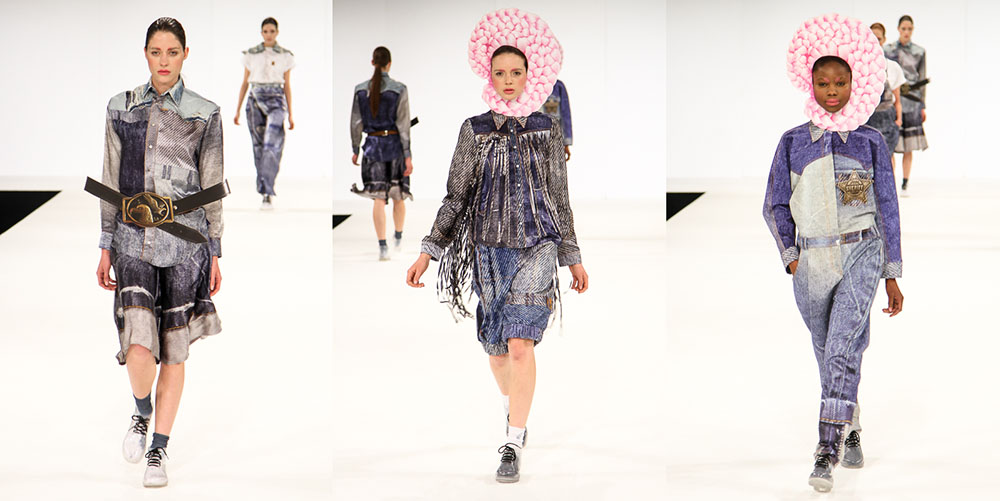 Alexandra Wilbraham
Denim was the key theme here as Wilbraham exhibited stonewashed shirt dresses, dungarees and fringe shirts. The denim was patchwork, and the looks were loose fitting, creating an overall feel of old America. Adding to the fun were the accessories. Designed by Sarah Cormack and Lydia- Anna Jones, jelly shoes were predominant throughout UCLAN's show. Wilbraham's collection features jelly Doc Martins, styled with cobalt blue socks. A cardboard 'Sheriff' badge was pinned to the dungaree suit, further adding to the feel of saloon town America.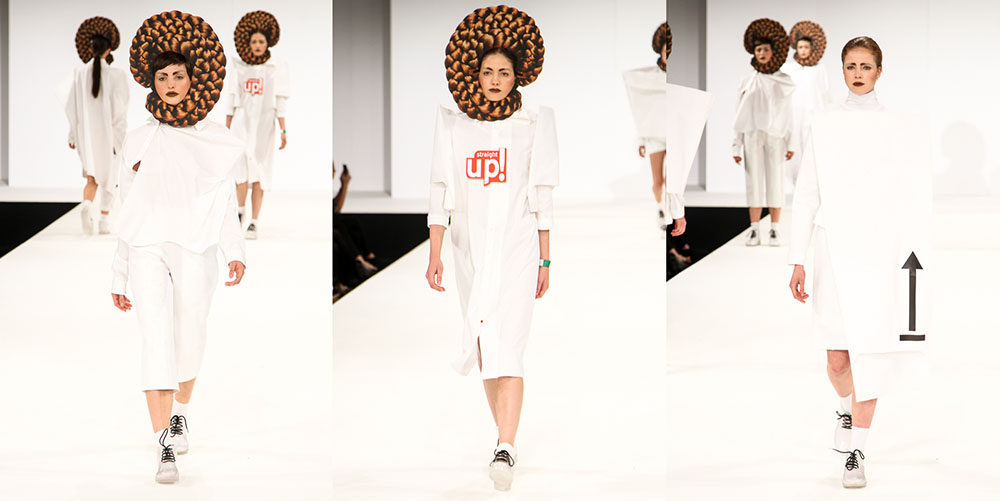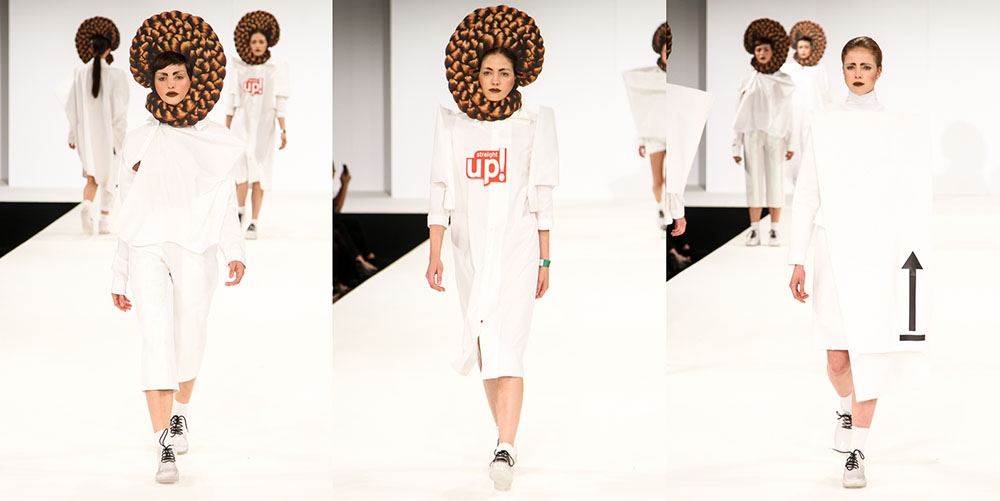 Lauren Vajal
Vajal's unique theme encompassed letters and the post, using thick, white fabric to drape the body in the shape of a letter. Like origami on the body, Vajal's creations were stiff and structured, creating an accurate 'paper' look. The 'paper' outfits were printed, as though the models were being posted themselves, and once again the look was finished with jelly Doc Martins, coupled with crisp white socks.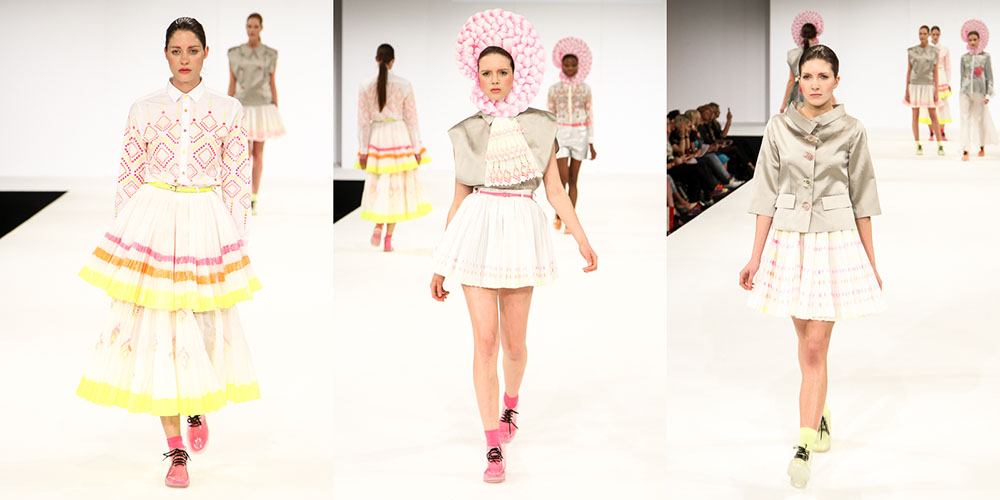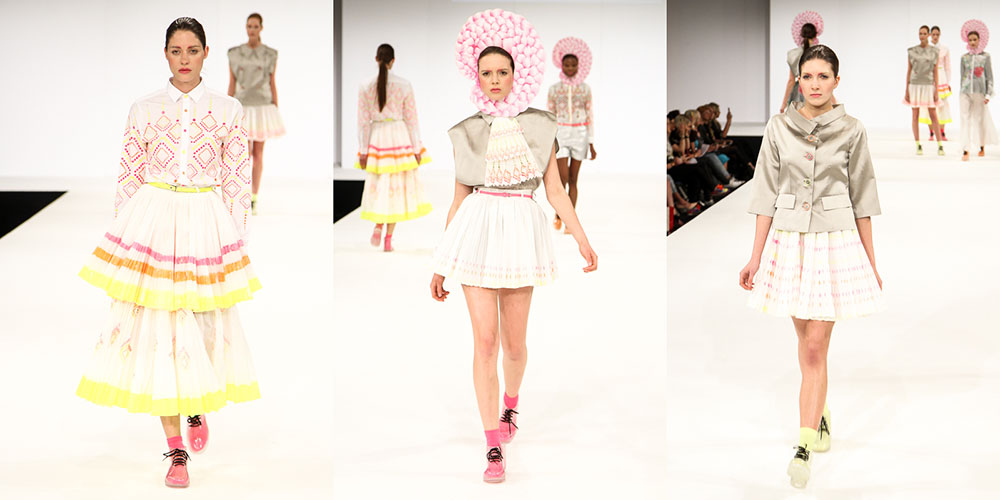 Jasmine Chana and Rebecca Ives
Chana and Ives paired strong fluorescent colours of pink, orange and yellow against a delicate backdrop of nudes and pearl pinks. The overall effect was feminine, with a rebellious edge. Pleated tiered skirts were nude with stripes of neon yellows, and embellished high collared shirts clashed perfectly with soft coloured miniskirts. What could have been perhaps an overly 'girly' affair was complimented by the mismatch of bright accessories, even down to the hot pink eyebrows.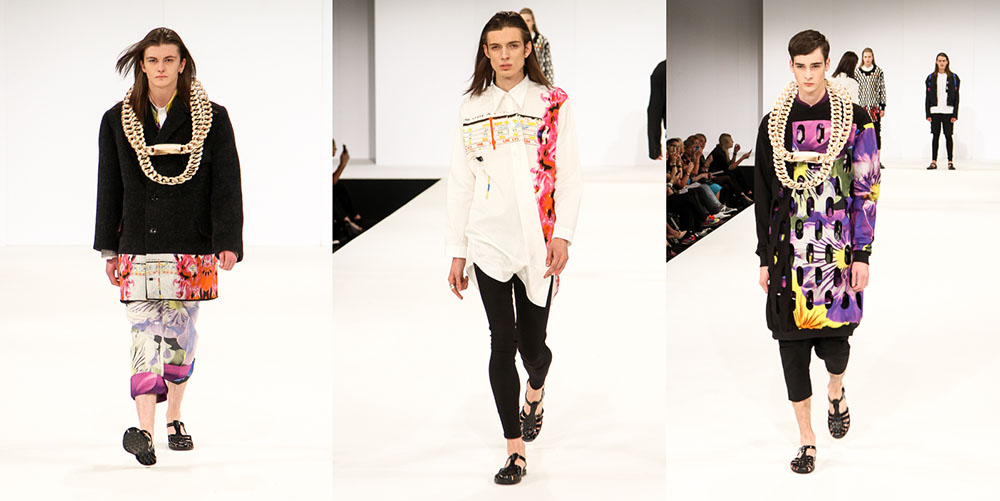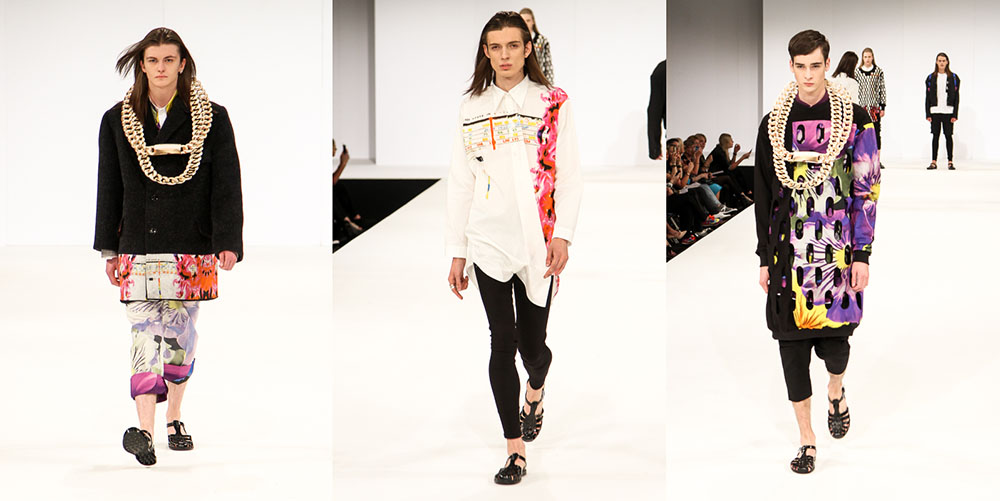 Josh Cryne
Choosing loose, oversized garments and bold accessories, Cryne created striking androgynous looks. Bright, floral printed shirts underneath oversized hole-ridden jumpers complimented the black fitted leggings underneath, and long haired male models strode down the runway in draped fabrics and layers of shorts and trousers.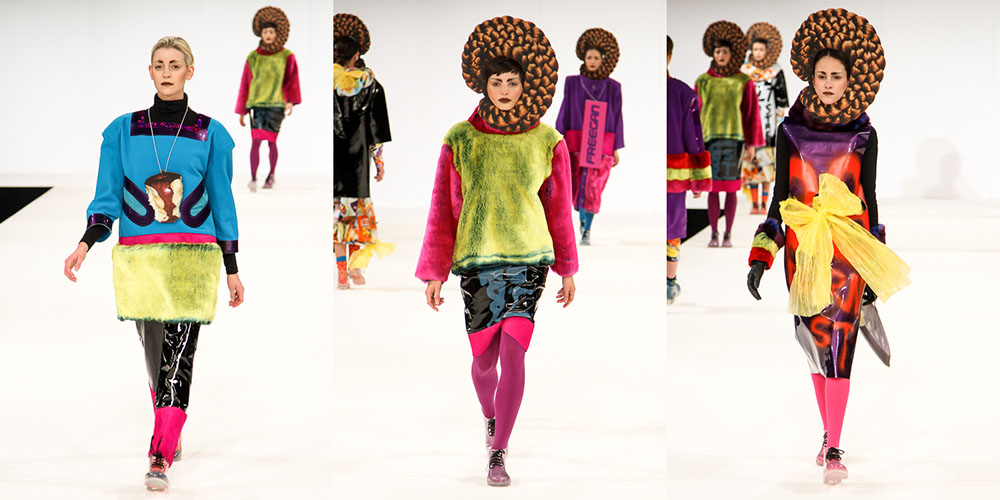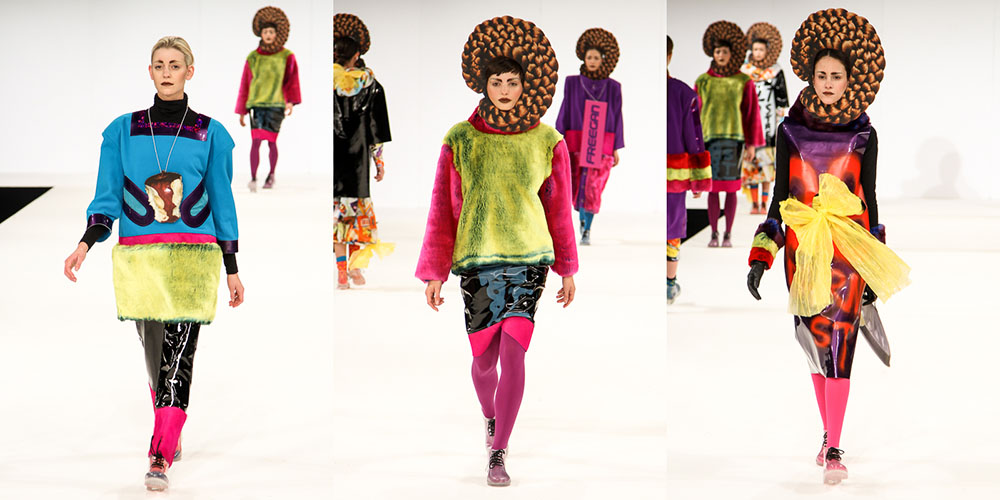 Naomi Grime
Last to feature in UCLAN's show was Naomi Grime, who portrayed themes of consumerism and household products. Grime's first look used materials such as rubbish bin liners and recycling bags, transformed as desirable items. On one of the garments, everyday packaging such as Quaker Oats and Lenor was printed to create an effect similar to the collages of the 1950's. Throughout the show this 'everyday living transformed' feeling continued, with rubbish bin liners used as bows on garments, and bright faux fur rugs draped across the body as skirts.
CLASS OF 2013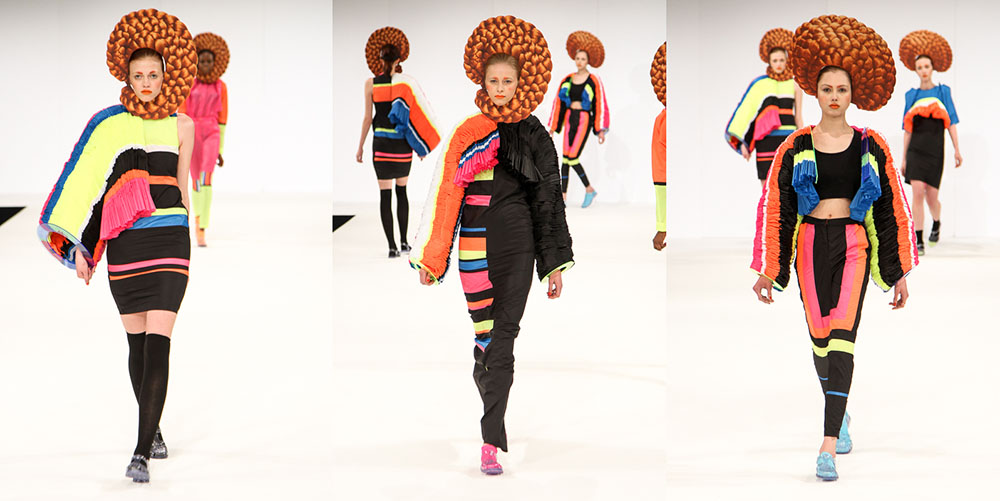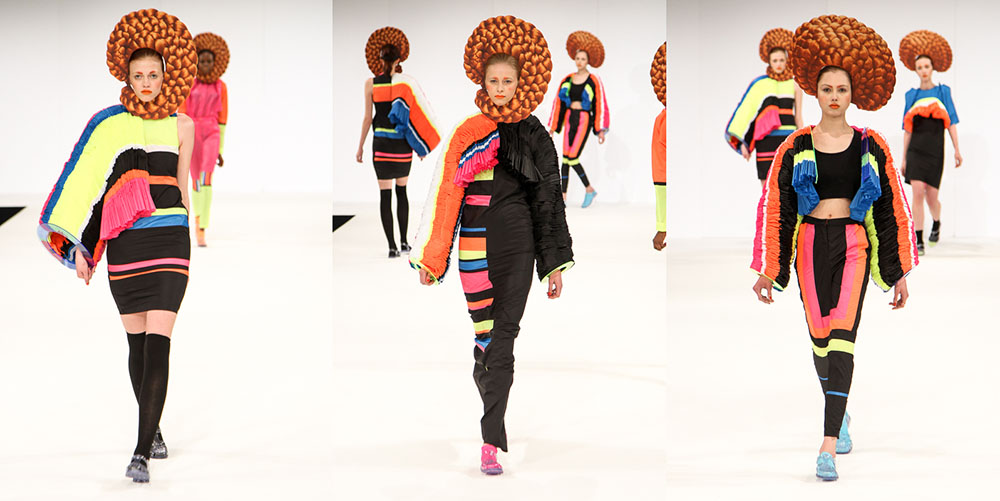 Rebecca Nield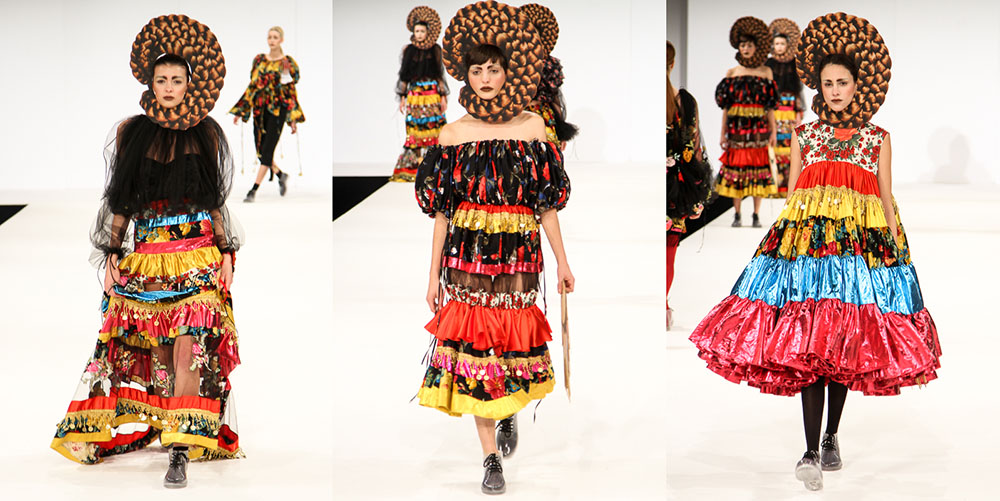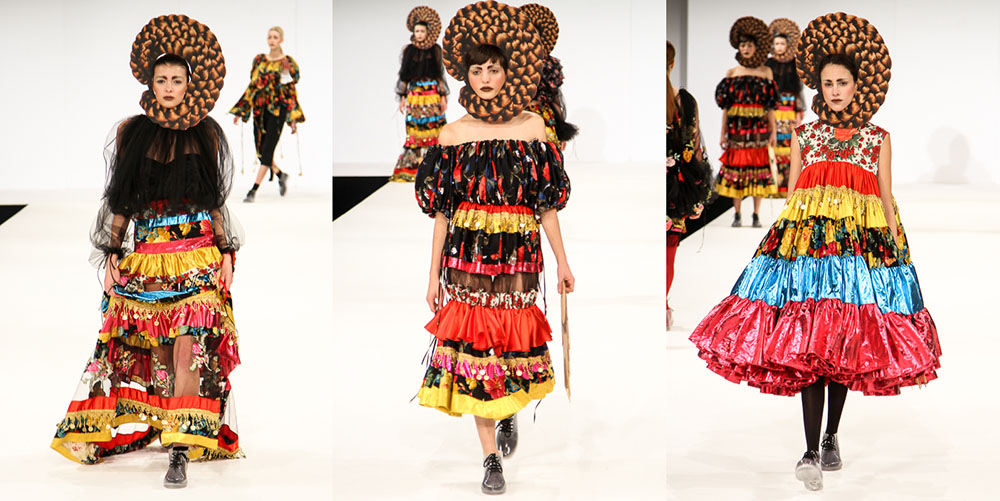 Latoya Fairclough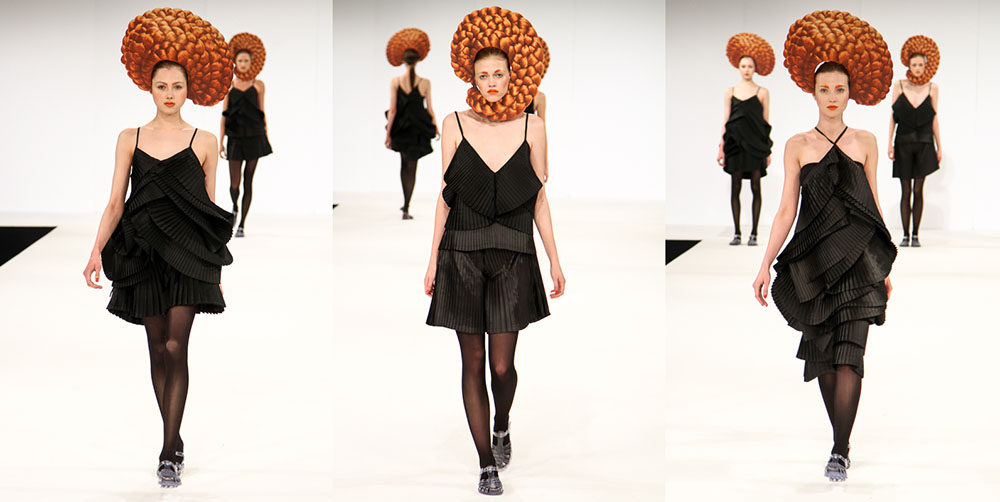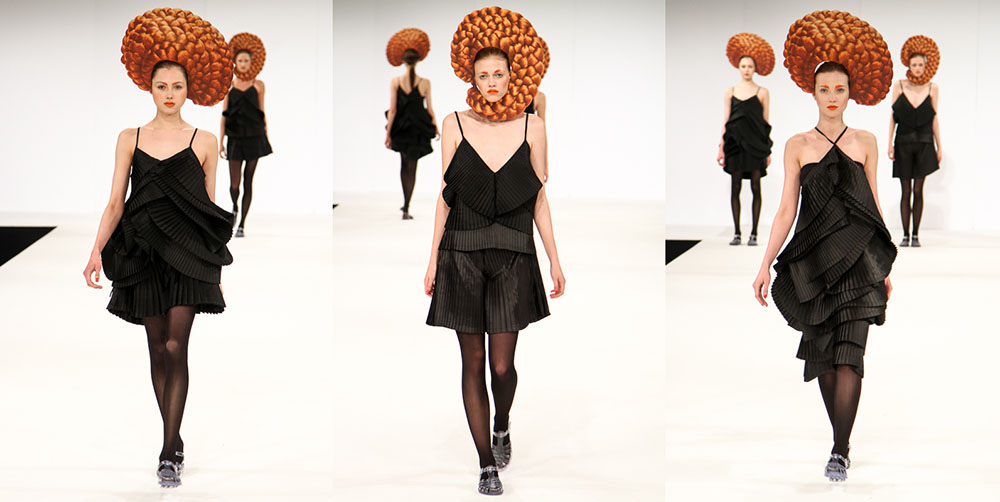 Melanie Alquet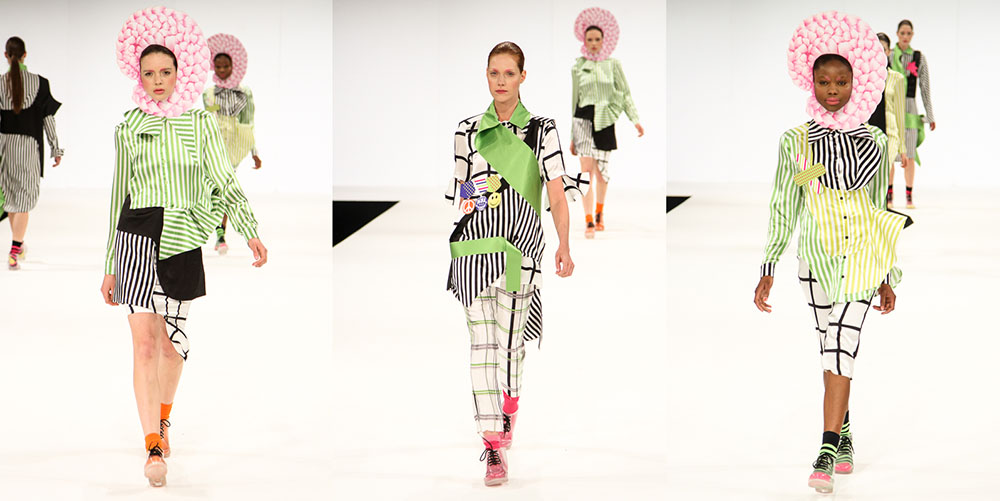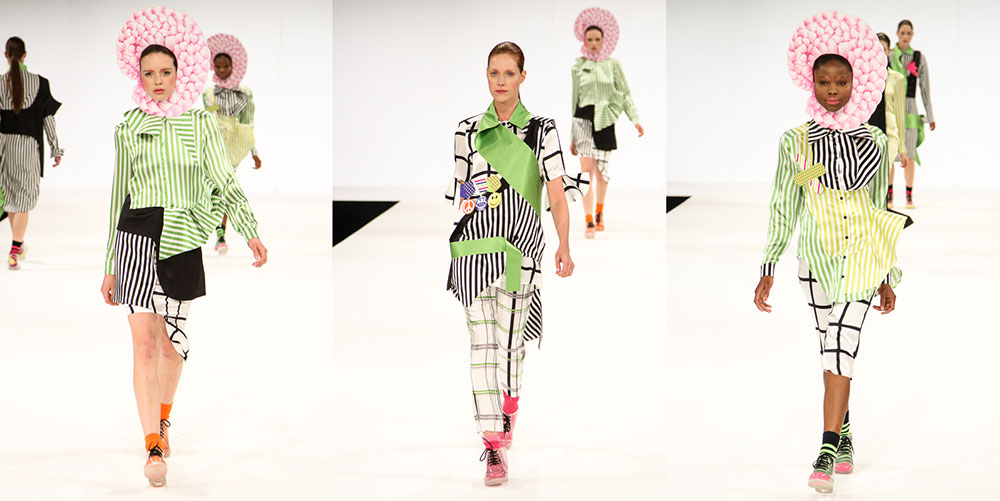 Lauren Edwards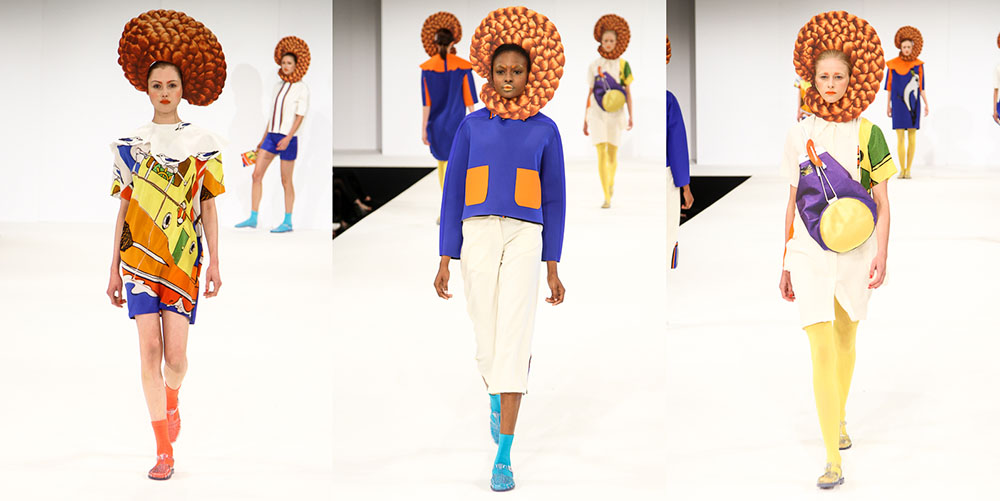 Lucinda Barraclough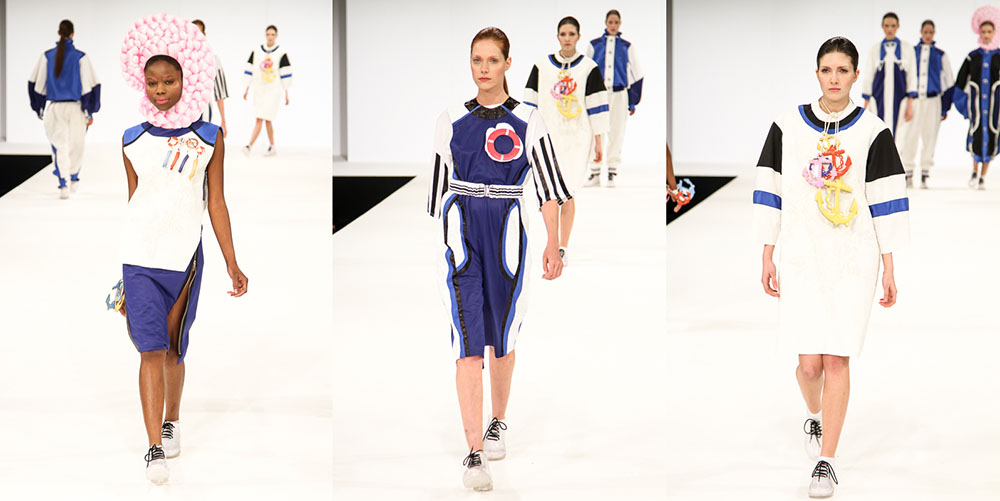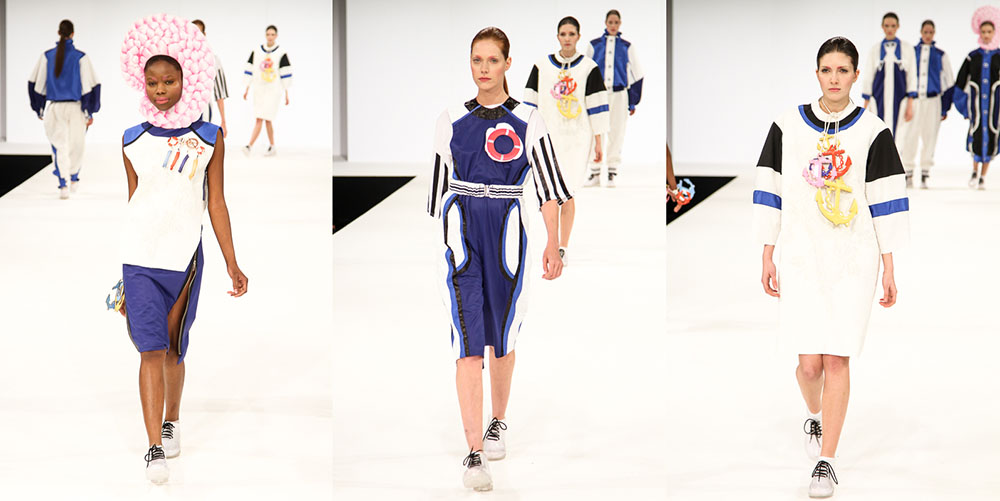 Georgia Burns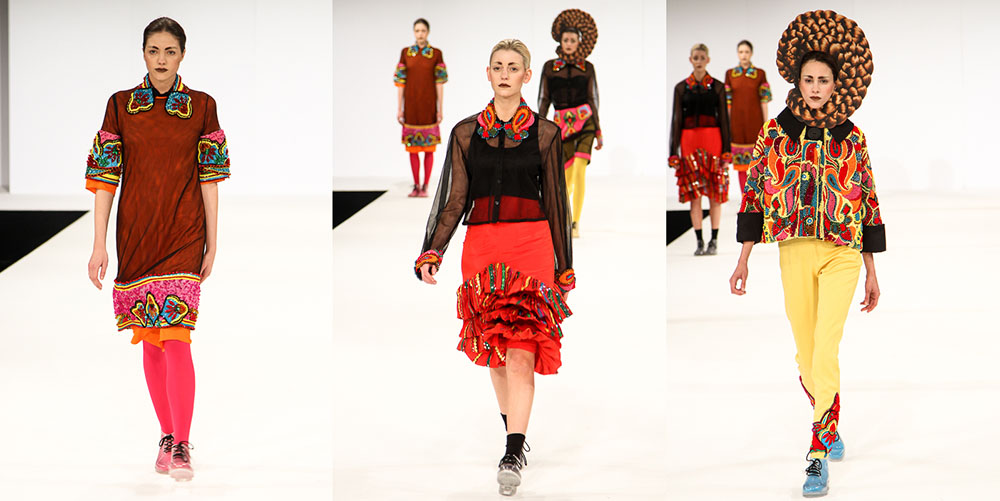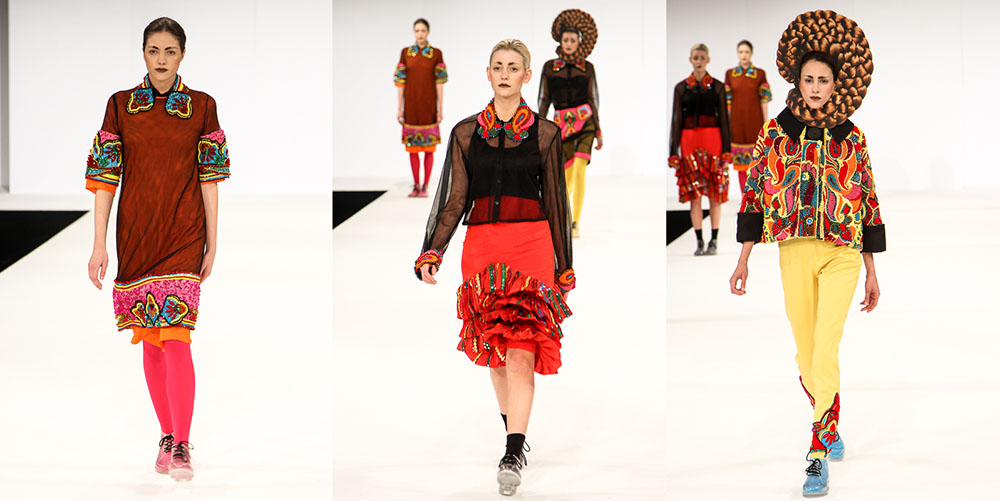 Saleha Bagas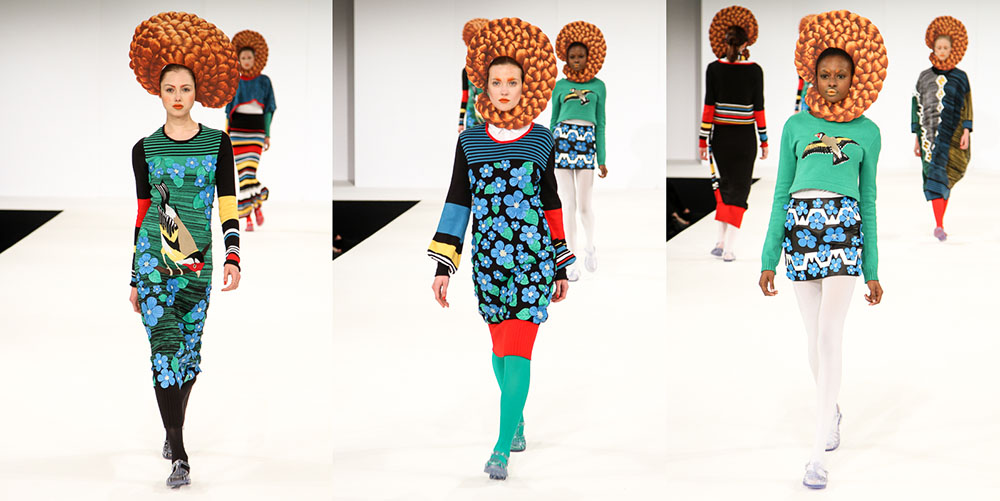 Alison Foster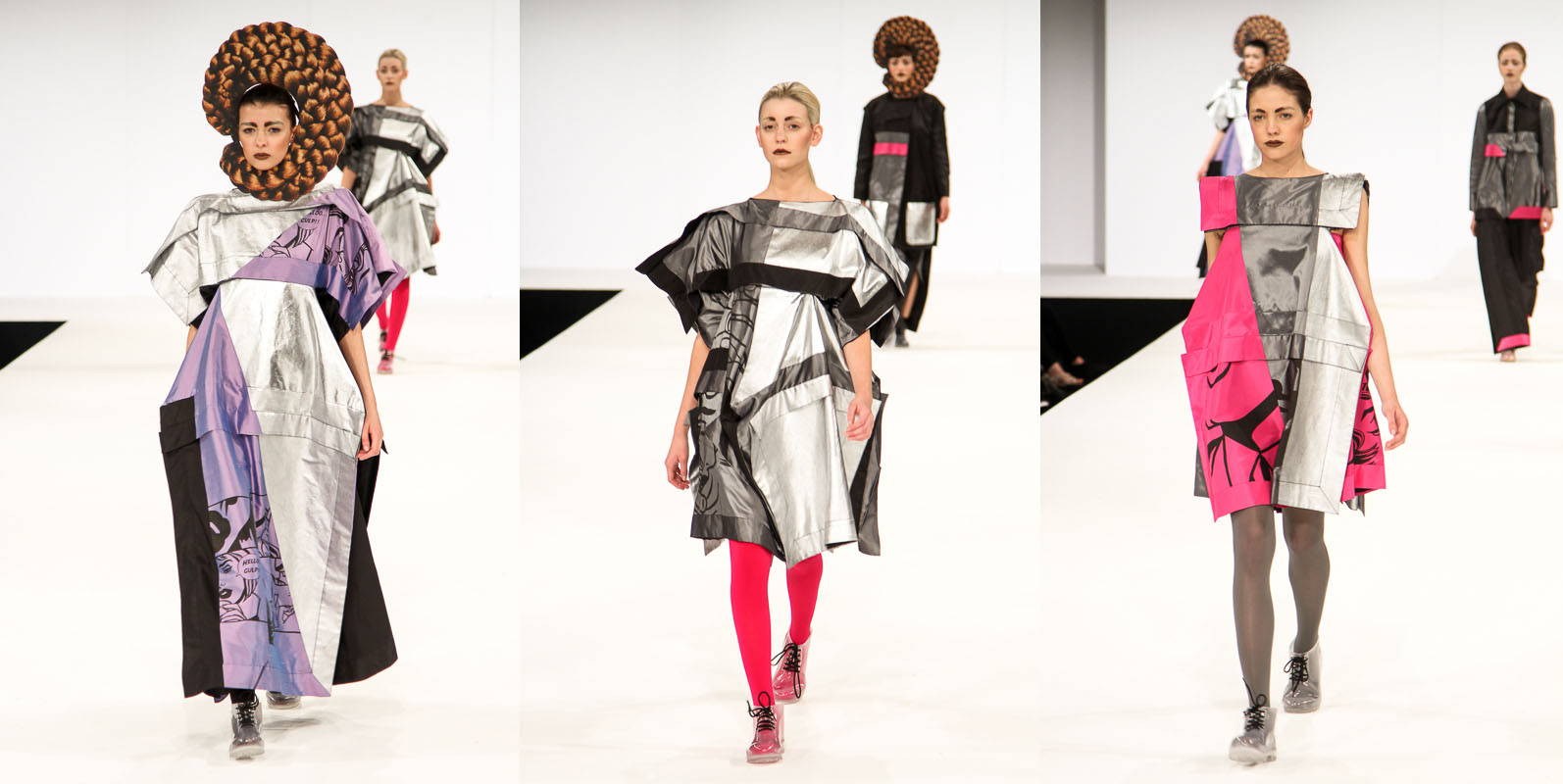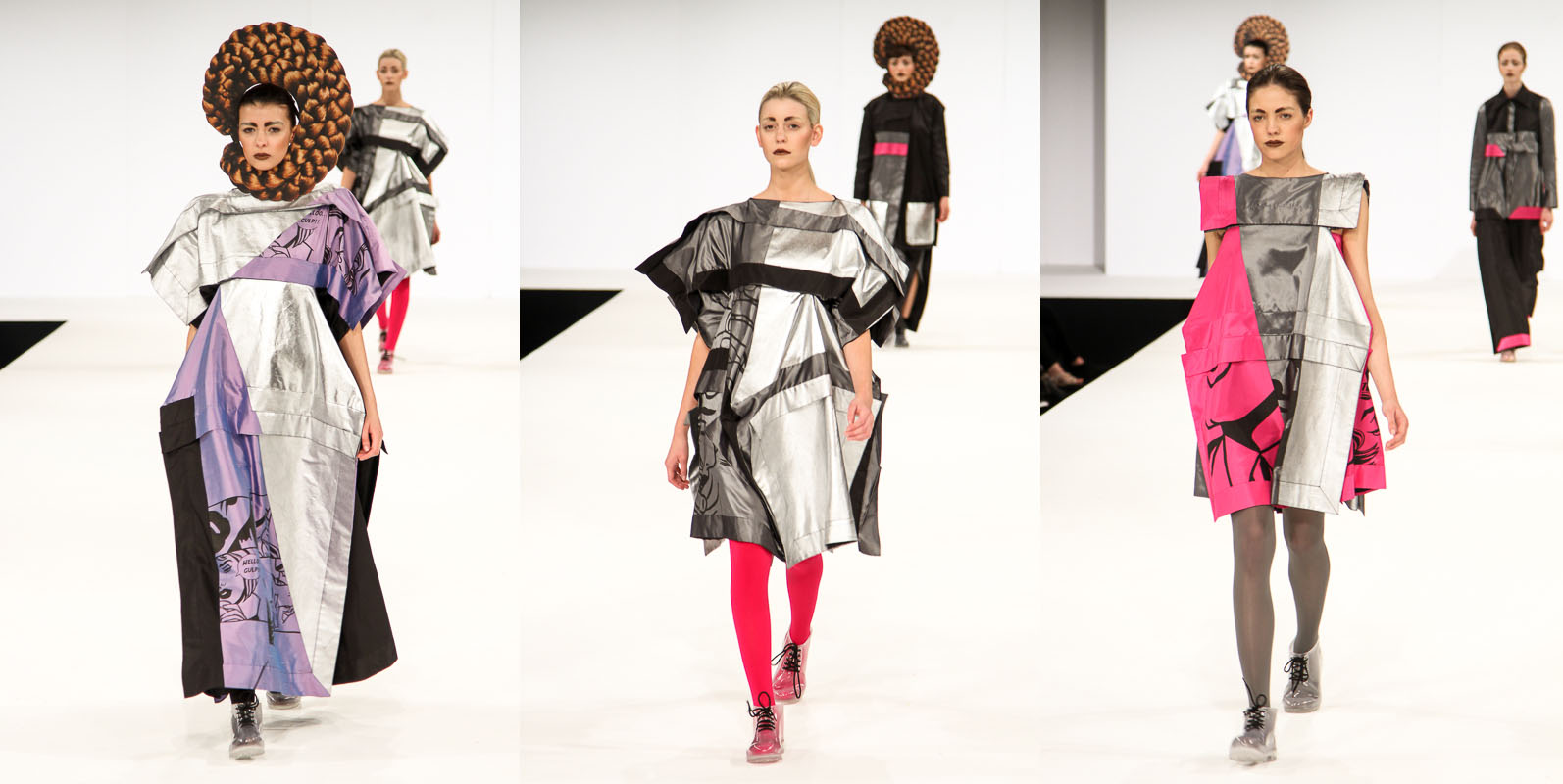 Charlotte Morton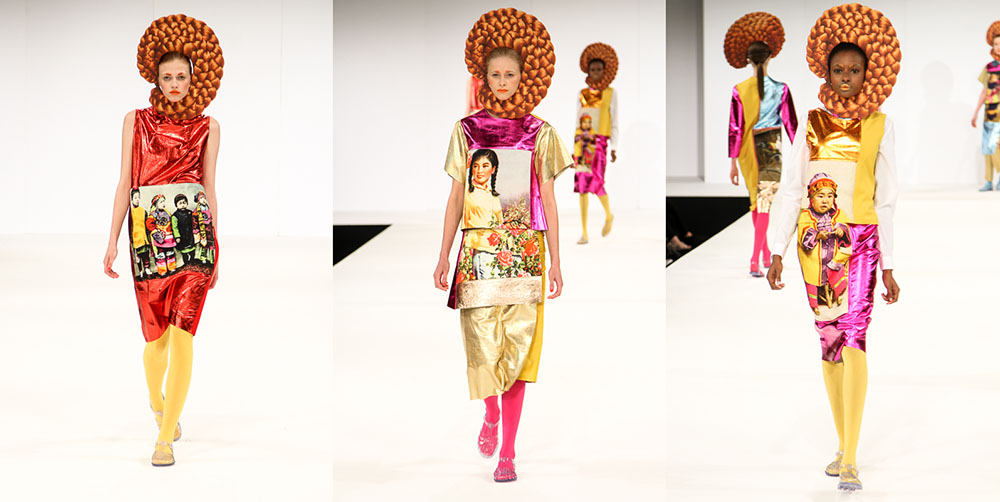 Emily Rose Hughes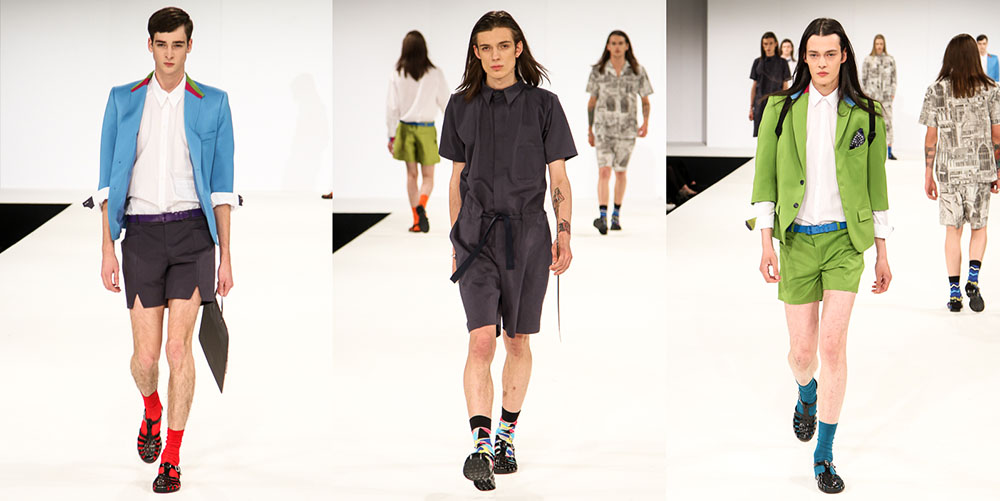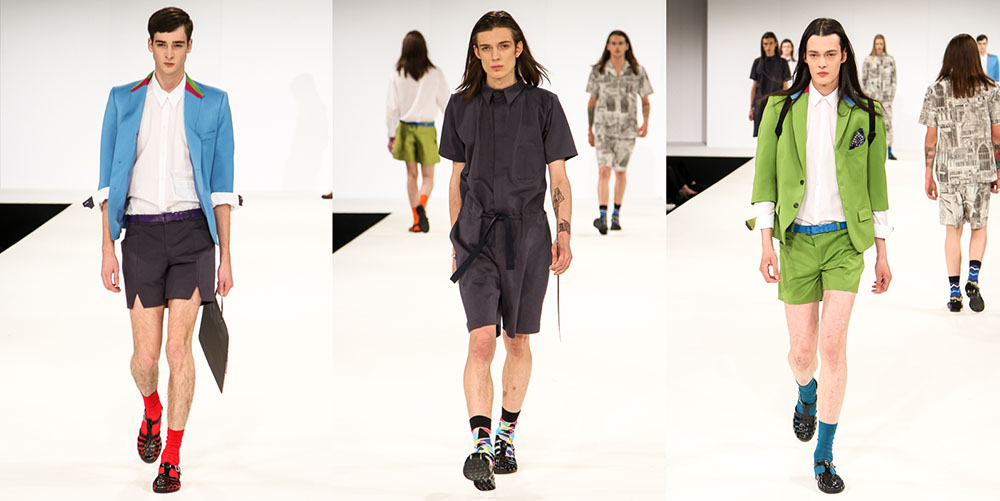 Lauren Bond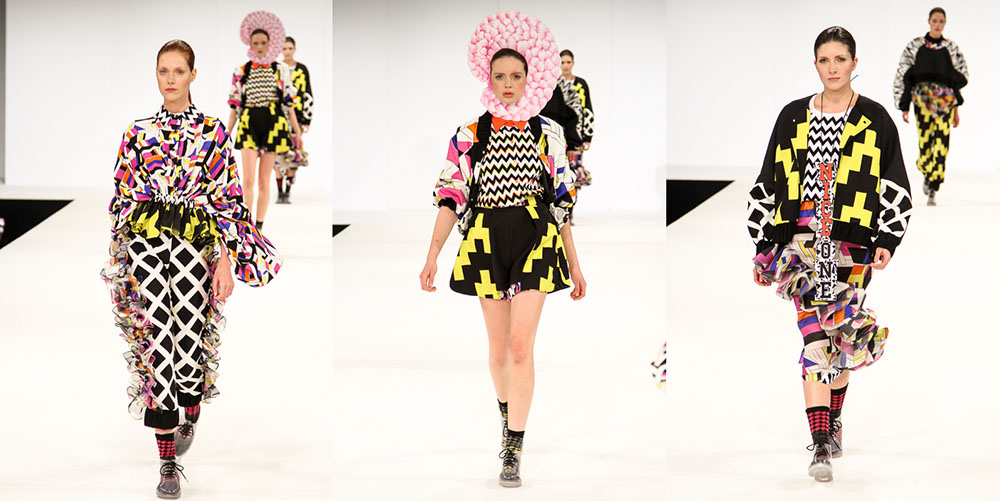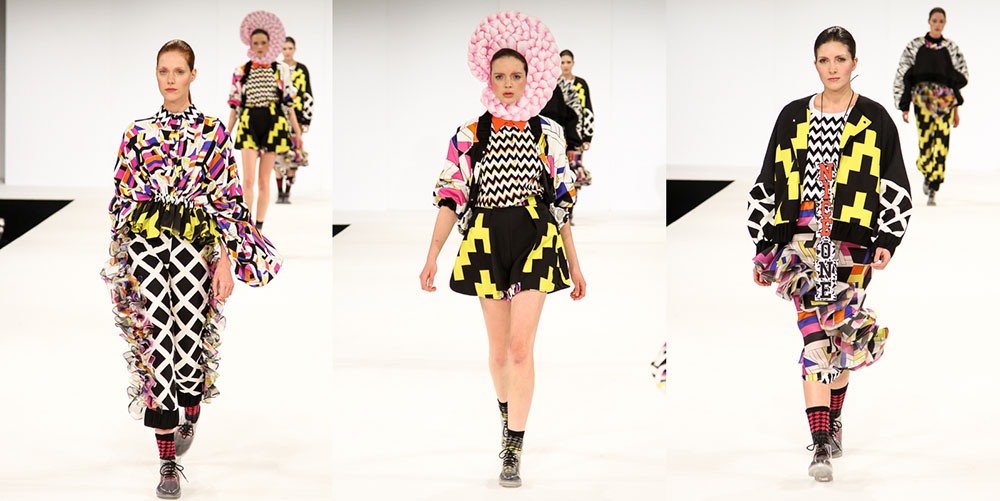 Chloe Givnan
– Words: Catherine Earnshaw
– Photography: Steve Turvey