Ravensbourne's Graduate Show was fuelled with nostalgia, 90's fashions and statement outfits. Graduates mixed 90's memorabilia with urban prints to create a show that captivated audiences from start to finish. Here are just a few memorable collections from the show.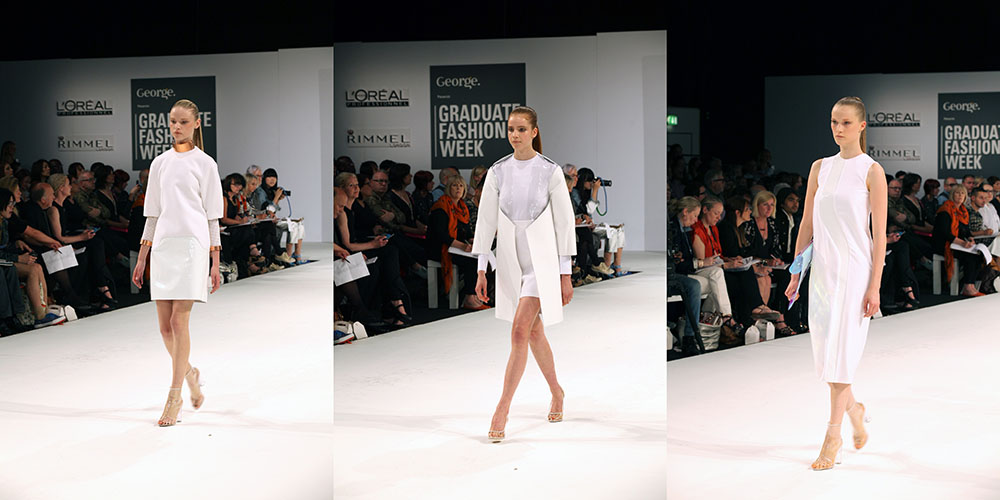 First to impress on the runway was Sofie Malmgren. Focusing predominantly on the minimalistic, Malmgren's collection featured white, reflective shift dresses. Models walked down the runway holding bright, iridescent clutch bags, whilst accompanying accessories included thick metallic chokers in dazzling bronze, and walked in transparent plastic stilettos.
Far from minimalistic was Rebecca Elley's collection. Elley created structured, armour like dresses, almost severe in their decadent, couture like appearance. Dresses were tiered and layoured to create a bold, stiff ruffled effect, and leather garments were ripped and worn. The accessories trend continued however, with models donning heavy metallic bracelets and sky high stilettos.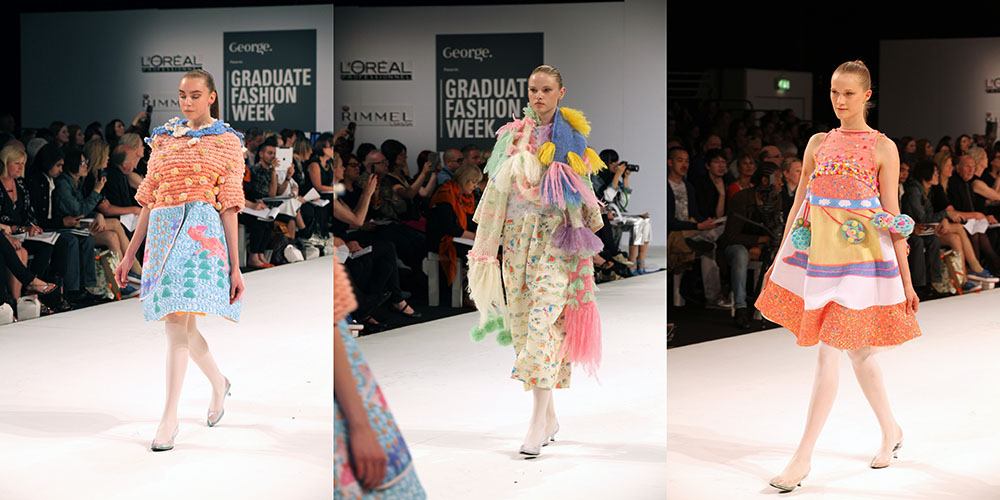 Taking away from the severity was Chen-Yu Wang, who added a touch of playfulness to the show. Yu Weng's garments took on childlike qualities. Jumpers and pegged trousers blended together to form 'onesies', and the fabric was heavily patterned with cartoon drawings as though taken straight from a children's colouring book. Models strode merrily down the catwalk, embellished in bobbles, tassels and pom poms, a wash of pastel colours, pinks and purples.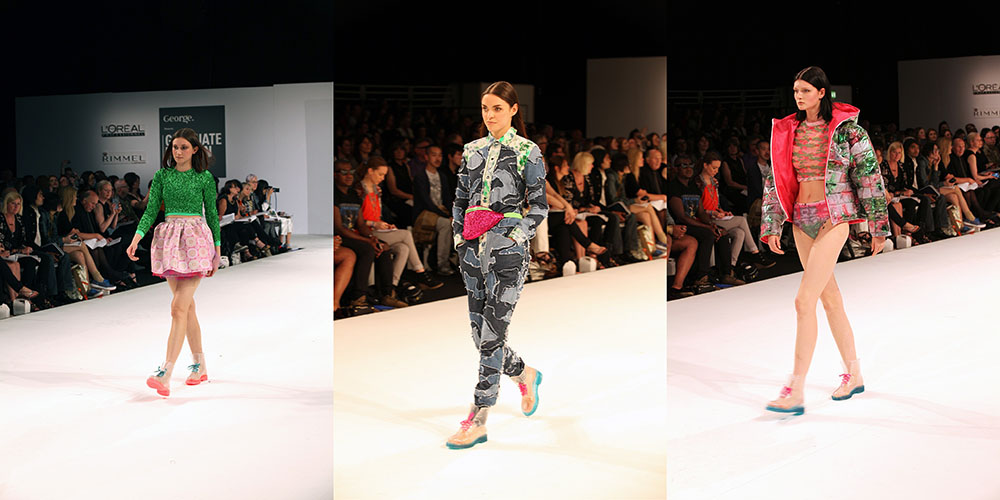 Further adding to the memorabilia, one particular standout from the show was Rose Blair. The collection was a wave of 90's nostalgia, featuring such blasts from the pasts as glitter bomber jackets, hot pink bum bags and sequinned crop tops. The highlight of the collection was a transparent bomber jacket, in which My Little Pony toys were stitched into the clear pockets.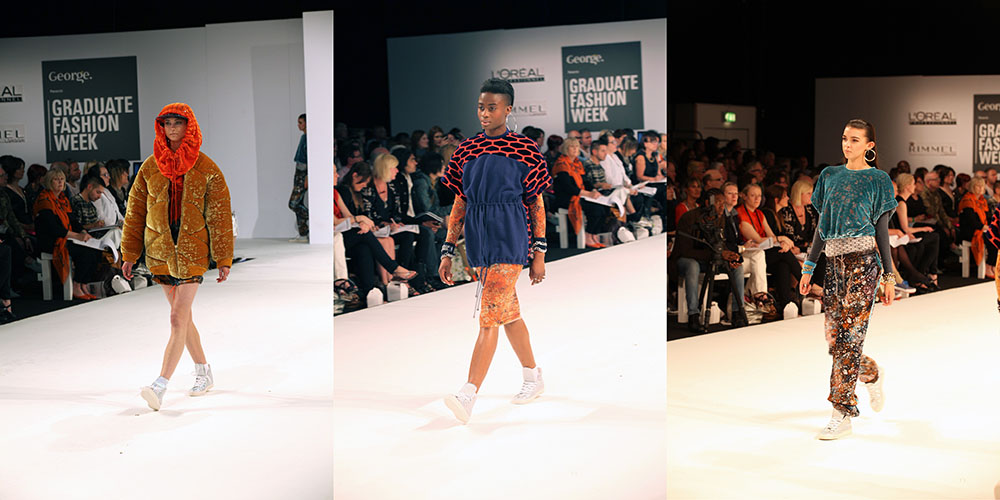 An equally bright but altogether different collection was Anne-Lina Dingsor-Uudelepp's designs. As Fergie's 'London's Bridge' roared, models walked down the runway draped in thick velvet fabrics, echoing the feel of urban London. Colours were as loud as the music, mixing oranges, gold's, purples and bright blues, and were heavily patterned, creating an effect that resembled a bustling city market. Large gold hoops and slick backed hair echoed the effect of urban rebellion, and white sequinned trainers once again added to the city feel.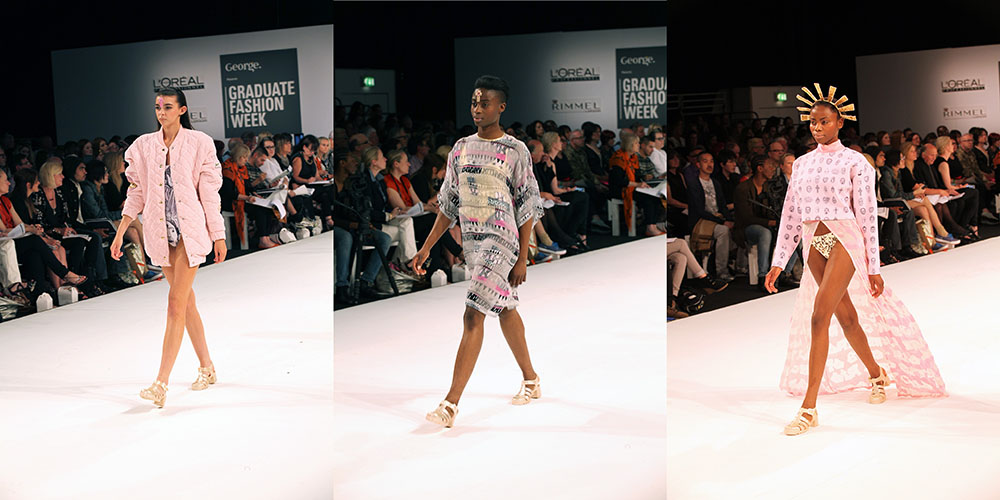 Last of the standouts was Leanne Warren, who again took inspiration from past childhood memories. One model wore a glitter cross crown, accompanied by a long flowing baby pink cape, as though she had been transformed into her childhood dream of a princess. The girlishness continued with matching shirts and skirts in pastel shades, and jelly shoes made for the perfect accessories.
– Catherine Earnshaw
– Photography: Justin van Vliet
CLASS OF 2013
Clio Peppiatt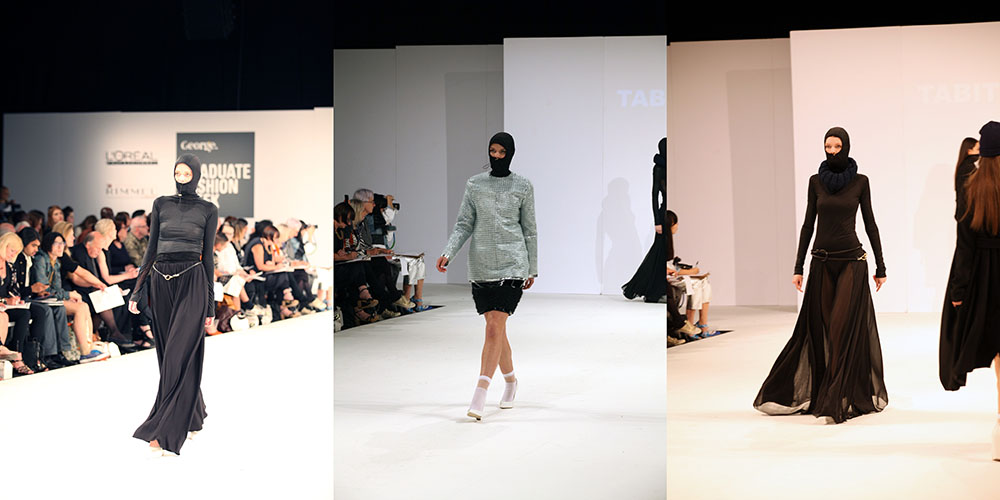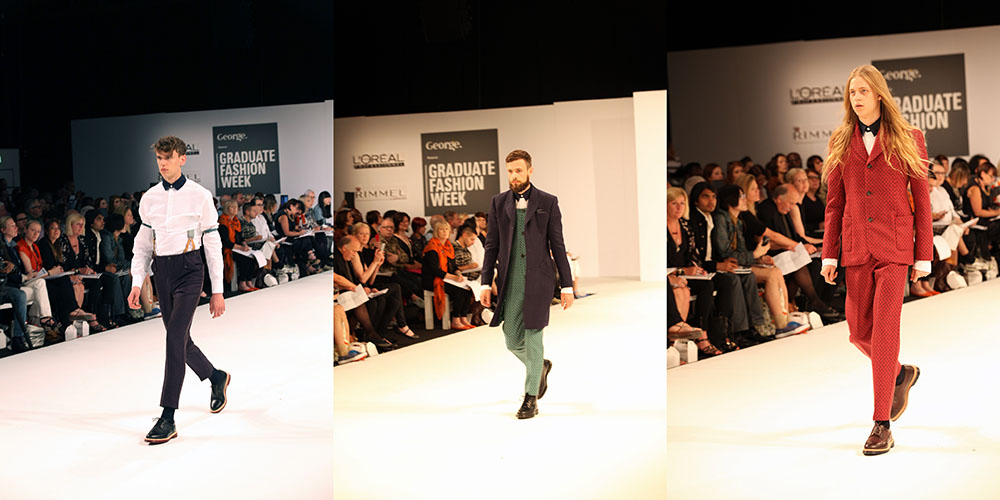 William Baxter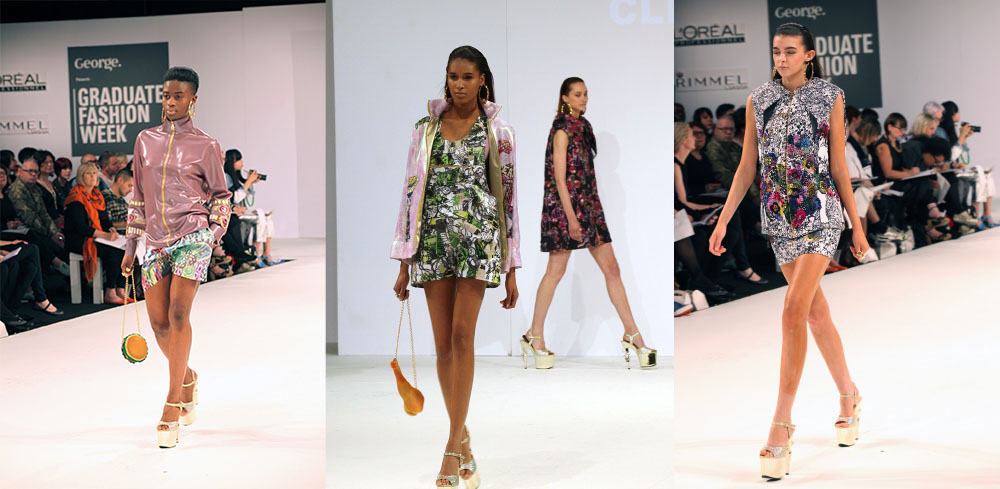 Clio Peppiatt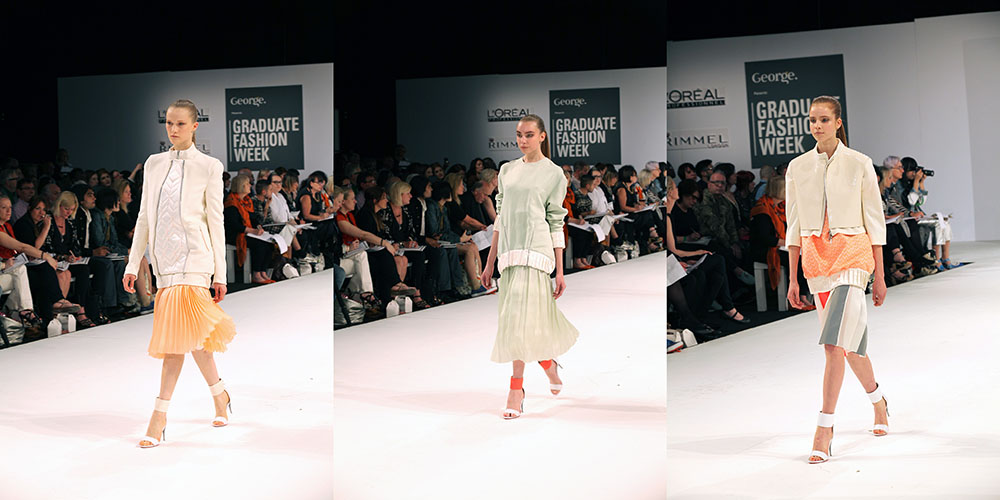 Lydia Kim Krause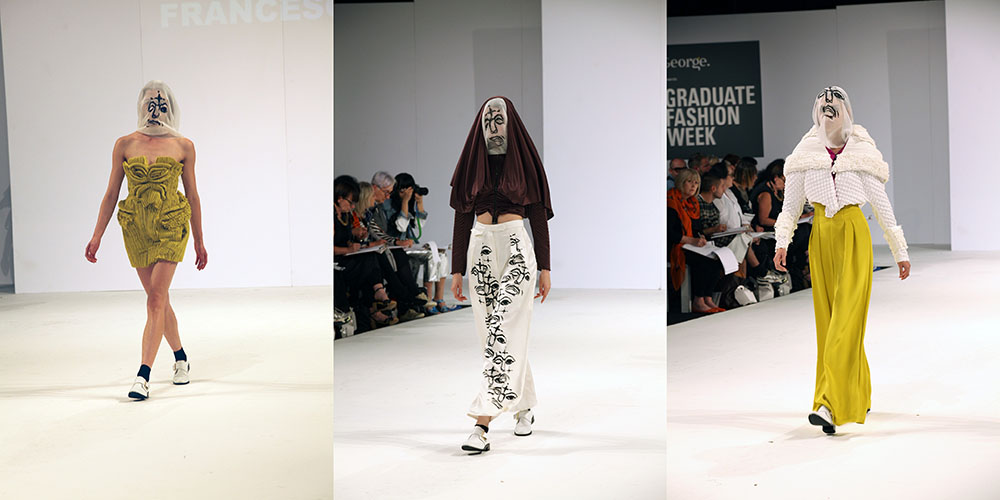 Francesca Valorsa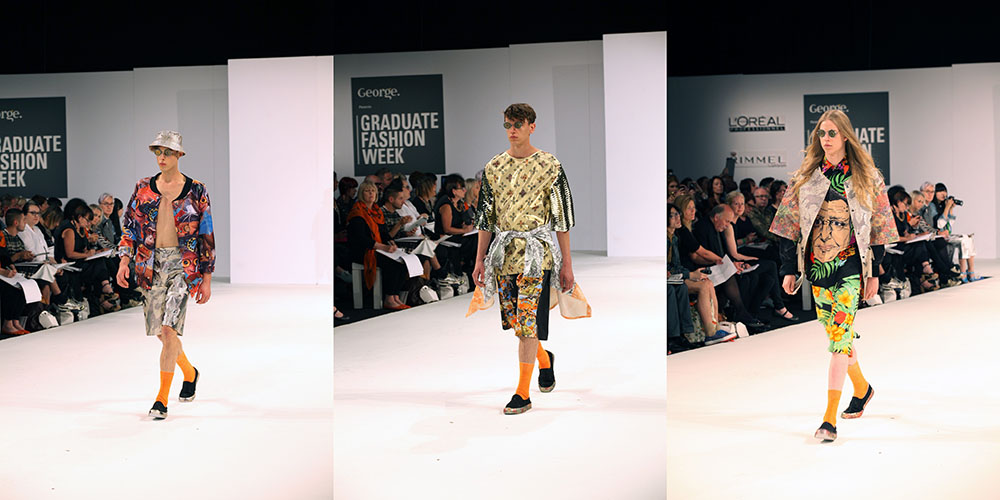 Jane Swansbury
Emily Shackleton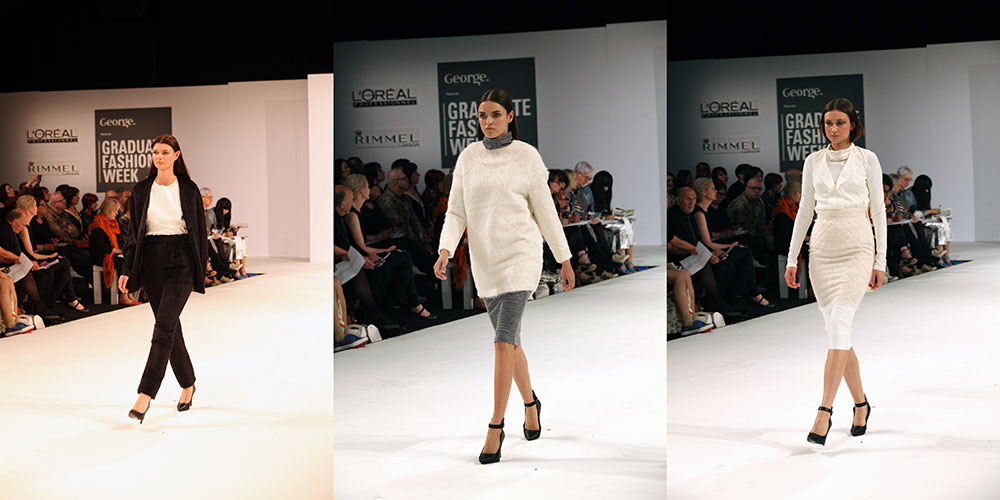 Rebecca Bradley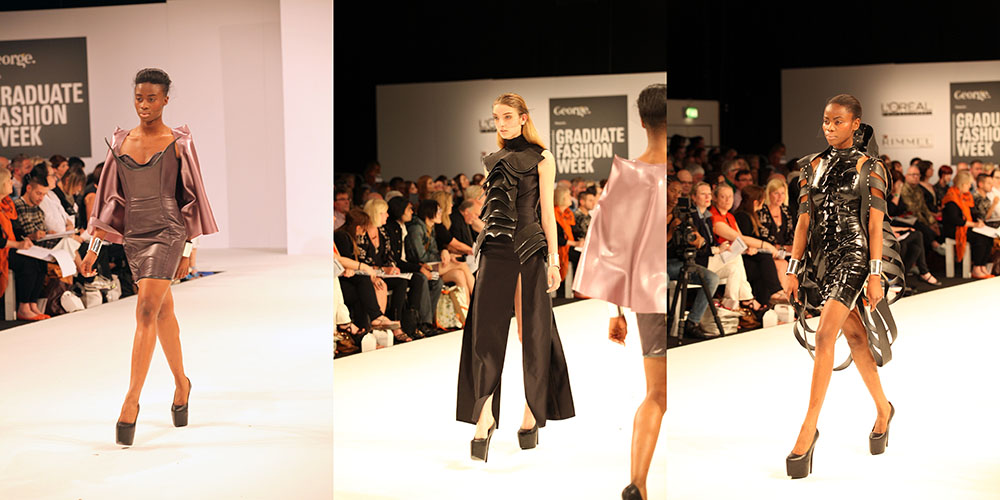 Bex Elley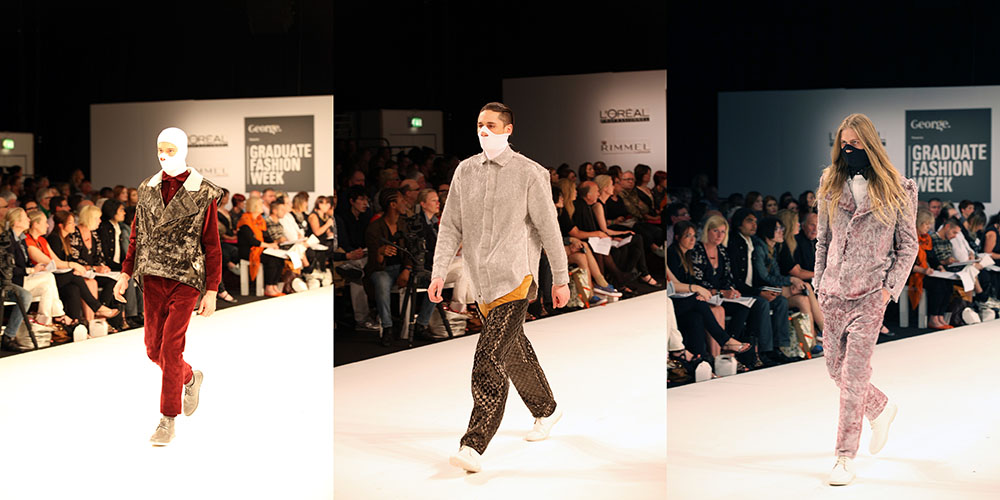 Victoria Guy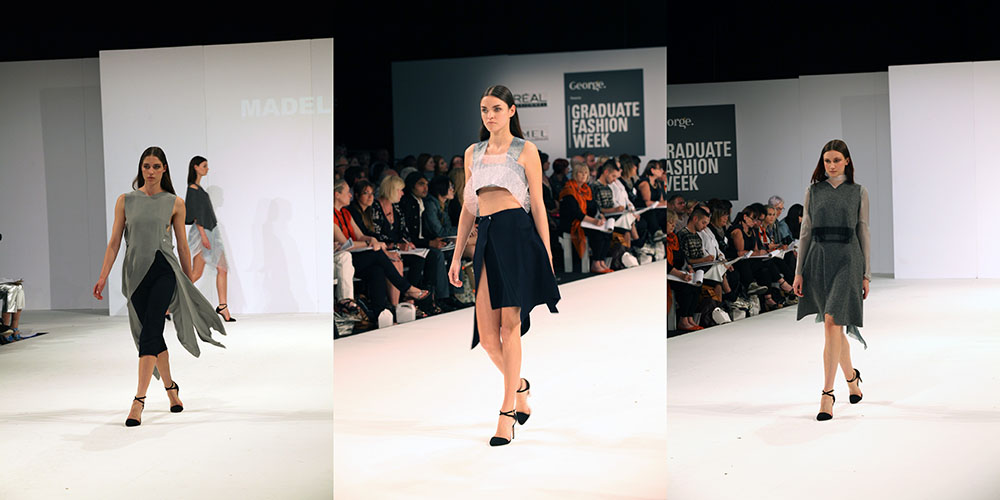 Madeleine Ayers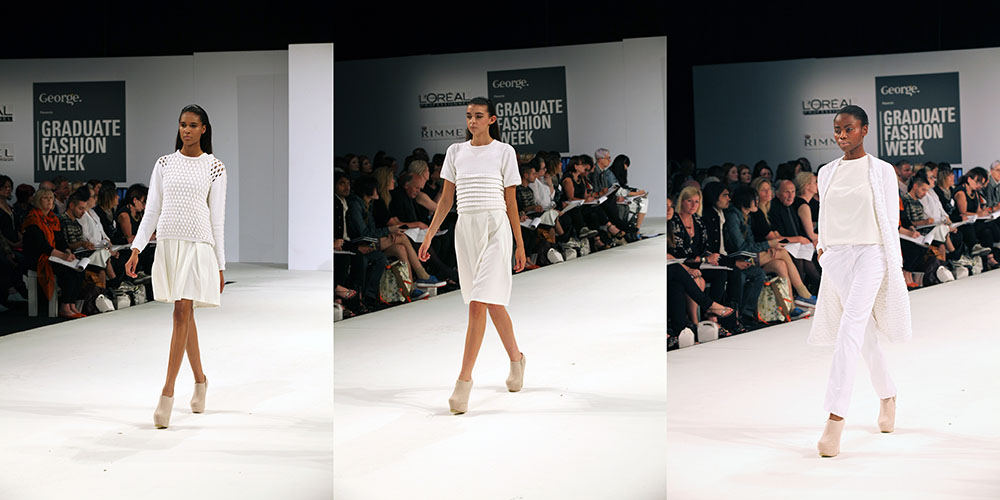 Tuyet Mai Nog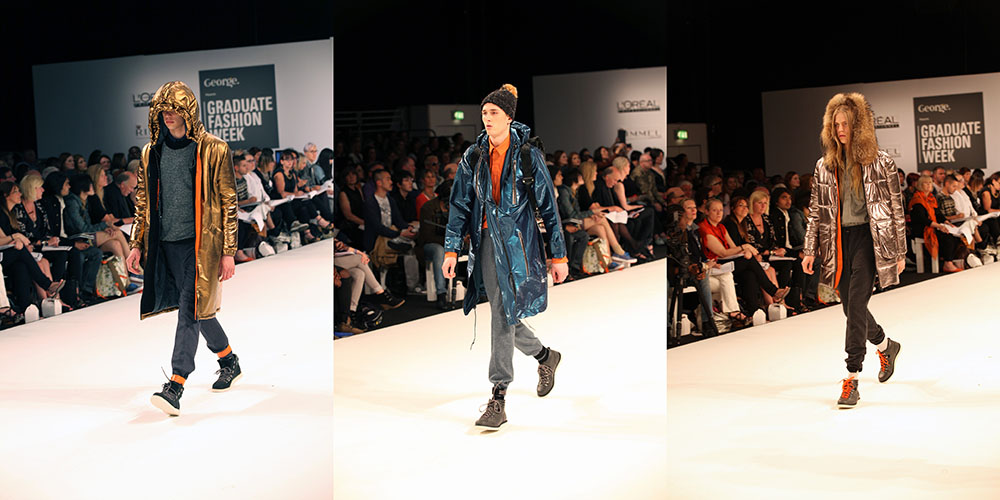 Sarah Frances Ratcliffe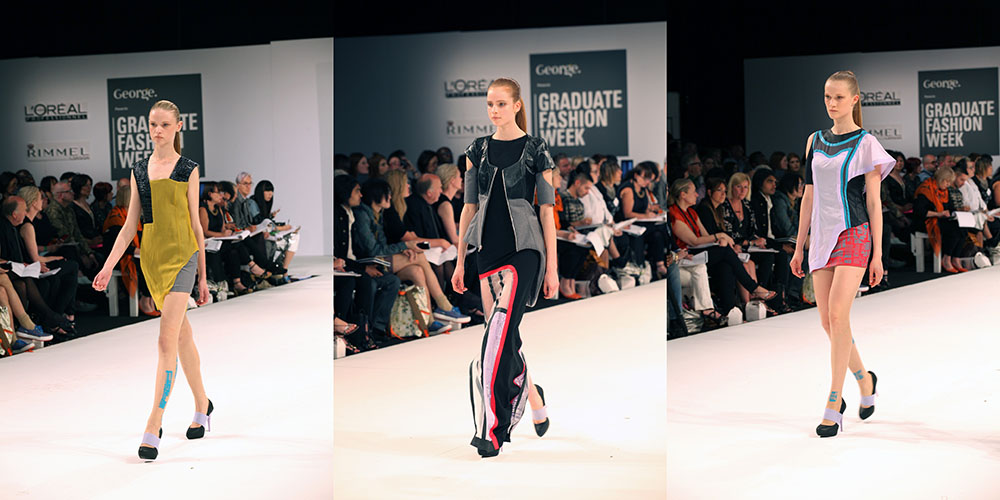 Natalie Maciw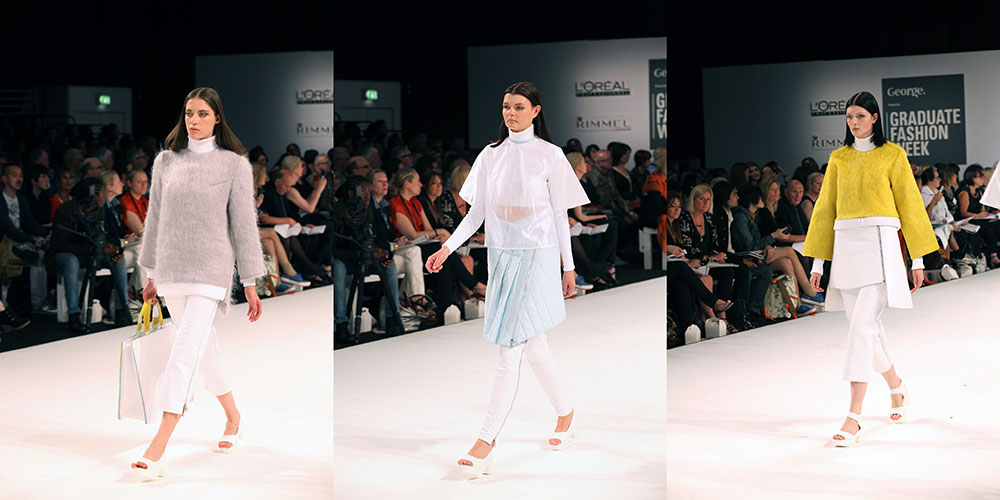 Patricia Williams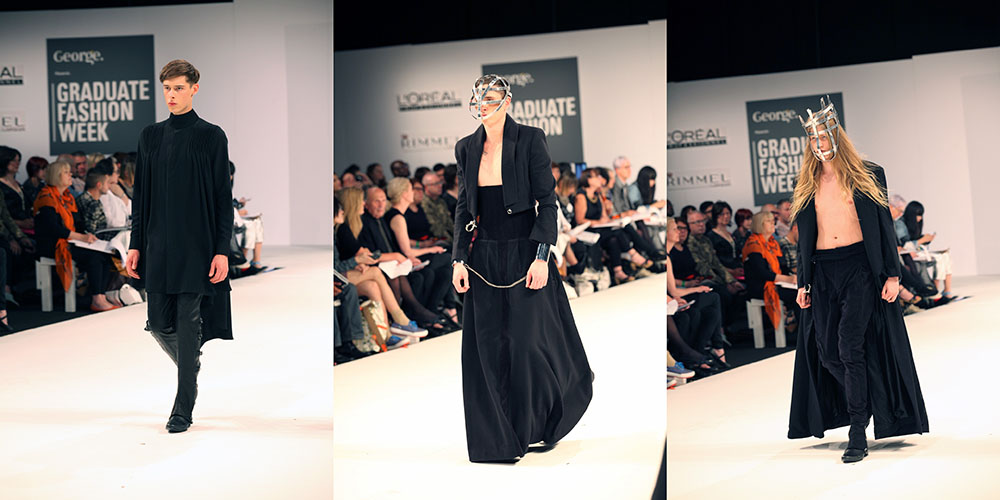 Luke A Harris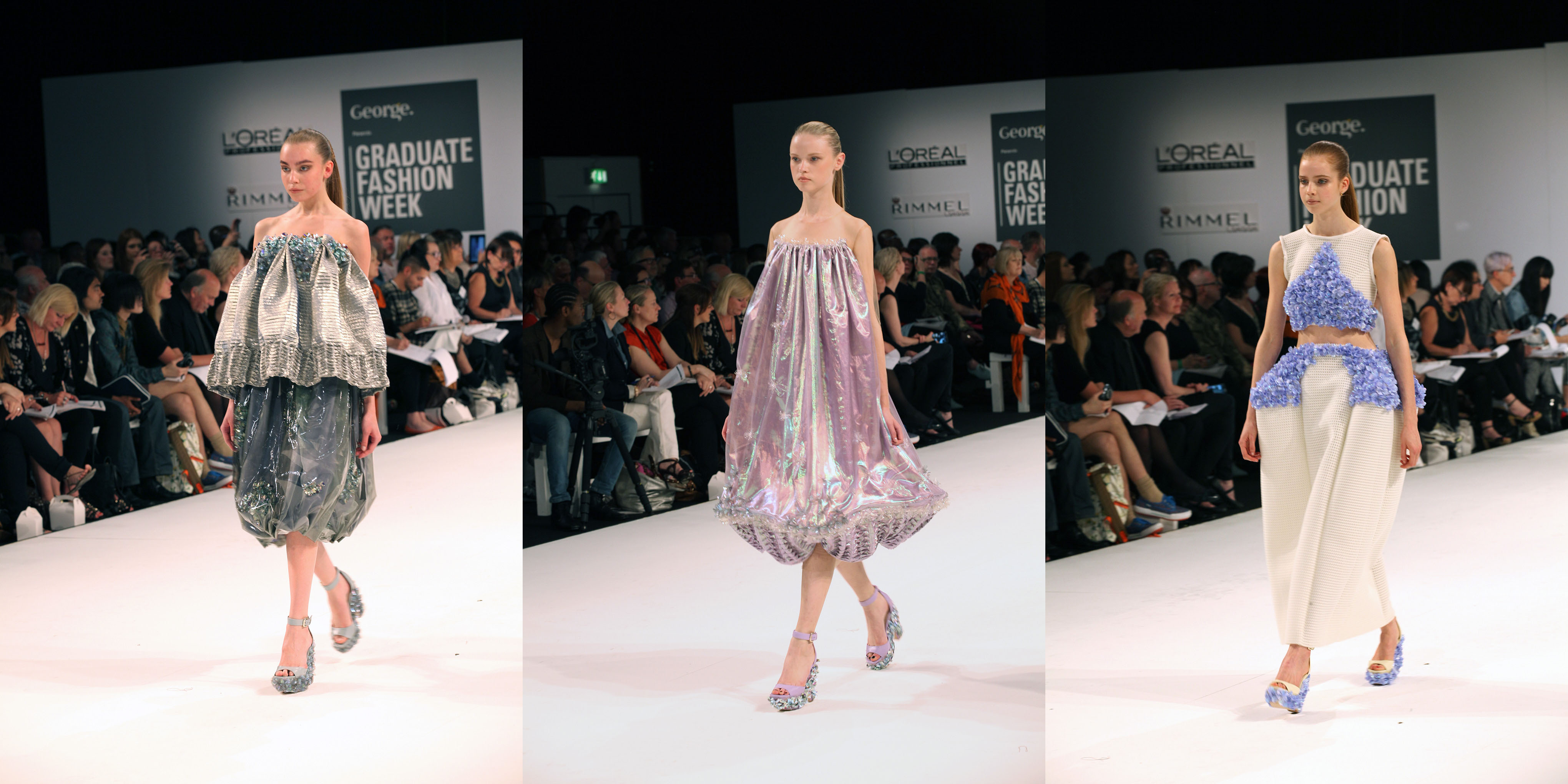 Emma Vivian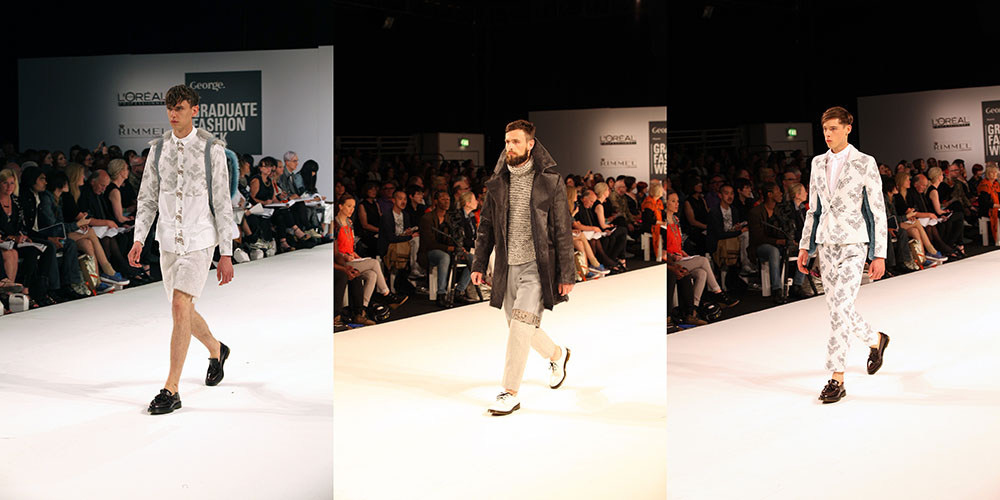 Jack Bebbington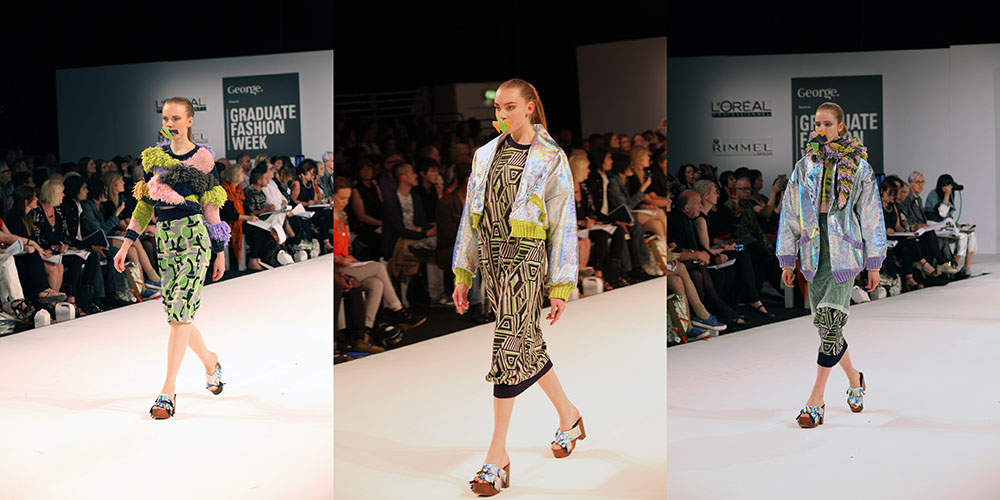 Charlotte Harris