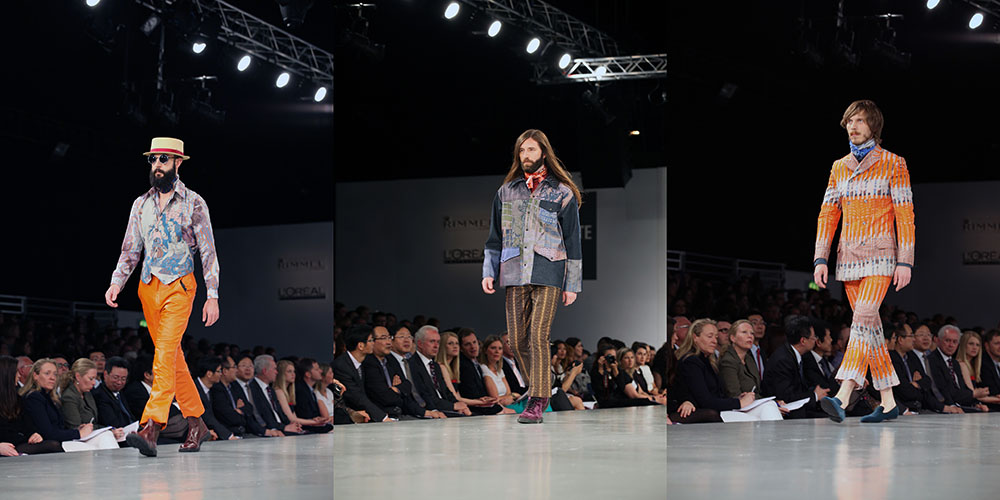 The Northumbria show was notable for it's large proportion of menswear – nine out of twenty collections, many of an impressively high standard. Miranda Poppy Kale's offering 'Live at the Fillmore', inspired by the legendary San Francisco venue's Sixties gig posters and scene, was perhaps the finest. Trousers of printed cotton twill, orange and red-brown leather were cut high on the ankle and flared slightly. Worn with jackets of patchwork denim, burnt-out velvet (that looked like a funky kind of corduroy), waistcoat-front shirts and jaunty neck ties. Glitchy screen print in retro lilacs and nu-rave orange shimmered across a long day coat and a stand-out double-breasted suit. Retro rock and roll fashion for brave, music-minded men.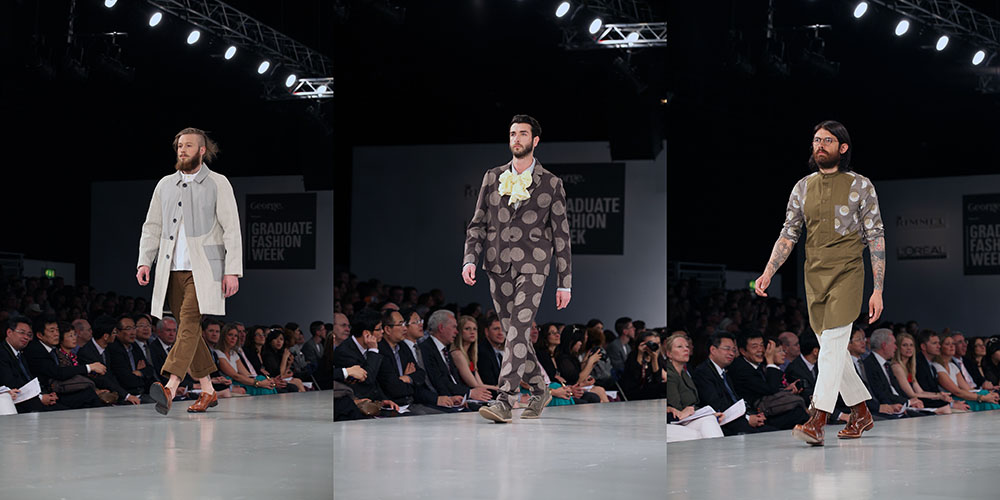 From drinkers to thinkers: Rosalind Borwick introduced her vision of 'the creative uniform of artists', a Bauhaus-inspired collection informed by Kadinsky's theory of colour. A loose silhouette, with cropped wide trousers and neat square jackets; the best pieces were unfussy with clever details, like beautiful tortoiseshell buttons or flat, square pockets. The polka-dot suit and flamboyant bow neck tie were clownish, but the aesthetic was pleasingly refined for the most part.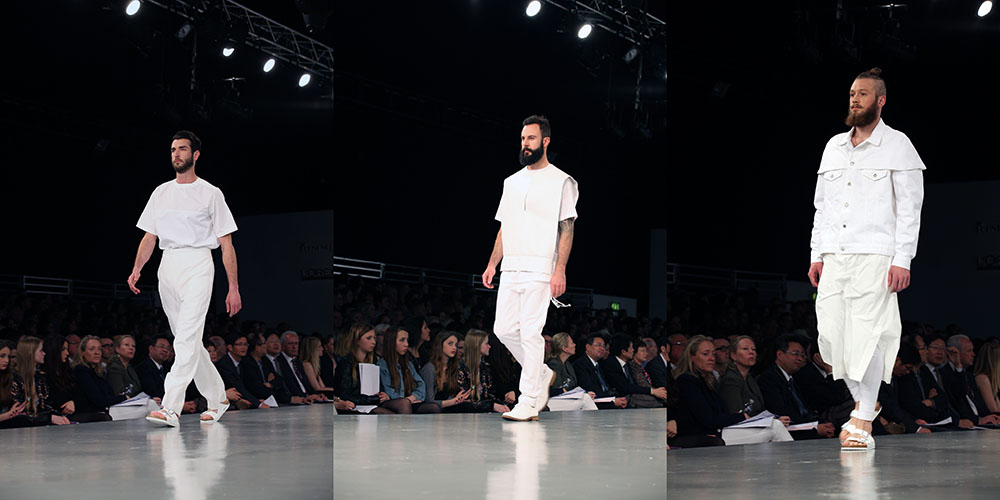 Lisa Taylor's all-white collection, 'Sacred Space' eschewed showy hues and print in order to focus – with great success – on texture and cut. Italian-barber style tailored T-shirts pared with high-waisted, wide but straight trousers with diagonal zip detail; a Middle Eastern tab-necked shirt extended right down to the ankles and an English pleated dress-shirt to the mid calf. The final look was a triumph of modern layering; a caped white denim jacket buttoned over a knee-length tabard and leggings, concluding with white, two-strap Birkenstocks.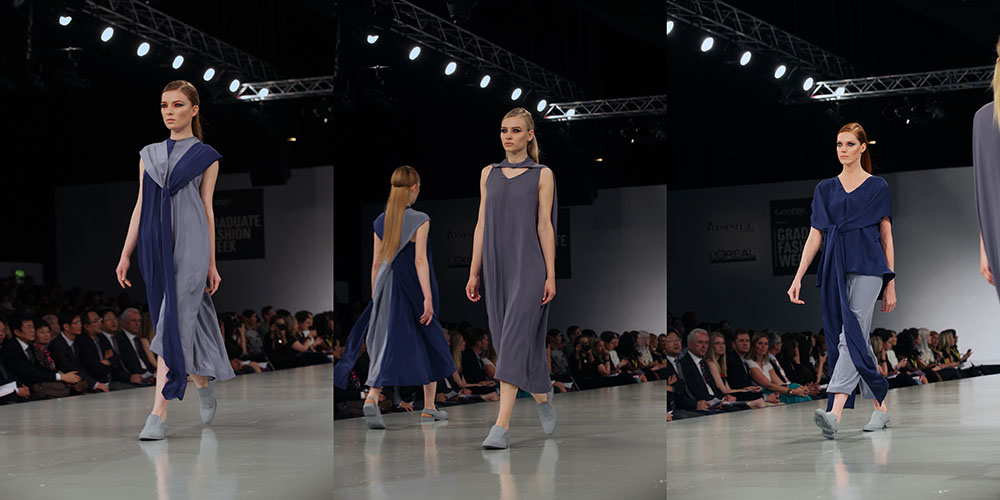 Also achieving that illusive plain-but-interesting aesthetic was '0, one two, 3', a womenswear collection by Victoria Irving. Subtle blues and greys combined to create a Yamamoto-esque baggy silhouette of wide, cropped trousers (a class favourite?), knee-length shifts and jackets with extra, and extra-long sleeves, tied at the front and draping down the body.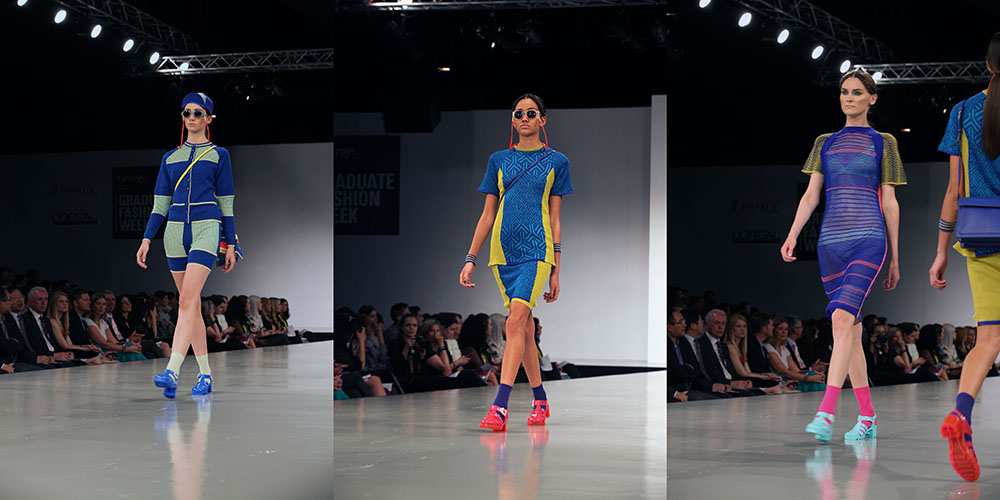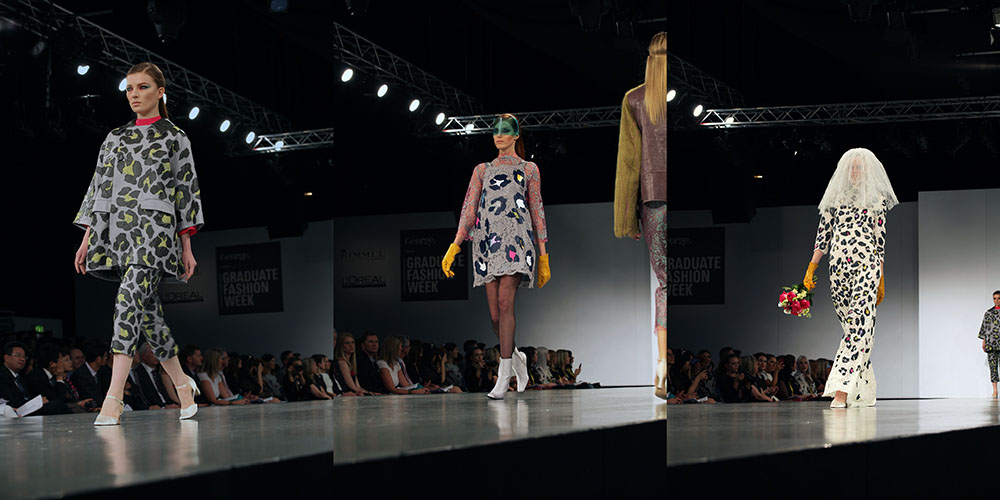 Rosie Janes, a graduate of the Future Fabrics course showed a sports-inflected collection of bright, striped knitwear. Cycling-inspired raglan T-shirts, mini-dresses and -skirts and jogging shorts were accented with narrow scarves and block colour ankle socks. Also revisiting the Sixties was Kathryn Hewitson, who produced a collection of two halves, one making greater sense than the other. The hairy, beige elements were forgettable, but the blown-up leopard print, coloured in with candied pastel hues that pawed it's way across a Chanel-like mini-skirt suit and a leather appliqué princess coat and cropped pant-suit was a winner. The wedding dress closing look was witty and playful.
– Charlotte Gush
– Photography: Justin van Vliet
CLASS OF 2013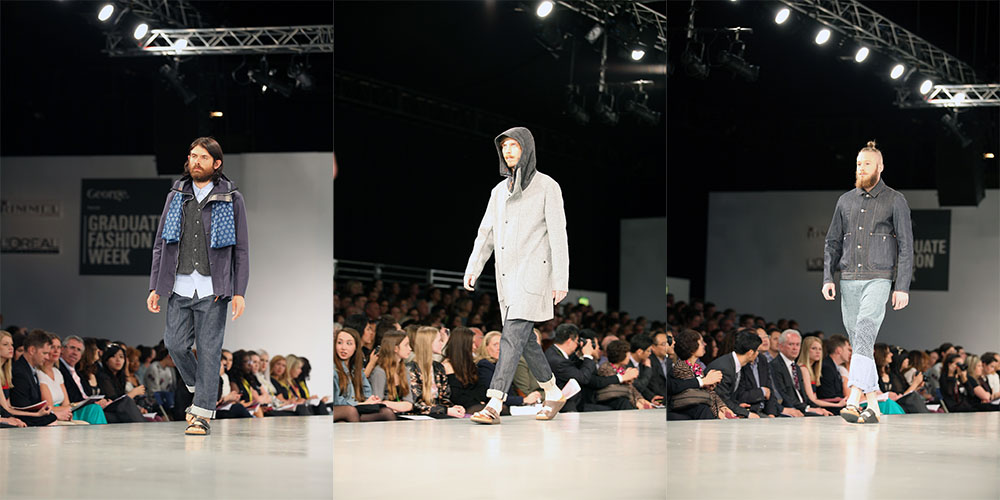 Adam Hogarth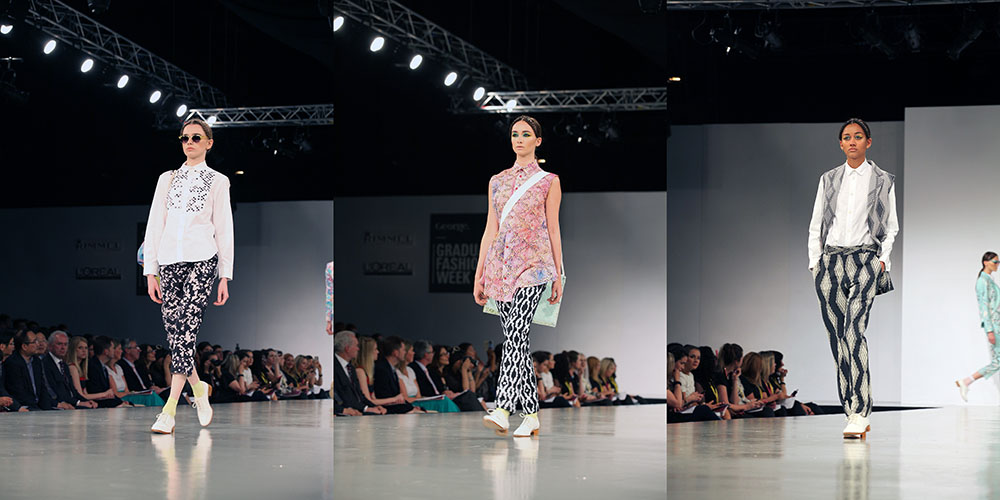 Victoria Schofield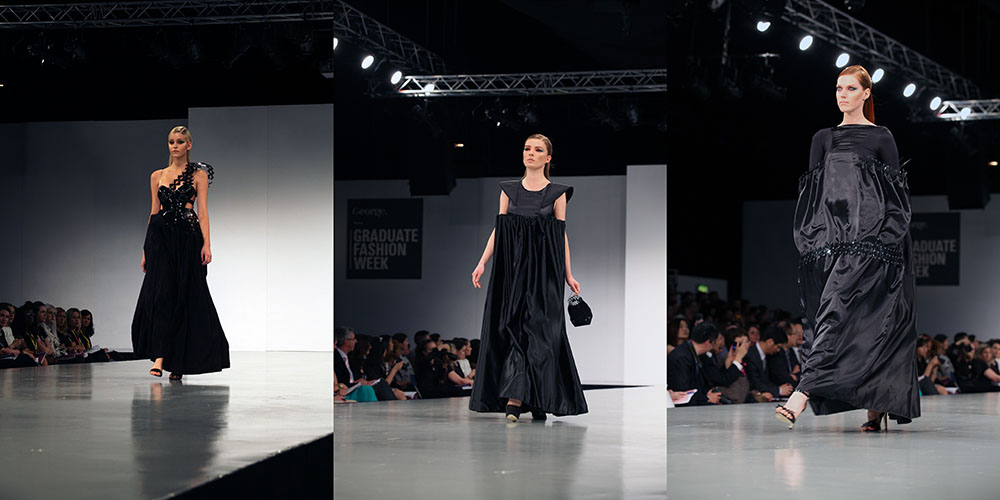 Melyssa Bates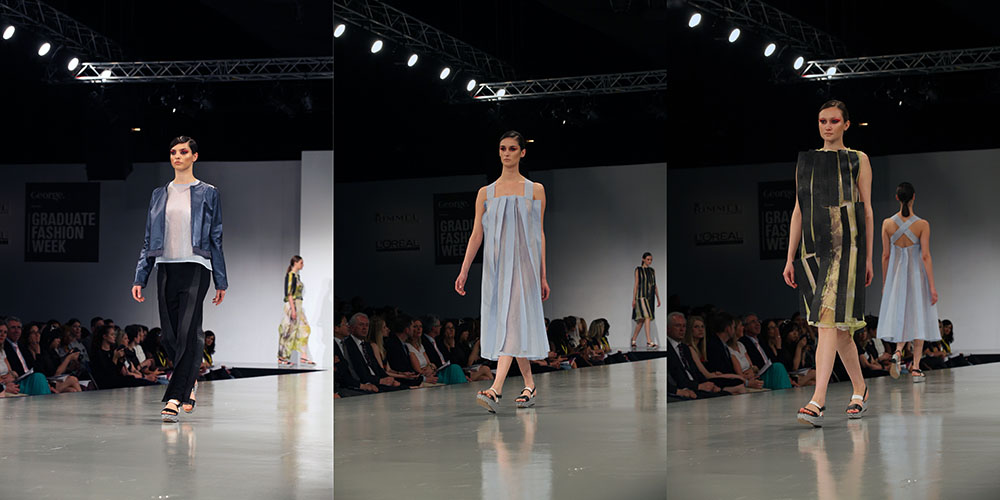 Laura Clibborn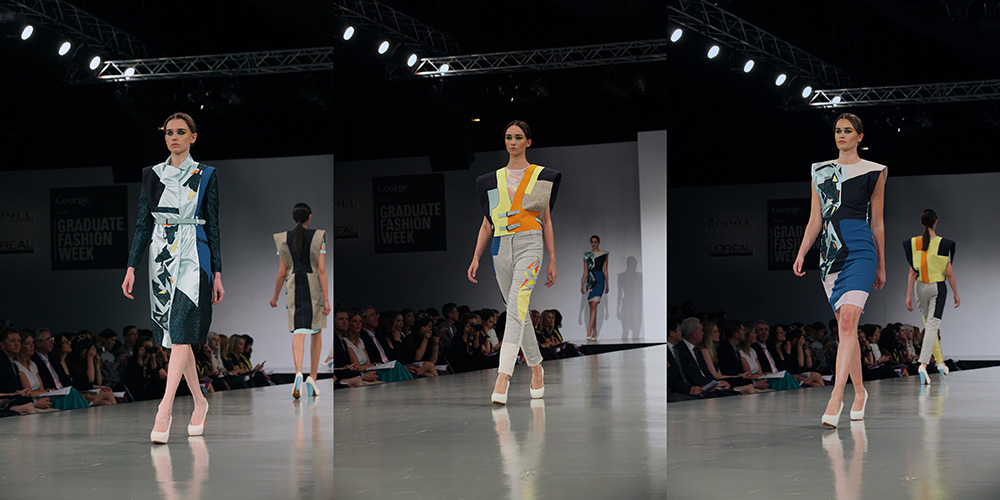 Lydia Mellor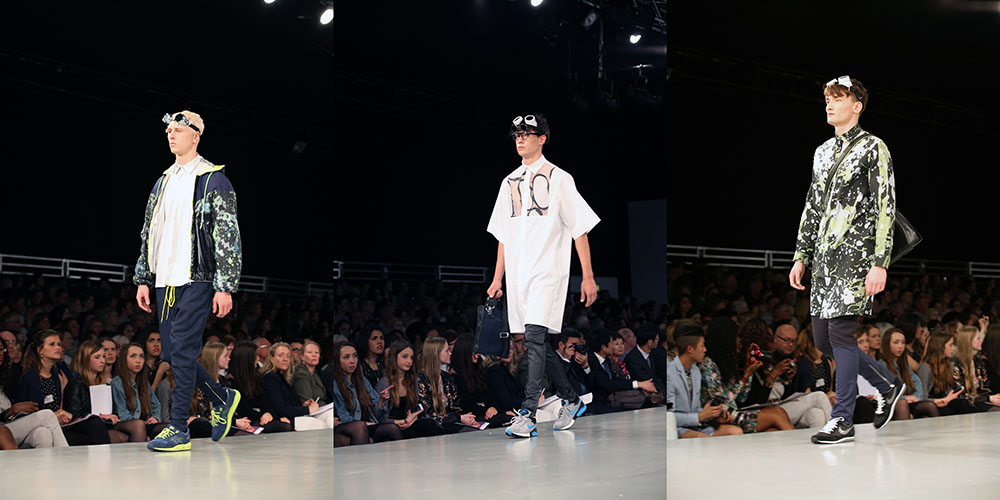 Sophia Lea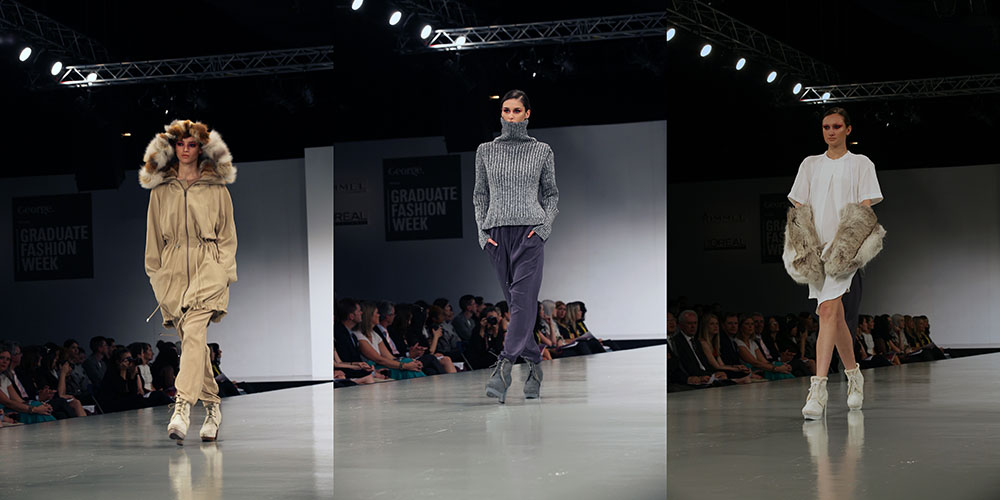 Sally Hewett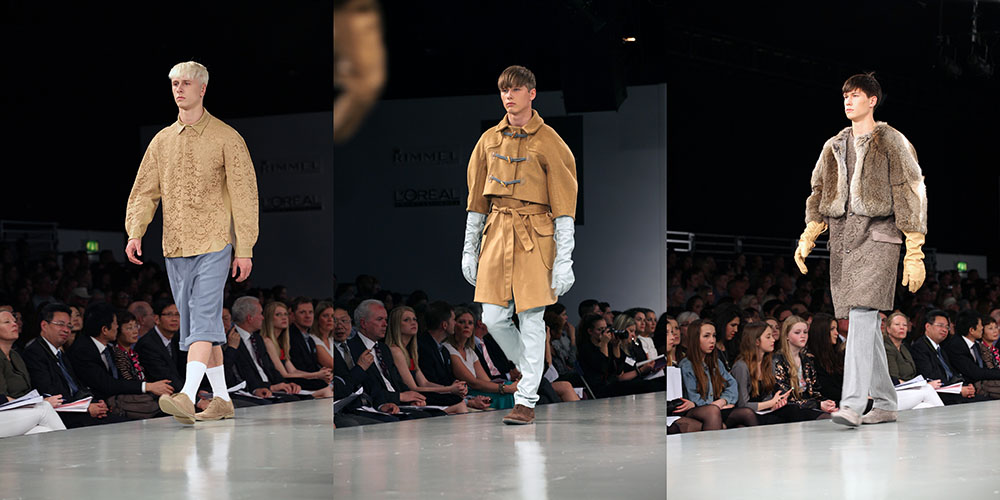 Emily Oldroyd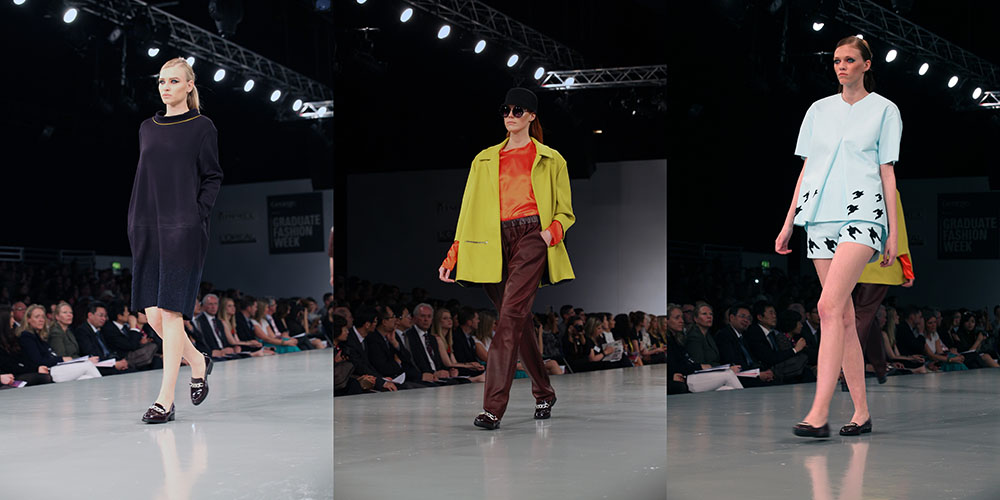 Eleanor Layton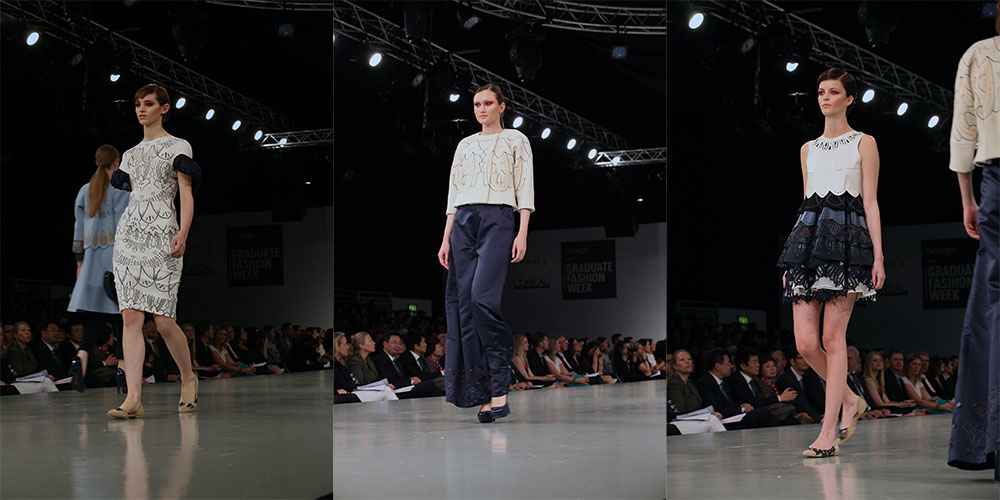 Linsy Hansom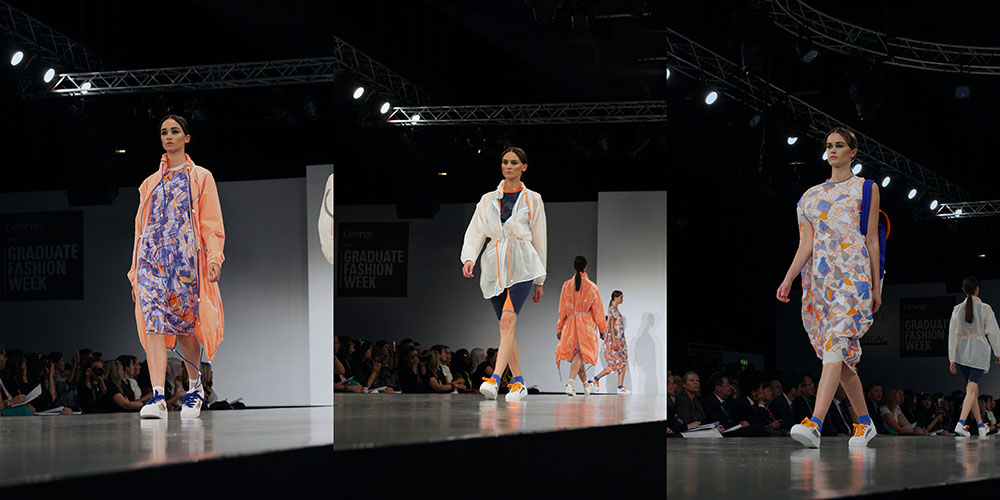 Bryony Carrigan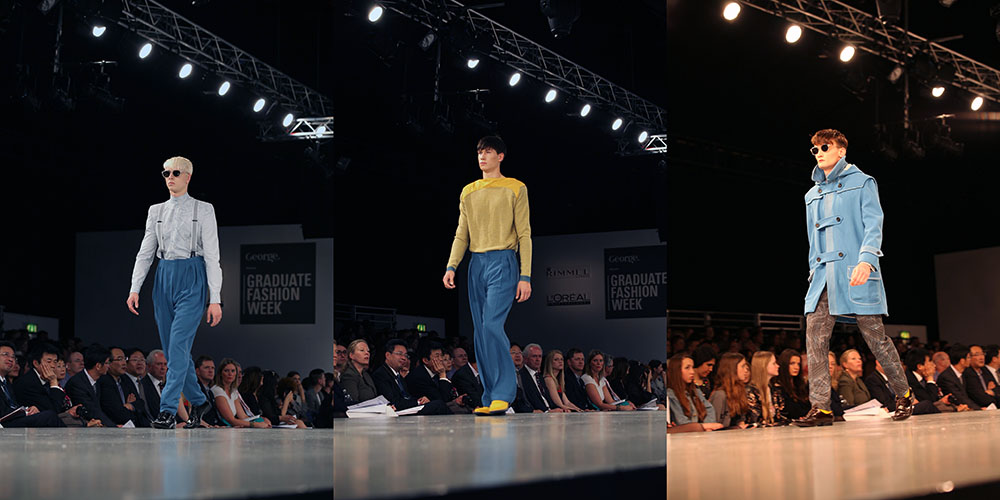 Lorna Thompson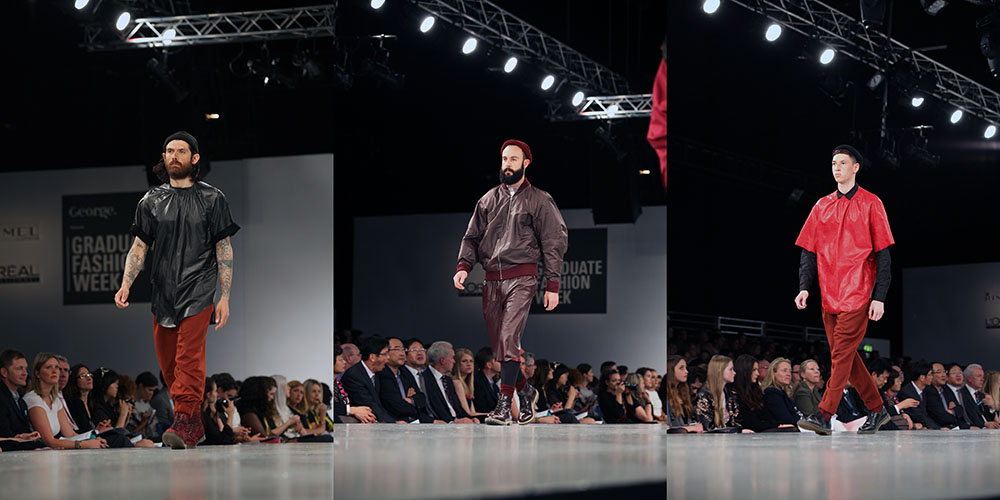 Daniel Fradgley